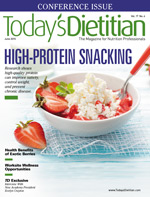 June 2015 Issue
TD Exclusive: Meet Evelyn Crayton
By Sharon Palmer, RDN
Today's Dietitian
Vol. 17 No. 6 P. 38
Today's Dietitian sits down with the first black president of the Academy of Nutrition and Dietetics, who discusses her incredible journey to becoming an accomplished nutrition professional and her goals for the organization.
Get to know Evelyn Crayton, PhD, RD, LDN, the new president of the Academy of Nutrition and Dietetics (the Academy), who takes office this month. Crayton has enjoyed a long, interesting career as a dietitian. Currently a professor emeritus at Auburn University, she was formerly a professor of nutrition, dietetics, and hospitality management and assistant director of extension family and consumer sciences. Some of her accomplishments within the dietetics field include establishing an Individualized Supervised Practice Pathway for community nutrition educators in partnership with Dominican University, and collaborating with organizations, such as the National Cancer Institute, March of Dimes, US Department of Health and Human Services' Office of Minority Health, International Society of Hypertension in Blacks, and US Department of Agriculture. Crayton also has served generously within the Academy, taking on such roles as past president of the Alabama Dietetic Association, chair of Nutrition Education for the Public Dietetic Practice Group, membership chair of the Hunger and Environmental Nutrition Dietetic Practice Group, and mentor in the National Organization of Blacks in Dietetics and Nutrition member interest group. A published author in peer-reviewed journals, she has developed curricula, videos, slide presentations, leaflets, and other teaching materials and is a national and international speaker. Crayton also is the author of Home Food Preservation (published by Alabama Cooperative Extension System in 2012). A graduate of Grambling State University, she was accepted into the dietetics internship program and earned a master's degree from Saint Louis University and a doctorate from Auburn University.
But long before Crayton kickstarted her career as a dietitian, she was born and raised on a family farm, along with her 10 siblings, in the small town of Jones in Morehouse Parish in North Louisiana. "We were raised on a small farm that provided food and subsistence for the family," Crayton says. "I attended first grade in Jones Elementary School. My classroom consisted of three grades; we were all taught the same lessons. The first graders competed with the second and third grade students in reading and arithmetic. I attended Old Bonita Rosenwald School from grade two through eight in Bonita, Louisiana, a neighboring town. I attended a community high school where students from six elementary schools attended."
Crayton met her college sweetheart, John, an agriculture major, during her freshman year, and they married upon her graduation. John worked as a classroom teacher, although he later was drafted and served in the army with a tour of duty in Vietnam. Today he's employed by the State Department of Agriculture. They have three adult children, and it appears that the apple didn't fall too far from the tree. Their oldest son earned his bachelor's degree at Harvard College and JD and PhD degrees in government from Stanford University. Their daughter, who earned her bachelor's degree from Howard University and graduated with a master's degree in engineering from Lamar University, works for the Department of Defense. And their youngest son is a graduate student at Alabama Agricultural and Mechanical University, majoring in plant and soil sciences and agribusiness.
So what does Crayton like to do in her spare time? "I enjoy reading, dancing, and meeting people," she says. What about her favorite foods (an important question for a dietitian)? "I enjoy a wonderful rib eye steak with the bone in it, or maybe Southern fried chicken and macaroni and cheese. It depends on the season and the mood that I'm in as to what's my favorite food."
Today's Dietitian (TD) sat down with Crayton and asked her a few questions about her life, career path, and goals as new president of the Academy.
TD: What inspired you to become a dietitian?
Crayton: My college biology teacher was concerned that the five girls in his class should earn high scores. He was concerned about our career choices. He called us to his lab and gave us some advice. "A man wants a woman who can take care of a home and cook," he said. And he sent us to the home economics department. It was there where we were introduced to the dietetics program. Four of the five of us became registered dietitians.
TD: Was there one person in particular who helped you along your path to becoming a dietitian?
Crayton: A new faculty member, Dr. Wilma Porter, came to Grambling State University with her husband, who was a football coach. She was a recent PhD graduate, as well as a Tuskegee University graduate. She encouraged all students in the dietetics department to apply for an internship. Dr. Porter had an unusual ability to make each student feel special. She gave each of us her undivided attention when we were completing our applications for school. She wanted each of us to be the best that we could be. She talked to us about the value of working hard, being persistent, and never forgetting to share with others who are less fortunate.
TD: What was your journey like after becoming educated as a dietitian?
Crayton: I attended a historically black college, Grambling State University in Grambling, Louisiana. I was accepted into the dietetics internship and master's degree program at Saint Louis University, a predominately white, Catholic university. There I was assigned to Jeannette Endres, a faculty member. She mentored, molded, and pointed me in the direction of community nutrition and served as my thesis advisor. She and I graduated the same day from Saint Louis University. She received her doctorate, and I received my master's degree.
My journey to becoming a dietitian wasn't an easy one. I had to leave my family, my husband, and my familiar environment and move to an unfamiliar one. I left my family in Louisiana and moved to St. Louis to attend graduate school and complete the dietetics internship. I had no friends or family in the city. There was another student who went to the internship program at Barnes Hospital in St. Louis. However, we rarely saw each other. We didn't have the resources to make telephone calls or go to the movies. I knew I wanted to be successful, and I knew it would take plenty of hard work and extra time studying to complete the work at Saint Louis University. One faculty member told me, "You cannot compete with these students at Saint Louis University, who have graduated from all girls schools."
In addition, I was mentored by some of the most unlikely, wonderful people. Some were RNs, nurse assistants, and people in the business office, housekeeping, and other departments. They were employees who worked at the three different hospitals in which I interned. They were very proud of me being a member of the dietetics internship. Many of the workers would take me to their homes for church and Sunday dinner. There was no time or money to go out with the other students. Many weekends, my fellow interns went water skiing or to the lake. It worked to my advantage. I was able to put in extra hours of study, as well as develop lasting friendships.
TD: Tell us about your career path. What sorts of work experiences did you have, and how did they shape you as a nutrition professional?
Crayton: I worked as a therapeutic dietitian at St. Louis Jewish Hospital and DePaul Hospital in St. Louis. After receiving my master's degree, I began working at the Metro East Health Service Council in East St. Louis as a community nutritionist. My husband began his graduate studies at Tuskegee University in Alabama, and I relocated with him. I was hired to conduct a USDA research project on the Food Assistance Program. After the project's completion, I began working as a specialist in food and nutrition in the Cooperative Extension Program at Tuskegee. I began my career at Auburn University in Extension four years later. I received my doctorate and became an associate professor in the department of nutrition and food science. I was promoted to professor and the assistant director of Extension Family and Consumer Sciences. I learned about therapeutic diets, community nutrition, applied research, management, and supervision.
From these experiences, I gained knowledge and skills that would serve me well throughout my career. I gained self-confidence, foresight, and critical thinking skills. I also learned excellent communication skills, both oral and written, under the leadership of Dr. Endres. Most importantly, I learned that I could make a mistake and still move forward. Thanks to her mentorship, I became a better person and a better professional.
TD: Please share one of your most inspiring stories that demonstrates how a dietitian can improve someone's health for the better.
Crayton: When my mom was diagnosed with type 2 diabetes, I was able to help her plan menus that included the foods she loved, but prepared with less fat and sugar. She said she had no idea what my college major—dietetics—really was. Professionals from my community were education majors. My cousin was the only medical doctor that we knew of in our parish. The majority of the professionals were teachers. My mom lived more than 20 years with diabetes and managed the condition well, eating the foods that she loved in smaller portions. She continued to prepare her famous meals for her family until her death.
TD: How has the field of dietetics changed your life?
Crayton: It has been the most rewarding profession. I've been a servant leader since childhood. As a registered dietitian nutritionist, I've been able to help my family through meal preparation and plan a healthful diet while eating traditional southern foods. I've traveled extensively throughout the United States and in other countries, speaking at and attending meetings. In addition, I've been able to contribute to our household finances to educate three children.
TD: What are you passionate about in the dietetics field?
Crayton: I'm passionate about helping others be successful in the profession. I mentor students and young professionals from all over the country.
I value the experience of attending the national meetings, such as FNCE®, Public Policy Workshop, and other professional meetings alongside these students and young professionals. And as my career has advanced, I've done what I could to ensure these students have the financial and professional support they need to advance their careers, whether it's sharing a hotel room and covering conference fees or contributing to the Academy Foundation's scholarship funds. My husband and I even established two endowments at our undergraduate school, Grambling State University. I've served on the scholarship committee at our church for the last 30 years.
I'm also very excited about developing materials to communicate effectively with people. I developed the skill of writing materials at a fourth grade reading level for nutrition education, food safety, and food preservation. These educational materials were developed and shared throughout the extension system in Alabama, as well as in other states. I also developed publications for the National Cancer Institute, USDA, March of Dimes, and other agencies and organizations.
TD: What areas do you find the most challenging for our profession and the Academy right now?
Crayton: It's challenging to find enough internship slots for those who complete the accredited programs. There's a need for more internship slots because nearly one-half of the students who graduate from an accredited program can't be placed. We also need additional preceptors to accept dietetics interns into their practice. Also of concern is adequate reimbursement for services.
TD: What are your goals during your presidency?
Crayton: My goals include increasing the number of internship slots, increasing the membership in the Academy, and creating partnerships and collaborations with like-minded organizations. There's a need to become very active in the Partnership for a Healthier America and to continue to be active in the World Food Prize, hopefully, to get the Academy on the program as a speaker at the World Food Prize's annual meeting. And I hope to assist the small and minority-serving institutions in increasing their student passage rates on the registration exam. Hopefully, this can be done through mentoring and training as appropriate for their students.
TD: What message would you like to share with all dietitians on the role they play to help advance our profession and organization?
Crayton: The Academy is what we make it. The Academy is a member organization. As a member of the Academy, please join me in helping to make the best, better.
— Sharon Palmer, RDN, is nutrition editor of Today's Dietitian and the author of The Plant-Powered Diet and Plant Powered for Life.
[Sidebar]
WHAT IS THE ACADEMY PRESIDENT'S JOB DESCRIPTION?
Have you ever wondered what responsibilities the Academy of Nutrition and Dietetics' (the Academy) president takes on? Here's a peek. The Academy president's one-year term runs from June 1 through May 31. When he or she becomes president, it's a three-year commitment, as all presidents serve as a president-elect the year before their term begins, then president for one year, and past president for one year—each requiring specific duties. According to the Academy bylaws, the president shall ensure the Academy's strategic direction and values are carried into effect except in those instances in which those responsibilities are specifically assigned to another office. The president shall chair the board of directors and its executive committee, appoint the chair and members of committees and commissions of the board, appoint official Academy representatives, and preside at meetings of the full membership. The Academy's board of directors comprises 19 individuals who are part of the nation's top nutrition and health professionals. To learn more about the Academy organization, visit www.eatrightpro.org/resources/leadership/board-of-directors/about-the-board-of-directors.
A Week in the Life of the President
So, what does Evelyn Crayton have to look forward to in the coming year? You can be sure her demands will be varied and her days will be busy. According to past Academy president (2013-2014) Glenna McCollum, PhD, MPH, RDN, the most demanding tasks required of the Academy president include travel, writing, presenting, and managing the challenges that come with a crisis. "In addition, it's always important to remember that you represent the Academy, not just yourself, when you're in a high-profile leadership role. There's respect that comes with the position, as well as great responsibility. You need to be a problem solver, good listener, and good communicator, and most importantly, remember that every individual has a right to an opinion, yet in a democracy, it's the voice for the minority but a vote of the majority," McCollum says.

Which tasks are the most pleasurable? "There's wonderful networking across the nation, and even around the globe, when you have the honor of being elected president of the Academy. In addition, you're invited to attend many events and meetings, representing our 76,000-plus members as the food and nutrition leaders," McCollum says.
"When you're elected to a leadership role within the Academy, you become very aware of all the great things the Academy is doing—the impact of our public policy efforts, the opportunity to help identify national leaders to serve on decision-making boards, the recognition of our excellent reputation, the respect for our science-based profession and our evidence analysis library, the pursuit by others for our expertise, and much, much more. We are an amazing organization with very committed leaders and staff," McCollum continues.
"I've also seen the benefit and importance of taking a risk, such as changing the name to the Academy of Nutrition and Dietetics and including RDN as a credential option, when it comes to the public's understanding of what and who we are and what we can do. There's also the opportunity to make an impact and leave a legacy with the leadership you provide," McCollum adds.
It's hard to understand how these responsibilities play out in the daily life of the Academy president. So, we asked McCollum to share a few pages from her journal, during one week of her life as president.
— SP
Monday
Up at 4 AM to read e-mails, pack for a trip to Washington, D.C., and spend most of the day on the flight traveling to D.C. While on the plane, began working on President's Page for the Journal of the Academy of Nutrition and Dietetics. Also wrote a "Letter to Leaders" for my term as president to be shared with the leaders on the board of directors, the Dietetics Practice Groups leaders, the Member Interest Groups leaders, delegates from the House of Delegates, Academy committee chairs and vice-chairs, the Academy of Nutrition and Dietetics Foundation, the Academy of Nutrition and Dietetics Political Action Committee, and Academy staff. Upon arrival in D.C. and checking into the hotel, I worked on travel plans for upcoming meetings and presentations. (Total: 16 hours)
Tuesday
Represented the Academy at an all-day Global Food Summit in Washington, D.C., where international speakers addressed food insecurity and the global food crisis. Met briefly with former Ambassador Kenneth Quinn (from the World Food Prize) and received an invitation to join Secretary John Kerry in the announcement of the 2013 World Food Prize Laureate (June 17, 2013) in D.C. Also listened to Lauren Bush Lauren, cofounder and CEO of FEED, and began to figure out ways to incorporate this information in the FNCE® 2013 Program in Houston. Had dinner with National Dairy Council leaders. Returned to hotel. (Total: 121/2 hours)
Wednesday
Attended the Future of Food, an event cosponsored by the Academy, the National Dairy Council, and the Washington Post. At a live broadcast, the Academy provided opening remarks before several panels of experts and addressed concerns regarding food insecurity, the nation's health, and the challenges of solving these issues. The day concluded with a dialogue exchange with Secretary of Agriculture Tom Vilsack from President Obama's administration. This day was filled with networking opportunities, as well as the opportunity to meet and shake hands with Secretary Vilsack. Following the half-day event, there was a meeting with the Academy leadership to debrief. I returned to the hotel to pack, check out, get to the airport, and return home late that same evening. I edited and finalized the presentation for the next morning to include information from the two events (Global Food Summit and Future of Food). (Total: 15 hours)
Thursday
I was invited to speak on Leadership—On Your Path to Awesome during the Alliance of Food and Nutrition Conference in Tempe, Arizona. Met briefly with RDNs, NDTRs, administrators, managers, and exhibitors who attended the conference and work in long-term care facilities across the nation. In addition, I met briefly with nutrition students from Arizona State University and networked with colleagues from my home state of Arizona. Returned home and ended the day making phone calls for work and responded to e-mails. Packed my travel bags and headed to northern Arizona—Flagstaff. Traveled to Flagstaff to work on a project for PhycoBiosciences. Caught up on e-mails, responded to requests, and prepared for two conference calls the following week (Legislative and Public Policy Committee and the Presidents Conference Call). (Total: 10 hours)
Friday
Finished President's Page and edited Letter to Leaders. Organized travel receipts to submit for reimbursement from the Academy. Planned additional travel for upcoming presentations and meetings, including Meeting of Leaders in Chicago. (Total: 8 hours)
Saturday/Sunday
Enjoyed the weekend with family and friends. It's an honor and great fun to be a leader in our organization, the Academy. To hold the position of president requires great flexibility with one's job (or, if possible, a sabbatical) and support from your family and friends.
— Glenna McCollum, PhD, MPH, RDN