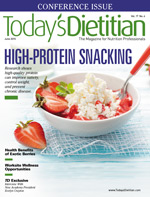 June 2015 Issue
Worksite Wellness
By Juliann Schaeffer
Today's Dietitian
Vol. 17 No. 6 P. 28
It's a multibillion-dollar business, and career opportunities for dietitians are exploding. Learn all about them and how to break into the industry.
Topping an estimated $6 billion every year, the business of workplace wellness is booming—and RDNs are well suited to cash in on the widespread opportunities to get American workers healthy.
"In 2014, 92% of companies with 200 employees or more had some type of wellness program," says Lindsey Mariano, RDN, a health coaching facilitator at Provant, a health and wellness solutions provider for businesses nationwide. "Of those who offer wellness programs, 72% use a combination of screening and health interventions that include lifestyle management (77%), nutrition and weight activities (80%), and smoking cessation (77%)."
What part of that should involve RDNs? What part shouldn't, asks Madeleine Berg, MS, RD, CDN, corporate nutrition specialist for Long Island Worksite Wellness, which provides wellness services to companies in the tri-state area. Berg copresented a seminar on worksite wellness last year at the Academy of Nutrition and Dietetics' Food & Nutrition Conference & Expo® (FNCE®). "RDNs are the face of worksite wellness," she says. "It's our job to educate, engage, empower, inspire, and motivate employees to make health changes."
Mariano agrees: "RDNs are trained and have a vast background in many aspects of nutrition. We have a skill set that works very well within our coaching programs. The job requires both a clinical and community approach. RDNs have the nutrition-care process training and understanding to apply to the cases that we're involved in."
She stresses the importance of motivational interviewing when helping employees adopt lifestyle changes to better their health, and says that combining it with the emphasis wellness programs place on nutrition make RDNs an important presence in any worksite wellness effort. And whether it's by leading the charge with weight loss programs, individualized health coaching, or even cooking demos, RDNs are finding there's more than just one place for them at the table of worksite wellness.
Burgeoning Trend
"Over the past decade, the number of companies with workplace wellness programs has nearly doubled, from 27% in 2005 to 50% in 2014," Mariano says.
The past decade hasn't only seen more businesses get in to the wellness game, it also has seen an evolution of the programs themselves, Mariano adds. "This 10-year period has seen wellness activities advance from walking clubs and newsletter tips in the early years to comprehensive programs that today include health screenings, health risk assessments, weight management, nutrition, health coaching, stress management, flu vaccination, tobacco cessation, advocacy, and health and wellness portals," she says.
Mariano credits the growth of these programs to the myriad benefits they can offer both employees and employers. "They truly benefit both the professional and personal aspects of employees' lives," she says. "Employees take advantage of the programming offered to address their own individual health concerns. Because of that, employees recognize workplace well-being programs as a valuable employer-sponsored benefit.
"Employers also experience great benefits—both direct and indirect—by providing workplace wellness programs," Mariano adds. "The Institute for HealthCare Consumerism finds the average reduction in health-related costs due to wellness programs are 28% fewer sick days, 30% fewer workers' compensation and disability management cases, and a 26% reduction in health costs."
While wellness programs sound great in theory, and some wellness companies boast cost returns of $3 to upwards of $10 for every $1 spent on wellness, actual benefits are sometimes hard to quantify—and we may not know the long-term effects of such programs for years to come. A 2013 RAND report on workplace wellness programs surprised many when its analysis showed that the majority of such programs only demonstrated a modest effect on both employee habits and health care costs.
Yet whether these findings resulted from researchers looking at largely short-term returns or otherwise, the Affordable Care Act's wording gives reason for even more businesses to take a gamble on worksite wellness.
"A significant factor driving the wellness industry is the Affordable Care Act, which was signed into law in 2010," says Allison Tannenbaum, MS, RDN, CDN, an RD health coach for worksite wellness provider Premise Health. Tannenbaum copresented the seminar on worksite wellness with Berg at FNCE® last year. "The Affordable Care Act created new incentives to promote employee wellness programs and encourage opportunities to support healthier workplaces."
In addition to allowing employers to increase the monetary incentives for employees who take advantage of weight loss contests and other wellness initiatives and who exhibit healthful behaviors, the health care law also put new requirements on insurance plans to cover many preventive services, including wellness counseling. These new legislative pieces are just two more carrots enticing employers to consider adopting worksite wellness programs.
But according to Berg, while employers may be enticed by lower health care costs, they also offer wellness programs because they realize that healthy and happy employees are a company's greatest asset. "And a healthy workforce is more productive," she says, noting that such programs also can improve employee morale and reduce absenteeism and turnover.
Tannenbaum agrees, noting that absenteeism could cost billions of dollars each year in lost productivity, wages, poor quality of goods and services, and excess management time. "Healthier employees are happier employees," she says.
RDNs' Role
According to the US Department of Labor, about one-half of all US employers, small and large, offer wellness initiatives. That equates to plenty of potential opportunity—and need—for nutrition expertise.
Today, dietitians are performing health screenings and assessments, running weight-loss challenges, leading nutrition education efforts, such as lunch 'n learn seminars during employees' lunch breaks, cooking classes, and a host of other educational and awareness initiatives, taking a range of worksite wellness activities to a whole new level.
Health Screening and Coaching
Health screening and health assessments are a popular way RDs are contributing to workplace wellness initiatives. "Many companies offer health screenings that provide employees with information about their current health status and alert them to health risks they may be unaware of," says Mariano, who notes that these screenings can be a godsend to employees who unknowingly have a health condition because they have no symptoms. "For example, health risks such as high blood pressure, high cholesterol, and high glucose levels often exist without easily recognizable symptoms. Screenings help detect these risks so the individual can work on improving them before they reach a serious chronic stage."
Combining a screening with a health risk assessment can provide even more answers. As an opportunity for employees to explore their personal health behaviors, including eating habits, sleeping patterns, stress inducers, and physical activity levels, it often can be a wake-up call for those who had previously put their health on autopilot, Mariano says. "By comparing results of the health assessment with those of the health screening, employees frequently find gaps between what they perceive their health to be and their actual health," she says. "This knowledge often motivates an individual's decision to improve his or her health."
After the initial screening and health risk assessment, Mariano says she and other health coaches on her team, which also comprises exercise physiologists, registered nurses, and health educators, work together with employees to set goals and encourage them to take small steps toward adopting more healthful habits.
With their nutrition knowledge base and expertise, Mariano says RDs are important members of health coaching teams. "They work with people to focus on replacing unhealthful foods with healthful choices, preparing nutritious meals and snacks, establishing appropriate portions, and reading food labels."
To take coaching one step further, Mariano says she's worked with a large health care system with company sites in 30 states, to offer coaching support for employees who planned to have bariatric surgery.
"We've developed and implemented a bariatric telephonic health coaching program," she says. "The company covers bariatric surgery for their employees if they've met a series of requirements, one of those requirements being a recommendation to move forward with surgery from one of our RDNs after completing the intensive coaching, teaching, and behavior change models we deliver."
Weight Loss Challenges, Counseling
In addition to participating in worksite wellness screenings, lifestyle and condition management programs, and health events, Tannenbaum says she also helps employees achieve various weight loss goals—both one-on-one through counseling sessions and as a group with company weight loss challenges.
"As the RDN for [one company's] employees, I see clients one-on-one for weight loss and all medical nutrition therapy," she says, noting that Premise Health also employs physicians, nurse practitioners, a nurse, medical assistants, and a physical therapist on its team at one particular site. "Clients have the choice of seeing me once or on a regular basis."
Mariano also has experience providing weight loss coaching and says RDs account for more than one-half of Provant's telephonic and face-to-face health coaching team. "We're often on the front line delivering biometric screening results to employees and helping them understand what those results mean," she says. "We have a huge role in lifestyle and condition management recommendations."
Tannenbaum recently worked with one client company to help dozens of employees in their efforts to drop pounds through a 10-week weight loss challenge. She says she tag-teamed with the company's onsite fitness center to establish the program. While different incentives can be used throughout, she notes that the winner of this particular program received a Fitbit, a wristband device that tracks users' activity and measures certain factors such as sleep, exercise, and weight, with the winning team receiving gift cards to the employee cafeteria.
"The participants need to weigh-in during week one and twice between weeks two and nine, with a final weigh-in on week 10. Everyone's weight is tracked individually and [as a group] if they're members of a team. BMI is tracked, and the winner is based on percentage of weight lost," she says.
According to Tannenbaum, all employees who completed the necessary weigh-ins were eligible for the final prize. She also developed and presented educational lunch 'n learn sessions that were customized for the challenge, and she encouraged participants to schedule one-on-one counseling sessions with her if needed. "A lunch 'n learn is a casual meeting with employees during lunch time—they bring their lunch or lunch is served—where an informational topic is presented and there's a discussion on the topic among the presenter and the employees," Tannenbaum explains.
"After the 10-week challenge, the employees have the opportunity to continue to weigh-in if they want to lose more weight or maintain," she says, noting that she encourages follow-up and support to all employees she coaches. "The weigh-ins are once a week and are open to anyone to pop in and get weighed-in and touch base with me."
Health Education and Awareness Efforts
Whether it's through regular educational sessions during the employees' lunch hour or a dedicated nutrition table to highlight the effect of foods on health during annual insurance enrollment, RDs are getting creative in how they spread awareness of healthful habits to employees.
A seasoned lunch 'n learn presenter, Tannenbaum says in the previous three months she has developed and presented three such seminars, which happened to be related to the weight-loss challenge she was leading at the time.
"They're optional for the employees, and they can attend in person or via the Web," she says, noting that a recent session brought in roughly 65 people.
While topics range from basic tips on healthful eating to smart snacking, she also has presented on specialized topics such as heart-healthy nutrition for February's American Heart Month and decoding food labels.
Lunch 'n learns often are a more common vehicle for providing nutrition advice to employees during the workday, but Berg says she's found a host of other ways to get employees thinking about healthful food habits, such as health fairs, nutrition awareness tables, and cooking demos.
"A health and wellness fair often coincides with medical insurance enrollment or to kick off a wellness program," says Berg, adding that at a health fair you could find her providing nutrition counseling to employees on biometric screening results or leading a cooking demo.
However, she cautions dietitians who may be asked to offer their services at such events for free. "If you're invited to participate in a health fair for free in exchange for soliciting clients, this may seem like a good idea at first," she says. "But working for free devalues your services, and clients very rarely make an appointment and keep it."
Berg has designed nutrition awareness tables for wellness programs, which she says could be set up in the cafeteria, in the lobby, or as part of a health fair. "Typically, food samples are tied to an educational display," she says. "Having an air popper popping corn for a display of healthful snacks is always a crowd pleaser. I like to include a quiz or game for optimal employee engagement."
For dietitians looking to get their hands dirty, Berg says cooking demos can be a fun way to engage employees. But she says it isn't always as easy as some make it look. "[Popular food show turned talk show host] Rachael Ray makes it look so easy, but to smile, banter, and cook simultaneously is a real talent," she says.
Berg's best tips? "Cooking demos usually take place in a conference room with only a table and electrical outlet so you have to be super organized and prep everything in advance to have a smooth-running event," she says, adding that cooking demos generally command a higher price because of their increased level of difficulty. "My best tip is to buy a George Foreman grill and keep it simple."
Breaking Into the Business
For RDs looking to start offering their services to corporate America, either through a wellness company or on their own, Mariano says organizational skills and flexibility are a must. "It's an exciting environment that requires a lot of teamwork and professionalism," she says. "When working with employees, you must do so in a nonjudgmental manner and make small realistic recommendations to employees to foster long-term behavior changes."
Tannenbaum says dietitians interested in the coaching aspect of worksite wellness may want to consider pursuing the health coach credential (See "Dietitians as Health Coaches" in the May 2015 issue of Today's Dietitian). "I think it's an important credential in order to be competitive and a way in which the RD can diversify," she says, noting that business skills are another must-have, especially as it relates to pitching your services to corporations.
"Everything from contracts to cost benefit analysis is necessary when putting together a program," Tannenbaum says. "If you don't have these capabilities, link up with people who do."
Tannenbaum says some aspects of creating wellness programs can be easier if dietitians have a team behind them, but she says it isn't a necessity. She encourages RDs who want to go it alone to team up with other health professionals if the company wants services they don't currently offer.
"It's helpful to get started by doing per diem work with some larger wellness companies to get your foot in the door and test the waters," Tannenbaum says. "There are many wellness companies who hire RDs per diem to work wellness events in large and small companies."
Berg agrees: "Many wellness companies hire RDs per diem, and this is an excellent way to see if corporate wellness is for you."
If dietitians want to start their own wellness business, as Berg did with Long Island Worksite Wellness, she says a company website is essential to market your services. "LinkedIn can be extremely valuable as well as joining local networking groups."
After a dietitian determines what services to offer and what clients to target (which Berg recommends RDs decide before anything else), she suggests learning the differences between marketing to private clients vs corporate clients.
"Marketing your services for corporate wellness is different from marketing for private practice," she says. "Private clients are looking for a personal connection; for corporate clients it's a business decision. Your promotional material should include results such as health risk reduction and employee engagement, plus statistics for the return on investment an employer should expect. If you don't have numbers of your own, use industry standards that are published in the literature.
"Include past clients and positive testimonials," she says, "and most importantly, include why they should hire you."
When submitting a proposal, Berg says it's important to understand the goals and objectives of the company's wellness program. For determining the program cost, take into consideration your experience and your local market, she adds. "Remember, a client can always negotiate the price down, but they will never pay you more than you ask," she says.
Once you land the job, "Arrive early, come prepared, dress professionally, and most importantly, know your client's expectations and exceed them," Berg says.
Carrying an RD credential will add credibility and establish you as a nutrition expert, she adds, but that alone isn't enough. "Worksite wellness is a customer service business. It's up to you to make a good impression, create buzz for your program, and bring your A game. Don't be afraid to take a stand, even if it's controversial. You want to keep your audience interested and awake."
Long-Term Potential
Worksite wellness programs offer a wealth of professional opportunities for RDs, but according to Mariano, they also house huge potential for the future of America's health—and that potential alone, while it may be hard to quantify, makes it worth pursuing.
"Worksite wellness is extremely valuable because for the most part, we spend the majority of our days at work," Mariano says. "So if we can encourage healthful eating and behaviors while at the workplace, employees will feel better, have more energy, and be more productive. In addition, they're more apt to continue following these behaviors outside of work and sustaining healthful lifestyles over the long term."
— Juliann Schaeffer is a freelance writer and editor based in Alburtis, Pennsylvania, and a frequent contributor to Today's Dietitian.