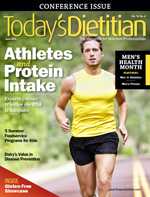 June 2014 Issue
Men in Dietetics
By Lindsey Getz
Today's Dietitian
Vol. 16 No. 6 P. 34
While women dominate the nutrition profession, more men are entering the field and experiencing great success in their careers.
Dietetics has long been a field dominated by women. Many surmise that possible stigmas were formed in the early years with the profession's ties to home economics or the classic "lunch lady" role. Unfortunately, these misperceptions possibly have discouraged more men from entering into the field—but all of that may be changing.
As the dietetics profession has evolved, the push toward encouraging more men to join the ranks has increased. Those men who have paved the way have shown that there are great opportunities for success. Men in dietetics are doing exciting things, and they're encouraging more men to consider entering the field.
Female-Focused Beginning
That sense of a home economics beginning to the dietetics field certainly may have driven more women than men into the nutrition profession, says Rick Hall, MS, RDN, FAND, a writer and speaker and a senior nutrition lecturer at the School of Nutrition and Health Promotion at Arizona State University. "Women dominated this field early on, and when anyone looks at a field so prevalently occupied by one gender, the natural stigmas attached to that profession might influence the continuation of that trend," he says. "In other words, young men may look at nutrition as a woman's career choice instead of recognizing it as a unique opportunity to break through a profession eager for diversity."
Associating a person's sex with professional career choice certainly isn't limited to the dietetics field. The predominance of women in nursing is another prime example. But statistics have shown a nationwide trend of more men pursuing nursing careers, and many believe dietetics is next.
The numbers of men in the dietetics profession "have been creeping up slowly, but I believe we're on the horizon of seeing a bigger change," says Ethan Bergman, PhD, RDN, CD, FADA, associate dean in the College of Education and Professional Studies and a professor of food science and nutrition at Central Washington University. "Just as the nursing profession saw a sudden rise in the number of men entering the field, I believe we're poised for that same big growth potential. Men are realizing it's a viable profession that works well with both their professional and personal goals."
The change already is under way, according to Hall. As a faculty member for one of the largest dietetics programs in the country, Hall says he's been seeing a steady increase in men pursuing nutrition as a degree option within the past decade. "When I was pursuing my degree, I often was the only male in the room," he recalls, "but that's no longer the case."
A misinformed public certainly has been a large part of the battle in encouraging more men to enter the nutrition field. Many dietitians have expressed frustration over the lack of public understanding about what a dietitian does and why they may need a dietitian. David Grotto, MS, RDN, president and founder of Nutrition Housecall in Chicago and author of The Best Things You Can Eat, 101 Foods That Could Save Your Life, and 101 Optimal Life Foods, says the misconceptions about the dietitian's role are manifold. Male and female dietitians alike have had a difficult time educating the public about exactly what they do and who they are.
"I think we've had a hard enough time shaking the image of the spinster lunch lady with the hairnet," Grotto says. "This is a stereotype that limits both men and women. The truth is that this profession has so many possibilities, but often men and women believe their only choices are working in foodservice or being a hospital floor dietitian. Those are wonderful roles, but the problem is so many students believe they're the only career paths for a dietetics degree."
Grotto believes the Academy of Nutrition and Dietetics (the Academy) has taken important steps to help dispel some of these stereotypes by educating the public about what dietitians do and adding the word "nutritionist" to the credential, which he says helps clarify the role and may help attract more men to the field. Today's Dietitian contacted the National Organization of Men in Nutrition, a member interest group of the Academy that focuses on promoting dietetics careers to men, but members didn't respond before press time.
"Having been in this profession for almost 30 years, I'm still having to constantly define what registered dietitian means," Grotto says. "Like it or not, when consumers hear 'nutritionist,' they have an a-ha moment, and they get it. I think it's a positive direction to not only be more clear about what we do but to highlight the possibilities of this profession and define its scope. That will help in actively recruiting both genders as well as more of a diversity of populations. White young women shouldn't be the only image that comes to mind when you hear 'registered dietitian nutritionist.'"
Abounding Opportunity
No doubt the dietetics field has much to offer both women and men. Grotto says he's always had a dream about going into broadcasting, and becoming a dietitian didn't dash that dream; it helped make it a reality. In addition to working as a clinical dietitian, Grotto had the opportunity to host his own radio show for a decade called Let's Talk Health, Chicago.
"There was a time when I bought into the stereotype that a hospital job was the only career path for a dietitian," Grotto says. "That's certainly one choice—and a great one—but there are so many more. This amazing profession has allowed me to work in so many different areas and do so many different things."
Many male dietitians tell that same story. Manuel Villacorta, MS, RD, founder of Eating Free, an international weight management and wellness program; cofounder of Eat Mentor, a personalized weight-loss app; and author of Eating Free and Peruvian Power Foods, says the versatility has been one of the most appealing aspects of the nutrition profession. Originally, he wanted to become a primary care physician, so he took premed course requirements at the University of California, Berkeley. When he took an elective clinical nutrition class, that's when he had what he calls his a-ha moment. He already knew he enjoyed cooking, loved the sciences, and wanted to help people, and attending that class was when he realized dietetics was a field that had it all.
"I have never once regretted my decision to leave the dream of becoming a physician behind," says Villacorta, who has worked in public health and private practice in addition to consulting and spearheading other projects. "This has been an amazing journey, and where I am now is like heaven. I don't think I would have been able to do all the different things I've done with my professional career had I become a doctor. I would have been tied down."
Although men are a minority in the field, those who have built successful careers say that being in the minority actually has worked to their advantage. Dietetics has become a field that craves diversity, and there are many roles to be filled. "Men are in need in our field," says Jim White, RD, ACSM, HFS, owner and president of Jim White Fitness & Nutrition Studios. "With only 5% of men in the field, that can be a huge advantage, and there are many dietetics tracks geared for men." Men can go into private practice, establish businesses focusing on nutrition and fitness, pursue broadcasting careers in radio and TV, become spokespeople and industry consultants, and write books.
White says he combined his dietetics degrees with his passion for fitness to create his dream job. In addition to becoming credentialed as an RD, he became certified as a health fitness specialist by the American College of Sports Medicine and shortly after opened his first fitness and nutrition studio. "A career in this field does not end at traditional dietetics," White says. "Men can create their own path in the career. Look for nontraditional career paths and find something you're passionate about."
Christopher Mohr, PhD, RD, a nutrition consultant and writer and the co-owner of Mohr Results, a weight-loss company in Louisville, Kentucky, says a dietetics degree allows for creating your own opportunities. "This is exactly how I've built my career," he says. "There's a need for quality RDs, whether that is a man or a woman."
Mohr has been a nutrition spokesperson and consultant for both media outlets and corporations, including The Dairy Council, Clif Bar, and Subway. He was the nutrition expert for The New York Times best seller LL Cool J's Platinum Workout, and he sits on the advisory board of some major magazines. And these are just some of the opportunities Mohr has had throughout his career.
Mohr says it shows the vast level of opportunity that exists for dietitians in the field. He attributes much of his success to having mentors that have helped guide him over the years. "They are my coaches," he says. "For anyone starting out, I would advise finding a mentor and being like a sponge, meaning absorb everything you can from them and their experience. My other piece of advice is to network. Get out there and don't be afraid to ask questions. Introduce yourself at conferences and always ask how you can help."
Blow the Trumpet
While many successful male dietitians are forging the way, it's important that the industry promotes itself so men will be more inclined to enter the field. This has been and continues to be a barrier that's preventing more men from pursuing the degree, says D. Milton Stokes, PhD, MPH, RD, CD-N, owner of One Source Nutrition, with offices in Stamford and South Windsor, Connecticut. Many schools don't do enough to promote it, he adds.
"High school counselors definitely don't promote dietetics, but even universities and colleges with dietetics programs often don't promote the major adequately," Stokes explains. "In my academic position, I see students who came to us because they or a family member worked with a dietitian, not because we recruited them. I found dietetics because my college advisor, who was a botanist, casually mentioned taking a nutrition class. It was pure happenstance, but once I was in, I was hooked."
Villacorta says the curricula also can benefit from some changes. "The backbone of the dietetics field is clinical, and that should definitely be a major part of the curriculum," he says. "But I don't think it should be the only focus. Dietitians are eager to hear other things they can do with the degree, and I feel like the learning opportunities should be a little more open ended. They can talk about how to build a private practice, for instance, as this is uncommon ground for many dietitians."
Continuing to highlight what men already are doing in the field also will help change perceptions, Bergman says. "We need to get the word out and show the types of things men are doing in the profession. I feel like we're going to see men emerge in all areas of dietetics, not just be limited to one sector of the profession."
And there's plenty that existing male dietitians can do to help. "I'm always thinking of ways I can help promote dietitians and the profession as a whole," Villacorta says. "Doing talks or using social media helps get the word out about the profession, and that benefits all of us. If we're going to change this perception of dietetics being about home economics or being only for women, then we need role models who can get more involved."
Room for All
In the end, dietetics is about everybody, Bergman says. "Access to food is a right, just like water or air," he says. "Everybody needs food. The more we come to realize that, the more we can encourage dietitians to take the role of food nutrition leaders. Optimizing health through food nutrition is a role that anybody can play—and that's where gender lines cross."
Grotto agrees: "It's important we do a better job of encouraging more men to join the field, but we also don't want to turn this into a man vs. woman thing. All of the opportunity and versatility that we talk about as attracting men to the field are the same reasons women are attracted to the profession. It can be a great career choice for everyone."
— Lindsey Getz is a freelance writer based in Royersford, Pennsylvania.