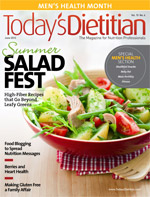 June 2013 Issue
Eggplant — A Versatile Food Available in Various Shapes, Sizes, and Colors
By Bryan Roof, RD, LDN
Today's Dietitian
Vol. 15 No. 6 P. 66
One thing I look forward to in the summer is gardening. Growing up, my parents always had a garden, although I never appreciated it. To me, it took up space in the yard and served as an irritating obstacle for my family's clunky push mower. But now I recognize there's something special about growing your own food. If I had the space to raise my own animals (aside from my kids), I'd do that, too. My garden is small, so I only grow my favorite vegetables, such as tomatoes, peppers, cucumbers, scallions, kale, and eggplant. Of those, few friends find as much joy in growing eggplant as I do. If only they knew.
I grew up with eggplant. My mother loved it lightly breaded and fried or roasted and puréed with cumin and scallions (a version of eggplant caviar). I always wondered where the name came from. Turns out some eggplant varieties are oblong (egg shaped) and off-white in color. Put the two together and "eggplant" is born. (I must remember this naming system if I have more children.) But eggplant also can be long and skinny, round, pear shaped, or the size of a large grape, with colors ranging from white to dark purple and striped variations inserted throughout the mix.
They're not usually called eggplant outside the United States. They go by a series of aliases, such as garden egg, egg apple, Guinea squash, berenjena, brinjal, melongene, patlican, and aubergine. They also can be classified by origin: Chinese, Filipino, Indian, Italian, Japanese, Sicilian, or Thai. You have to wonder whether the eggplant is underappreciated or just plain confusing.
Whatever it's called, however, it's shaped and shaded, and wherever it's from, eggplant is one of my favorite vegetables (technically a fruit), especially when homegrown. In stores, I often find it unreasonably expensive for the quality. Because they don't sell as well as other vegetables, often they're soft, bruised, wilted, and overripe, which tends to make them slightly bitter. Ideally, you want to buy eggplants that have firm skin and fresh-looking green stems.
In the kitchen, you may be surprised to learn that eggplant can be used for more than just the ubiquitous Eggplant Parmesan. On the grill, it's great sliced thin, quickly browned, and served with a yogurt sauce or sometimes I'll put the whole eggplant on the grill over indirect heat and let it slow-roast for an hour or more until supremely tender, at which point I'll turn the smoky pulp into my own version of eggplant caviar or baba ghanoush.
Indoors, one of my favorite uses for eggplant (and the rest of the garden's bounty) is in ratatouille, a quick vegetable stew containing peppers, summer squash, onions, tomatoes or tomato paste and, of course, eggplant. As the mixture cooks, the eggplant turns creamy while the other vegetables reach a perfect al dente. Each vegetable retains its own character, and I bolster the mix with ample shots of olive oil, kalamata olives, scallions, and fresh herbs. The resulting mix is more of a velvety vegetable sauté than stew that's great served alone, as a side dish, as an appetizer over grilled bread, or as a garnish for grilled fish—the possibilities are endless. To me, ratatouille is the flavor of summer.
— Bryan Roof, RD, LDN, is a chef, dietitian, and food writer living in Boston. Follow him on Twitter @bryanroof.
Ratatouille
Serves 6 as a side dish
Ingredients
3 T extra-virgin olive oil, plus extra for serving
4 garlic cloves, smashed and peeled
1 1/4 lbs eggplant, cut into 1/2-inch pieces
1 lb zucchini, cut into 3/4-inch pieces
1 red bell pepper, stemmed, seeded, and cut into 3/4-inch pieces
1 onion, halved and sliced thin
1 1/2 tsp minced fresh thyme
1 tsp fine sea salt
1/8 tsp red pepper flakes
3 T tomato paste
1 1/4 cups water
3 scallions, sliced thin
1/4 cup kalamata olives, coarsely chopped
1/2 tsp pepper
1/2 cup packed fresh basil leaves, coarsely chopped
Directions
1. Heat 2 T olive oil and the garlic in a 12-inch nonstick skillet over medium-low heat until the garlic is lightly toasted, 5 to 7 minutes. Increase the heat to medium-high and add the eggplant, zucchini, bell pepper, onion, thyme, salt, and pepper flakes. Partially cover and cook, stirring often, until the exuded vegetable juices evaporate and the vegetables begin to brown, about 10 minutes.
2. Stir in the tomato paste to coat the vegetables. Stir in the water, and cook until nearly evaporated, about 3 minutes. Turn off the heat and stir in the scallions, olives, pepper, half the basil, and the remaining 1 T olive oil. Transfer to a serving dish and sprinkle with the remaining basil. Serve drizzled with additional olive oil.
Nutrient Analysis per serving
Calories: 150; Total fat: 9 g; Sat fat: 1.5 g; Trans fat: 0 g; Cholesterol: 0 mg; Sodium: 500 mg; Total carbohydrate: 15 g; Dietary fiber: 6 g; Sugars: 7 g; Protein: 3 g