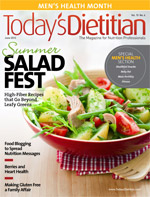 June 2013 Issue
Connect for Success — New EHR System Helps Clients Meet Nutrition and Wellness Goals
By Lori Zanteson
Today's Dietitian
Vol. 15 No. 6 P. 62
A new electronic health record (EHR) system has been developed for supermarket dietitians to practice medical nutrition therapy, helping clients design healthful eating plans and manage diabetes, heart disease, and other chronic conditions.
Called Connect & Coach, this EHR system is based on the Academy of Nutrition and Dietetics' Nutrition Care Process, which involves assessment, diagnosis, monitoring, and evaluation, and complies with the American Diabetes Association's Diabetes Self-Management Education guidelines. The system is being used in more than 40 Giant Eagle supermarkets in western Pennsylvania, Ohio, and Maryland, giving RDs tangible tools to stay connected with clients and continue to provide high-quality nutrition care.
Lizzy Wentzel, MS, RD, LDN, a dietitian who helped develop the system, worked with the Pittsburgh-based software development company PHRQL (pronounced "freckle" and stands for Personal Health Recording for Quality of Life). "I was the mind of the dietitian for the [company], and it was the software brains," she says.
The goal in developing the program was to mesh Wentzel's field experience as an RD with the practical question, "How can we use this to educate [clients and patients] and track outcomes?" The EHR system allows dietitians to speak the same language when documenting patient information and outcomes, paving the way for it to be used universally. Clients can change RDs or store locations and have their records follow them, allowing for a seamless transition in their care.
System at a Glance
Connect & Coach also helps dietitians maximize one-on-one face time with clients by enabling them to collect patient data ahead of time. For example, clients can complete a self-assessment form and have their dietitian review it before their visit, freeing up more time for RDs to coach them as they walk through the supermarket aisles, provide meal ideas, shop, and teach them how to read food labels, Wentzel says.
Since January, RDs have been using Connect & Coach, and the response has been positive, says Caroline Passerrello, MS, RD, LDN, Giant Eagle's corporate dietitian. "We didn't want to take away the personalization of a one-on-one session," she says. "Our clients still feel as if they're receiving information and coaching specific to their nutrition concerns."
The system allows dietitians to enter client health information, including physician contacts, phone numbers and addresses, family history, food history, and frequency and type of physical activity. During counseling sessions, RDs can access this data electronically, and add information and notes to the system. They can quickly collect and enter additional data and cover more ground with clients than they could with the handwritten responses they obtained on assessment forms, Passerrello says.
While the efficiency of Connect & Coach is important to dietitians, Passerrello says the true indicator of its success is whether it helps clients reach their goals. She's found that the program has done just that through nutrition diagnosis in accordance with the Nutrition Care Process, using the PES (problem, etiology, signs/symptoms) intervention section. This section enables dietitians to collect data according to the nutrition assessment guides to diagnose nutritional issues and determine their possible causes, signs, and symptoms. "We're able to add multiple PES statements, update them, and track their progress with a few clicks of a mouse," she says.
"The intervention section allows dietitians to set SMART [specific, measurable, attainable, realistic, timely] goals specific to the client's nutrition diagnosis and develop real-life strategies for accomplishing the goal," Passerrello says. Because it's electronic, dietitians can print out the section for clients and send it to their physicians, along with updates used by a "team that will assist clients in meeting their goals and improving their nutrition and health status."
Clients and patients can register for individual nutrition counseling and group nutrition classes during their counseling sessions or on Giant Eagle's website. The four-week classes meet once per week for 90 minutes and cover topics ranging from weight loss and nutrition to eating well. Giant Eagle's dietitians facilitate the classes, teaching participants how to limit fats, control portions, manage stress, and become more physically active.
Reason Behind the System
The concept for Connect & Coach was developed to meet a market need, says PHRQL CEO Paul Sandberg, MBA, BSc. It made sense to offer this service in supermarkets since people must shop for food as opposed to making a special trip to a hospital or other clinical setting, and it's where they make food purchase decisions that affect their diet. "Supermarkets don't have the tools," Sandberg says, specifically referencing the EHR system used by large medical organizations.
Along with its EHR component, Connect & Coach has a mobile app that allows clients to get more involved with their nutrition and health care by enabling them to log the food they eat, track their progress, and share it virtually with a coaching service. "We're trying to make it simple and easier," Sandberg says. "It's not really fun to track food, but if you're going to do it, we're trying to make it fun."
The most important role of Connect & Coach is to "build and maintain the relationship between the nutrition counselor and the customer. We've created the infrastructure to keep that relationship active," Sandberg says. With the app, which is based on the USDA MyPlate concept, customers can photograph their food and rate it against a nutrition goal they've made with their dietitian. The RD can immediately access the photo and rating then provide recommendations based on the types of foods the client likes. For example, the dietitian can suggest trying brown rice instead of white rice. Though the RD is "not sitting at the table with you, it's the next closest thing," Sandberg says.
One issue for dietitians is getting customers to come back for follow-up visits. Often, after the initial counseling session, customers leave with their recommendations and don't come back. "This solves that," Sandberg says. "They stay in touch."
At a time when more than one-third of American adults are obese, putting them at higher risk of obesity-related conditions such as heart disease, stroke, type 2 diabetes, and certain cancers, nutrition and wellness programs are paramount. Not only are these diseases among the leading causes of preventable death, but according to the Centers for Disease Control and Prevention (CDC), they're costly to the health care system: Obesity-related medical costs in 2008 were estimated at $147 billion, an average of $1,429 more than those of normal-weight individuals.
The CDC also reported that 133 million Americans—almost one of every two adults—had at least one chronic illness in 2005, which accounts for seven of every 10 deaths each year. The most common causes are behaviors that can be controlled, such as lack of physical activity, poor nutrition, tobacco use, and alcohol consumption—behaviors dietitians address with their patients and clients every day.
According to Wentzel, new technologies, such as Connect & Coach, give RDs the tools they need to improve their clients' and patients' quality of life by making it easier, more efficient, and even fun to reach their nutrition and wellness goals.
— Lori Zanteson is a food, nutrition, and health writer based in southern California.