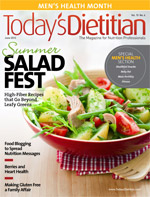 June 2013 Issue
Smart Snacks for Men — Creative Ideas and Recipes Male Clients Will Enjoy
By Juliann Schaeffer
Today's Dietitian
Vol. 15 No. 6 P. 32
RDs interviewed by Today's Dietitian say healthful snacking boosts metabolism, reduces hunger, and provides vital nutrients between meals.
Whether it's a bag of chips, a sleeve of cookies, or nothing at all, most male clients can use some education on the topic of smarter snacking. And the reasoning goes something like this: With work demands and family obligations, many men feel lucky if they can fit in a quick lunch, let alone a midmorning or afternoon snack during the work week.
"Unfortunately, for men, hectic weekday schedules and work demands can take priority over eating. All of a sudden, 5 pm rolls around and they have nothing substantial to show for the day," says Kara Lydon, RD, LDN, health communications manager at Chobani. But as she explains, if you can get your clients to make snacking a priority early on, their body will learn to remind them later. "Train your body to expect a snack midmorning and/or midafternoon, and eventually your body will tell you it's time for a snack rather than the clock."
According to Tara Gidus, MS, RD, CSSD, LD/N, a nutritionist for the Orlando Magic NBA team, snacking can help solve what can happen when someone goes too long without food: overeating. "Men tend to eat large portions at meals and forget to eat between meals," she says. "They get ravenously hungry, which leads to making poor choices, eating too quickly, and then overeating.
"Men need more calories than women because of their larger size and higher muscle content," she adds. "Snacks are a perfect way to bridge energy from one meal to another, prevent ravenous hunger, and also provide nutrients that may be missing from the diet."
Today's Dietitian spoke with RDs about the importance of healthful snacking for the average male client and collegiate athlete as well as the most important nutrients they should contain, and they provide creative snack ideas these men can make at home or purchase at their neighborhood supermarket.
Obstacles to Snacking Healthfully
Step one in overcoming men's most common obstacles to healthful snacking is defining what to eat vs. what not to eat.
"A snack has to contain purposeful nutrients," says Becci Twombley, RD, CSSD, director of sports nutrition at the University of Southern California and a spokesperson for American Pistachio Growers. "Many athletes hear me say, 'Snack three times per day,' and they immediately think of chips, cookies, or candy when, in fact, I'm referring to whole or dried fruit, yogurt, beef jerky, and nuts."
Twombley says the clientele she works with most, young college athletes, often struggle with the same constraints as older working professionals: time. The answer for both is preparation.
"Prepare ahead of time," says Jim White, RD, owner of Jim White Fitness & Nutrition Studios in Virginia Beach and a spokesperson for the Academy of Nutrition and Dietetics. "Take an hour out of your Sunday afternoon to prepare all of your snacks in individual baggies so you can easily grab them during the busy work week."
Whether your client is a professional ball player, a corporate executive, or a stay-at-home dad, smart snacking has benefits for him.
"If you're constantly active or just sit in front of a computer all day, it's good to refuel from time to time," says Bryan Roof, RD, LDN, a chef and senior editor of America's Test Kitchen. "Snacking keeps your metabolism up, keeps blood sugar from dipping too low—avoiding those brain-dead moments throughout the day—and prevents you from bingeing when you finally sit down for a meal."
Twombley agrees, adding that it's an important part of fueling muscle growth and recovery. "Without fueling the body every three to four hours, cells have to go back and forth between the starved and fed state, which makes energy utilization inefficient," she says. "Fatigue, irritability, and frequent illness are just a few consequences from failure to snack."
Key Nutrients
There's no snack that will be equally sufficient for every person, but they should contain 300 kcal, 1 g of fat, 1 to 2 g of saturated fat, 15 to 20 g of protein, and 30 g of carbohydrate, explains Leslie Bonci, MPH, RD, CSSD, LDN, director of sports nutrition at the University of Pittsburgh Medical Center and the Pittsburgh Steelers' team dietitian for nearly two decades.
Of these nutrients, protein is particularly important, according to Twombley. "Protein is important for both men and women, but men need more protein per day than women," she says. "Pistachios are a great source of protein, which is important for repairing and renewing tissues in the body and for building and maintaining muscle mass."
Lydon also likes protein for its muscle-building abilities, noting that for one 6-oz serving of Chobani Greek yogurt, men get 13 to 18 g of protein. Add some granola such as a single serving of Bear Naked Peak Protein Granola, and it adds an additional 6 g of protein.
Fiber is another nutrient that deserves more attention from men. "I've noticed in my community that men tend to be a little more deficient in fiber ingestion," says Adam M. Burda, MS, RD, LD, a clinical dietitian at Western Maryland Health System. "Most men are so preoccupied with their meat and potatoes that they tend to forget their vegetable and whole grain consumption."
Snacking Suggestions
One obstacle almost everyone can relate to is the long, stressful workday—be it at the office or on the field. But snacking can combat stressors head on, Twombley says. "Stress generates a lot of free radicals; therefore, capturing these rogue electrons with some antioxidants would be helpful," she explains. "Tart cherry juice, carrots, mango, and broccoli are all good sources of various antioxidants that will decrease fatigue throughout the day."
Burda prefers to indulge his sweet tooth when tension hits and suggests clients do the same. "Chocolate-covered almonds or peanuts or yogurt-covered peanuts or raisins is something that I turn to," he says.
White likes the crunch of pretzels or nuts in times of high stress. If none are available, he turns to instant oatmeal with dried fruit.
Gidus recommends snacking outside the box, especially for men who are particular about what they eat. She suggests men find a sandwich they like and serve it in smaller portions. "Snack doesn't always mean traditional snack food," she says. One-half of a sandwich makes a suitable midafternoon snack.
Bonci likes recommending a healthful serving of nachos to her players, consisting of baked tortilla chips, black beans, salsa, and shredded light cheese.
And for guys always on the go, Roof says easy-to-grab items are more likely to get eaten. "It goes without saying that it's easier to snack on items that are grab-and-go, can be prepared ahead of time, and are easily transported," he says. "Items like nuts, fresh and dried fruit, single-serve cheese, turkey or beef jerky, and Greek yogurt are good choices. I also consider drinking plenty of water a form of snacking. It suppresses the appetite, keeps your metabolism up, and benefits the body in a host of ways."
Hot summer days call for lighter snacking options. When trying to beat the heat, White chooses a 1/2 cup of low-fat cottage cheese sprinkled with 1 T of ground flaxseed, or 3 cups of popcorn.
Bonci recommends premade smoothies by Odwalla and Naked. She also likes frozen fruit bars, Laughing Cow spicy cheese wedges with celery, and spicy black bean dip such as Desert Pepper with Special K chips for summer snacks.
If your male athlete clients know their way around the kitchen, suggest they try a high-calorie smoothie recipe from Chef Tory McPhail that Twombley often uses: 1/4 avocado, 1 oz pistachios, 8 oz skim milk, 6 oz Greek yogurt, one banana, and ice for texture. "This smoothie also is great for posttraining recovery to build mass," she says.
For men who prefer to buy smoothies, Jamba Juice offers a new Fruit & Vegetable smoothie that provides two full servings of fruit and one full serving of vegetables. "Smoothies are an excellent way to get fruits and veggies, which provide fiber, vitamins and minerals, and antioxidants," says Gidus, who also is a Jamba Juice Healthy Living Council member.
Another snack recipe for those more adventurous in the kitchen is homemade jerky. "Making your own beef jerky is definitely perceived as a 'manly' cooking venture," Roof says. "It's easy to do and most of the work is hands off. I prefer to make my own because I have full control over the quality of the meat and other ingredients that go into it."
Roof says homemade jerky is as simple as marinating thin slices of meat for several hours, then spreading them on a wire rack to dry in the oven at 175˚ to 200˚F. Clients can use a food dehydrator instead if they're interested. Guys who'd rather buy than make their own meaty snacks can try various types of seasoned turkey, beef, and venison jerky by Premium Buffalo Bills.
Men also can make a lower-in-fat version of deviled eggs, says Joshua Hammond, MBA, RD, LNHA, a licensed nursing home administrator. "Eggs are cheap and packed full of protein. Instead of mixing full-fat mayo with the yolk, you can try reduced-fat or low-fat sour cream. Don't forget to garnish with chives."
Dietitians should suggest snacks suitable for active clients, since pre- vs. posttraining needs can differ. "Pretraining snacks should include about 30 g of carbohydrate," Twombley says. "Dried fruit—mangos, blueberries, apricots, etc—bananas, applesauce, or 4 to 6 oz of 100% juice generally are well tolerated and produce a significant boost in energy."
White's favorite preworkout snacks include bananas, veggies with hummus, and whole grain crackers with deli meat. One healthier meat line is Farm to Fork Naturals, made from pork or turkey raised with no antibiotics and 100% vegetarian feed.
Is hummus too "girly" for some guys you know? Maybe they'll like Kashi's new Hummus Crisps, made from chickpeas and the company's signature whole grain blend—but with a guy-friendly look.
Before an intense cardio workout, Bonci, who's also a spokesperson for the California Dried Plum Board, recommends that players eat an apple with peanut butter. Her best posttraining snack suggestions include a serving of California dried plums and almonds or "nature's muscle milk," a 16-oz bottle of low-fat chocolate milk, such as TruMoo, which boasts twice the carb and protein count compared with many juices and sports drinks.
Twombley offers a word of caution, however, to men who may rely too much on their daily shake or supplement: "Many men get sucked in to 'supplement'-style snacking. They somehow become convinced that they require protein shakes, preworkout supplements, or additional protein, forgetting that foods also can offer the nutrients required for building muscle and recovery. Teaching athletes when to fuel with protein and carbohydrates is a crucial step in teaching them how to recover. By translating the nutrients into foods, the athletes have an easier time understanding how to implement their plan.
"For instance, [they can] add lean protein to foods high in antioxidants for afternoon snacks, such as fruit and Greek yogurt, tuna and carrots, or pistachios and dried cranberries," she adds. "I try to remind athletes that all supplements are found in foods." For extra omega-3s, clients may enjoy Bumble Bee's new Prime Fillet Omega-3 Albacore; each serving contains a combined 200 mg of EPA and DHA.
For guys with a sweet tooth, White recommends a sampling of fruit such as a small box of raisins, apple slices sprinkled with cinnamon, or 1/2 cup of strawberries with 1 1/2 T of nonfat yogurt.
Instead of yogurt, guys can top the season's best fruit with nut butter, Hammond suggests. "Nuts or nut spreads are a fantastic and satisfying snack choice," he says.
Importance of a Steady Snacking Routine
The early effort of getting into a snacking routine may seem troublesome to male clients who'd rather spend that time perfecting their jump shot, but Twombley says the long-term benefits more than pay off. "By snacking throughout the day, a steady stream of nutrients is created, which keeps the cells healthy," she says. "Healthy cells will work hard to use fat as an energy source and will maintain their integrity to keep muscles, tendons, and ligaments strong. By consistently adding snacks with antioxidants, tissue damage can be minimized, preventing nagging injuries in the future."
Bonci agrees: "With my athletes, I talk about food as part of the equipment, as guys love their 'stuff,' or [I refer to nutrition as] premium fuel in the race car. Not only will eating right make them feel better but look better, too—for the immediate and in the long term, whether in the boardroom or on the playing field."
— Juliann Schaeffer is a freelance writer and editor based in Allentown, Pennsylvania, and a frequent contributor to Today's Dietitian.
Grilling on July 4
If there's one cooking apparatus that's got male written all over it, it's the grill—and summer is the grill's best friend. Instead of the typical burger and hot dog fare, suggest male clients grill some healthful snack options for the Fourth of July parties they may be hosting this year.
Adam M. Burda, MS, RD, LD, a clinical dietitian at Western Maryland Health System, thinks turkey bacon-wrapped scallops are an excellent snack made on the grill or "shish kebabs made with cut-up pieces of steak, chicken, shrimp, green peppers, red peppers, yellow peppers, and mushrooms marinated in fat-free Italian dressing."
Know some clients who are particularly adept at grilling and may be up for a challenge? Bryan Roof, RD, LDN, a chef and senior editor at America's Test Kitchen, suggests guys try their hand at grilled jalapeño poppers or bruschetta with grilled bread and a variety of fresh veggie toppings. He also prefers grilled veggie crudités with a cool yogurt dip or grilled prosciutto-wrapped fresh mozzarella or melon.
Whatever healthful foods clients put on the grill, remind them not to let any perishable items sit out too long in the hot sun at outdoor parties, so no one ends up with a bout of food poisoning. "Refrigerate perishable food items within two hours [of being outside] at a refrigerator temperature below 40˚F," Burda says. "And on a hot day of 90˚F or greater, food should not sit out for more than one hour."
— JS
Sweet and Spicy Grilled Pineapple
Ingredients
1 pineapple
1 T olive oil
1/4 cup red pepper jelly
Directions
1. Prepare your grill by lightly oiling or spraying the grates with nonstick cooking spray. (For a charcoal grill, coals should be glowing; for a gas grill, set to medium heat.)
2. Peel and core pineapple and cut into 1-inch rings. Brush each ring lightly with olive oil using a pastry brush.
3. Heat the jelly on the stove or in a microwave to liquefy and brush on the pineapple with a pastry brush. Grill 2 to 3 minutes per side, until lightly browned and you see grill marks.
Nutrient analysis per serving (1 pineapple ring)
Calories: 60; Fat: 1.5 g; Carbohydrates: 12.5 g; Fiber: 0.8 g; Protein: 0.3 g
— Recipe courtesy of Leslie Bonci, MPH, RD, CSSD, LDN