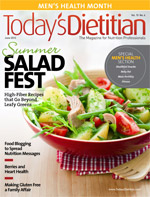 June 2013 Issue
All in the Family — Getting Everyone on Board Is the Key to Success
By Maura Keller
Today's Dietitian
Vol. 15 No. 6 P. 12
A mother has just learned that her 9-year-old daughter has celiac disease. She seeks the advice of a dietitian out of frustration, wondering how she's going to feed her family of five when only one child has special dietary needs. "I don't want to become a short-order cook," she says. The good news is she doesn't have to as long as the entire family gets on board with eating gluten free.
According to Marlisa Brown, MS, RD, CDE, CDN, president of Total Wellness, Inc and author of Gluten-Free, Hassle-Free and Easy Gluten-Free, when one or more individuals has celiac disease, the family should consider embracing gluten-free foods because it's easier to shop and prepare meals for everyone instead of purchasing different types of foods for different people. The person who has celiac disease won't feel singled out or deprived and therefore will be more comfortable during meal and snack times. And it's easier to prevent cross-contamination since there are no contaminants present.
"Some gluten-free foods aren't as palatable as the gluten-containing items, but many gluten-free options can look and taste great and can be easily prepared," Brown says. One of her favorite gluten-free meals is kabobs—chicken, beef, or shrimp with peppers, onions, and tomatoes marinated in a gluten-free Italian salad dressing served with brown rice, quinoa, or millet or with roasted potatoes, and a mixed green salad.
Lauren Graf, MS, RD, a dietitian with the Montefiore-Einstein Cardiac Wellness Program at Montefiore Medical Center in New York City, says that when people are diagnosed with celiac disease, they may feel isolated and believe they can no longer enjoy their favorite foods. This is especially important for parents to keep in mind if they have children with celiac disease because kids may not understand why they're not allowed to eat the same foods as everyone else, Graf says. It also may help parents to know that gluten-free foods can be more nutritious than those containing gluten, she says.
Healthier Alternative
Graf tells her celiac patients that gluten-free meals prepared with foods such as quinoa, brown rice, amaranth, or sweet potatoes will enhance their nutrient content. "Quinoa and amaranth are higher in protein and micronutrients than most wheat-based products," she says. "Sweet potatoes—and even white potatoes—are loaded with antioxidants, minerals, and fiber. Many people rely heavily on refined wheat-based foods, such as breads, cereals, pastas, and crackers, and get very little variation in their diet." By incorporating gluten-free foods into the entire family's diet, everyone likely will eat more fruits and vegetables simply because they're gluten-free food sources.
Rachel Begun, MS, RD, CDN, a spokesperson for the Academy of Nutrition and Dietetics, always recommends clients with celiac disease eat a healthful, nutrient-dense diet that's naturally gluten free. "As with all dietary patterns, the quality of the gluten-free diet comes down to the choices one makes. A gluten-free diet that relies on mostly whole foods will be a healthful one."
A celiac disease diagnosis often motivates family members to branch out and experiment with some of the more exotic grains and dishes they may have never tried before. "I've found that patients or family members of patients notice that their digestion has improved or that their skin has cleared up," Graf says. "Eczema, for example, can be a symptom of wheat allergy in some patients."
Shopping Tips for Clients
While it's important for all family members to begin eating a gluten-free diet when someone has been diagnosed, it's just as necessary for them to become educated about the foods that may or may not contain gluten, says Peggy O'Shea, MBA, RD, LDN, a Boston-based dietitian. "There are many foods in the marketplace that may contain gluten that may not seem intuitive or that varies from brand to brand," she says. "Read, get educated and, most importantly, read food labels."
Brown suggests clients shop the perimeter of the supermarket where the healthiest items are found, such as fruits, vegetables, low-fat dairy, fresh chicken, fish, and lean meats. Clients should shop at large grocery stores that have a health food section where they're likely to find gluten-free grain alternatives, and they should stock up on brown rice, quinoa, and amaranth. "There's delicious gluten-free pasta, brown rice pasta, and quinoa pasta," Graf says. "They come in all different shapes, including lasagna noodles. The brown rice and quinoa pasta taste so similar to regular pasta that if you served it at a dinner party, most people wouldn't know the difference."
Furthermore, clients can incorporate gluten-free breads into the family's diet. These breads often are made from brown rice or millet. Many gluten-free packaged foods are available, such as rice crackers, rice cakes, and tortilla chips. "Suggest clients choose naturally gluten-free snacks, such as almonds, walnuts, sunflower seeds, or fruit, as often as possible," Graf says.
In addition, recommend clients avoid foods containing oats, unless the oats are certified as gluten free. They also should be cautious when choosing condiments, such as salad dressings and soups, because gluten often is added as a stabilizer, Graf says.
When it comes to seasoning foods, clients should use natural ingredients. "I always keep a variety of dried herbs, spices, lemons, limes, apple cider, red wine, or balsamic vinegar on hand to flavor foods," Graf says.
Since baked goods are a large part of what affects the gluten-free diet, Begun recommends that clients buy gluten-free baking ingredients. "For those who have never baked before, it's a good idea to purchase a packaged gluten-free flour blend, preferably one made with whole grains, although the entire blend won't be whole grain," Begun says. "As one becomes more adept at gluten-free baking, he or she can experiment with creating his or her own gluten-free baking blends."
Preventing Cross-Contamination
Clients also must remember that if they have gluten-containing foods in the home for family members without celiac disease, they must avoid cross-contamination. For example, they should avoid toasting gluten-free bread in the same toaster as regular bread, Brown says. "Family members also should avoid using wooden cutting boards and spoons, and make sure they don't use a contaminated sponge to clean off surfaces," she adds. "Condiments should be kept in squeeze bottles or specifically marked as gluten free to prevent cross-contamination. In addition, baking sheets can have remnants from past foods, so clients should cover them with aluminum foil or parchment paper."
Dietitians also should tell clients to clean utensils and countertops well because even small amounts of gluten can trigger a reaction in those with celiac disease. But if the client's entire family makes the transition to eating gluten-free foods, cross-contamination won't be an issue.
— Maura Keller is a Minneapolis-based writer and editor.
Gluten-Free Meal Ideas
• Egg dishes, such as omelets, frittatas, and scrambles, served with greens or roasted vegetables
• Tacos made with 100% corn tortillas or shells
• Gluten-free pasta dishes
• Grilled or roasted meats, poultry, and fish with simply prepared vegetables, potatoes, or rice
• Stuffed potatoes with cheese and broccoli or chili and pico de gallo
— MK
Family-Friendly Gluten-Free Foods
Manufacturers are working to create delicious certified gluten-free products the whole family can enjoy. Here are a few favorites on the market:
• Dr. Lucy's snacks
• Glutino chips, crackers, and breads
• KIND fruit & nut bars
• Thoughtful Food's Giddy Up & Go Granola
• Columbus Farm to Fork Naturals Deli Meats
• Sahale Snacks Sahale Crunchers Fruit & Almond Snack
• Eat Well Enjoy Life Hummus With Greek Yogurt
— MK
Healthy Vegetarian Chili

Serves 8
Ingredients
1 T olive oil
3 cloves garlic, minced
1 cup chopped onion
1/2 cup chopped carrots
1/2 cup chopped green bell peppers
1/2 cup chopped red bell peppers
3/4 cup chopped celery
2 T chili powder
1 tsp oregano
1 tsp ground cumin
Two 28-oz cans low-sodium diced tomatoes
One 15-oz can kidney beans, rinsed and drained
One 15-oz can garbanzo beans, rinsed and drained
One 15-oz can black beans, rinsed and drained
1 cup frozen corn
1 tsp lime juice
1 tsp crushed red pepper
Directions
1. In a large saucepan, heat the olive oil on medium heat. Stir in garlic, onion, carrots, peppers, and celery. Add chili powder, oregano, and cumin. Cook for about 5 minutes or until vegetables are tender.
2. Reduce heat to low. Add the tomatoes and all beans. Bring to a boil, reduce heat to low, and simmer for approximately 1 hour. Stir in corn, lime juice, and crushed red pepper, and cook for an additional 5 to 10 minutes.
3. Serve with brown rice and a green salad.
Nutrient Analysis per serving
Calories: 248; Total fat: 3 g; Sat fat: 0 g; Trans fat: 0 g; Cholesterol: 0 mg; Sodium: 510 mg; Total carbohydrate: 47 g; Dietary fiber: 13 g; Sugars: 9 g; Protein: 11 g
— Recipe courtesy of Lauren Graf, MS, RD