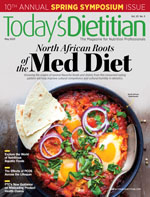 Food Allergies: Allergy-Friendly Eating Away From Home
By Sherry Coleman Collins, MS, RDN, LD
Today's Dietitian
Vol. 25 No. 5 P. 8
According to a 2021 study, dining out represented the second most common location where food allergy reactions occurred (after dining at home). More than 30% of those reactions were severe enough to require epinephrine.1 This is important because socializing in America often centers around food and drinks. For example, connecting with friends or meeting a potential new partner for a night out often involves drinks and a meal.
Even in our professional lives, dining out plays a role—from happy hours and working lunches to entertaining clients. For more than 26 million (10.8% of the total population) American adults with food allergies, this presents specific challenges.2 To keep clients safe and help them maintain a sense of connection, devising an allergy-friendly eating plan is a crucial part of counseling.
Essential Skills for Safe Dining
The first step is to ensure adult clients with food allergies have the tools to safely navigate eating away from home. They should use the following tips to get them on the right track:
• Review the restaurant's menu before they visit. Almost all restaurants feature online menus, which makes this a snap. After reviewing the menu online, call during a time when the restaurant isn't busy (eg, not during lunch or dinner service) to ask about specific menu items and learn more about how the restaurant manages food allergens.
• Talk to the server and chef about food allergies to be sure they can safely accommodate your specific allergy. Diners with food allergies shouldn't rely only on menus but also inform the servers about food allergies. Present a dining or chef card—available online from sites such as EqualEats.com—that describes food allergies and lists an individual's specific allergens. Ensure the foodservice professional fully understands that food allergies aren't food preferences and that reactions can cause serious illness or be life-threatening.
• When in doubt, don't. Eating a snack before a social event at a restaurant can make it easier to decline food if a restaurant can't safely accommodate. Coaching clients to focus on the fun of connecting rather than a missed meal can help them feel more confident about their choice not to eat.
• Make sure emergency medication is on hand and that someone present knows about the potential for anaphylaxis and how to proceed should a reaction occur.
Tessa Nguyen, MEd, RD, LDN, a chef who's allergic to tree nuts, travels extensively for work and fun, meaning she has plenty of opportunities to eat out. Despite the fact some restaurants make claims to understand food allergies, she cautions that it's still important to ask each and every time. Even if menus don't change, ingredients do. In addition, staff turnover can influence how safe a dining experience can be.
Navigating Food and Drink Offerings
Kyle Dine is a performer, world traveler, and entrepreneur with food allergies. Despite being allergic to multiple foods, including peanuts, tree nuts, egg, seafood, and mustard, he still enjoys happy hour, casual meet-ups, and other events at restaurants. Dine makes sure to eat before the event so he won't be hungry if he has to pass on the food being offered. His company, Equal Eats, which is based on the principle that everyone deserves an equal seat at the table regardless of their dietary restrictions, was founded after he experienced a severe allergic reaction.
Equal Eats offers food allergy translation chef cards that help make food allergies easy to understand by using simple and clear verbiage in 50 different languages. Talking about food allergies in a social setting can feel awkward. However, using a chef card can help make this a smoother process by displaying dietary restrictions in writing, Dine says.
Many restaurants see the value in offering special menus featuring meals for those with dietary restrictions. An increase in food allergies and celiac disease, as well as religious and personal preferences, have made personalizing menus more important than ever. Some restaurants have special gluten-free and allergy-friendly menus in addition to their regular menus. If a special menu is unavailable, encourage clients to consider the following important facts when selecting a restaurant or choosing a meal (but remember, "when in doubt, don't!"):
• Precooked meats often contain hidden allergens such as dairy, egg, wheat, and soy. Ask whether the restaurant uses fresh vs precooked or preseasoned meats and whether the protein can be cooked separately from other foods to avoid cross-contact, which is the transfer of proteins from one surface to another.
• Sauces often are thickened with wheat or egg and may contain dairy or ingredients from fish or shellfish. Asking for the sauce to be omitted can be an important safety measure.
• Breads, pastries, and desserts that aren't made in-house may make it difficult for the staff to know whether the items are safe from cross-contact or if they contain a specific allergen. These items, which commonly contain wheat, egg, soy, nuts, and sesame, aren't typically gluten-free (unless specified). Skip these items if they aren't made onsite or if the purveyor can't provide a Nutrition Facts panel.
• Condiments are a source of hidden allergens. For example, mayonnaise and hollandaise contain eggs. Moreover, salad dressings may contain dairy, soy, and fish, and soup broth frequently contains egg protein (used to clarify). Asking for all condiments on the side can help—or avoid them altogether.
• Since common allergens may be the base of popular culturally diverse dishes, and there can be a language barrier with staff, certain cuisines can be higher risk. For example, Asian restaurants liberally include soy, nuts, and sesame, while Indian dishes often contain nuts. Pizzerias are an obvious source of dairy and wheat, but they also use fish (anchovies) and possibly soy in toppings.
Alcohol, an area often overlooked, can be a source of hidden allergens, as well as sulfites to which some people are sensitive. Whether dining out with friends or enjoying a drink with colleagues, it's essential for those with food allergies to avoid libations that contain their specific offending food.
When it comes to beer, few are gluten-free because they contain barley and rye, which can cross-react with wheat. Craft beers and popular microbrews also may contain small amounts of dairy, nuts, or seeds. Spirits like Frangelico, amaretto, and coffee liquors may contain nuts. Some wines are clarified with egg protein. Gin may contain tree nuts, and flavored vodkas may contain nuts and dairy. Mixed drinks may include dairy, nuts, and egg. The list goes on.
Avoiding alcohol while eating away from home is the safest bet, particularly because consumption may impair judgment and lead to more severe reactions. Fortunately, mocktails like cranberry juice and soda can be refreshing and safe.
Cross-Contact
As mentioned, cross-contact describes the transfer of proteins from one surface to another, so it's not the same as cross-contamination, which involves the transfer of bacteria or pathogens to foods.
Cross-contact can occur when the same spoon is used to stir seafood soup and serve plain rice (without cleaning in between). It also can occur when sheet pans or prep surfaces aren't cleaned properly between use.
It may be difficult for seafood restaurants to prevent cross-contact or guarantee that a dish is free from fish or shellfish. Eating from buffets, where utensils may be moved between containers, and it can be difficult to discern ingredients, also can increase the risk of cross-contact. The good news: Just because an allergen is served in a kitchen doesn't mean food without that allergen can't be safely served, but it does require training. Asking restaurant staff about cross-contact specifically can help assess how much risk exists for diners with food allergies.
Bottom Line
Do all these factors mean that individuals with food allergies can eat only plain chicken and white rice when they dine out? Maybe, but not necessarily. Nguyen says staff is usually more than willing to accommodate requests for substitutions—even agreeing to create whole new dishes just to ensure diners have a safe and enjoyable meal.
Food allergies vary widely between individuals, and accommodating a food allergy should be specific to the individual's needs. RDs can help clients with food allergies understand the risks based on their specific needs and select appropriate meals and restaurants to reduce risk. For individuals with one food allergy, finding safe meals may be straightforward and easy, while it may be more difficult for those with multiple food allergies. In addition, counseling clients with food allergies requires an understanding of the individual's goals, desires, and risk tolerance relative to eating out.
Dine says it best: "RDs can help people with food allergies … have a tailored plan for achieving a healthy and balanced dietary plan. When living with food allergies, there's so much focus on avoiding foods vs embracing foods. Many people may have a complicated relationship with food because of past trauma. Having a professional help them navigate supplemental and safe choices can make a huge difference in establishing an overall healthier attitude about food and nourishment."
Food allergies don't mean clients must avoid dining out altogether but doing so safely requires planning and caution. Counseling clients to use these tips and resources can go a long way toward keeping happy hour safe … and happy.
— Sherry Coleman Collins, MS, RDN, LD, is president of Southern Fried Nutrition Services in Atlanta, specializing in food allergies and sensitivities, digestive disorders, and nutrition communications. Find her on Twitter, Instagram, and Facebook as @DietitianSherry and at www.southernfriednutrition.com.
References
1. Oriel RC, Waqar O, Sharma HP, Casale TB, Wang J. Characteristics of food allergic reactions in United States restaurants. J Allergy Clin Immunol Practice. 2021;9(4):1675-1682.
2. Gupta RS, Warren CM, Smith BM, et al. Prevalence and severity of food allergies among US adults. JAMA Netw Open. 2019;2(1):e185630.