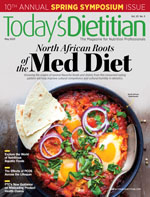 Culinary Corner: Hummus
By Liz Weiss, MS, RDN
Today's Dietitian
Vol. 25 No. 5 P. 66
Fiber-Filled for the Nutrition Win
The year was 1978, and I was an 18-year-old traveling to Israel on a teen tour. That was the first time I tried hummus. But it wasn't until around 2005, when hummus took off in the United States (thank you, Sabra), that I became totally obsessed.
The word hummus means chickpea in Arabic. It's unclear whether the origins of hummus are Greek or Middle Eastern. The Greeks and Egyptians were trade partners for hundreds of years, so foods like hummus have been part of both cuisines for hundreds of years. While the debate over its origins continues, there's no debate about the deliciousness and popularity of hummus in my kitchen.
Hummus is a creamy puree of cooked chickpeas (aka garbanzo beans), tahini (a paste made from sesame seeds), and lemon juice. Olive oil and garlic often are added. Hummus is enjoyed as a dip or spread, and as a dietitian and foodie, I love to serve it with baked pita or corn chips and crunchy vegetables such as baby carrots, sliced bell peppers, cucumber, and cauliflower florets. It also can be served as part of a grazing board or mezze platter with olives, falafel, pita bread, tabouleh, stuffed grape leaves, pan-fried halloumi cheese, roasted vegetables, and more.
There's no shortage of hummus varieties to choose from at the supermarket. Some are topped with caramelized onion, roasted pine nuts, and everything bagel seasoning, and others are made with black beans, edamame, and even lentils. Some might argue that hummus isn't truly hummus unless cooked chickpeas are the base. I'm not particular and will gladly devour hummus no matter  what bean or pulse it's made from.
Store-bought hummus is readily available and convenient, and it's a nutritious snack thanks to the chickpeas. Chickpeas are a bean, so they provide important nutrients, including fiber, potassium, magnesium, and iron—nutrients most people struggle to get enough of.1 The 2020–2025 Dietary Guidelines for Americans recommend eating 1.5 cups of beans, peas, and lentils (pulses) per week, which is easier to achieve when hummus makes its way to the table.2
It's also fairly easy to make from scratch. I like to add lemon zest, which adds a bright, fresh flavor, and play around with the toppings. This recipe features hummus topped with sautéed button mushrooms and thyme, but don't stop there. Get creative and upgrade your hummus (whether store-bought or homemade) with a garnish of fresh herbs, roasted red peppers, smoked paprika, or za'atar and olives. The options are endless.
— Liz Weiss, MS, RDN, shares recipes and healthful living advice on LizsHealthyTable.com and her podcast, EAT, DRINK, LIVE LONGER. Weiss is a cooking instructor, frequent lifestyle guest on TV shows across the country, and a Have a Plant Ambassador for the Produce for Better Health Foundation.
Lemon Hummus With Sautéed Mushrooms
Serves 6
When making hummus at home, soak and cook the chickpeas first or buy canned chickpeas for convenience. If sodium is a concern, look for reduced-sodium options or drain and rinse the chickpeas first to wash away 40% of the sodium.3 Serve with warm pita bread and sliced vegetables.
Ingredients
One 15-oz can of chickpeas, drained and rinsed
4 T extra virgin olive oil, divided, plus more for drizzling, optional
3 T tahini
3 T water
Zest of half a lemon
3 T lemon juice
1 small garlic clove
1/4 tsp kosher salt, plus more to taste
Freshly ground black pepper, to taste
One 8-oz package of presliced button or baby bella mushrooms
1 tsp chopped fresh thyme leaves, plus more for garnish
Directions
1. Place chickpeas, 3 T of the olive oil, tahini, water, lemon zest, lemon juice, garlic, salt, and pepper in the food processor bowl. Process until smooth. Scrape down sides of bowl as you go and adjust texture with an extra tablespoon or two of water and/or lemon juice. Taste to adjust seasoning.
2. Add remaining tablespoon of olive oil to a large nonstick skillet over medium-high heat. Add mushrooms and thyme, and sauté, stirring often, until mushrooms release juices and soften, about 10 to 12 minutes. Season to taste with salt and pepper.
3. Spoon hummus into shallow serving bowl, garnish with a light drizzle of olive oil as desired, and top with cooked mushrooms and fresh thyme leaves. Serve with dippers of choice.
Nutrient Analysis per serving (1/4 cup)
Calories: 215; Total fat: 14 g; Sat fat: 2 g; Cholesterol: 0 mg; Sodium: 158 mg; Total carbohydrate: 17 g; Dietary fiber: 4 g; Sugars: 4 g; Protein: 6 g
References
1. Papanikolaou Y, Fulgoni VL 3rd. Bean consumption is associated with greater nutrient intake, reduced systolic blood pressure, lower body weight, and a smaller waist circumference in adults: results from the National Health and Nutrition Examination Survey 1999-2002. J Am Coll Nutr. 2008;27(5):569-576.
2. US Department of Agriculture; Health and Human Services. Dietary Guidelines for Americans 2020-2025. https://www.dietaryguidelines.gov/sites/default/files/2020-12/Dietary_Guidelines_for_Americans_2020-2025.pdf. Published December 2020.
3. Duyff RL, Mount JR, Jones JB. Sodium reduction in canned beans after draining, rinsing.
J Culin Sci Technol
. 2011;9(2):106-112.