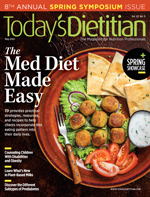 May 2021 Issue
Editor's Spot: Med Diet Reigns Supreme
By Judith Riddle
Today's Dietitian
Vol. 23, No. 5, P. 6
It's that time again to celebrate the Mediterranean diet, the highly esteemed eating pattern that continues to hold the No. 1 spot in several categories listed in U.S. News & World Report's annual diet rankings.
The Med diet, which has evolved over 5,000 years, is the traditional diet of the countries surrounding the Mediterranean Sea, including France, Italy, Spain, Morocco, and Greece. It's centered predominantly on an abundance of fruits, vegetables, whole grains, legumes, fish and seafood, olives and olive oil, and capers, as well as small portions of dairy and meat and the occasional glass of red wine. The traditional diet is high in monounsaturated fats, antioxidants, carotenoids, vitamin C, tocopherols (vitamin E), polyphenols (flavonoids in particular), anthocyanins, other vitamins and minerals, and dietary fiber.
Research shows the diet is associated with increased longevity, healthy weight, and low rates of heart disease, type 2 diabetes, metabolic syndrome, and certain cancers. It also has been shown to improve various aspects of brain health.
Telling clients about the diet's rich history and its health benefits is great information to pass on. But probably one of the most important elements is that the foods of the Mediterranean make for delicious meals and snacks. And because the Mediterranean diet isn't really a "diet," per se, that you go on and off, it's considered more of an eating pattern—a lifestyle, if you will—that is truly sustainable.
In this month's issue, Today's Dietitian pays homage to the Med diet in the article, "The Med Diet Made Easy," on page 18. In it, we discuss its affordability, the fact clients can follow it long term, and tips on how they can incorporate the diet into their daily lives—plus we include recipes from the book Make Every Day Mediterranean: An Oldways 4-Week Menu Plan.
Also in this issue are articles on the American College of Gastroenterology's first-ever guidelines for IBS treatment and management, children with disabilities and obesity, plant-based milks, and the various types of prediabetes.
This month also kicks off Today's Dietitian's eighth annual Spring Symposium, May 16–19, a virtual event where you can earn at least 20 CEUs by attending a wide variety of continuing education sessions featuring critically acclaimed experts. You can stroll our exhibit hall, visit our sponsors, and interact with your peers and presenters. View the program and register online at TodaysDietitian.com/SS21. We hope to see you there, and please enjoy the issue!
— Judith Riddle, Editor
TDeditor@gvpub.com