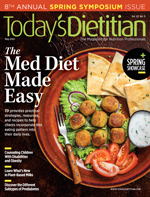 May 2021 Issue
The Med Diet Made Easy
By Joan Salge Blake, EdD, MS, RDN, LDN, FAND
Today's Dietitian
Vol. 23, No. 5, P. 18
Encourage clients to revisit this eating pattern and make it work for them.
If the Oscars were given to outstanding diet plans, the Mediterranean diet would sweep the red carpet. In the annual U.S. News & World Report best diet rankings for 2021, this delicious cuisine was voted No. 1 for the Best Overall Diet, the Best Plant-Based Diet, and the Easiest Diet to Follow. It also tied for No. 1 for the Best Heart Healthy Diet, Best Diabetes Diet, and the Best Diet for Healthy Eating.1 To be sure, these are plenty of awards for something that isn't even a "diet."
What Is the Mediterranean Diet?
The Mediterranean diet isn't a strict diet but rather refers to the dietary patterns of all the people living in the countries surrounding the Mediterranean Sea, predominantly Greece, Crete (a Greek island), and southern Italy.2 The diet was first identified in this region in the early 1960s. At that time, the life expectancy of adults in those areas was among the longest in the world, and the incidence of heart disease, diabetes, certain cancers, and other diseases was among the lowest.3 Compared with the less healthful American diet, which is fodder for increasing the risk of these chronic diseases, Mediterranean cuisine is plant-forward, as it's built on a solid base of vegetables, beans, fruits, grains, healthful fats (mostly from olives and olive oil), and an abundance of fish, and is lower in foods from animal sources. This more healthful eating style automatically decreases the amount of saturated fat on the plate to improve health (see figure below).
Is the Med Diet Affordable?
If clients have heard that the Mediterranean diet is an expensive eating pattern to follow, recent research shows it can be affordable.4-6 This is an eating pattern that people with limited financial resources consumed, yet they gleaned positive health outcomes. "The Mediterranean diet is based on 'peasant foods' like legumes, whole grains, and seasonally available vegetables, which are consistently less expensive than meat and highly processed snack foods," explains Kelly Toups, MLA, RD, LDN, director of nutrition at Oldways. "To make the Mediterranean diet even more affordable, turn to canned seafood and canned or dried beans as your primary protein sources, and shop sales when buying fresh produce."
As dietitians have learned from the ongoing pandemic, the public finally has accepted that frozen and canned fruits and vegetables taste good and are nutritious, reasonably priced, and a healthful alternative to fresh foods. Cost aside, these forms of produce can help save meal preparation time in the kitchen, which is a plus for those who are pressed for time.
Can Clients Follow It Long Term?
Research suggests the key to motivating people to follow a more healthful eating style is to ensure it can be sustained long term by offering resources that provide easy-to-follow, practical steps.7 One of those resources is the publication Make Every Day Mediterranean: An Oldways 4-Week Menu Plan, which RDs can use to help educate and guide clients interested in adopting a Mediterranean-style eating pattern on a weekly basis. The plan provides steps, recipes, and cooking tips on how to inspire clients to relive the "old ways" of adopting a Mediterranean-style eating plan to reduce the risk of developing chronic disease.
The tenets of the four-week plan are built on these eight simple steps and messages to communicate with clients.
1. Eat lots of vegetables. Enjoy tossed, roasted, grilled, and/or sautéed vegetables in salads, soups, and sides. Make extras for leftovers.
2. Change the way you think about meat. Use leaner cuts, eat smaller portions, and partner meat with plenty of vegetables for a hearty, filling plate.
3. Include some dairy products. Add Greek yogurt, and enjoy the old ways of eating cheeses—traditional cheeses in healthful amounts.
4. Eat seafood twice a week. Canned tuna, herring, salmon, and sardines are affordable, heart-healthy omega-3 powerhouses that need little preparation.
5. Cook a vegetarian meal at least one night per week. Meatless Monday doesn't need to be limited to once per week. How about Salmon Sunday?
6. Use good fats. Besides using olive oil, add nuts, peanuts, sunflower seeds, olives, and avocados to dishes.
7. Switch to whole grains. Brown rice, barley, and bulgur are inexpensive and hearty additions to a meal.
8. Eat fruit for dessert. Dried fruits such as apricots, figs, and cherries are the perfect sweet ending to a Mediterranean meal.
If clients are looking for simple tips to help them plan and prepare Mediterranean meals, Chef Abbie Gellman, MS, RD, CDN, a brand spokesperson; recipe, product, and menu developer; and author of The Mediterranean DASH Diet Cookbook and Mediterranean Pressure Cooking, recommends they spend 30 minutes figuring out their week's menu based on a handful of recipes and then create a shopping list for the ingredients needed. Gellman says clients should "prep fresh fruits and vegetables in advance to make meal assembly a snap and consider cooking bigger batches so they have leftovers."
Here are some of Gellman's favorite Mediterranean dishes to share with clients who may need menu-planning inspiration:
Breakfast
Option #1: Top plain yogurt with fruit (fresh or frozen), nuts, and a drizzle of honey.
Option #2: Prepare an egg (any way you like) and add a side of sliced avocado, some fruit, and a piece of whole grain toast.
Lunch
Option #1: Combine leafy greens, such as spinach, kale, arugula, and romaine lettuce, with raw and/or cooked vegetables, cooked lentils or beans, nuts or seeds, and lemon vinaigrette for a hearty plant-based bowl.
Option #2: Reheat a leftover soup or stew made with beans or lentils, vegetables, greens, herbs, and stock, and add a side of crusty bread.
Dinner
Option #1: Roast a piece of fish along with some vegetables. Add a baked sweet potato and a yogurt tahini sauce as a topping option.
Option #2: Toss cooked whole grain pasta with fresh diced tomatoes and pesto, and add a side salad.
Embracing the Med Diet
How can dietitians encourage clients who are interested in trying the Mediterranean diet but not sure they'll be able to follow it long term? One piece of good news RDs can share with clients is that the diet doesn't eliminate entire foods or food groups and therefore isn't restrictive. "It's easier to embrace [it], as there are no forbidden foods, only those eaten less often," Gellman says. She also notes that forbidding certain foods only increases an intense desire for them, but the Med diet avoids this issue. "For example, meats and sweets should be eaten less often and in small portions, but they aren't forbidden," she says.
Another way to encourage clients to embrace the Med diet is for dietitians to learn how to cook Mediterranean-style foods themselves so they can pass along practical tips and strategies clients can use for the long haul. "I think it's vital that dietitians understand the basics on how to prepare these foods. Most dietitians probably know the basic ideas of the diet, but they need to understand basic cooking techniques such as roasting vegetables, adding olive oil and spices to yogurt, and using cupfuls vs teaspoons of fresh herbs in salads," says Deanna Segrave-Daly, RD, coauthor of the Easy Everyday Mediterranean Diet Cookbook and The 30-Minute Mediterranean Diet Cookbook.
Valuable resources for dietitians are Mediterranean diet cookbooks written by RDs, such as Gellman and Segrave-Daly. Oldways has a Facebook page that features tips, recipes, ongoing community support, and a host of periodic challenges, such as its Make Every Day Mediterranean Challenge in May 2021, which is International Mediterranean Diet Month. It has never been easier—or wiser—to make every day a Mediterranean day. Dietitians who want to become more familiar with the Med diet can prepare the following recipes and share them with clients.
— Joan Salge Blake, EdD, MS, RDN, LDN, FAND, is a nutrition professor at Boston University, writer, and the host of the hit nutrition and health podcast SpotOn!, which is available on all major podcast platforms, including Apple, Spotify, and Stitcher. She's also the recipient of the 2020 Media Excellence Award from the Academy of Nutrition and Dietetics.

References
1. Best diets overall. U.S. News & World Report website. https://health.usnews.com/best-diet/best-diets-overall. Accessed January 23, 2021.
2. Nestle M. Mediterranean diets: historical and research overview. Am J Clin Nutr. 1995;61(6 Suppl):1313S-1320S.
3. Willett WC, Sacks F, Trichopoulou A, et al. Mediterranean diet pyramid: a cultural model for healthy eating. Am J Clin Nutr. 1995;61(6 Suppl):1402S-1406S.
4. Goulet J, Lamarche B, Lemieux S. A nutritional intervention promoting a Mediterranean food pattern does not affect total daily dietary cost in North American women in free-living conditions. J Nutr. 2008;138(1):54-59.
5. Drewnowski A, Eichelsdoerfer P. The Mediterranean diet: does it have to cost more? Public Health Nutr. 2009;12(9A):1621-1628.
6. Saulle R, Semyonov L, La Torre G. Cost and cost-effectiveness of the Mediterranean diet: results of a systematic review. Nutrients. 2013;5(11):4566-4586.
7. D'Innocenzo S, Biagi C, Lanari M. Obesity and the Mediterranean diet: a review of evidence of the role and sustainability of the Mediterranean diet. Nutrients. 2019;11(6):1306.
[Recipes]
Spicy Salmon
Serves 4
Ingredients
4 cloves garlic, chopped
1/2 tsp sea salt
1 tsp crushed red pepper flakes
2 T extra virgin olive oil
Juice of 1 lemon
4 salmon steaks, each about 4 oz
Directions
1. Crush the garlic with the salt in a mortar, or mash it with a fork in a small bowl. Add the pepper flakes, olive oil, and lemon juice and continue mashing to form a smooth paste.
2. Arrange the fish in a baking dish and spread the marinade on top. Cover with plastic wrap and refrigerate for up to two hours.
3. Preheat oven at 450˚ F. Uncover the fish and bake for about 20 minutes, or until the fish flakes easily with a fork.
Nutrient Analysis per serving
Calories: 230; Total fat: 14 g; Sat fat: 2 g; Cholesterol: 64 mg; Sodium: 340 mg; Total carbohydrate: 2 g; Dietary fiber: 0 g; Sugars: 0 g; Protein: 23 g
— Source: Courtesy of Oldways, from Make Every Day Mediterranean: An Oldways 4-Week Menu Plan. Visit OldwaysPT.org for more.
Minestrone
Serves 6
Ingredients
2 T olive oil
1 yellow onion, diced
2 carrots, peeled and chopped
2 stalks celery, chopped
2 to 3 cloves garlic, minced
1 lb spinach, chopped
1 large potato, peeled and chopped
1 (14.5-oz) can diced tomatoes
2 tsp dried rosemary
4 cups low-sodium chicken stock
1/2 cup small dried pasta
1 (15-oz) can cannellini beans, drained and rinsed
Salt and pepper, to taste
Directions
1. Heat olive oil in a large pot over medium heat. Add onion, carrots, celery, and garlic; sauté for about 5 minutes until the vegetables soften.
2. Add spinach and potato and sauté for 2 minutes longer. Add tomatoes and rosemary and simmer for about 5 minutes, until the spinach is wilted.
3. Add the stock and bring to a boil. Add the pasta, reduce the heat to medium, and cook until the potato and pasta are tender, about 10 minutes.
4. Stir in the beans and simmer for 5 minutes. Season with salt and pepper.
Nutrient Analysis per serving
Calories: 260; Total fat: 6 g; Sat fat: 1 g; Cholesterol: 0 mg; Sodium: 300 mg; Total carbohydrate: 41 g; Dietary fiber: 9 g; Sugars: 5 g; Protein: 10 g
— Source: Courtesy of Oldways, from Make Every Day Mediterranean: An Oldways 4-Week Menu Plan. Visit OldwaysPT.org for more.