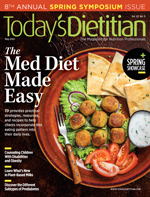 May 2021 Issue
Popular Diet Trends: Diet Trend Runners-Up of 2021
By Toby Amidor, MS, RD, CDN, FAND
Today's Dietitian
Vol. 23, No. 5, P. 16
Explore some of the lesser-known eating patterns from U.S. News & World Report's annual ranking.
However RDs feel about diet trends, it's important for them to keep abreast of what's popular. According to the International Food Information Council's 2020 Food and Health Survey, 43% of Americans claimed to follow a specific diet or eating pattern compared with 38% in 2019 and 36% in 2018.1 With so many clients engaged in these practices, it can be difficult to keep up.
To help the public and health professionals navigate all of these diets, U.S. News & World Report releases its list of "Best Diets" each January, compiled and analyzed by a panel of health experts. In the publication's 2021 list of 39 diets, top spots went to the usual suspects: the Mediterranean diet ranked No. 1, with the DASH and flexitarian diets tying for second place.2 (For a comprehensive overview of the flexitarian diet, see the March 2021 issue of Today's Dietitian.)
But some diets on the list—while popular among the public—haven't garnered as much attention and thus may be easier for dietitians to miss. This article delves into four of these runners-up, including their potential benefits and drawbacks: the Nordic, Asian, and Engine 2 diets, as well as the Noom app.
Nordic Diet
Also dubbed the New Nordic diet, this eating pattern was created to transform Nordic cuisine, honor Nordic food traditions, and improve public health, while uplifting numerous aspects of Scandinavian tradition and culture. Nutrition scientists at Denmark's University of Copenhagen and the founder of the internationally renowned restaurant Noma, located in Copenhagen, developed the Nordic diet as part of a years-long effort.
The "diet" is meant to be both an eating pattern and lifestyle practice that promotes seasonal, locally sourced foods and relaxed meals with family and friends. General tenets include eating more produce, whole grains, and fish and seafood; choosing high-quality meats (but reducing meat intake overall); foraging wild foods such as mosses, mushrooms, nettles, and even ants; choosing organic foods whenever possible; avoiding food additives; cooking at home; and minimizing food waste.
A 2013 randomized controlled trial compared the Nordic diet with an isocaloric control diet that didn't set limits on meat, sugar-sweetened beverages, refined grains, or saturated fats on several health biomarkers. Participants in the Nordic diet group experienced an improved lipid profile and reduced low-grade inflammation over the 18 to 24 weeks they were followed.3 In addition, a 2014 study looked at the effects of the Nordic diet in subjects with a mean BMI of 30.2 and mean waist circumference of 39 inches. Participants following the Nordic diet lost weight, and those with obesity reduced their blood pressure.4
The Nordic diet ranked No. 9 on U.S. News & World Report's list, scoring high in nutrition and safety; however, the panel commented that the recommended foods—especially the local and organic fare—can be expensive and the diet may be difficult for many to follow long term.
Noom
Noom is an app-based diet program that counsels users on what to eat and delves into the psychological aspects of eating, claiming to build self-awareness, accountability, and habits that can lead to weight loss and maintenance. The program provides users with a daily calorie budget and involves logging meals and snacks consumed using a database of foods color-coded based on calorie density—red (eg, nuts, oils, sweets), yellow (eg, chicken, tofu, avocado), and green (eg, most fruits and vegetables). Users are encouraged to eat as much as they like of "green" foods, be mindful of portions of "yellow" foods, and limit intake of "red" foods. This color-coding system was developed with input from RDs.
Users are expected to log exercise and weigh themselves daily, as well as view modules that provide the psychological basics of behavior change, such as managing emotional eating. A virtual behavior change coach engages with users and offers encouragement through the app's messaging feature. Noom trains the behavior change coaches and selects them for their helpfulness and empathy; they aren't dietitians or nutrition experts.
Noom ranked No. 12 on the U.S. News list. The expert panel stated that users likely will lose weight on the Noom plan, as diets that emphasize low–calorie density foods have been shown to promote fullness on fewer calories and result in weight loss. Pros of the program include coaching and group support, flexible food choices, and its positive behavior change approach to weight loss, according to the expert panel, which also emphasizes that the app can be a good learning tool for healthful eating. Cons, the expert panel says, include lack of in-depth nutrition guidance (the program focuses more on behaviors than nutrition) and constantly having to use the phone app, which may be challenging for clients who aren't technologically savvy. It's also worth noting that RDs aren't part of the program on a consistent basis.
Asian Diet
The largest and most populated continent on the globe, Asia is made up of more than 40 countries with a wide variety of foodways, so there's no clear single "Asian diet." However, in 1995, Oldways, a food and nutrition education nonprofit, worked with the Cornell-China-Oxford Project to look for "unifying factors" between traditional foodways of many Asian countries and develop a consumer-friendly Asian Heritage Diet pyramid and corresponding Asian diet.
Recommended foods to consume daily include fruits, vegetables, nuts, seeds, legumes, and whole grains (eg, millet, rice, and buckwheat soba noodles). Protein recommendations include soy, fish, and shellfish, with dairy, eggs, and poultry eaten less frequently. Foods to eat sparingly include red meat and sweets. In addition, six glasses of water or tea are recommended daily and sake, wine, and beer can be consumed in moderation. Regular physical activity also is encouraged.
The Asian Diet ranked No. 14 on U.S. News' list. Positive attributes of this plan include diverse foods and flavors that are filling. The expert panel thought the plan was nutritionally sound and safe but were skeptical that it can help consumers lose weight. Among the cons are that some foods are rather expensive and may lack familiarity or palatability for some Americans. Although the Asian diet was ranked in the upper half of the diets, consumers need to shape their meal plans independently and recipes may be difficult to find. Furthermore, the amount of sodium in some traditional sauces such as soy sauce and fermented foods like kimchi can add up quickly.
Engine 2 Diet
Rip Esselstyn, a firefighter, former professional athlete, and health advocate, created the "plant strong" Engine 2 diet, which proponents claim can prevent chronic diseases such as heart disease, diabetes, and cancer, as well as increase muscle mass and energy and improve cognitive function.
Dieters decide whether they'd like an immediate lifestyle overhaul by eliminating all animal products, processed foods, and vegetable oils from the diet, a plan known as the "firefighter." For a more gradual change to the diet, the consumer can opt for the "fire cadet" plan, which makes the same changes over 28 days.
The foods promoted on this plan include vegetables of all types, whole fruit, intact whole grains (eg, brown rice, oats), 100% whole grain foods (eg, pasta, bread), legumes, herbs, spices, condiments (eg, mustard, ketchup), and beverages such as water, tea, and coffee. Extracted oils (eg, canola and olive oils), nuts and nut butters (except whole walnuts), smoothies and juices, refined sugars and grains, animal products, and processed foods such as plant-based meat substitutes are to be avoided; plant-based milks, dried fruit, and higher-fat whole foods such as avocados, walnuts, chia seeds, and flaxseeds should be limited to smaller portions per day.
This plan was ranked No. 19 on U.S. News' list. Pros of the diet include health and environmental benefits without calorie counting and that it may support cardiovascular health and positive outcomes for people with diabetes, but more research is needed on these health claims. Cons include its focus on a complete lifestyle overhaul and the tremendous amount of meal prepping and planning. Some members of the expert panel commented that the plan is difficult to follow, unnecessarily restrictive, and "gimmicky," and there's concern about its nutritional adequacy due to its limited fat, calcium, and vitamin B12 content.
Recommendations for Clients
As RDs know, information about diets and programs often reaches consumers through advertising, with little evidence-based health and nutrition context. When counseling clients, nutrition professionals should listen to clients as to why they want to follow a specific plan and work with them to achieve their goals (eg, weight loss, reducing risk of or managing chronic disease) in a healthful and safe manner. This may mean incorporating some parts of the diet and tweaking other aspects to determine a pattern that will be sustainable, healthful, satisfying, and safe. In addition, RDs who share information in newsletters, in blogs, or on social media, or give classes about new diets can help educate consumers about the pros and cons of various eating patterns and may offer consumers a more balanced view of popular diets.
— Toby Amidor, MS, RD, CDN, FAND, is the founder of Toby Amidor Nutrition (tobyamidornutrition.com) and a Wall Street Journal best-selling author. Her cookbooks include The Best 3-Ingredient Cookbook, The Best Rotisserie Chicken Cookbook, The Create-Your-Plate Diabetes Cookbook, Smart Meal Prep for Beginners, The Easy 5-Ingredient Healthy Cookbook, The Healthy Meal Prep Cookbook, and The Greek Yogurt Kitchen. She's a nutrition expert for FoodNetwork.com and a contributor to U.S. News Eat + Run and other national outlets.

References
1. International Food Information Council. 2020 Food & Health Survey. https://foodinsight.org/wp-content/uploads/2020/06/IFIC-Food-and-Health-Survey-2020.pdf
2. Best diets overall. U.S. News & World Report website. https://health.usnews.com/best-diet/best-diets-overall
3. Uusitupa M, Hermansen K, Savolainen MJ, et al. Effects of an isocaloric healthy Nordic diet on insulin sensitivity, lipid profile and inflammation markers in metabolic syndrome — a randomized study (SYSDIET). J Intern Med. 2013;274(1):52-66. 
4. Poulsen SK, Due A, Jordy AB, et al. Health effect of the New Nordic diet in adults with increased waist circumference: a 6-mo randomized controlled trial. Am J Clin Nutr. 2014;99(1):35-45.