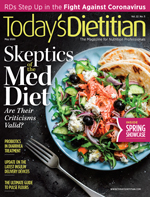 May 2020 Issue
Culinary Corner: Lighten Up With Lean Beef
By Jessica Ivey, RDN, LDN
Today's Dietitian
Vol. 22, No. 5, P. 66
Lower-fat hamburgers can be a more healthful alternative during grilling season.
According to the 2019 "State of the Barbecue Industry" consumer survey, Memorial Day is the No. 2 grilling day of the year, surpassed only by the Fourth of July1; in another survey, 94% of respondents reported that they grill hamburgers at home.2 As grilling season begins, we can educate clients regarding ways to create more healthful burgers.
First, educate clients regarding beef fat percentages. Many chefs recommend 70% to 80% lean ground beef, which contains 20% to 30% fat, for burgers. A 4-oz (measured raw) burger patty made from 80% lean ground beef contains about 25% DV for saturated fat, and that's before adding fatty toppings, such as cheese or mayonnaise. Switching to 93% lean ground beef reduces the saturated fat content by 30%.
Secondly, bust the myth that lean beef always will produce a dry burger. There are many ways to add moisture and flavor to a lean beef patty. Sautéing vegetables such as onions, mushrooms, carrots, or celery in oil adds moisture and flavor. Some of the moisture in ground beef seeps out during storage, so some chefs suggest adding a few tablespoons of cold water to the beef. Be sure to hand mix to avoid a dense patty.
Next, emphasize portion control. Some restaurants tout 1/3-lb to 1/2-lb patties, but, according to the Dietary Guidelines for Americans, that's an entire day's worth of protein foods based on a 2,000-kcal diet.3 Clients can enjoy beefy burgers within a healthful eating pattern by preparing smaller patties or sliders.
Lastly, choose a whole grain bun and add vegetable or fruit toppers to boost the nutritional value. Experiment with less obvious choices, such as apple slices, arugula, or basil leaves, and pickled onions or carrots. Several common condiments can be high in saturated fat and/or sugar, so provide flavorful alternatives, such as mashed avocado, Dijon mustard, pico de gallo, or tzatziki sauce.
Since I met my husband four years ago, I have eaten plenty of burgers. He could eat a burger every day, and considers himself a connoisseur of sorts. These Greek Burger Sliders were inspired by a burger we shared on an early date.
— Jessica Ivey, RDN, LDN, is a dietitian and chef with a passion for teaching people to eat healthfully for a happy and delicious life. Ivey offers approachable healthful living tips, from fast recipes to meal prep guides and ways to enjoy exercise on her website, JessicaIveyRDN.com.

References
1. Five grilling facts in honor of National Barbecue Month. Hearth, Patio & Barbecue Association website. https://www.hpba.org/Resources/PressRoom/ID/1691/Five-Grilling-Facts-In-Honor-of-National-Barbecue-Month. Published May 1, 2019. Accessed January 13, 2020.
2. Sizzling insights: the top brands & retailers of outdoor grilling. Field Agent website. https://blog.fieldagent.net/sizzling-insights-the-top-brands-retailers-of-outdoor-grilling-barbecue. Published March 7, 2019. Accessed January 13, 2020.
3. US Department of Health and Human Services; US Department of Agriculture. 2015–2020 Dietary Guidelines for Americans, 8th Edition. http://health.gov/dietaryguidelines/2015/guidelines/. Published January 7, 2016. Accessed January 13, 2020.
Recipe
Greek Burger Sliders
Serves 8
Ingredients
1 red onion, divided
1/4 cup red wine vinegar
2 tsp honey
1/4 tsp salt, divided
2 tsp olive oil
1 (1-lb) package 93% lean ground beef
1/2 cup crumbled feta cheese
1/2 tsp dried oregano
1/2 tsp garlic powder
1/4 tsp pepper
1 large egg, beaten
4 small leaves romaine lettuce, cut in half
8 whole wheat slider buns, split
4 T prepared tzatziki sauce
Directions
1. Cut onion in half. Chop 2/3 cup finely from one half; set aside for burger patties. Thinly slice 1 cup onion from the remaining onion half. Combine red wine vinegar, honey, and 1/8 tsp salt in a small mixing bowl; add sliced onions, tossing to coat. Let stand for 20 minutes at room temperature while preparing the rest of the recipe.
2. Preheat grill (or grill pan coated with cooking spray) to medium-high heat.
3. While grill preheats, heat oil in a skillet over medium-high heat, and sauté the reserved 2/3 cup finely chopped onions for 3 minutes. Cool slightly.
4. Combine beef, feta cheese, sautéed onion, oregano, garlic powder, pepper, 1/8 tsp salt, and the egg in a bowl; mix gently with your hands. Shape into 8 (1/2-inch thick) patties.
5. Grill patties 3 to 4 minutes per side or until a meat thermometer inserted into the center registers 160˚ F.
6. Place one lettuce leaf half and one burger patty on the bottom half of each bun; top evenly with pickled red onions. Spread tzatziki sauce evenly over cut sides of bun tops. Place on top of burgers.
Nutrient Analysis per serving
Calories: 260; Total fat: 11 g; Sat fat: 4 g; Cholesterol: 70 mg; Sodium: 370 mg; Total carbohydrate: 25 g; Dietary fiber: 1 g; Sugars: 6 g; Protein: 20 g