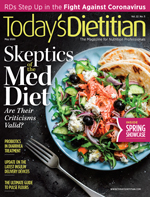 May 2020 Issue
Seals & Certifications
By Mindy Hermann, MBA, RDN
Today's Dietitian
Vol. 22, No. 5, P. 38
Making Sense of What They Mean, How They Inform Healthful Food Choices, and Who's Behind Them
The front panels of food and beverage packages are getting crowded with a growing number of seals and certifications calling out a product's nutrition and health benefits. When the US government first established front-of-pack labeling, its goal was to standardize language and guidance toward nutrition content and guarantee the quality of American food products. For the most part, the new seals generally aren't part of government-regulated labeling and are being created by third parties. They also differ from well-established seals with nutrition criteria, such as the American Heart Association's Heart-Check, which requires compliance with five coronary heart disease health claims in six food categories, and the Whole Grains Council's Whole Grain Stamp, which identifies products with at least one-half a serving of whole grains.
"Today, there are many reasons for certifications and badges, but we see their primary function as helping our customers to more quickly find what they value," says David Grotto, MS, RDN, LDN, FAND, senior manager of well-being affairs and strategic partnerships at Kellogg's in Battle Creek, Michigan. "This could include a dietary preference like gluten-free, FODMAP-free, vegan, or plant based; more details on how the food was made and grown, such as organic, non-GMO, and certified transitional [regarding] farmers transitioning their land from conventional to organic; and products to meet religious practices, like kosher or halal."
Seals and certifications differ from original government labels in terms of cost. While nearly all seals require an inspection or audit, third-party certifications overseen by nonprofit organizations typically involve an application process and initial fees, annual charges for use of the certification seal, and manufacturing audit fees. These organizations often solicit donations to support their advocacy and educational efforts.
Diet Trends
The rise of a number of popular diets has resulted in a proliferation of front-of-package certifications targeted toward more restrictive eating patterns.
However, gluten-free has evolved beyond products targeted toward consumers with celiac disease. Certifying agencies differ in their threshold for gluten-free labeling. The FDA defines gluten-free as a product containing less than 20 parts per million (ppm) of gluten, stating that 20 ppm is the lowest detectable amount using scientifically validated analytical methods.1 The NSF Certified Gluten-Free icon agrees with these standards.
The Gluten-Free Certification Organization, a program of the Gluten Intolerance Group of North America and a key third-party certifier, sets a maximum of 10 ppm of gluten for certified products. The National Celiac Association certifies products at less than 5 ppm of gluten. Gluten-free claims and certifications are voluntary, and the FDA doesn't have a gluten-free certification logo, nor does it endorse a particular third-party certification program.
The rise in popularity of vegan and plant-based foods and diets has resulted in more certifications of these products. Led by the Vegan Awareness Foundation, foods that bear the vegan certification icon contain no animal or insect ingredients, including honey; haven't been processed with animal-derived compounds; haven't been genetically altered with genes from animals; and must be processed in a way that minimizes cross-contamination from animal or insect foods and ingredients.
To date, the Vegan Awareness Foundation has certified more than 1,000 companies. The Plant-Based Foods Association introduced a Certified Plant Based seal in November 2018 specifically for animal product–free alternatives to meat, poultry, seafood, egg, and dairy, including plant-based milk, cheese, yogurt, butter, and ice cream.
The Paleo Foundation oversees certification of three related diet trends: paleo, keto, and grain-free. Marketing to companies on a platform of building trust among consumers, enhancing differentiation from competitors, and boosting sales, the Paleo Foundation provides extensive guidance on and criteria for permitted and prohibited ingredients for each of the three major certifications and steers companies through its certification process. Annual revenues, the number of products in the application, and the number of years of use of the seal impact certification costs.
Organic and Non-GMO
USDA Organic products must be produced without excluded methods—genetic engineering, ionizing radiation, sewage sludge, genetic modification—and only using allowed substances. They also must be overseen by a USDA National Organic Program–authorized certifying agent.2
Taking organic up a notch and providing clarification for consumers, California Certified Organic Farmers (CCOF) certifies both organic foods and producers and offers a seal for CCOF-certified members stating that "Organic is Non-GMO & More." The Real Organic Project recently launched a new organic certification to highlight soil-grown (as opposed to hydroponic and greenhouse) and pasture-raised products under USDA Organic.
In the years since its founding in 2007, the Non-GMO Project has become a highly prominent certifier with its Non-GMO Project Verified butterfly icon. The program currently works with more than 3,000 brands and 50,000 products. The Non-GMO Project website explains that consumers should have access to non-GMO choices and have the power to change the way food is grown and produced. It also equates preserving and building the non-GMO supply chain with transitioning toward a safe, healthful food supply that supports organic agriculture and reduces contamination pressure.
Its Non-GMO Project Standard includes an extensive classification system for major, minor, and micro inputs and ingredients, as well as risk of contamination by genetically modified ingredients. The Non-GMO Project, like other organizations, charges for certification.
Animal Welfare
Animal welfare certifications help satisfy consumers' desires for transparency and interest in knowing how food is produced. Numerous seals verify treatment of cattle, pigs, poultry, and fish in the food supply.
The American Humane Certified Animal Welfare Standards are overseen by the organization Humane Heartland. They're specific to individual species—beef and dairy cattle, broiler and layer chickens, swine, and turkey—and pertain to space, air and water quality, heating, lighting, shade, and the animals' ability to engage in natural behaviors during their lifespan.
Products carrying the Certified Humane Raised and Handled icon meet the standards of the Humane Farm Animal Care organization, a nonprofit with standards for the birth-through-slaughter treatment of farm animals in the food production system. Endorsed by the American Society for the Prevention of Cruelty to Animals (commonly known as ASPCA) and the nonprofit Center for Food Safety, along with 70 humane organizations around the world, this icon currently appears on several brands of organic eggs, cage-free eggs, and free-range chicken.
The Global Animal Partnership (GAP) defines good animal welfare through the food supply chain as health and productivity, natural living, and emotional well-being. The organization has developed and implemented specific, multitiered animal welfare standards for eight farm animal species: beef, bison, broiler chickens, layer chickens, goats, pigs, sheep, and turkey. It's one of the largest farm animal welfare certification and labeling programs in North America, with a network of 4,000-plus farms and ranches across eight countries, impacting 416 million animals annually. The GAP Animal Welfare Certified label can be found on over 1,200 products available in more than 5,000 retail and foodservice locations.
The American Grassfed Association offers a grassfed certification program and American Grassfed logo for independent family farms and ranches. Certification requires that ruminant, pork, and dairy animals be fed a lifetime diet of 100% forage, be raised on pasture, and never be treated with added hormones or antibiotics. The organization offers to help coordinate evaluations with other inspection agencies.
The organization A Greener World (AGW) advocates for identifying and promoting agricultural systems that positively impact the environment, society, and wild and farmed animals; educating consumers about the environmental, social, and animal outcomes of their food purchasing decisions; establishing and promoting farm certification programs; and supporting independent farmers who are committed to sustainable livestock production.
AGW certification seals include Certified Animal Welfare Approved by AGW, Certified Grassfed by AGW, and Salmon Welfare Certified by AGW, as well as Certified Non-GMO by AGW, and Certified Organic by AGW. The organization describes its salmon certification, for example, as the "only certification and logo in the world that guarantees salmon products are from sustainably managed aquaculture farms that do not allow the use of GMO fish species, routine antibiotics, or growth hormones."
Seafood certifications and their associated seals identify fish and shellfish that are cultivated sustainably, harvested legally, and traceable back to their source.3 The Aquaculture Stewardship Council aquaculture certification logo recognizes responsible aquaculture geared toward environmental sustainability and social responsibility. The Best Aquaculture Practices certification seal addresses four key areas of sustainability: environmental, social, food safety, and animal health and welfare in farm-raised seafood. The Marine Stewardship Council blue fish label identifies wild fish and seafood from certified, sustainable fisheries.
Furthermore, protection of pollinators has become a priority for the food industry, as well as nonprofit organizations. The Bee Better certification and seal program encourages biodiversity and growing methods to protect pollinators. Its seal is expected to appear in 2020 on select ice creams, including several Häagen-Dazs varieties; dairy alternative beverages; and nut butters. In response to honey adulteration, NSF International created the True Source Honey certification and seal to verify the country of origin traceability of honey and ensure compliance with US and international trade law.
Labor Certifications
Products that are Fair Trade Certified through a partnership between SCS Global Services and Fair Trade USA demonstrate support for workers and communities while protecting the environment. Products and ingredients that are certified to carry the Fair Trade seal, including seafood, coffee, tea, herbs, cocoa, fresh fruits and vegetables, sugar, beans and grains, nuts, oils and butters, honey, spices, and certified ingredients used in ready-to-drink beverages, comply with the Fair Trade USA Agricultural Production Standard for empowerment, worker's rights, sustainable production, traceability, and transparency.
Sustainability
Seals and certifications pertaining to sustainability have exploded in recent years, mainly led by third-party organizations with individual sets of standards and guidelines that match their particular mission. Some statements require the food product meet certain standards; free range, for example, is defined by the USDA, while others are unregulated.4 Sustainability certifications tend to incorporate multiple areas of action, combining environmental protection with animal welfare and worker's rights.
The Savory Institute is an organization dedicated to the regeneration of the world's grasslands through holistic management. Its Land to Market Ecological Outcome Verification seal, introduced in 2018, guides and tracks supplier farms for their outcomes in biodiversity, soil health, and ecosystem function, such as water infiltration and soil carbon content.
The Food Alliance certifies producers of livestock and shellfish, as well as crops, eggs, dairy, fruits and vegetables, grains, mushrooms, legumes, and prepared food products made with Food Alliance Certified ingredients. Products carrying the Food Alliance Certified logo meet the organization's standards for transparency, traceability, and accountability regarding attention to the environment, labor, and animal welfare.
The recently piloted Regenerative Organic Certification (ROC) encompasses three pillars: animal welfare, fair treatment of farmers and workers, and requirements for soil health and land management. Overseen by NSF International, pilot and supporting food brands include Horizon, Lotus Foods, Maple Hill Creamery, and Patagonia. The ROC seal began appearing on products in spring of this year.
Research Matters to Consumers
Consumers are more interested than ever in certifications, particularly regarding transparency. According to research conducted by the Food Marketing Institute, 82% of shoppers actively look for at least one front-of-pack claim, with 4 in 10 consumers saying they consume foods and beverages produced in an ethical way, and a similar number buy foods and beverages produced in an environmentally sustainable way.5 Key product traits consumers say they seek when purchasing foods and beverages, such as those free of bioengineered ingredients, certified organic, gluten-free, grass fed, fair trade, and certified humane, are covered by the newer certifications.
The International Food Information Council Foundation Food and Health Survey of 2019 showed that only 22% of consumers say they've heard of regenerative agriculture, but another 55% have heard of the term and would like to learn more.6 Research by the Hartman Group on familiarity with and influence of different types of seals and certifications found that, while more than one-half of consumers know about the USDA Organic, Certified Kosher, and Fair Trade icons, the fewer numbers who know about animal welfare, pesticide, and non-GMO labels are highly impacted by those certifications.7
A consumer-focused resource for more information about the different varieties of certifications, seals, and labels can be found at https://sites.google.com/view/understanding-food-labels/food-labels-home.
Making Sense of Seals and Certifications
"From our standpoint, science-based certifications such as Heart-Check from the American Heart Association and the Whole Grain Stamp speak to nutrition value, tie into our chain's  nutrition attribute program, and guide people toward healthier choices," says Beth Stark, RDN, LDN, manager of nutrition and lifestyle initiatives at Weis Markets, Inc, in Sunbury, Pennsylvania. "As consumers become interested in issues such as transparency, we can help them navigate the landscape through blog posts, magazine articles, radio spots, podcasts, and in-store workshops on label reading. We also work with other store departments—for example, seafood. We refer seafood sustainability questions to them, and they send customers to us for answers to nutrition questions."
Jenna Braddock, MSH, RD, CSSD, CPT, publisher at MakeHealthyEasy.com and creator of the Grocery Shop with Confidence online class, notes that the new ROC and other multipillar environmental certifications can be helpful, particularly to those who teeter between being an omnivore and becoming vegetarian.
"If someone would like to continue enjoying meat but has concerns about animal and/or worker rights, buying a certified product would help them support a system that aligns with their beliefs. Although this type of certification usually does not impact nutrition value, it does send a message regarding caring for the people who produce our food," she says.
To reduce client anxiety about label reading, Braddock asks clients about their food priorities and then teaches them first about the certifications that support those goals.
"Many certifications try to address a consumer need and quest for knowledge about farming," says Kim Kirchherr, MS, RD, LDN, ACSM-CPT, FAND, a Chicago-based dietitian who has worked in both retail and agriculture. "For shoppers, the key to navigating these symbols is to do a quick search to find out who is behind them and how that lines up with their personal values in regard to food and choice. The same could be said for the nutrient specific icons. Many health claims are legally defined but live side by side along marketing messages. It's important to note which are which and sort through the ones that will be of most help for personal goals."

Philadelphia-based Zachari Breeding, MS, RDN, LDN, FAND, says, "I encourage clients to read ingredient lists on foods and use that information, in addition to the Nutrition Facts label, to make informed decisions on nutritious choices. I also suggest they look into who's behind the logo and find out what the sponsoring organization stands for."
— Mindy Hermann, MBA, RDN, is a food and nutrition writer and communications consultant in metropolitan New York.

References
1. Gluten and food labeling. US Food & Drug Administration website. https://www.fda.gov/food/nutrition-education-resources-materials/gluten-and-food-labeling. Updated July 16, 2018.
2. Organic labeling. US Department of Agriculture, Agricultural Marketing Service website. https://www.ams.usda.gov/rules-regulations/organic/labeling
3. Seafood and the environment. Seafood Nutrition Partnership website. https://www.seafoodnutrition.org/seafood-research/seafood-sustainability/
4. Hamilton C, Raison B. Understanding food labels. J Agric Food Syst Community Dev. 2019;8(4):13-22.
5. Markenson S, Feit DE, Fikes D; Food Marketing Institute; Hartman Group. U.S. grocery shopper trends: a look at today's grocery shopper. https://www.fmi.org/docs/default-source/webinars/trends-a-look-at-today%27s-grocery-shopper-slides-pdf.pdf. Published June 20, 2019.
6. 2019 Food and Health Survey. International Food Information Council Foundation website. https://foodinsight.org/2019-food-and-health-survey/. Published May 22, 2019.
7. Claims, certificates and seals on product packaging. Hartman Group website. https://www.hartman-group.com/infographics/89585772/claims-certificates-and-seals-on-product-packaging. Published December 21, 2017.