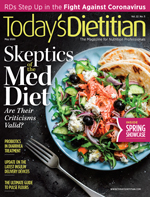 May 2020 Issue
The Ultimate Guide to Pulse Flours
By EA Stewart, MBA, RDN
Today's Dietitian
Vol. 22, No. 5, P. 34
They pack a mighty nutritional punch and are a versatile addition to a gluten-free pantry.
As plant-forward eating continues to increase in popularity, so do protein-packed, low-fat, fiber-rich pulse flours. Pulse flours are teeming with nutrients and are naturally gluten-free, and the category is expected to grow more than 10% over the next five years.1 For these reasons, pulse flours should be on every dietitian's radar, as they help clients optimize nutrition and promote gut health.
Learn more about these flours' key nutrition benefits and how to bake with them so you can share with clients how to incorporate them into their diets.
What Are Pulse Flours?
Pulse flours are made from pulses, which are the edible seeds of legumes, such as canned or dry beans, chickpeas, lentils, lupin (also commonly called lupini) beans, and multiple varieties of peas. Pulses get high marks from a sustainability standpoint because they use soil bacteria to pull nitrogen back into the soil from the air, replacing the need to add nitrogen fertilizers and producing a lower carbon footprint than other crops. In addition, pulse crops require less water than many other protein sources, especially animal protein. Pulse crops have adapted to using less water, making them suitable for planting in areas prone to drought.2,3
Pulse flour is made by grinding or milling whole pulses into flour, and nothing is removed during the milling process. And, while many pulse varieties can be ground into flour at home with a grain mill or a powerful, high-speed blender, this article will focus on four commercially available pulse flours: chickpea, lentil, pea, and lupin.
Gluten-Free Goodness
Because all pulses are naturally gluten-free, they're a high-quality choice for gluten-free cooking and baking. But there's one caveat: As with oats and other naturally gluten-free grains, lentils and other pulses may come in contact with gluten-containing grains while growing or during processing. Therefore, dietitians should counsel clients with celiac disease or nonceliac gluten sensitivity to choose pulse flours clearly labeled as gluten-free or contact the manufacturer before purchasing.
Budget-Friendly Choice
When it comes to price, whole wheat and brown rice flours are the most cost-effective flour choices. However, pulse flours such as chickpea and lupin typically are less than one-half the price of nut flours such as almond flour and hazelnut flour, making pulse flours a budget-friendly ingredient for clients.
Expect to see more pulse flours in local stores as their popularity continues to rise. Until then, clients can purchase pulse flours online and in natural food stores.
Nutrient Profile
While all pulse flours are low in fat, there are some significant differences among them regarding protein, carbohydrate, fiber, and micronutrient content. Compared with whole wheat flour, chickpea flour has comparable amounts of protein and fiber, while lentil, green pea, and lupin flours are higher in protein and fiber than whole wheat flour. Pulse flours contain much greater amounts of protein and fiber than brown rice flour, a key ingredient in most gluten-free baked goods. And pulse flours have higher levels of micronutrients such as folate and iron, making them a natural choice for clients who want to optimize their nutrition on a gluten-free diet.
According to Zarana Parekh, RDN, LD, CLT, founder and owner of NutriliciousbyZ in Irving, Texas, "Chickpea- and lentil-based flours are very versatile and nutritious," adding that their protein, fiber, and nutrient content as well as their gluten-free status "make them a great addition to plant-based and gluten-free diets."
And because legumes have been found to be more filling than white flour, "baking with pulse flour is a great option for satiety, too," says Kelly Jones, MS, RD, CSSD, LDN, founder of Kelly Jones Nutrition in Newtown, Pennsylvania, and spokesperson for the Academy of Nutrition and Dietetics.
Let's take a closer look at the nutrient content of each of these flours.
Chickpea Flour
Chickpea flour is considered the "go-to" pulse flour for many RDs. It has a fine texture and a nutty, earthy flavor. Clients can purchase plain chickpea flour or buy it as part of a blend with other gluten-free flours. Chickpea flour has about the same amount of fiber and protein as whole wheat flour, but almost double the protein and fiber of brown rice flour, making it a nutritious alternative for anyone on a gluten-free diet.
Kara Landau, APD/AN, a New York City–based prebiotic gut health expert and founder of Uplift Food, says, "Chickpea/garbanzo bean flour is a great alternative when you are looking to incorporate a flour that adds some carbohydrate in a grain- and gluten-free format, and that is also slower release than regular white flour."
One of the most exciting aspects of chickpea flour is its versatile culinary uses. In Indian cuisine, chickpea flour is used to make besan chilla, a chickpea flour omelet. In southern France, chickpea flour is the main ingredient in socca, a chickpea flour flatbread, and in Italy it's used to make farinata, a chickpea flour pancake.
Chickpea flour's mild flavor makes it a natural for sweet dishes, too, such as besan burfi, a classic Indian treat. Chickpea flour is a household staple for Tej Pathak, RD, CDE, a Houston-based dietitian at TejRD. "The sweets made out of chickpea flour are delicious and nutritious, and kids love it," she says.
In fact, Jones likes to swap some of the regular flour used to make muffins and cupcakes with chickpea flour.
A 1/4-cup serving of chickpea flour contains 120 kcal, 21 g carbohydrate, 5 g fiber, 1.5 g fat, and 5 g protein. Key nutrients include folate, copper, and manganese.
Lentil Flour
With its high levels of protein and fiber, lentil flour earns the award for most nutrient-dense pulse flour. It's an excellent source of nonheme iron, and its mild flavor makes it a natural ingredient for sweet and savory recipes. Indeed, many clients already may have tried lentil flour in one of the many popular lentil-based pastas on the market.
Like all pulses, lentils have a low glycemic index, making lentil flour an ideal food for weight and blood sugar control.4 As with chickpea flour, lentil flour can be combined with other flours, such as almond or brown rice, to boost protein, fiber, iron, and folate in muffins, cookies, pancakes, scones, and more.
A 1/4-cup serving of lentil flour contains 170 kcal, 29 g carbohydrate, 14.5 g fiber, 0.5 g fat, and 12 g protein. Key nutrients include folate, iron, manganese, and potassium.
Pea Flour
Not to be confused with pea protein powder, pea flour is slightly lower in calories than the other pulse flours mentioned here and lower in carbohydrate than lentil and chickpea flour. In addition, it contains a moderate amount of protein and fiber. Key nutrients in pea flour include iron, zinc, thiamin, and 69% DV for folate.
Clients can purchase green pea flour but will have to grind other pea varieties, such as split yellow peas, into flour themselves for use in gluten-free baking. Green pea flour has a mild and slightly sweet flavor. It's important to note that green pea flour, like kale and other leafy greens, will turn baked goods green, so pair it with matcha powder for scones and muffins and enjoy.
A 1/4-cup serving of green pea flour contains 100 kcal, 18 g carbohydrate, 8 g fiber, 0 g fat, and 8 g protein. Key nutrients include folate, iron, thiamin, and zinc.
Lupin Flour
Like pea flour, lupin flour probably isn't on most people's radar. But with the popularity of the keto diet, it's one that should be noted, as lupin flour is lower in carbohydrate than other pulse-based or grain-based flours. Landau's favorite pulse flour is lupin flour, which is simply ground down lupini beans (beans in the same plant family as peanuts).
"Being uniquely comprised of around 40% protein, 30% fiber, and being low in starch/net carbohydrates, I find [lupin flour] to be a wonderful addition that has a low-glycemic load, aids in satiety, and all while offering an abundant source of gut-healthy prebiotics," Landau says. "For those looking to keep their net carbohydrates down, such as those trying to manage their blood sugar levels or following a ketogenic diet, this flour works perfectly. It's also a great source of plant-based protein for those who follow a vegan or plant-forward diet and are looking for alternative whole food protein sources."
By itself, lupin flour tends to have a bitter flavor, so one caveat Landau offers when baking with lupin and other pulse flours is to blend them with non-pulse flours such as almond meal or coconutflour. She says while most recipes recommend replacing up to 30% of wheat flour with lupin flour, she likes to replace it with 40% to "truly reap the nutritional benefits."
A 1/4-cup serving of lupin flour contains 110 kcal, 12 g carbohydrate (1 g net carbs), 11 g fiber, 2.5 g fat, and 11 g protein.
One important caveat: Because lupini beans are similar to peanuts and soybeans, individuals with peanut or soy allergies should speak with a physician first before consuming lupin flour. In addition, lupini beans have high levels of potentially toxic alkaloids, so clients will need to leach them in water, before consumption. To be on the safe side, instruct clients to buy commercially available lupin flour instead of grinding it on their own.
Tips for Counseling Clients
Pulse flours can be used in a wide variety of baked goods, including bread, pie crusts, waffles, tortillas, pizza dough, and homemade crackers. Keep in mind though that pulse flours absorb more moisture than other flours, so recommend clients add more liquid and/or eggs when experimenting with new recipes.
Since pulse flours tend to be denser than whole wheat and brown rice flours, the dietitians interviewed in this article recommend clients experiment with different ratios of pulse flours to other flours, including brown rice, whole wheat, and almond flour. Some dietitians may suggest clients start with a 25% substitution, but Jones prefers a 50:50 or 75:25 ratio of chickpea to white flour for baked goods.
In addition to baking, Pushpa Soundararajan, MBA, RDN, owner of VPK Nutrition in Willowbrook, Illinois, who specializes in Ayurvedic nutrition and MNT for various conditions, recommends chickpea and lentil flours to thicken curries and other favorite Indian dishes.
For clients who are just beginning to experiment with pulse-based flours, Landau suggests they incorporate them into their recipes by adding "just a tablespoon or two into a pancake recipe—or even a healthful cookie or brownie mix."
Landau also recommends clients start with "some of the already-made products on the market that have pulse and bean flours in them, such as chickpea flour or lupin flour cookies, as they're all a great place to start and get your taste buds adjusted."
Keep in mind that, because pulse flours are higher in fiber than most other flours, especially brown rice flour, clients with irritable bowel syndrome or other digestive health issues should add pulse flours into their diets slowly to minimize gas, bloating, or other gastrointestinal symptoms.
Finally, pulses, like most plant-based foods, contain lectins—carbohydrate-binding proteins resistant to digestion. While research suggests lectins have potential beneficial health effects, to be on the safe side, pulses and pulse flours shouldn't be eaten raw, as they may irritate the gut lining in some individuals. To reap the nutritional benefits of baking with pulse flours, suggest clients avoid no-bake recipes, as lectins are significantly decreased during cooking.5
— EA Stewart, MBA, RDN, is a private practitioner based in San Diego who specializes in celiac and autoimmune diseases, digestive health, and healthy aging. She creates gluten-free recipes for her blog, The Spicy RD, at www.eastewart.com. Follow Stewart on Instagram, Twitter, and Facebook @thespicyrd.

References
1. Pulse flour market — growth, trends, and forecasts (2020¬–2025). Mordor Intelligence website. https://www.mordorintelligence.com/industry-reports/pulse-flour-market. Accessed February 5, 2020.
2. Iriti M, Varoni EM. Pulses, healthy, and sustainable food sources for feeding the planet. Int J Mol Sci. 2017;18(2):255.
3. Water footprint of crop and animal products: a comparison. Water Footprint Network website. https://waterfootprint.org/en/water-footprint/product-water-footprint/water-footprint-crop-and-animal-products/. Accessed February 12, 2020.
4. Atkinson FS, Foster-Powell K, Brand-Miller JC. International tables of glycemic index and glycemic load values: 2008. Diabetes Care. 2008;31(12):2281-2283.
5. Shi L, Arntfield SD, Nickerson M. Changes in levels of phytic acid, lectins and oxalates during soaking and cooking of Canadian pulses. Food Res Int. 2018;107:660-668.
Recipes
Orange Chocolate Lentil Almond Scones
Serves 8
These high-fiber, high-protein scones, delicately flavored with orange and cinnamon, are a delicious treat for when clients are craving something chocolatey.
Ingredients
1 cup lentil flour
1 cup fine almond flour
2 tsp cinnamon
1 tsp baking soda
1/8 tsp salt
1 large egg
3 T maple syrup
1 large orange, zest and juice from 1/2 the orange
1/2 cup bittersweet chocolate chips
Directions
1. Heat oven to 375˚F, and line a baking tray with parchment paper.
2. Combine flours, cinnamon, baking soda, and salt in a large mixing bowl and stir well to combine.
3. Combine egg, maple syrup, orange zest, and juice from 1/2 of the orange in a bowl. Mix well with a fork or whisk.
4. Pour wet ingredients into mixing bowl with dry ingredients and use a fork to combine. Mixture will be a little dry but should be moist enough when mixed thoroughly. Stir in chocolate chips with a fork until well combined.
5. Place dough on parchment paper and use clean hands to press into an approximately 8-inch circle. Bake for 10 minutes, then allow to cool before cutting into eight wedges to serve.
Nutrient Analysis per serving
Calories: 252; Total fat: 10 g; Sat fat: 2 g; Sodium: 54 mg; Total carbohydrate: 31 g; Dietary fiber: 9 g; Sugars: 13 g; Protein: 10 g
— Recipe courtesy of EA Stewart, MBA, RDN, celiac, autoimmune, and digestive health expert at Spicy RD Nutrition
---
Besan Chilla
Serves 6
Besan chilla is a traditional Indian chickpea flour omelet flavored with chopped vegetables and aromatic herbs. It's naturally vegan and gluten-free.
Ingredients
1/4 cup chopped onion
1/4 cup chopped tomato
1/4 cup chopped spinach
1/4 cup grated carrots
1/4 cup grated zucchini
2 T chopped mint
2 T chopped cilantro
1 cup chickpea flour
1/2 cup water, plus additional if needed
1/4 tsp turmeric
Salt to taste
1/4 tsp black pepper
2 T avocado oil
Directions
1. Chop and grate all vegetables.
2. Mix chickpea flour with water. Use a whisk or hand blender to remove any lumps. Add additional water if needed to make batter similar to pancake batter consistency.
3. Add all vegetables and spices to this batter.
4. Place avocado oil in a pan and heat on stove over medium heat. Spread approximately 1/2 cup of batter on the pan to make an omelet. Cook on both sides and remove from pan. Repeat with remaining batter to make five to six omelets.
5. Serve hot.
Nutrient Analysis per serving
Calories: 127; Total fat: 6 g; Sat fat: 1 g; Sodium: 68 mg; Total carbohydrate: 13 g; Dietary fiber: 3 g; Sugars: 3 g; Protein: 5 g
— Recipe courtesy of Zarana Parekh, RDN, LD, CLT, founder and owner of NutriliciousbyZ in Irving, Texas