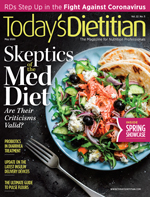 May 2020 Issue
Food Allergies: On the Outside Looking In
By Sherry Coleman Collins, MS, RDN, LD
Today's Dietitian
Vol. 22, No. 5, P. 14
Sesame's ranking outside of the top eight food allergens may be causing patients harm.
Reported food allergies have been on the rise for more than two decades. In the United States, the top eight allergens are milk, eggs, peanuts, tree nuts, fish, crustacean shellfish, wheat, and soy.
What's next in line? According to researchers, the ninth most common allergen in the country may be sesame. Why does this ranking matter? The FDA's Food Allergen Labeling and Consumer Protection Act requires that each of the top eight allergens be clearly labeled on ingredient lists by their common name (or in parentheses beside a more technical name).
As a food becomes more widespread in a population's diet, it makes sense that more allergy cases are reported. After all, no one reacts to food they're not eating. Also, in the past, researchers weren't really looking for sesame allergies. However, now that they are, they're finding it to be more common than anticipated.
A decade ago, sesame wasn't as ubiquitous in the United States. Relegated to the tops of hamburger buns and the occasional Chinese food takeout meal, it wasn't on every family's menu.
Times have changed, however, and sesame is everywhere. Ethnic and global cuisines are common and highly sought-after foods for people of all ages. Tahini, a sesame paste commonly used in Mediterranean cuisine, has found its way into ready-to-eat sauces, dressings, sandwiches, and, of course, hummus. Sesame seeds are in popular spice blends such as "everything bagel" seasoning, which, in addition to bagels, can be sprinkled on most anything, and in the Middle Eastern spice mixture dukkah.
Digging Into the Numbers
There's limited information on the prevalence of sesame allergy in the United States, and it was first measured only in 2010. Researchers in that study determined that 0.1% of respondents self-reported a sesame allergy.1 Nine years after the 2010 study, reported sesame allergy affected 0.49%; however, only one-half of those described symptoms consistent with true sesame allergy.2
Similar results were presented at the 2019 American College of Allergy, Asthma and Immunology annual meeting; 0.29% of survey respondents reported sesame allergy.3 According to this research, sesame allergies appear to have at least doubled in the last 10 years. While this increase still represents a small percentage of the US population, it's nonetheless concerning.
Diagnosing and Managing Sesame Allergy
The diagnostic process should begin only when an individual has a convincing history—ie, one has had a reaction that he or she can trace back to eating sesame seeds.
When a convincing history is present, the patient should see an allergist for potential skin prick or serum immunoglobulin E (IgE) blood testing. A positive test indicates the likelihood of allergy but isn't diagnostic alone and doesn't tell how severe the allergy may be. Oral food challenges are the gold standard for food allergy diagnosis.
For example, Tiffany Campbell is an Atlanta-area mother whose 2-year-old son has a sesame allergy. At 15 months, he had a serious reaction while eating food that contained sesame. The diagnosis took her by surprise because her son previously had eaten sesame safely and his older brother has no food allergies. But the diagnosis can take time. "Diagnosing a sesame allergy may take a little longer than some others because it's not as common as the top eight," she says.
As with other food allergies, IgE-mediated sesame allergies have the potential to cause severe reactions. In fact, in the most recent prevalence survey, 33.7% of those with reported sesame allergy said they had suffered a severe reaction to sesame that required the use of epinephrine, the only approved medication to treat anaphylaxis, a potentially life-threatening reaction.2
Management of sesame allergy requires complete avoidance of eating the food to prevent reactions. Because labeling can be a challenge, this can take plenty of additional attention on the part of clients and patients. Learning the ways sesame can be listed on labels, as well as common ways it can be eaten, can help.
As with all food allergens, one of the best ways to avoid accidental ingestion is to learn how to safely prepare snacks and meals at home without the offending ingredient. However, that isn't always possible or practical.
When dining out, individuals with food allergies always should tell servers about their allergy and may want to communicate directly with the person preparing their food. They also should consider avoiding Asian, Middle Eastern, and Mediterranean restaurants, where sesame is found in a variety of common dishes and sometimes hidden in others.
Those with sesame allergy should completely avoid sesame seeds (sometimes called benne seeds), sesame paste (tahini), and roasted sesame oil—and any foods made with or from these ingredients. If sesame oil has been highly refined, it shouldn't contain the protein that causes allergic reactions.
Easy-to-understand consumer information can be found at FoodAllergyAwareness.org, the website for the Food Allergy & Anaphylaxis Connection Team, an advocacy and education organization, which includes tips for the newly diagnosed as well as a listing of common foods that may contain sesame.
Labeling
Because sesame isn't one of the top eight allergens, the FDA doesn't require it to be clearly labeled on ingredient lists. Alternatively, manufacturers may use a "contains" statement. Precautionary labeling to indicate potential risk when an allergen isn't an intentional ingredient, such as "may contain," isn't FDA regulated and varies widely between manufacturers.
Sesame and any other potential food allergens outside of the top eight aren't covered under this law. Sesame sometimes is used as a seasoning ingredient and can be used in proprietary flavorings, covered under a broad description such as "natural flavoring" that may not be clear to consumers.
Under the current law, there's no way for consumers to tell by reading the label that the packaged foods they eat don't contain sesame. They can call the company for detailed information, but, according to Campbell, that takes time and companies aren't always forthcoming. "The biggest frustration in dealing with an allergy outside of the top eight is the unwillingness of companies to provide information because they aren't required by law or their recipes are proprietary," she says.
It's for this reason that food allergy advocates, families, and individuals with sesame allergy worked with legislators to get the Food Allergy Safety, Treatment, Education and Research Act introduced in the House of Representatives in April 2019. Sponsored by California congresswoman Doris Matsui, the bill aims to do the following:
• direct the Secretary of Health and Human Services (HHS), acting through the Centers for Disease Control and Prevention, to expand the National Health and Nutrition Examination Survey to collect information on Americans' exposure to food allergens and the prevalence of food allergies for specific allergens. The gathered data would be reported to Congress and the public;
• update allergen labeling laws to include sesame and clarify that the Secretary of HHS has existing authority to add new labeling requirements for additional allergens as new scientific evidence emerges;
• expand the current guidance on patient experience data to include information on food allergies; and
• direct the National Institutes of Health to study the economic costs of food allergies.4
The bill, which is currently in committee for consideration, could be brought to the House this year. Meanwhile, the state of Illinois passed legislation in 2019 requiring that sesame be clearly labeled on packaged goods.5 Legally, any company selling packaged foods with sesame in Illinois must now indicate that it's part of the product by clearly stating it as an ingredient.
Sesame Summary
Little is known about the natural resolution of sesame allergy, but, to date, there's no FDA-approved treatment for it. Managing sesame allergy requires completely avoiding ingestion of the offending food. When working with clients who have sesame allergy, it's important to provide the same nutrition education that would be provided for any other food allergy, with an extra focus on finding this potentially hidden ingredient on labels.
Helping clients learn to read labels, empowering them to ask questions in restaurants and other foodservice establishments, and providing tips for cooking and recipe modification will help clients stay safe. The dietitian working in food allergies should keep an eye on potential labeling changes as they relate to sesame allergy, as well as other research on this emerging food allergen.
— Sherry Coleman Collins, MS, RDN, LD, is president of Southern Fried Nutrition Services in Atlanta, specializing in food allergies and sensitivities, digestive disorders, and nutrition communications. Find her on Twitter, Instagram, and Facebook as @DietitianSherry, via the Southern Fried Girlfriends podcast, and at www.southernfriednutrition.com.

References
1. Sicherer S, Muños-Furlong A, Goldbold J, Sampson H. US prevalence of self-reported peanut, tree nut, and sesame allergy: 11-year follow-up. J Allergy Clin Immunol. 2010;125(6):1322-1326.
2. Warren CM, Chadha AS, Sicherer SH, Jiang J, Gupta RS. Prevalence and severity of sesame allergy in the United States. JAMA Netw Open. 2019;2(8):e199144.
3. Chadha A, Doshi P, Warren C, et al. Epidemiology of sesame allergy in the United States. J Allergy Clin Immunol. 2019;143(2):AB202.
4. Cosponsor the Food Allergy Safety, Treatment, Education and Research (FASTER) Act of 2019. DearColleague.us website. http://dearcolleague.us/2019/10/cosponsor-the-food-allergy-safety-treatment-education-and-research-faster-act-of-2019-3/. Published October 28, 2019. Accessed February 6, 2020.
5. Full text of HB2123. Illinois General Assembly website. http://www.ilga.gov/legislation/fulltext.asp?DocName=&SessionId=108&GA=101&DocTypeId=HB&DocNum=2123&GAID=15&LegID=117799&SpecSess=&Session=. Accessed February 6, 2020.