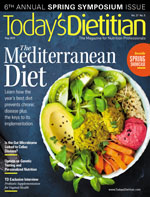 May 2019 Issue
Popular Diet Trends: Today's Fad Diets
By Carrie Dennett, MPH, RDN, CD
Today's Dietitian
Vol. 21, No. 5, P. 12
How to Respond to Trends Clients May Ask About
While diet trends—both the faddish and the more enduring—are a constant presence in the nutrition landscape, what they look like shifts and morphs, and even returns, over time. Here are some of the current trends that dietitians may be hearing about from clients and patients and some tips on how to approach those conversations.
OPTAVIA
OPTAVIA is a reduced-calorie, intensive meal replacement program that's a rebranding of Medifast's direct-sale Take Shape For Life program. Participants eat six times per day, every two to three hours. Most opt for the 800- to 1,000-kcal "Optimal Weight 5&1 Plan," which includes five nutritionally interchangeable OPTAVIA meal replacement products, aka "Fuelings"—soups, shakes, bars, biscuits, and puddings—and one "lean and green" meal based on lean protein and three vegetable servings. The plan limits total fat to 30% of calories, includes at least 72 g protein, and averages 80 to 100 g carbohydrate.1
Other OPTAVIA plans include more calories and varying meal-to-meal replacement ratios, including specialized plans for nursing mothers, teen boys, teen girls, seniors, and people with diabetes or gout.1,2 OPTAVIA Fuelings don't contain artificial colors, flavors, or sweeteners, but do contain a probiotic to support digestive health. Customers have access to health coaches, who have to be at least 18 years old and have a valid Social Security number. Coaches, who operate as independent contractors, are paid based on how many OPTAVIA products they, or coaches they recruited, sell to consumers.3
There's no research behind OPTAVIA specifically, and most of the studies on Medifast or similar programs are small and have a high dropout rate. A 2015 review of studies on commercial weight loss programs found that participants in low-calorie meal programs, such as Medifast, lost more weight than nonparticipants in trials lasting four to six months. The only long-term study showed no benefit of these plans at 12 months.4 In addition, a 2017 study found that weight loss in online testimonials for Medifast was significantly higher than the weight loss demonstrated in randomized controlled trials.5
Noom
Odds are you've seen at least one ad for Noom on TV or in your Instagram feed, as this app-based diet plan is going after the millennial audience that WW (formerly Weight Watchers) wishes it could capture. The company says it "combines the power of technology with the empathy of real humans."
New consumers complete a set of questions via the app or website. On the website, this is billed as, "Find out how much weight you'll lose for good with Noom's free 30-second online evaluation." The questions include goal weight, current weight, age range, gender, current diet and activity habits, typical lunch foods, meal/snack frequency, presence of any back issues or risk factors for several chronic health conditions, recent antibiotic use, and living environment (city, country, suburbs).
Based on their responses, users receive a 16-week personalized eating and workout plan. Noom also uses interactive features such as daily quizzes, chat-based support from fellow users, and check-ins with health coaches to help teach healthful habits and overcome psychological hurdles to weight loss and maintenance. A job listing for entry-level Noom virtual coaches asks for a bachelor's degree in a related field of study, or an associate's degree plus 2,000 hours of related wellness experience. RDs oversee the food database.
Users can track food and daily physical activity on the app. Noom uses calorie density to assign tracked foods the following color codes:
• Green includes vegetables, fruits, whole grains, egg whites, tofu, and nonfat dairy.
• Yellow includes lean proteins, legumes, low-fat dairy, avocados, refined grains, whole eggs, and tempeh.
• Red includes nuts, seeds, nut butters, full-fat dairy, orange juice, energy and snack bars, processed meats, fried foods, sweet baked goods, sugar, honey, pizza, hot dogs, and hamburgers.
A 2016 study found that 77.9% of 35,921 participants lost weight while using the app, and 60% kept off the weight for one year. There was no control group. Interestingly, 32.6% of participants—including 38.4% of the female participants—had self-reported baseline BMIs in the "normal" range (18.5–25 kg/m2) so they likely didn't have health-related reasons for losing weight, although they were the group most likely to lose weight.6
Celery Juice
Celery juice is trending online and on social media, literally touted as a miracle cure. The originator of this trend is Anthony William, aka the "Medical Medium." On Gwyneth Paltrow's website goop, William wrote, "I believe that celery juice is a miracle juice and that it's one of the greatest healing tonics of all time. I've seen thousands of people who suffer from chronic and mystery illnesses restore their health by drinking 16 oz of celery juice daily on an empty stomach."7
William claims celery juice reverses inflammation by starving pathogenic bacteria and viruses, and says "an undiscovered subgroup of sodium that I call cluster salts" attacks pathogens and rebuilds the hydrochloric acid in your stomach so that it can break down protein, preventing "gut rot and bloating." William has no medical or scientific training. He says he communicates with "Spirit of Compassion" to get "extraordinarily accurate health information that's often far ahead of its time."8
While some research has found anti-inflammatory and possibly anticancer benefits from isolated phytochemicals found in celery, there's no research supporting any of the popular claims about celery juice.
The Shepherd's Diet
This "biblically inspired step-by-step weight loss program" has a macronutrient profile similar to the ketogenic diet—low carb, high fat, moderate protein—and was developed by Kristina Wilds, a Colorado-based piano teacher and children's book author with no scientific, medical, or nutrition background, although she claims on her website to be "a respected health researcher" who's "certified in obesity, nutrition, mental illness, and substance abuse."9 The program, delivered through a series of e-books, touts healthful fats—labeled "healing" and "holy" fats—and generally promotes eating whole foods. From a nutrition standpoint, this diet is no different than most other versions of very low-carb diets.
The Carnivore Diet
The carnivore diet is sometimes called the "zero carb" diet, because it only allows high-fat animal products (meat, poultry, fish, dairy) and water. Vegetables—even nonstarchy vegetables—fruit, grains, legumes, nuts, and seeds are off the table, and the plate.
Followers frequently state that meat contains all the nutrients the body needs, which runs counter to abundant research on the roles of nutrients found in plants but not in meat—fiber, antioxidants, phytochemicals, and many micronutrients—for good health. Some of the food beliefs that drive these restrictions are the idea that legumes and grains contain "antinutrients" that interfere with absorption of certain micronutrients, and that all carbohydrate-containing foods are dangerous because the body converts them to "toxic" sugar. Some adherents even shun dairy to avoid its natural sugars.
The diet's originator is former orthopedic surgeon Shawn Baker, MD, who has said he eats 4 lbs of steak each day.10 His book, The Carnivore Diet, will be published in August and is billed as "a revolutionary, paradigm-breaking nutritional strategy that takes contemporary dietary theory and dumps it on its head." The diet, which has been sharply trending in Google searches, also has received significant media attention due to two of its most vocal followers: controversial University of Toronto psychology professor Jordan Peterson, PhD, who claims the diet cured his depression, and Peterson's daughter, who says it cured her depression and rheumatoid arthritis.11 However, there's no research to support these claims and certainly no randomized controlled trials that might help rule out placebo effect.
Bottom Line for RDs
So why do some of these diets attract so many consumers? New Jersey–based dietitian and cultural anthropologist Robyn Flipse, MS, MA, RDN, who speaks frequently on "food cults," says the easy, quick fix promised by promoters of fad diets is more attractive than the perceived effort required to follow, say, the DASH diet. Because there's little chance fad diets will be going away any time soon, she says dietitians can benefit from working alongside them. "No matter how extreme the food rules and philosophy of a fad diet are, it is important for dietitians to stay focused on the client's goals if we want to earn their trust," she says. "We can start by listening carefully to uncover what claims attracted them to the fad diet in the first place."
She says even if a diet's claims are far-fetched, dietitians can still validate a patient's concerns and support their desire to make some changes in their life to feel and look better. "That lets them know we are on their side, not against the fad diet. And while we cannot promise to fulfill all of their wishes the way fad diet promoters do, we can reassure them that there are several ways to reach their goals and we are ready to help them."
— Carrie Dennett, MPH, RDN, CD, is the nutrition columnist for The Seattle Times, owner of Nutrition By Carrie, and author of Healthy for Your Life: A Holistic Guide to Optimal Wellness.

References
1. OPTAVIA. Overview for healthcare providers. http://optaviamedia.com/pdf/health-professional/OPTAVIA_DOC_Overview-for-HP.pdf
2. Program guides & information sheets (downloadable). OPTAVIA website. https://answers.optavia.com/help/program-guides
3. OPTAVIA. Independent OPTAVIA Coach agreement. https://www.tsflmedia.com/pdfs/health-coach-terms-and-conditions-combined.pdf
4. Gudzune KA, Doshi RS, Mehta AK, et al. Efficacy of commercial weight-loss programs: an updated systematic review. Ann Intern Med. 2015;162(7):501-512.
5. Vakil RM, Chaudhry ZW, Doshi RS, Clark JM, Gudzune KA. Commercial programs' online weight loss claims as compared to results from randomized controlled trials. Obesity (Silver Spring). 2017;25(11):1885-1893.
6. Chin SO, Keum C, Woo J, et al. Successful weight reduction and maintenance by using a smartphone application in those with overweight and obesity. Sci Rep. 2016;6:34563.
7. William A. Celery juice: miracle juice. goop website. https://goop.com/wellness/health/the-medical-medium-on-the-virtues-of-celery-juice/
8. William A. Celery juice. Medical Medium blog website. http://www.medicalmedium.com/blog/celery-juice. Published May 24, 2018.
9. The Shepherd's Code website. https://theshepherdscode.com/lp-q-tscmainp1
10. Shawn Baker website. https://www.shawn-baker.com/
11. Lee SM. Jordan Peterson says meat cured his depression. Now his daughter is charging people to chat about the 'carnivore diet.' Buzzfeed website. https://www.buzzfeednews.com/article/stephaniemlee/jordan-peterson-daughter-mikhaila-meat-carnivore-diet. Published July 31, 2018.