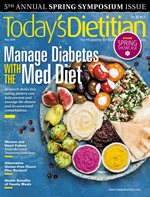 May 2018 Issue
Editor's Spot: Coffee Jitters
By Judith Riddle
Today's Dietitian
Vol. 20, No. 5, P. 4
Shortly after Today's Dietitian (TD) published "The Power of Coffee" in our March issue, touting the many health benefits of coffee drinking, I overheard alarming news on Good Morning America that a judge in Los Angeles ruled that coffee makers and sellers in California must now warn consumers that coffee contains acrylamide, a chemical produced during the roasting process that's linked to cancer risk. My heart sank when I heard the news. After all, we just published an article singing the praises about coffee's association with lower all-cause mortality, reduced risk of death from CVD, certain cancers, and type 2 diabetes. But then I did a little digging.
The ruling is based on the California Safe Drinking Water and Toxic Enforcement Act of 1986, known as Proposition 65, mandating that all businesses must warn consumers about the presence of agents on the state's list that affect health. The Council for Education and Research on Toxics filed a lawsuit in LA County Superior Court in 2010 accusing many companies, including Starbucks, of failing to warn consumers that drinking coffee exposes them to the carcinogen acrylamide. The news headlines about this ruling frightened many coffee lovers, not just in California but also across the country. But did the council and judge evaluate the research on acrylamide accurately to warrant a lawsuit and such a ruling? In lab studies, acrylamide has been found to increase risk of many types of cancer in rats and mice when administered in drinking water in doses 1,000 to 10,000 times higher than levels any human could possibly ingest through foods. And thus far, no studies have found an increased cancer risk in humans through foods.
Interpreting research findings correctly is the subject of the feature article "Communicating Nutrition Research," on page 38, which offers strategies on how to accurately evaluate and translate nutrition research findings and stresses that results of animal studies have limitations and may not apply to humans.
Five-Year Milestone
As you read the article, keep in mind that TD has reached an exciting milestone. In less than two weeks, many of you will be heading to Austin, Texas, for our 5th annual Spring Symposium, May 20–23, at the Hyatt Regency Austin. Like our previous symposiums, attendees will enjoy continuing education workshops and networking events. We have a stellar lineup of dietetics experts who will present on various topics, and there will be fitness activities, happy hour, product sampling from our sponsors, and a wonderful keynote address by Trace Sheehan, producer of the movie Food Evolution. And those of you who have preregistered for the Austin Food & Farm Tour will enjoy the day with TD's Nutrition Editor, Sharon Palmer, RDN. We look forward to seeing you in Austin for another incredible symposium.
Please enjoy the issue!
Judith Riddle
Editor
TDeditor@gvpub.com