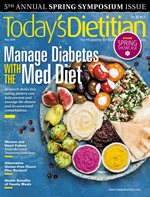 May 2018 Issue
Manage Diabetes With the Med Diet
By Constance Brown-Riggs, MSEd, RD, CDE, CDN
Today's Dietitian
Vol. 20, No. 5, P. 20
Research shows this eating pattern can help prevent and manage this disease and its associated comorbidities.
The majority of individuals with type 2 diabetes will have at least one comorbidity at the time of diagnosis. In fact, studies show that almost 98% of American adults with type 2 diabetes have at least one comorbid condition and nearly 90% have two comorbidities.1 The most common conditions in these patients include hypertension, overweight or obesity, hyperlipidemia, and CVD.1
Successful diabetes management is dependent on the treatment of these comorbidities. Numerous studies show that the Mediterranean (Med) diet is beneficial in reducing the risk of hypertension, overweight or obesity, hyperlipidemia, and CVD, the same morbidities associated with diabetes. In fact, US News and World Report deemed the Med diet as the Best Diet for Diabetes in its 2018 rankings.2
This article will discuss the Med diet's potential for preventing and managing diabetes-associated comorbidities and provide strategies for nutrition professionals who counsel clients following the Med diet.
The Med diet is an eating pattern that has been observed to improve CVD risk factors such as elevated lipids, blood pressure, and triglycerides in individuals with diabetes. The diet includes an abundance of fruits, vegetables, breads and other forms of cereals, beans, nuts, seeds, and minimally processed, seasonally fresh, and locally grown foods. Olive oil is the principal source of fat; yogurt and cheese are eaten in low to moderate amounts, and fewer than four eggs per week are consumed. Individuals who follow the diet eat red meat infrequently and in small amounts and typically consume moderate amounts of wine with meals.3
Managing the Comorbidities
"It's no coincidence that US News and World Report named the Mediterranean Diet the No. 1 Best Diet for Diabetes in its 2018 rankings, in addition to naming it the No. 1 Best Diet Overall (tied with the DASH [Dietary Approaches to Stop Hypertension] diet), says Kelly Toups, MLA, RD, LDN, director of nutrition at Oldways, a nonprofit food and nutrition education organization in Boston. "Studies show that a Mediterranean diet is linked with a lower risk of comorbidities like hypertension and dyslipidemia in patients with diabetes," Toups says. In fact, the Mediterranean-style eating pattern was initially recommended in the evidence-based 2013 American Diabetes Association's (ADA) Nutrition Therapy Recommendations for the Management of Adults with Diabetes3 and continues to be recommended in the 2018 ADA Standards of Medical Care in Diabetes.4
Hypertension, Hyperlipidemia, and CVD
Uncontrolled hypertension is a risk factor for myocardial infarction, retinopathy, and nephropathy. Only 33% of people with type 2 diabetes and hypertension have their hypertension under control.
Controlling glucose and lipids also are important components of diabetes management. However, lowering blood pressure has the greatest and most immediate impact on morbidity and mortality in people with diabetes.5 Studies show the Med diet is beneficial for reducing blood pressure.
In a 2017 study published in The American Journal of Clinical Nutrition, researchers randomly assigned 166 elderly Australian adults to either a Med diet or their regular habitual diet. After six months, the Med diet group had a small but significantly lower systolic blood pressure and improved functioning of endothelial cells as compared with the habitual Australian diet group.6
Toups says the benefits of the Med diet also appear in cases of gestational diabetes. In a study published in the journal Hypertension, researchers monitored the eating patterns and health records of more than 3,800 women who previously had been diagnosed with gestational diabetes. After adjusting for BMI, age, and other demographic factors, the women most closely following a Med diet had a 30% lower risk of developing high blood pressure over the 18-year study.7
These studies and other recent evidence continue to show the therapeutic value of the Med diet in reducing CVD risk factors. In a 2016 comprehensive review in the European Journal of Clinical Nutrition, researchers conducted a meta-analysis of randomized controlled trials to explore the effects of the Med diet on glycemic control, weight loss, and cardiovascular risk factors in patients with type 2 diabetes. The meta-analysis included nine studies with 1,178 patients. Compared with those on the control diet (which ranged from their usual diet to a low-fat diet to a high-carb diet to the ADA diet), those on a Med diet had lower total cholesterol, triglycerides, and blood pressure, higher HDL cholesterol, improved blood sugar control (ie, hemoglobin A1c, fasting glucose, and fasting insulin), improved BMI, and weight loss.8
In addition to increasing HDL cholesterol, the Med diet is associated with improved function of HDL cholesterol. A 2017 study on a random subsample of volunteers from the PREDIMED trial—a randomized controlled study in which people at risk of heart disease were assigned to a Med diet with nuts, a Med diet with olive oil, or a low-fat diet—found that all three diets increased HDL cholesterol. However, both Med diet groups improved how well the HDL cholesterol transported out the LDL cholesterol. The olive oil group also had improved HDL antioxidant properties and improved blood vessel protection.9
Overweight and Obesity
According to the 2017 National Diabetes Statistics Report, almost 90% of individuals diagnosed with diabetes are overweight or obese.10 Studies consistently show that modest weight loss can result in clinically meaningful reductions in blood glucose, A1c, and triglycerides.3,4 The Med diet is associated with weight loss and improvements in A1c that persist at 12 months.3
In a systematic review of the Med diet for long-term weight loss, five randomized controlled trials compared the Med diet with a low-fat diet, a low-carbohydrate diet, and the ADA diet. Those in the Med diet group lost between 9 and 22 lbs, in line with the results from the low-carbohydrate and ADA diets. However, those in the low-fat group lost significantly less weight, between 6 and 11 lbs. Participants with type 2 diabetes on the Med diet also saw better improvements in blood sugar control compared with those in the other diet groups. Nonetheless, the Med diet was similar to the other diets in improving other CVD risk factors, including blood pressure and lipid levels.11
Mediterranean Cuisine
In addition to improving and decreasing risk of diabetes comorbidities, Mediterranean cuisine also shows value in reducing risk of developing diabetes and preventing long-term complications such as retinopathy.
"The traditional foods (vegetables, fruits, whole grains, nuts, and seeds) that make up the bulk of the Med diet are fiber-rich and promote both a healthy weight and stable blood sugar levels. In fact, one review in the journal Metabolism, which looked at nearly 137,000 adults, concluded that sticking closely to a Med diet can slash type 2 risk by an incredible 23%," says Jennifer McDaniel, MS, RDN, owner of McDaniel Nutrition Therapy in St. Louis, author of Prevention Mediterranean Table: 100 Vibrant Recipes to Savor and Share for Lifelong Health, and a national spokesperson for the Academy of Nutrition and Dietetics. Olive oil and wine also are associated with decreased diabetes risk.
In a study in Nutrition & Diabetes, researchers analyzed data from four cohort studies and 29 clinical trials and found that those consuming the most olive oil had a 16% lower risk of developing type 2 diabetes than those consuming the least amount of olive oil, with every two-teaspoon increase in olive oil daily linked with a 9% lower risk. For patients who already had type 2 diabetes, adding olive oil to their diet significantly lowered their HbA1c. Med diets featuring olive oil also appear to show protective effects for diabetic retinopathy. Using data from the PREDIMED study, following a Med diet with olive oil was associated with a 43% decreased risk of diabetic retinopathy compared with the low-fat diet control group.12
"Red wine is certainly one of the most popular aspects of the Mediterranean diet, and research indicates that it may have some diabetes-friendly benefits as well," Toups says. A study in the Journal of Diabetes Investigation found that drinking wine was associated with a 15% decreased risk of type 2 diabetes. In addition, all levels of wine consumption (up to ~3 oz per day—the highest average of the participants) showed a protective effect against type 2 diabetes, but higher levels of beer (more than 3 oz per day) and spirits (more than 23 g per day, or less than 1 oz) were linked with a higher risk of type 2 diabetes.13

Meal Planning Made Easy
The Mediterranean-style eating pattern is one of three USDA food patterns recommended in the 2015–2020 Dietary Guidelines for Americans. To help consumers put the Med diet into practice, Oldways, with the help of Harvard School of Public Health, developed the Mediterranean Diet Pyramid.
In the Mediterranean Diet Pyramid, vegetables, legumes, whole grains, nuts, seeds, olive oil, fruit, herbs, and spices are the foundation of every meal. The pyramid also emphasizes physical activity and the act of enjoying meals with others. Seafood and traditional cheeses and yogurts are frequently used but in small portions. Sweets are reserved for special occasions, such as weddings or religious celebrations, while water and wine (moderate intake) are the beverages of choice.
In addition to the Mediterranean Diet Pyramid, Oldways has several other resources such as a Med diet grocery list, four-week Med Diet Menu Plan Book, and a Med diet food glossary.
Together with the Mediterranean Diet Pyramid, Toups uses "meal formulas" to show her patients how simple and delicious the Mediterranean style of eating can be. The following are two sample formulas:
• Dinner formula. One serving of fish plus one serving of whole grains plus two servings of nonstarchy vegetables. For example, salmon with an herby bulgur salad and a large helping of olive oil roasted broccoli, or sea bass served atop a small scoop of farro risotto and an olive oil massaged kale salad with shaved Parmigiano-Reggiano.
• Snack formula. One serving of fresh fruit plus one serving of artisan cheese or nuts. For example, a fresh pear served alongside 1 oz of Parmigiano-Reggiano or walnuts, or a few fresh figs served with 1 oz of sheep's milk feta cheese or pistachios. "With the fat and protein from the nuts and/or cheese, and the fiber in the fruit, the fruit doesn't spike the blood sugar as rapidly, which is especially important for people with diabetes," Toups says.
McDaniel says incorporating the Med diet into one's life is easier than most people think. Focusing on the "5 Steps to Eating Mediterranean Style" will move your clients closer to eating more like the people from the Mediterranean region.
Practice Pearls
To increase adherence to the Med diet, dietitians must focus on patient education, which is one of their biggest roles, and clear up any misconceptions on what the diet does and doesn't entail, according to Toups. "Many patients have a disconnect between the Westernized, affluent version of Mediterranean cuisine, and a true, scientifically backed Mediterranean diet," Toups says. "The Mediterranean diet is not about endless breadsticks and deep-fried calamari. Rather, the Mediterranean diet emphasizes wholesome, minimally processed foods, inspired by a culinary tradition from a simpler time. RDs should help clients grasp what a true Mediterranean diet is and arm them with simple recipes as well as restaurant ordering strategies."
McDaniel says RDs also should remind clients and patients that the health benefits of the Med diet aren't restricted to diet alone but also involve the Mediterranean lifestyle, "which encourages movement throughout the day, having a supportive community, and slowing down the pace of life." Moreover, she says it's important to "encourage your clients by recognizing the healthy Med habits they already possess—maybe they eat fruit for dessert or use olive oil to cook with or in their salad dressings."
Bottom Line
There's no standard meal plan that works for everyone with diabetes. However, the Med diet is an evidence-based eating pattern that should be considered for the prevention and management of type 2 diabetes and its associated comorbidities. Nutrition professionals are encouraged to provide individuals who wish to follow a Med diet the practical tools for implementation and behavior change that can be maintained for a lifetime.
— Constance Brown-Riggs, MSEd, RD, CDE, CDN, is a national speaker and author of the Diabetes Guide to Enjoying Foods of the World, a convenient guide to help people with diabetes enjoy all the flavors of the world while still following a healthful meal plan.

References
1. Schaffer R. Prevalence of comorbidities high in type 2 diabetes. Healio website. www.healio.com/endocrinology/diabetes/news/in-the-journals/%7Be8d2355d-0624-4b22-9870-5047a797b526%7D/prevalence-of-comorbidities-high-in-type-2-diabetes. Published April 25, 2016. Accessed March 21, 2018.
2. Mediterranean diet. US News and World Report website. https://health.usnews.com/best-diet/mediterranean-diet. Accessed March 21, 2018.
3. Evert AB, Boucher JL, Cypress M, et al. Nutrition therapy recommendations for the management of adults with diabetes. Diabetes Care. 2013;36(11):3821-3842.
4. American Diabetes Association. American Diabetes Association Standards of Medical Care in Diabetes — 2018. Diabetes Care. 2018;41(Suppl 1):S1-S159.
5. Management of common comorbidities of diabetes. American Association of Clinical Endocrinologists, AACE Diabetes Resource Center website. http://outpatient.aace.com/type-2-diabetes/management-of-common-comorbidities-of-diabetes. Accessed March 21, 2018.
6. Davis CR, Hodgson JM, Woodman R, Bryan J, Wilson C, Murphy KJ. A Mediterranean diet lowers blood pressure and improves endothelial function: results from the MedLey randomized intervention trial. Am J Clin Nutr. 2017;105(6):1305-1313.
7. Li S, Zhu Y, Chavarro JE, et al. Healthful dietary patterns and the risk of hypertension among women with a history of gestational diabetes mellitus: a prospective cohort study. Hypertension. 2016;67(6):1157-1165.
8. Huo R, Du T, Xu Y, et al. Effects of Mediterranean-style diet on glycemic control, weight loss, and cardiovascular risk factors among type 2 diabetes individuals: a meta-analysis. Eur J Clin Nutr. 2015;69(11):1200-1208.
9. Hernáez Á, Castañer O, Elosua R, et al. Mediterranean diet improves high-density lipoprotein function in high-cardiovascular-risk individuals: a randomized controlled trial. Circulation. 2017;135(7):633-643.
10. Centers for Disease Control and Prevention, National Center for Chronic Disease Prevention and Health Promotion, Division of Diabetes Translation. National Diabetes Statistics Report 2017. http://www.diabetes.org/assets/pdfs/basics/cdc-statistics-report-2017.pdf. Accessed March 21, 2018.
11. Mancini JG, Filion KB, Atallah R, Eisenberg MJ. Systematic review of the Mediterranean diet for long-term weight loss. Am J Med. 2016;129(4):407-415.e4.
12. Schwingshackl L, Lampousi AM, Portillo MP, Romaguera D, Hoffman G, Boeing H. Olive oil in the prevention and management of type 2 diabetes mellitus: a systematic review and meta-analysis of cohort studies and intervention trials. Nutr Diabetes. 2017;7(4):e262.
13. Huang J, Wang X, Zhang Y. Specific types of alcoholic beverage consumption and risk of type 2 diabetes: a systematic review and meta-analysis. J Diabetes Investig. 2017;8(1):56-68.
5 STEPS TO EATING MEDITERRANEAN STYLE
1. Let fruits and vegetables be your base. In the Mediterranean, produce tends to play a starring role, sitting at the center of the plate instead of on the side. Various vegetable dishes such as chopped tomatoes, bell pepper, and cucumber, or roasted carrots paired with warm hummus and whole-wheat pita make up a standard Lebanese lunch.
2. Go for whole grains. The Med diet is far from low carb, but the carbs are typically from whole grains. Encourage clients to get their rice cookers ready and enjoy more whole grains such as bulgur wheat, farro, and brown rice.
3. Flip your fats. Swap in more monounsaturated oils such as olive oil, nuts and seeds, and omega-3 fats from fish instead of saturated fats from meat and dairy. These monounsaturated fats help fight oxidative stress that can lead to inflammatory diseases such as type 2 diabetes.
4. Pick leaner proteins. People in the Mediterranean region rely on plenty of plant-based and/or leaner proteins such as beans and fish. Higher-fat meats are saved for special occasions or used more as a condiment compared with being the star of the dish. Enjoy beans several times per week.
5. Find fresh sources of flavor. The Med diet is intensely flavorful—thanks to the herbs and spices included in recipes. When clients add flavor through herbs and spices, they can rely on less salt in their diets.
— Source: Prevention Mediterranean Table: 100 Vibrant Recipes to Savor and Share for Lifelong Health by the editors of Prevention and Jennifer McDaniel, MS, RDN.