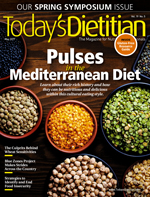 May 2017 Issue
Editor's Spot: Celiac Disease Update
By Judith Riddle
Today's Dietitian
Vol. 19, No. 5, P. 4
Those of you who specialize in digestive disorders probably are keeping abreast of the latest developments in future therapies for celiac disease and emerging research on the various components in wheat other than gluten that may be the cause of wheat sensitivity in people without celiac disease.
One of the promising treatments for celiac disease being studied is larazotide acetate (INN-202), a tight junction regulator. Taken before meals, the drug helps restore leaky, or open, junctions, known to precipitate a gastrointestinal inflammatory response. It consistently has reduced clinical symptoms of celiac disease in several clinical trials in more than 800 patients and has the potential to become the first approved medication to treat celiac disease.
On its heels is the strong therapeutic contender Nexvax2, an immunotherapy drug that's delivered intradermally as a vaccine. It's designed to protect against gluten exposure and enable patients to eat a normal diet containing gluten. The drug reprograms the T-cells to stop producing a proinflammatory response in the small intestine. If all goes well in the phase II trial this year, Nexvax2 also could become FDA approved to treat celiac disease. These promising therapies give patients much hope because the only treatment available is to adhere to a strict gluten-free diet for life. But following the diet can be extremely challenging, and some research shows a gluten-free diet doesn't promote complete intestinal healing in everyone due to accidental ingestion of gluten via cross contact. Other therapies being studied include BL-7010, a large nonabsorbable polymer and AMG 714, a monoclonal antibody.
In other developments, wheat sensitivity unassociated with celiac disease has been given the name nonceliac wheat sensitivity (formerly nonceliac gluten sensitivity) to demonstrate that individuals who present with severe abdominal symptoms after wheat ingestion are experiencing an immune reaction that can lead to intestinal damage. This also is good news because for the first time researchers have identified specific biomarkers that explain the impact of wheat exposure in people who don't have celiac disease. Researchers are studying other proteins in wheat, such as fructans and amylase trypsin inhibitors, to determine whether they're the culprits behind wheat sensitivity in people without celiac disease. To learn more about this topic, read "What's Behind Wheat Sensitivities?" on page 28.
The staff of Today's Dietitian is looking forward to seeing you at our fourth annual Spring Symposium in New Orleans May 21 to 24. We're featuring first-class presenters, informative sessions, and great networking opportunities, as well as hosting a Local Food & Farm Tour led by Sharon Palmer, RDN, for those interested in learning about the local foods, farm, and hunger organizations.
Please enjoy this issue!
Judith Riddle
Editor
TDeditor@gvpub.com