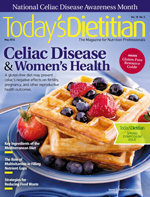 May 2016 Issue
Editor's Spot: Food Waste Solutions
By Judy Riddle
Today's Dietitian
Vol. 18 No. 5 P. 4
When I was growing up, my mother often said I should not waste food. She encouraged me to take only as much food as I could eat at mealtimes to avoid throwing away what I couldn't eat because I was full. She'd say, "It's not right to waste food. There are people who are starving in other countries." I didn't understand how throwing away a few tidbits left on my plate impacted starving people in other countries, but I listened to her anyway. Now I realize she was telling me that food is valuable and a blessing to have, and I shouldn't take it for granted.
But food waste doesn't begin and end with the uneaten food thrown away at mealtimes. Food waste is a global problem that impacts every part of the food chain from farm to fork. According to Feeding America, the nationwide network of 200 food banks that leads the fight against hunger in the United States, about 25% to 40% of food grown, processed, and transported in this country is never consumed. The Food Waste Reduction Alliance, an initiative of the Grocery Manufacturers Association, the Food Marketing Institute, and National Restaurant Association, estimates that in 2010 about 60 million tons of food waste was generated in the United States, 40 million tons of which went to landfills. These stats are mind blowing. There's no reason why anyone should be hungry in America, but unfortunately there are more than 40 million children and adults who experience chronic hunger each day.
The good news is that organizations and our nation's capital are taking greater steps to address the problem. For example, the US House of Representatives passed the America Gives More Act of 2015, a bill that extends the food donation tax deduction to small businesses, ranchers, and farmers, and makes the deduction permanent. And the Senate Agriculture Committee passed the Improving Child Nutrition Integrity and Access Act of 2016 to protect and strengthen child nutrition programs. Much more is being done than I have room to discuss here. To learn more about food waste, its root causes, and the steps dietitians can take to help reduce it, turn to "Reducing Food Waste" on page 38.
The month of May kicks off our third annual Today's Dietitian Symposium. This year our continuing education and networking event will be held in sunny Orlando, Florida, at the Buena Vista Palace Hotel & Spa. We have a stellar lineup of 20 notable presenters, and we're most excited to have David L. Katz, MD, MPH, as our keynote speaker. We look forward to seeing you there. Please enjoy the issue!
Judith Riddle
Editor
TDeditor@gvpub.com