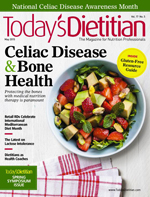 May 2015 Issue
Celebrating Mediterranean Food Traditions
By Juliann Schaeffer
Today's Dietitian
Vol. 17 No. 5 P. 28
May is Oldways' International Mediterranean Diet Month, and supermarket RDs are planning food samplings, cooking demos, and educational programs for shoppers.
"April showers bring May flowers," as the popular saying goes, yet this year's flowers will be accompanied by samplings of olive oil, cheeses, and whole grains at supermarkets across America.
May is International Mediterranean Diet Month, a month-long promotional campaign created in 2009 by Oldways, a nonprofit organization that focuses on getting people healthy through heritage, and this year's campaign focuses on how supermarkets—and supermarket RDNs—can spread more awareness of Mediterranean food traditions.
A Primer on Oldways: Going Med
Boston-based Oldways was founded in 1990 to preserve culinary traditions around the world and to combat problems associated with chronic diseases, such as obesity, heart disease, and diabetes, through traditional ways of eating and living. "Our mission is to improve public health by inspiring people to choose traditional foods and diets," says Sara Baer-Sinnott, president of Oldways.
While the Mediterranean diet isn't the only traditional diet known to offer health benefits, Baer-Sinnott says it had the most scientific backing behind it in 1990, which is why Oldways focused its educational and awareness efforts on this style of eating back then—and this focus continues today. "That's part of our affinity toward the Mediterranean diet," she says. "It's really the beginning of Oldways."
"The Mediterranean diet incorporates healthful fats, especially extra-virgin olive oil, nuts, peanuts, sunflower seeds, olives, and avocados," says Alyson Fendrick, RD, LD, CPT, corporate dietitian for Homeland stores in Oklahoma City. "In addition, it promotes fish consumption at least twice a week, providing an excellent source of heart-and brain-healthy omega-3s. Lastly, the Mediterranean diet focuses on whole grain consumption and encourages followers to try ancient grains."
While Fendrick likes the fact that many scientific studies support the Mediterranean diet's health benefits, she's also pleased that following the eating pattern is easy—and even more, that it's not a "diet." "The Mediterranean diet is a lifestyle change rather than a 'diet,'" she says. "It's easy for clients to follow and encourages increased fruit and vegetable consumption."
Ancel Keys' Seven Countries Study may have been the first large research project to document the potential health benefits of a diet rich in fruits and vegetables, beans, grains, and fish, but in the decades since, evidence has continued to surface regarding how this eating pattern may benefit eaters—increased longevity; improved brain function; decreased risk of a host of diseases, including diabetes and heart disease; and potentially greater fertility.
While three decades ago most consumers weren't familiar with olive oil, let alone hummus, Baer-Sinnott says today most dietitians are quite familiar with the Mediterranean diet.
This year, through International Mediterranean Diet Month, Oldways is hoping to extend dietitians' knowledge to more consumers where most of them make their food purchasing decisions—at the supermarket. With the help of supermarket RDs, this month many grocery stores across the country are planning to engage customers with cooking demos, food samplings, and educational insight into what this style of eating is all about and how some simple changes in eating habits can benefit their health.
To learn how supermarkets are marking the month, we asked a handful of retail dietitians how they're planning to celebrate the Mediterranean diet at their respective stores and get customers excited about this way of eating.
How Supermarket RDs Are Celebrating
Homeland Stores
According to Fendrick, International Mediterranean Diet Month is an opportunity to educate consumers (possibly for the first time) about a lifestyle change that could provide health benefits to a majority of them.
"We've decided to participate in International Mediterranean Diet Month because we feel it portrays a positive health message to our consumers," she says of the Oklahoma-based supermarket chain that also operates stores in Kansas and Georgia. "We can bring attention to, and provide resources for, a healthful, sustainable way of eating that our consumers may not have been previously introduced to—[especially considering that] a majority of our customers have yet to try an ancient grain or continue to cook with fats and oils that may be contributing to heart disease."
To introduce more consumers to Mediterranean diet basics, Fendrick had planned to get her message to customers before they even reached the store—through a TV spot and on the store's website.
Each week I showcase healthful products or demo a healthful recipe for viewers to try on my weekly television spot on our local news channel," she says. For May, she's introducing viewers to Mediterranean foods.
"This will show our consumers that you can make fast and easy meals and still follow the Mediterranean diet," she says. "These recipes are then shared on our social media outlets and website for customers to try."
Also on the store's website is a blog, where Fendrick plans to highlight the health benefits of the Mediterranean diet, while providing recipes and meal prep ideas. She hopes providing education with practical tips will help customers act on any new information they've learned.
One more place Fendrick plans to showcase the Mediterranean diet: the store's monthly savings flyer. Explaining that two pages of the flyer always are dedicated to health and wellness, Fendrick says May's version will focus on the health benefits and quick tips for following the Mediterranean diet, and also provide two recipes showcasing the diet.
"This shows consumers science-based information from a registered dietitian regarding lifestyle tips on the Mediterranean diet, as well as easy meal ideas," she says.
Big Y Foods
Carrie Taylor, RDN, LDN, is lead dietitian for the Living Well Eating Smart program for Big Y Foods, in Springfield, Massachusetts, one of the largest independently owned supermarket chains in New England. In addition to the Mediterranean diet's health benefits, Taylor says its affordability makes it a great choice for consumers—and one that consumers are more likely to make.
"With meat treated as a guest at meal time vs the main event, the Mediterranean diet exemplifies affordability," Taylor says. "Teaching shoppers how to prepare meals in the spirit of a traditional Med diet is a great way to show how far one's food budget can stretch—plant-based proteins such as beans and lentils with all forms of vegetables and fruit, whether fresh, frozen, canned, or dried, serve as the base."
She says the Mediterranean diet also can work as a springboard for customer conversations on topics such as portion control and moderation, which can reinforce how shoppers can get the most out of their family's food budget. Through an in-store newsletter as well as local media outlets, Taylor says she's hoping to spread awareness of what it truly means to "Go Med."
"Our dietitian team uses our in-store publication, the Living Well Eating Smart newsletter, to highlight different topics and food products we believe warrant conversation and education for shoppers," she says. "Due to its popularity and potential health benefits, the Mediterranean diet is definitely a topic worth clarifying for our customers.
"By having a Mediterranean theme in our newsletter, ad circular, in-store messaging, and local newspaper, we've been able to provide examples of actionable steps consumers can take to begin weaving Med diet recommendations into their recipes and meals, such as cooking with more plant-based foods and healthful cooking oils," Taylor adds.
In addition to in-store messaging, Taylor says her counterpart, Andrea Luttrell, RDN, LDN, will be covering International Mediterranean Diet Month in the store's May 28 feature column published in the food section of the local newspaper The Republican. "Articles are featured online as well at MassLive.com," she says.
Through all of these avenues Taylor says she hopes shoppers and the greater community will learn not only what following a Mediterranean diet entails, but also simple, actionable steps for how to incorporate those recommendations into their daily food choices.
Meijer
According to Tina Miller, MS, RD, a healthy living advisor for Meijer, a Michigan-based retailer that operates more than 200 supercenters and grocery stores, the Mediterranean diet is "the common-sense approach to eating, encompassing all of the healthful eating recommendations that RDs make every day."
She explains why: "The diet encourages a balanced variety of real foods that any American can implement. It's a delicious pattern of eating that promotes health without deprivation, and suggests moderation for those foods that are less healthful. And the Mediterranean diet includes the social aspect of meals, encouraging family meals."
As a food educator and advisor for customers, Miller plans to highlight the Mediterranean diet through educational opportunities and cooking/food sampling events, both in her store and in the community.
Through scheduled community and business wellness presentations that include cooking classes, as well as a TV media segment, Miller plans to demystify the process of Mediterranean cooking and show consumers "how easy it is to prepare meals and how everyday foods and some ethnic products are incorporated into easy and affordable family meals."
At various community events throughout the month, Miller plans to offer consumers Mediterranean food samplings, especially whole grains. "This provides consumers the opportunity to 'try it before you buy it,'" she says, adding that the offer gets consumers more comfortable with previously unfamiliar products and hopefully overcomes some of the barriers to purchase.
Miller also plans to leverage blog posts, radio interviews, and social media to reach a wider audience, describing the Mediterranean diet and its flavor and health benefits as well as offering easy tips for incorporating Mediterranean foods into anyone's diet. Through frequent and brief reminders on social media, Miller hopes to keep the Mediterranean way of eating front and center in consumers' minds all month long.
Hannaford Supermarkets
Based in Scarborough, Maine, Hannaford Supermarkets operates stores both in New England and upstate New York. In addition to on-site dietitians, Hannaford offers other healthful eating resources, through their website and newsletters, and it founded the Guiding Stars food navigation system, a nutrition product rating system.
Hillary Pride, RDN, LDN, Hannaford nutrition coordinator for three Maine locations, says she's participating in International Mediterranean Diet Month because she strongly supports the components of the lifestyle, which emphasizes whole foods and family dinners.
"The Med diet isn't gimmicky or based on false science and is therefore one that as an RD I feel I can strongly stand behind," Pride says. "Teaching shoppers to purchase fruits, vegetables, nuts, seafood, real dairy, and plant-based fats are tenets I include in my work as a supermarket RD, and they happen to all fall nicely into this diet, so it just makes sense."
To get Mediterranean foods on customers' radar (and dinner table), Pride is planning multiple in-store activities, including food samplings and store tours.
To detail the differences between good and bad fats, Pride will be presenting a floor demo table promoting "Get the Skinny on Healthy Fats," where she'll "explain how unsaturated fats such as those found in the Med diet in the form of nuts, olive oil, and fish have a place in any healthful diet." At this time, she'll also show customers where to find the foods she's discussing in the store and offer samples of tasty and healthful recipes using these fats.
Pride also will lead grocery store tours and teach the basics of product selection, and explain why certain foods are healthful choices and how to integrate them into the diet.
"Side-by-side label comparisons of Mediterranean diet foods with less healthful choices will help illustrate the major differences in ingredients and nutrition that should encourage shoppers to start making them part of their grocery list," she says.
Pride isn't just focusing her educational efforts on customers. As store associates have just as much of a health benefit to gain from adopting healthful habits as do customers, she's planning to make a Mediterranean diet bulletin board for the associates' break room. There, she'll offer information on the diet to associates who may not be able to participate in other activities in the store. "This includes recipes, brochures, visuals, and tips for shopping that associates can take with them," she says.
"All of these in-store activities are meant to inspire both shoppers and associates to walk away feeling motivated to try a flavorful, doable, healthful diet," she adds. "The long-term goal is for participants to learn valuable shopping skills that will, in turn, help them ease into a healthier diet and lifestyle."
Pat Hunter, MA, RD, LDN, CDE, an in-store supermarket dietitian covering Hannaford stores in Chelmsford and Leominster, Massachusetts, is planning several weekly demonstrations and tastings to highlight the foods that compose the Mediterranean eating plan with the hope that customers will go home and duplicate, long term, what they've learned.
"Our focus as supermarket dietitians is to help consumers embrace small changes in how they eat and ultimately develop lasting healthful habits," she says. By offering customers food tastings and demos, she's aiming to "teach customers to step to the plate and experiment with foods that may be new to them or prepare familiar foods in a different way.
"Nothing motivates a shopper more than to leave the market equipped with the ability to dazzle their friends and family," she adds. "Shoppers often feel their cooking skills are inadequate. As dietitians, our challenge is to empower them with the knowledge to overcome this obstacle."
Hunter says during the month of May the store locations she works with plan to offer food-sampling opportunities that will focus on healthful fats as well as budget-friendly dairy ideas.
The "Skinny on Healthy Fats" sampling, which will offer shoppers bites of low-fat cheese as well as olive oil and spices, allows the RD to discuss the difference between various oils and educate customers on the nutrient profiles of nuts, highlighting them as a portable healthful snack.
"Our bodies need healthful fats like those found in nuts, seeds, avocado, oils, and fish," she says, noting that she'll be teaching customers how "replacing processed carbs and added sugar with healthful fat could help keep you satisfied and manage hunger short term, leading to long-term weight management."
The "Money-Saving Ideas in Dairy" sampling, which Hunter says will highlight the protein and other nutrients in dairy, will offer avocado yogurt dips paired with whole grain crackers or veggies.
"Dietitians can tie this topic into label reading and ways to utilize unit pricing to save money," Hunter says, noting that customers also will learn creative ways to cook with and enjoy plain yogurts. "It's also a great opportunity to compare sweetened yogurts to plain yogurts and discuss sugars that often are added to many of our foods."
Another food sampling and learning opportunity called the "Good for You BBQ" demonstration will focus on selection of lean proteins and healthful ways to barbeque. Hunter says customers will learn how to prepare simple marinades with herbs and spices and sample a kale, apricot, and avocado salad "with a simple homemade salad dressing that can double as a marinade for lean protein on the grill."
"This allows the RD to also discuss the health benefits of spices," she says. "Short term, this helps shoppers save sodium and calories, and, long term, heart health and weight management."
A digestive wellness sampling event will offer shoppers various whole grain cereals and yogurt and provide a high-fiber shopping list. Another demonstration will teach customers how to make hummus, and provide healthful snack ideas that are fruit and vegetable focused.
Go Med Year-Round
While Baer-Sinnott says Oldways chose the month of May to give consumers a greater emphasis of the Mediterranean diet, she reminds RDNs and shoppers that its relevance and many benefits don't disappear come June 1. "The Mediterranean diet is great year-round, whether it's during the summer season where there's more fresh produce, or in colder months when there's canned and frozen produce [that can be used instead]," she says, adding that pasta and beans are always available in stores.
And supermarket RDNs, who stand between consumers and their daily food decisions, have a great opportunity to put great-for-you foods in front of them, whether for the basics of the Mediterranean diet or other healthful ways of eating.
According to Hunter, customers want to make healthful choices; they just don't always know how. "Customers often desire to make positive changes for their health; however, the one obstacle to making change is to fully understand what simple steps they can take to reach their desired goal," Hunter says.
"Shoppers make choices that impact their health in the grocery store during each shopping trip," she says. "Finding an RD in the grocery store at the point of purchase makes a difference. Dietitians help shoppers decipher labels and make comparisons of products easier. These bite-size educational moments can be looked at as a way to overcome the obstacles that sometimes prevent us from moving toward a more healthful diet."
— Juliann Schaeffer is a freelance writer and editor based in Alburtis, Pennsylvania, and a frequent contributor to Today's Dietitian.