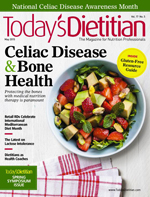 May 2015 Issue
Today's Dietitian's Share Your Story
Essay Contest Winners
Today's Dietitian
Vol. 17 No. 5 P. 20
Editor's Note: Today's Dietitian congratulates the three winners of our 2015 Share Your Story Essay Contest. We asked readers to convey, in 500 words or less, the reason why they became dietitians. Our panel of judges evaluated the submissions, and the results are in. Following are the three prize-winning essays. Please enjoy reading these inspirational stories, and share your thoughts on our Facebook and Twitter pages.
1st Place Winner
Diabetes Diagnosis Led to RD Career
Rabiya Bower, RD, LD
Imagine a world without birthday cake, cookies, brownies, ice cream, and candy—essentially, a world without sugar. I thought this was my future when I was 9 years old. It was 1996, and I'd just been diagnosed with type 1 diabetes.
Although my initial reaction was dramatic, I soon learned that life with diabetes was manageable, enjoyable, and could even include some sugar. I worked with many talented and compassionate health professionals after my diagnosis, but it was a dietitian who made the greatest impact on my young life.
Due to my diagnosis, my entire family learned to eat more healthfully. With my mom, I'd experiment with different foods in the kitchen and figure out how to make our traditional meals more healthful to benefit our entire family. I always have and always will love to eat good food.
When I entered college, I knew I wanted a career that focused on serving others. I wanted to help and inspire people to live better just like the dietitian I'd met many years ago. Nutrition and dietetics just felt natural to me. I began my studies with a focus on diabetes management, but soon realized I enjoyed a broader range of nutrition topics, especially education and outreach.
My career has focused on nutrition education and outreach for vulnerable communities. As a former dietitian for the WIC program and a nutrition educator in Philadelphia, my mission was to reach and teach underserved populations. Those clients need the help of health professionals the most. With limited access to healthful foods and health care systems, it was rewarding to see the impact my programs had on the health of an entire family.
Today, as a retail dietitian, I work with a diverse customer population. Regardless of their backgrounds, my customers still need a health navigator to guide them to the best food choices. Customers are looking for answers whether it's for weight loss, food allergies, disease management, or healthful meal planning. As a supermarket dietitian, I'm able to provide clarity at the most critical moment—right in front of the grocery cart.
Essentially, I chose dietetics as a career because I know from firsthand experience how impactful an RD can be. Everybody needs to eat, and I love promoting healthful, wholesome foods. Whether I'm teaching a lesson, hosting a cooking class, or counseling one on one, I know I'm making a direct impact on the health and wellness of the people I meet. This is what I find most rewarding, and what I strive to do every day.

— Rabiya Bower, RD, LD, is an in-store dietitian at GIANT Food Stores, where she hosts cooking classes for kids and provides nutrition counseling to customers. She specializes in diabetes management, childhood nutrition, and family meal planning. She's a member of the Academy of Nutrition and Dietetics and the Nutrition Education for the Public Dietetic Practice Group. Bower previously worked for the WIC program and The Food Trust, a Philadelphia nonprofit organization. She received her BS in nutritional sciences from Pennsylvania State University in 2009, and completed her dietetics internship at
Cedar Crest College.
2nd Place Winner
Smitten by a Health Food Store
Richard J. Williams, RDN, LD
I was an average child in most respects, except I was always extremely thin. I didn't find this particularly troubling until I was in the 7th grade and weighed about 75 lbs. At age 13, I was prone to frequent coughs and colds. My distraught mother went so far as to consult a doctor about having my tonsils removed, as she believed I'd gain weight and my resistance would improve.
By the time I reached 9th grade, I was barely 105 lbs, making me one of the lightest students in my class. One hundred and five pounds wasn't bad for a female, but certainly it was a problem for a teenage boy, so I went to the doctor for help. I assumed he knew something about everything. However, my family doctor was absolutely clueless about how I should gain weight. After several long pauses, he told me to drink Ovaltine. He also suggested I learn to play golf. I have no idea why.
An uncle who had a drinking problem recommended downing three raw eggs blended with 1 tablespoon of sugar, and two shots of bourbon daily. He was astonished to learn I had no access to liquor. Every other adult told me to "just eat more." I immediately realized I was on my own.
During this time, the first health food store opened in a small shopping center near my home. Most people in town were blue-collar workers of either German or Italian ancestry. They were perplexed by the concepts of both health food and for stores to specialize in it. They seemed to settle on the idea that this was some kind of crazy fad, and that everyone involved was either a lunatic or a quack.
On the other hand, I was quite intrigued. The first time I went into the shop I was captivated by the smells of the whole grain breads. It was very different from the antiseptic supermarkets that were all the rage. But what really impressed me were the people who worked there. Most appeared to be the same age as my parents, aunts, and uncles, but they looked different. They seemed younger, more energetic, more enthusiastic, and more alive. I also remember their clear bright eyes. They seemed to sparkle. Much to the dismay of my parents, I started making weekly trips to the store, carrying home raw honey, stone ground wheat bread, and books—lots and lots of books.
Forty years later, I realize that the store and the people there who inspired and encouraged me were pivotal to my becoming an RD. It's been my goal to pay forward their positive attitudes toward healthful eating and natural foods.
— Richard J. Williams, RDN, LD, is in private practice in Orlando, Florida. He takes a holistic approach to nutrition and weight management. He's also pleased to report his BMI is above 18.5.
3rd Place Winner
Conquered the Fear of Science Classes
Carrie Dennett, MPH, RDN, CD
I became a dietitian because I decided that those who can, do, and those who can't, write about it.
I'd been writing about corporate health and wellness for a few years when the proverbial light bulb went off in my head: A nutritious diet and regular exercise were instrumental in preventing and treating many chronic diseases. Quite the epiphany, I know.
It took a few more years for me to start questioning whether my well-researched, carefully written newsletters, brochures, and postcards were even having an impact. Was anyone actually using my words of wisdom as a springboard to eat healthfully or go for a nice brisk walk? I started to have serious doubts. After all, I reasoned, what good is nutrition information if you don't have sufficient motivation to change entrenched habits or can't figure out how to incorporate new habits into your lifestyle? Personal experience with dieting and observations of family members with diabetes or hypertension told me that knowing how to eat healthfully was one thing, but doing it was another.
I decided to do more than just write about nutrition and health. I wanted to work face to face with people to help them both eat and feel better. I wanted to become a dietitian—until I found out I would have to take science classes, that is. Several science classes—the type of classes I'd spent my life avoiding. "OK then, I guess I won't become a dietitian," I told myself.
But I couldn't stop thinking about it. For a year, it was like playing Whac-A-Mole: "I want to be a dietitian!" Bam! "You can't. You're a writer; you're not a science person."
However, during that year, something changed. I wanted to become a dietitian even more—further evidence of the power of motivation. "Fine," I told myself. "If I have to take science classes so I can apply to graduate school and become a dietitian, then not only am I going to take those classes but I'm also going to kick butt in those classes—even biochemistry."
That's exactly what I did, surprising myself by becoming a science geek along the way. Once I started graduate school, many of my classes didn't require textbooks. Instead, we read piles of research articles, and I loved it. I wasn't satisfied knowing that this food or nutrient either increases or decreases the risk of a certain disease. I wanted to know exactly how a food or nutrient did this, and determine how solid the research was in showing that connection.
The more I learned, the more I understood why nutrition information could appear so confusing and how easy it was to misinterpret research results, either intentionally or unintentionally. Today, as a nutrition columnist and outpatient dietitian who works primarily with cancer patients and survivors, it's my joy to regularly bust nutrition myths, shine light on the truth behind spurious nutrition claims, and help people eat for both pleasure and health.
— Carrie Dennett, MPH, RDN, CD, provides nutrition counseling and therapy via the Menu for Change program at The Polyclinic and through Northwest Natural Health in Seattle. She's the nutrition columnist for The Seattle Times and speaks frequently on nutrition-related topics. She blogs at www.nutritionbycarrie.com, and her website is www.carriedennett.com.
GD, Kivimaki M, Singh-Manoux A. Metabolically healthy obesity and risk of mortality: does the definition of metabolic health matter? Diabetes Care. 2013;36(8):2294-2300.
9. Bell JA, Hamer M, Sabia S, Singh-Manoux A, Batty GD, Kivimaki M. The natural course of healthy obesity over 20 years. J Am Coll Cardiol. 2015;65(1):101-102.