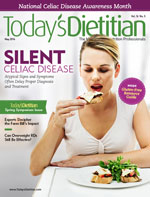 May 2014 Issue
Arugula — So Good, Even Children Will Eat It
By Bryan Roof, RD, LDN
Today's Dietitian
Vol. 16 No. 5 P. 66
When I was a wee lad, some of the most memorable moments of family dinners happened after I cleared my plate. My brother and I would hover/run around the table while my parents finished their meals. (They despised peace and quiet, especially while digesting food.) My dad would cut pieces from his steak and feed us little bits as we passed by. (Like most kids, we were incredibly hungry immediately after dinner.) I realize now that he was feeding us the gristly bits he wasn't eating (thanks, Dad), but we loved the salty, rich morsels nonetheless.
My kids are much wiser than I was at their age and more in tune with the bits of refuse from my dinner. They prefer to eat from my wife's plate instead, which is great because I'm trying to gain weight. Rather than my (occasional) steak, the kids ask for bites of her dinner, which often includes arugula salad. You can imagine my surprise when I first witnessed this.
Why do my kids love arugula? Well, it doesn't hurt that it also goes by the name rocket, which is just plain cool. The leaves are tender and bite size, and they don't pose an intimidating crunch like romaine or iceberg does. Plus, arugula possesses a mild peppery aroma that the kids find interesting and, in their words, "tasty."
Why do I like arugula? Because it's versatile: It's easily treated as the main component of a salad or as an herb to offset other ingredients. It also lends itself well to pastas and sautés, cooks faster than hearty greens such as kale and collards, and is more flavorful than chard or spinach.
With a little help from my kids, we came up with this salad for dinner one night. Everyone weighed in on its creation, but no one wanted to taste it—unless it came from my wife's plate.
— Bryan Roof, RD, LDN, is a chef, dietitian, and food writer living in Boston. Follow him on Twitter @bryanroof.
Arugula Chopped Salad
If you can't find untoasted sesame oil, substitute extra-virgin olive oil.
Serves 4
Ingredients
1 medium eggplant
1 tsp plus 2 T untoasted sesame oil, plus extra for eggplant
1 cup corn kernels
1 T fresh lemon juice
1 garlic clove, minced
1/2 tsp fine sea salt
1/2 tsp pepper
5 oz grape tomatoes, halved
1/2 cup English cucumber, cut into 1/4-inch dice
4 cups (4 oz) baby arugula, coarsely chopped
1 avocado, chopped
2 oz goat cheese, crumbled
Directions
1. Adjust oven rack to the middle position and heat oven to 450˚F. Leave the eggplant whole and lightly rub the exterior with the extra oil. Place on a foil-lined baking sheet and bake until very tender and charred on the exterior, 11/4 to 11/2 hours. (I prefer to use a toaster oven for this.) Remove the eggplant from the oven and let cool to room temperature.
2. Meanwhile, heat 1 tsp oil in a 10-inch skillet over high heat until just smoking. Add the corn and cook, without moving too frequently, until charred in spots and fragrant, about 3 minutes. Set aside.
3. Combine the lemon juice, garlic, salt, pepper, and remaining 2 T oil in a large bowl. Cut the eggplant in half, then spoon out the flesh onto a cutting board and coarsely chop. Add the tomatoes, cucumber, corn, and eggplant to the lemon vinaigrette and toss to combine. Let the vegetables marinate for 10 minutes.
4. Add the arugula and toss to combine. Portion the salad on four dinner plates and top each with avocado and goat cheese. Serve.
Nutrient Analysis per serving
Calories: 280; Total fat: 21 g; Sat fat: 5 g; Trans fat: 0 g; Cholesterol: 10 mg; Sodium: 380 mg; Total carbohydrate: 21 g; Fiber: 10 g; Sugars: 8 g; Protein: 8 g