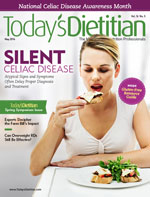 May 2014 Issue
Sourcing Sustainable Seafood
By Sylvia M. Geiger, MS, RD
Today's Dietitian
Vol. 16 No. 5 P. 40
Today's Dietitian spoke with supermarket retailers across the country about their sustainable seafood programs and how they're impacting the environment and consumer buying decisions.
Maria pleaded with her mother to stop buying seafood. "The oceans are overfished and therefore are out of balance," she said. "If we don't stop eating seafood now, the fish populations won't recover."
Countless Americans share Maria's fears. And while it's true that some fish, such as bluefin tuna, shark, and marlin, have been so overfished that their numbers may not recuperate, it's also true that there are many sustainable fish options available.
To help consumers select the most sustainable seafood choices, supermarket chains across the country have introduced programs that employ sustainable sourcing strategies and positively impact the environment.
Retailers Take Action
Greenpeace, a group known for its extreme environmental activism, has long been surveying grocery stores and rating them on their attention to sustainable seafood sourcing. "In 2008, when we first surveyed 20 different retail chains against our sustainability criteria, not a single retailer passed," recalls James Mitchell, senior seafood campaigner for the oceans program at Greenpeace. However, by 2013, things changed significantly. "Three retailers scored 'good,' and 15 passed using the same criteria. On the whole, we're seeing a positive trend in the marketplace. By and large, sustainable seafood sourcing is now a higher priority for many retailers than it was in the past."
When you work in environmental conservation, there's "a lot of gloom and doom [so] this is some welcome good news," Mitchell says. "The retailers who adopt sustainable sourcing strategies help to demystify the decisions the consumer has to make in the store."
Other conservationist groups agree. "Retailers are the gatekeepers for consumers, and in the last four to five years, we've seen a lot of movement where big buyers are making public commitments to develop sourcing strategies with broad-range sustainability commitments," says Tania Taranovski, sustainable seafood program manager at the New England Aquarium (NEAQ), a nongovernment organization striving to protect the world's ocean resources by working with the seafood industry to advance sustainable practices.
To begin sourcing seafood sustainably, supermarket retailers are writing policies that outline their commitments, the initiatives they support, and the benchmarks they will use to evaluate their own progress. Equally important to these guiding policies is how retailers inform their customers about their sourcing programs, how transparent the programs are, how they're verified, and how customers access information when they have questions.
Ahold
Ahold USA, a subsidiary of the Dutch company Royal Ahold, is the parent company to nearly 800 Stop & Shop, Giant Food, Giant Food Stores, Martin's Food Markets, and Peapod companies throughout the United States. In 2000, Ahold was the first large retailer to partner with the NEAQ to develop comprehensive sourcing strategies.
"The New England Aquarium provides the third-party unbiased scientific recommendations that serve as the filter we use to evaluate our suppliers, establish best practices, and continuously evaluate our evolving seafood programs," says Tracy Pawelski, vice president of communications for Ahold USA. This partnership will help Ahold meet its goal of sourcing all of its seafood from suppliers with qualified eco-certification programs, such as the Marine Stewardship Council, the Aquaculture Stewardship Council (ASC), and the Global Aquaculture Alliance Best Aquaculture Practices certification, by 2015—no small feat for the sixth-largest US grocery retailer, with more than $26 billion in annual sales.
Royal Ahold identifies seafood as one of the six critical commodities where responsible sourcing is top priority. "For these critical commodities, we make sure we have very stringent policies in place, and that we're working with the right suppliers," Pawelski says.
When sustainability standards couldn't be met, as in the case of Atlantic halibut, bluefin tuna, orange roughy, all varieties of shark, parrotfish, imported grouper, skates, and rays, "Ahold decided not to sell these species. We don't believe they can be sourced in a sustainable manner," Pawelski says.
Ahold relies on its brand websites such as Giantfood.com, point-of-sale labeling, brochures, and seafood associates to communicate the company's sustainable seafood messages. As a new initiative, Ahold developed a point-of-sale sustainable-choice logo for all categories of sustainable products, including seafood. "Customers soon will see this logo on a growing number of our private-label brands—for example, our farm-raised tilapia, which is ASC certified as well, will be identified with the sustainable choice logo," Pawelski says.
As early adopters of a common mission, the Ahold-NEAQ partnership demonstrated that a science-based nongovernment organization could help a retailer effect real change in its sourcing strategies and serve as a model for other retailers. In addition, both were influential in creating a sustainable seafood committee within the Food Marketing Institute, which published in 2012 a sustainable seafood toolkit for grocery retailers, a how-to guide for those just beginning to source seafood sustainably.
Whole Foods
The mission of Whole Foods Market, a national chain of upscale natural and organic food stores, is to have healthier oceans for today and seafood for future generations. "Not only do we want to make it easier for our shoppers to buy sustainable seafood, but we want to influence what's available in the market by supporting fisheries that are using science-based best practices," says McKinzey Crossland, a public relations executive at Whole Foods.
Key to the strength of its seafood policies is Whole Foods' long-standing partnerships with the Marine Stewardship Council, the Blue Ocean Institute, and Monterey Bay Aquarium (MBA), who helped develop them. Whole Foods' policies forbid the sale of any fish that the Monterrey Bay Aquarium or the Blue Oceans Institute red lists as unsustainable. The chain relies on the Marine Stewardship Council sustainable certification for all wild-caught fish and the Aquaculture Sustainability Certification for much of its aquaculture-sourced seafood. For some seafood, Whole Foods uses port buyers who inspect and handpick fish on the docks as they do in Alaska during wild salmon season. It also has strict progressive sourcing policies for all canned tuna, which must be long-line pole caught without the use of fish aggregating devices. These floating devices are set in the ocean and have radio beacons to attract schools of tuna. They're associated with very high bycatch rates because sea turtles, sharks, and other nontarget fish also are attracted to the devices and caught along with the tuna.
When providing farmed salmon to consumers was a challenge, Whole Foods developed its own criteria to seek the best sustainable choices. "While we have a lot of sustainable wild-caught Marine Stewardship Council green-label salmon, we know many customers want less expensive options, and farmed salmon meets that need," Crossland says. But at one time, there was no strong aquaculture certification program available, "so we created strict, stringent standards, and then sought out progressive salmon farms that met our criteria. There are only four farms worldwide that meet our standards," she says.
In addition, consumers can find out where each fish and seafood variety originated. "We use a third-party audit system called Trace Register, which documents the supply chain for all the seafood we sell. Our fishmongers are able to answer questions about every item in our seafood case because we have this information," Crossland explains.
Customers also can rely on the extensive point-of-sale labeling program. Seafood is marked either as green, the best sustainable choice, or yellow, a good sustainable alternative. Depending on store size, there are charts describing the origin, certification, and method of catch.
"We do the homework for our customers. Every seafood product sold in our stores meets our sustainability standards," says Allison Enke, RD, product compliance and nutrition analyst for Whole Foods. "We also have many consumer-friendly ideas and recipes for economically priced seafood options, such as canned skipjack or albacore tuna, canned Alaskan salmon, and our 365 Everyday Value frozen fish—all important sources of omega-3 fats and protein."
Wegmans
Wegmans, a grocery store chain with 83 stores in the Northeast, has a strong commitment to sustainable seafood. "We do it for our grandchildren. We're committed to protecting this healthful food resource for the future," says Carl Salamone, Wegmans' seafood sustainability expert.
Wegmans partners with the Marine Stewardship Council, the GlobalGap Aquaculture Alliance, and the Food and Agriculture Organization-based Responsible Fisheries Management certification programs for all of the company's fresh and frozen seafood options. Its sustainable seafood policies are available on its website as well as information on the origins of each seafood item sold and the sustainability verification program used in sourcing.
"Sustainability is important for seafood consumers," says Jane Andrews, MS, RD, nutrition and product labeling manager at Wegmans. "They realize that their purchase makes a difference in the seafood that will be available in the future. As a supermarket RD, I know that anything that gives consumers more confidence in this extraordinarily healthful food is a very good thing."
Consumers won't see point-of-sale labels in yellow, red, or green because "at Wegmans, we rely on the conversation between our employees and the customer," Salamone says. The chain offers all seafood employees mandatory online training about its sustainability program through Wegmans Seafood University. Employees learn how to answer customers' questions in store and get an overall education about the company's sustainable seafood program.
Wegmans verifies its seafood sustainability and quality standards through Trace Register and is monitoring a new initiative to make better improvements. "We now require that any finfish caught using long-line hooks use circle hooks rather than J hooks, because circle hooks can reduce sea turtle bycatch by as much as 90%," Salamone says. "This is a way for us to work with our suppliers to improve their practices.
"Wegmans prefers to work with fisheries on improvement programs helping suppliers incorporate more sustainable practices," Salamone adds. "In the long run, this is more productive for everyone." The chain now is working with Gulf of Mexico shrimpers to reduce the amount of bycatch by using different trawling nets at varying net depths. "It's beneficial to everyone when we build relationships that move us toward more productive solutions," he says.
Future Considerations
The Conservation Alliance for Seafood Solutions, a group of 18 prominent US and Canadian conservation organizations, recommends all retailers work with suppliers and producers to develop stronger performance metrics, set benchmarks to verify improvements, be more transparent, and advocate for more environmentally responsible national and international policies industrywide.
However, according to Mitchell, the onus ultimately is on consumers. They need to let their supermarkets know that sustainability is important to them, he says. "The oceans are in dire straits. It isn't a rosy picture," Mitchell explains. "And while the North American consumer has sustainable options, this isn't true worldwide. But the way to move the needle toward sustainability is for each person to exercise what they can do, and that is to vote with [his or her] dollar and choose the more sustainable options on a regular basis."
Matt Thompson, aquaculture project lead for the NEAQ, agrees: "Sustainability is a journey, not a location. There are really big challenges. The oceans are hard to understand. [They have] complex ecosystems facing many pressures, yet there are workable solutions, and we're seeing movement toward them. It's important that consumers continue to ask questions about where their seafood comes from, and that they communicate to their retailer that sustainability influences their daily purchasing decisions."
— Sylvia M. Geiger, MS, RD, is a nutrition consultant, a freelance writer, and an adjunct faculty member in the department of nutrition and food sciences at the University of Vermont.
Sustainable Seafood Choices
The following is a list of sustainable seafood options you can share with clients and patients, compiled from interviews for this article and corroborated with information from the Monterey Bay Aquarium, the Blue Ocean Institute, and the New England Aquarium:
• cold-water fish such as Atlantic mackerel, sardines, and herring;
• farmed fish such as US tilapia, US rainbow trout, US catfish, and US striped bass;
• farmed shellfish such as blue mussels, New England clams, US oysters, and US bay scallops; and
• wild-caught fish such as Alaskan salmon, barramundi, US bluefish, dungeness crab, and US mahi mahi.
Avoid bluefin tuna, wild sturgeon, all species of shark, orange roughy, skates and rays, most Chilean sea bass, most Atlantic halibut, and most marlin.
— SMG
Aquaculture for a Sustainable Future
The worldwide demand for fish grows as the population increases, yet wild-catch fisheries currently are fished to capacity, with little to no room for increased output. The question is how do we produce more seafood to fill the growing demand?
The answer lies in the ongoing advances in aquaculture, the aquatic farming of fish, shellfish, mollusks, and sea plants. Aquaculture has increased by 86% in the last decade, and the Food and Agriculture Organization of the United Nations, which is dedicated to eliminating hunger, food insecurity, and malnutrition worldwide, anticipates it will continue to be a crucial contributor in meeting the world's seafood needs.
"In relation to other animal proteins, aquaculture products can have a much lower environmental impact," says Matt Thompson, aquaculture project lead for the New England Aquarium.
Some aquaculture industries, such as US trout, US catfish, US tilapia, and US mollusk farming, are highly regulated and generally accepted as sustainable options, but others, such as salmon and shrimp farming, are criticized by environmentalists for using unsustainable practices. However, the salmon and shrimp farming industries are evolving to adopt methods to mitigate their environmental impact. In 2012, the Aquaculture Stewardship Council and the World Wildlife Fund set standards for salmon aquaculture, and salmon raised under the council's certification has been available in the retail market since 2013.
Thompson says there's a broad spectrum of environmental practices in tropical shrimp farming, and that it's counterproductive to broad-stroke the whole shrimp farming industry as unsustainable. Retailers with sustainable seafood policies are seeking the best players by sourcing tropical shrimp with the Aquaculture Stewardship Council or Global Aquaculture Alliance Best Aquaculture Practices certification.
"Much of the industry is moving in the right direction. It's not the same as it was 10 years ago, and it's important to engage the tens of thousands of small farms and fisheries with improvement projects so they have an incentive to improve," Thompson says.
— SMG