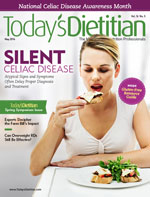 May 2014 Issue
On Pins and Needles
By Judith Riddle
Today's Dietitian
Vol. 16 No. 5 P. 4
Nutrition professionals are waiting with bated breath for the FDA to make a final decision on its proposal to update the Nutrition Facts label. With the exception of the line item that was added in 2006 to provide trans fat content, nothing has changed to reflect current nutrition science, so the enthusiasm and anticipation among dietitians are warranted.
The FDA has published the two proposed rules on the Nutrition Facts label in the Federal Register so the public can review them and submit their comments now through June 2.
If the proposed label is adopted, the changes will include line items for added sugars, which many dietitians are excited about, since added sugar has been implicated in the overweight and obesity epidemic and most recently associated with increased heart disease risk. The label also will include updated daily values for sodium, dietary fiber, potassium, and vitamin D. They'll continue to list "total fat," "saturated fat," and "trans fat," but "calories from fat" will be removed. Personally, I rely on the "calories from fat" distinction because I won't eat a particular product if that number is too high.
In addition, serving sizes will be modified to reflect what consumers really eat in one sitting rather than what they should eat. I have reservations about this proposed change. When I look at serving sizes, I try to stay within what's listed on the label so I don't overeat. One particular serving size may be just right for one person but too much for another.
However, while nutrition professionals eagerly await the FDA's final decision, the staff of Today's Dietitian is on pins and needles regarding the debut of its first annual Spring Symposium at the Tropicana Las Vegas from May 18 to 20. We have an incredible two-day event planned, offering nutrition professionals the opportunity to network with colleagues and attend various continuing education sessions presented by an all-star lineup of leaders in the dietetics field. We'll kick off this event with a welcome reception and an exciting keynote address speaker. What's more, there will be opportunities to enjoy great food and great company, so come and join us.
And please enjoy this special Spring Symposium issue, which includes articles on silent celiac disease, dietitians' weight struggles, sustainable seafood programs in supermarkets, and shooting video to build your business and brand. See you in Vegas!