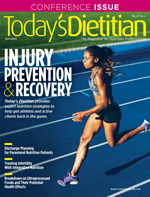 Ask the Expert: Menopause and Nutrition
By Toby Amidor, MS, RD, CDN, FAND
Today's Dietitian
Vol. 25 No. 4 P. 8
Q: Many of my clients have been asking about nutrition and menopause. Can you provide basic information I should know?
A: Menopause has become a hot topic among dietetics professionals and the media. In October 2022, at the Food & Nutrition Conference & Expo®, there was a heavily attended session on the topic, which generated even more discussion. Below you'll find information on menopause basics, the nutrient needs during this season of life, and common myths.
Menopause 101
Menopause is defined as a point in time 12 months after a woman's last period. Leading up to that point, women may have changes in their menstrual cycles with accompanying symptoms such as hot flashes. This period is known as perimenopause.
Metabolic changes begin during perimenopause, according to Elizabeth Ward, MS, RDN, coauthor of The Menopause Diet Plan, A Natural Guide to Managing Hormones, Health, and Happiness. "It's difficult to tease out the effects of declining estrogen levels and aging in general when it comes to metabolism," she says.
There's evidence that menopause affects body composition in a way that may reduce calories burned and lead to weight gain over time. "Body composition starts to change before the final menstrual period, which is technically when you reach menopause," Ward explains. A 2019 longitudinal study using data from the Study of Women's Health Across the Nation group found that menopause causes a gain in fat mass and loss of lean mass.1
Menopause also increases the risk of type 2 diabetes, heart disease, and osteoporosis. With type 2 diabetes, estrogen enhances glucose uptake in muscle and adipose tissue and glucose production in the liver. Less estrogen accelerates the development of insulin resistance and type 2 diabetes.2 Weight gain, a sedentary lifestyle, and a loss of muscle tissue aggravate the risk of type 2 diabetes in midlife. It's also important for health professionals to ask about a history of gestational diabetes, which is a risk factor for type 2 diabetes.
Heart disease is the leading cause of death in women in the United States. Nevertheless, the onset of coronary heart disease in women is about 10 years later than in men. Estrogen is thought to provide partial protection. Ward says that in the Framingham Heart Study, women with higher cholesterol, higher blood pressure, and other risk factors reached menopause earlier, independent of smoking status. "That underlines the importance of working to mitigate risk factors earlier in life," she says.3,4
Lastly, during the menopause transition, bone tissue loss accelerates for five to seven years. Women may develop osteopenia during this time, which may progress to osteoporosis.5,6
Nutrient Needs
According to Ward, it's important for women to meet adequate protein needs and practice resistance training to help preserve muscle tissue. Women also may need more calcium when menopause occurs and a vitamin D supplement to offset the difficulty of meeting the dietary reference intake from food alone. In addition, the diet should be low in saturated fat, sodium, and added sugars and "be packed with anti-inflammatory foods, such as fruits, vegetables, nuts, seeds, and seafood at least twice weekly," Ward says.
Dispelling Myths
"Menopause causes weight gain." It's not body changes during perimenopause and menopause that lead to weight gain, but rather the lifestyle changes that happen during this time. Ward says "many women may be less physically active at this time of life, as their kids leave home and there's less running around to do." In addition, women may be eating out more often because they don't have to feed a family every night.
"Menopause is the end of a woman's life." "Menopause is the end of your reproductive years and the beginning of another phase of life: postmenopause," Ward explains. A woman can live 30% to 40% of her years after menopause occurs. Diet and lifestyle choices can help support energy levels and reduce the risk of chronic conditions.
"You can't lose weight after menopause." It may be harder to shed weight in midlife, but it's possible. "Women may need to change their calorie distribution (more protein and fiber and fewer foods with highly processed carbohydrates, such as chips, candy, and cookies) and their exercise routines, and increase movement throughout the day to lose weight," Ward says.
Recommendations for RDs
Ward suggests dietetics professionals familiarize themselves with the recommended nutrient intakes for the perimenopause transition and in postmenopause so they can be a science-based voice of reason for this vulnerable group that's often confused about how to approach these changes. Midlife is a time of tremendous transition for women who may be experiencing one or more menopausal symptoms daily in addition to leading a busy life. When making recommendations on how to tackle these challenges, dietetics professionals need to determine their clients' health history, the current demands on their time, and their mental health.
— Toby Amidor, MS, RD, CDN, FAND, is founder of Toby Amidor Nutrition (tobyamidornutrition.com) and a Wall Street Journal bestselling author. She's written nine cookbooks, including Diabetes Create Your Plate Meal Prep Cookbook: 100 Delicious Plate Method Recipes and The Family Immunity Cookbook: 101 Easy Recipes to Boost Health. She's also a nutrition expert for FoodNetwork.com and a contributor to U.S. News Eat + Run and other national outlets.
Send your questions to Ask the Expert at TDeditor@gvpub.com or send a tweet to @tobyamidor.
References
1. Greendale GA, Sternfeld B, Huang M, et al. Changes in body composition and weight during the menopause transition. JCI Insight. 2019;4(5):e124865.
2. Yan H, Yang W, Zhou F, et al. Estrogen improves insulin sensitivity and suppresses gluconeogenesis via the transcription factor. Diabetes. 2019;68(2):291-304.
3. El Khoudary SR, Aggarwal B, Beckie TM, et al. Menopause transition and cardiovascular disease risk: implications for timing of early prevention: a scientific statement from the American Heart Association. Circulation. 2020;142(25):e506-e532.
4. Kok HS, van Asselt KM, van der Schouw YT, et al. Heart disease risk determines menopausal age rather than the reverse. J Am Coll Cardiol. 2006;47(10):1976-1983.
5. Osteoporosis or low bone mass in older adults: United States, 2017–2018. National Center for Health Statistics website. https://www.cdc.gov/nchs/products/databriefs/db405.htm. Updated March 31, 2021.
6. Osteoporosis Workgroup. Office of Disease Prevention and Health Promotion, Healthy People 2030 website.
https://health.gov/healthypeople/about/workgroups/osteoporosis-workgroup