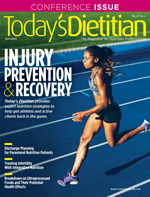 Soyfoods: Cooking With Tofu
By Michelle Dudash, RDN
Today's Dietitian
Vol. 25 No. 4 P. 10
Help clients use this traditional Asian food confidently in the kitchen.
Tofu (or bean curd) traditionally has been consumed in Asian countries for centuries, and it's been rising in popularity in the United States for the past two decades, with year-over-year surges in interest in January.1 Modern tofu manufacturers continue to innovate with flavored and ready-to-eat tofu-based dishes that have global flavors.
Armed with some tofu basics, dietitians and clients can take advantage of the culinary versatility and nutritional benefits this long-celebrated plant-based protein has to offer.
Tofu production bears similarities to cheesemaking. Soymilk (soaked, ground soybeans and water) is coagulated with minerals, simmered into curds and whey, placed into molds, and pressed to release water. Et voilà! The custard or curdy block that's left is tofu.
Tofu's Nutritional Benefits
The ingredients in tofu are simple: water, mature dry soybeans, and a coagulant or two, such as magnesium chloride and calcium chloride or calcium sulfate (gypsum). Seawater-based nigari traditionally is used in Japan and may contain a few different salts. Edible acids and enzymes also may be used to coagulate tofu.2
Tofu is best known for its protein content, with firm tofu weighing in at 7 g protein per one-quarter block serving (2.8 oz [81 g]).3 Tofu's beneficial minerals include 12% DV for calcium and 7% DV for iron and magnesium. It contains 63 kcal and 2 g carbohydrate per serving, is a low-sodium food, and low in saturated fat.
Maggie Moon, MS, RD, author of The MIND Diet, highlights tofu as an iron source in her book, later stating in an interview, "Food sources of iron are consistently safe, while excessive iron intake from supplements can create oxidative stress in the body."
The 2020–2025 Dietary Guidelines for Americans recognize soy products and "particularly tofu" as a protein food, with the Healthy Vegetarian Dietary Pattern recommending eight servings of soy products per week on a 2,000-calorie diet.4
Tofu also contains isoflavones, a plant-based compound found mostly in beans, including soybeans, with a 3-oz serving of soft tofu containing 20 mg.
Benefits for Bone Health
The isoflavones in tofu theoretically may improve bone health due to their estrogenlike
effects; however, numerous studies have found conflicting results. While more observational and clinical data are warranted, the 2022 review article about the health effects of soy in Frontiers in Nutrition5 says, "It is premature to recommend isoflavone intake specifically for the purpose of improving bone health." However, because protein and calcium are established as important nutrients for bone health, protein-rich soyfoods made with calcium can be added to the list of foods that help support healthy bones.
Types of Tofu and Culinary Uses
Written documentation of tofu (dou fu in Chinese) dates back more than 1,000 years in China, where it was commonly consumed as an affordable side dish with rice.6 In Japan, tofu is regularly enjoyed in small cubes in miso soup or as yodofu, simmered in hot water with kombu and garnished with green onions, ginger, and soy sauce. The Chinese dish Kung Pao tofu features crispy tofu in a sweet and sour sauce alongside vegetables and peanuts. Today in the United States, people enjoy tofu in everything from smoothies to salads to stir-fries to desserts. It's available plain or well-seasoned and from soft to super firm.
At the grocery store, individuals can find fresh tofu refrigerated in the produce or dairy section or aseptically packaged in dry goods aisles.
Here are the most widely available tofu grouped into three categories based on firmness in addition to a few more tofu options available. The firmness of tofu is determined by the length of pressing time during production. A longer pressing time releases more liquid whey, resulting in a firmer block of tofu.
Silken and soft tofu: Since this variety of tofu isn't pressed, it has the highest water content, resulting in a smooth, custardlike consistency. Silken and soft tofu work well in smoothies, blended foods, and whipped desserts like chocolate French silk pie. Before using, simply drain or blot.
Moon likes using soft, silken tofu because, "It's smooth and luxurious like a poached egg, and in Korean we call it soondubu." She enjoys it in a popular spicy stew called soondubu jjigae.
Liz Weiss, MS, RD, host of Eat, Drink, Live Longer podcast and founder of Liz's Healthy Table, recently created a tofu dessert mousse using frozen raspberries, lemon juice, and coconut oil.
Regular and medium-firm tofu: This variety of tofu is heartier than silken due to its lower water content but is still best for braising or boiling so it doesn't fall apart.
Firm, extra-firm, and super-firm tofu: When you think sautés and stir fries, opt for these firmer varieties, which have a lower water content that can stand up to pressing, battering, and frying. Extra-firm tofu stays intact during searing and flipping and has a meaty texture.
"I most often use firm or extra-firm tofu for an entrée protein, cubed in stir fries or soups," Moon says. In her Telomere Diet and Cookbook, Moon pan-fries sliced slabs of tofu in the Tofu Banh Mi sandwich.
If crispy tofu is the goal, opt for extrafirm tofu. Weiss makes tofu croutons by squeezing the tofu dry, marinating it, coating it in cornstarch, and baking it for a higher protein crouton.
Firm tofu does well crumbled, as in the case of breakfast scrambles, which doesn't require pressing.
To Press or Not to Press?
American home cooks often press their firmer varieties of tofu by wrapping the tofu in a towel, placing it between plates or sheet pans, and then weighting it with heavy objects like canned goods. This presses out extra liquid, allowing the tofu to absorb flavors and sauces introduced in cooking techniques.
While Moon has used these makeshift pressing rigs, her new favored technique is what her Korean mom taught her, which is to dunk the tofu in a warm saltwater bath, then drain for 30 to 60 minutes on a wire rack fitted in a sheet pan. Tofu can be rested like this for multiple hours or overnight in the refrigerator for a firmer end product. "The saltwater bath seasons the tofu and helps it form a nice crust when cooking," Moon says.
When introducing this wondrous protein into American diets, a tofu press can help. Weiss says, "I love the tofu press because I have always found that the pressing, draining, and paper towel process can be messy and time consuming and could be a barrier to entry for people wanting to try tofu."
Flavored tofu: Tofurky brand dreamt up different ways to enjoy tofu, like their Chick'n, roasts, deli slices, and sausage products.
Hodo Foods—tofu supplier to Chipotle Mexican Grill (the Sofritas dish), Sweetgreen, Google campus dining, and famed restaurant Daniel—dishes up retail products, too, including Spicy Harissa Tofu Cubes, Chermoula Moroccan Cubes, Southern Barbecue Cubes, Adobo Mexican Crumbles, and Thai Curry Nuggets.
Artisan tofu varieties: Sol Cuisine launched its organic Artisan Tofu, as well as Sprouted Tofu, made with germinated soybeans.
Counseling Clients
• You can do it: Clients can best exude their passion and excitement for foods when they have experimented and tasted it for themselves. Weiss says, "Start with a simple stir fry recipe and once you master it, fine tune it and then you have a solid recipe."
• Comparison is key: Moon says, "Try at least one recipe that calls for firm tofu and one that calls for silken tofu, so you understand the different applications they'd be good for."
• Understand where clients are starting from: Moon recommends asking clients about their familiarity and previous experience with eating tofu. "If tofu is all new to them and they're tofu-curious, offer up practical ideas for preparing tofu and see what works for them."
• Go with a glaze: If clients seem overwhelmed at the thought of preparing tofu, consider Moon's advice, "The best way to add flavor to tofu is to glaze it during cooking or simply serve it with a dipping sauce on the side."
Next time clients are considering an easy and affordable plant-based meal with time-honored tradition, suggest they consider tofu.
— Michelle Dudash, RDN, is a Cordon Bleu–certified chef, author of Clean Eating Kitchen: The Low-Carb Mediterranean Cookbook (Fair Winds Press, 2021) and Clean Eating for Busy Families, revised and expanded (2019); and creator of Spicekick® Seasoning Mix: Your Sidekick in the Kitchen.
Michelle Dudash, RDN, reports the following relevant disclosure: She wrote an article for US Soy in 2022.
Orange Peel Tofu & Broccoli Stir-Fry
Serves 4
After pressing tofu, it will absorb whatever flavorings you add to it. In this case, soy sauce, fresh orange, and spices give it a delicious, complex taste. Find refrigerated tofu in the produce aisle or in the "meatless meats" section next to the dairy case in natural food stores.
Clients can enjoy this dish on its own or serve it over steamed brown rice or brown rice noodles.
Ingredients
1 (14 oz) block fresh extra-firm tofu
For the sauce:
2 T reduced-sodium soy sauce (use a gluten-free variety, if preferred)
Finely grated zest of 1 medium orange
Juice of 2 medium oranges (about 1/2 cup)
1/4 tsp ground cinnamon
1/4 tsp ground ginger
For the stir-fry:
1 medium head broccoli, cut into bite-size florets, long stems sliced
2 T high-heat cooking oil, like avocado oil
1 T minced garlic
4 tsp sesame seeds
Directions
1. The day before cooking the dish, press the tofu: Wrap the tofu block in three sheets of paper towels and place on a plate. Place another plate on top, followed by a weighty object, like a sealed can. Refrigerate overnight until ready to cook within the next day or two.
2. To make the sauce: Combine all the sauce ingredients.
3. To make the stir-fry: Add about 1/4 to 1/2 inch of water to a large nonstick wok, sauté pan, or skillet and heat on high. When the water comes to a boil, add the broccoli and cover loosely, allowing steam to escape. Cook until the broccoli is bright green and nearly fork tender, about 4 minutes, reducing heat as needed. Transfer the broccoli to a plate and discard the water. Lightly wipe any broccoli debris out of the pan and place back on the heat.
4. Unwrap the tofu and cut crosswise into 1/4-inch planks. Stacking three planks at a time, cut lengthwise into fourths. Then cut in half so that you have small french fry shapes. Heat the pan on medium-high heat and add 1 T oil. Carefully add the tofu and brown on one side without stirring, about 4 minutes. Flip the pieces to brown on the other sides, about 3 minutes, adding the remaining 1 T oil. Reduce the heat to medium, push the tofu to the side of the pan, and add the garlic and sesame seeds, cooking until fragrant, about 1 to 2 minutes. Pour the sauce over the tofu and cook a couple minutes. Gently stir in the broccoli.
Prep time: 10 minutes, plus time to press the tofu overnight
Cook time: 20 minutes
Nutrient Analysis per serving (11/4 cups each)
Calories: 230; Total fat: 14 g; Sat fat: 2 g; Total carbohydrate: 17 g; Sodium: 275 mg; Dietary fiber: 5 g; Total sugars: 2 g; Added sugars: 0 g; Protein: 14 g
— Source: Recipe and Photo Courtesy of Michelle Dudash, RDN
References
1. Yofu. Google Trends website. https://trends.google.com/trends/explore?date=all&geo=US&q=tofu. Accessed January 2023.
2. McHugh T. How tofu is processed. Institute of Food Technologists website. https://www.ift.org/news-and-publications/food-technology-magazine/issues/2016/february/columns/processing-how-tofu-is-processed. Published February 1, 2016.
3. US Department of Agriculture, Agricultural Research Service. FoodData Central. https://fdc.nal.usda.gov/fdc-app.html#/food-details/172448/nutrients. Updated 2019.
4. US Department of Agriculture; Health and Human Services. Dietary Guidelines for Americans, 2020–2025. 9th edition. https://www.dietaryguidelines.gov/sites/default/files/2020-12/Dietary_Guidelines_for_Americans_2020-2025.pdf. Published December 2020.
5. Messina M, Duncan A, Messina V, Lynch H, Kiel J, Erdman JW Jr. The health effects of soy: a reference guide for health professionals. Front Nutr. 2022;9:970364.
6. Shurtleff W, Aoyagi A. History of tofu and tofu products (965 CE to 2013). SoyInfo Center website.
https://www.soyinfocenter.com/books/163
. Published May 20, 2013.