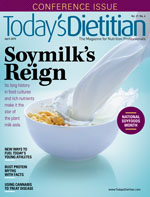 April 2019 Issue
Editor's Spot: Gearing Up for the 2020 DGA
By Judith Riddle
Today's Dietitian
Vol. 21, No. 4, P. 4
It seems like just yesterday I was writing about the much-anticipated release of the 2015–2020 Dietary Guidelines for Americans (DGA), and as of late February, the USDA and US Department of Health and Human Services (HHS) have announced their appointment of 20 nationally recognized leaders in nutrition and health to serve on the 2020 Dietary Guidelines Advisory Committee (DGAC) to review the science on key nutrition and health-related topics and questions. For the first time, the USDA and HHS are asking for public comments on these proposed topics and scientific questions to ensure transparency and hear "all viewpoints" that will support the development of the 2020–2025 DGA, according to a press release from US Secretary of Agriculture Sonny Perdue.
The scientific topics and questions the DGAC and public will examine include dietary patterns and beverage consumption, added sugars, dietary fats, seafood, and frequency of eating—all of which will be evaluated according to life stage and, for the first time, will include pregnant women and children from birth to 24 months. According to the USDA, "the topics and questions highlight a continued focus on patterns of what we eat and drink as a whole, on average and over time, to help prevent disease and keep people healthy—now from birth into older adulthood."
Like many dietitians, physicians, and other medical health experts, I look forward to the release of the 2020–2025 DGA. Many nutrition professionals believe that the 2015–2020 DGA accurately reflect the way Americans should eat, while others say it lacks the substance and specificity of the 2015 DGAC report regarding recommendations for red and processed meats, for example, and they criticize the removal of the discussion on sustainability. Nevertheless, the times are changing, and the dietetics field is evolving, so we may see more meaningful guidelines for red and processed meat consumption and information on sustainability. The new guidelines will be here before you know it, as 2020 is just around the corner.
This month, Today's Dietitian features articles on the popularity and health benefits of soymilk, medical cannabis for the treatment of disease, nutrition's impact on the timing of menopause, fueling young athletes, and the myths and facts about protein. Please enjoy the issue!
Judith Riddle
Editor
TDeditor@gvpub.com