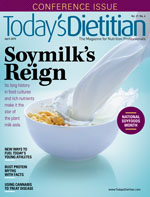 April 2019 Issue
Stevia Update: The Science Behind the Sweetener
By Densie Webb, PhD, RD
Today's Dietitian
Vol. 21, No. 4, P. 14
While sales of the stevia sweetener have skyrocketed, more research is needed on its health benefits.
Today's Dietitian published an article in June 2017 that reviewed the science on the no-calorie sweetener stevia, citing its safety (Generally Recognized as Safe, or GRAS, status) while acknowledging that more research was needed on its possible health benefits. In the almost two years since that article was published, the popularity of stevia, a sweetener made from the Stevia rebaudiana Bertoni plant, has soared, although few additional studies using the sweetener have been published. It should be noted that the vast majority of diet soft drinks are sweetened with low- or no-calorie sweeteners other than stevia, though stevia is sometimes used in combination with other sweeteners, and there has been debate over whether stevia should be considered artificial or "natural."1 Overall, research findings on the efficacy of all low- and no-calorie sweeteners for weight management have been mixed.
S rebaudiana Bertoni is a small perennial shrub native to Paraguay, Brazil, and Argentina. The leaves of the plant have been used for centuries in medicine and to sweeten drinks such as maté. According to data from Nielsen, US retail sales of stevia sweeteners grew by 12% between August 2017 and August 2018, while sales of other sweeteners, including sucralose, aspartame, and saccharin, were down by about 6% to 8% during the same time.2
Stevia is now an ingredient in thousands of foods and beverages worldwide, including teas, soft drinks, juices, yogurt, soymilk, baked goods, granola bars, alcoholic beverages, chewing gum, cereal, salad dressings, desserts, and, of course, as a tabletop sweetener.3 One of the newest stevia products, Truvia Nectar, is a liquid stevia sweetener blend with honey that has 50% fewer calories per serving than full-calorie honey. It's designed to be used in the same way you'd use honey. The stevia used in foods and beverages contain high-purity stevia leaf extracts, which contain at least 95% steviol glycosides, the molecules that give stevia its super sweet taste. The sweetener is as much as 350 times sweeter than table sugar.3
Debbie Petitpain, MS, RDN, LDN, director at Sodexo's office of health promotion at the Medical University of South Carolina, and a spokesperson for the Academy of Nutrition and Dietetics, counseled bariatric patients for a decade and says, "Stevia is a fantastic alternative for people who are trying to cut down on sugar, but don't want to give up their sweet treats." But, she adds, "Because stevia was given GRAS status, there's isn't a large body of evidence on safety. Evidence changes quickly, so it's important for counseling dietitians to use recent evidence in making recommendations to clients and patients."
Natural or Not?
Several stevia sweetener products claim to be "natural." Critics of the sweetener have maintained that while the stevia comes from a plant, it's extracted and purified into a powdered form, making it less than "natural." The extraction process involves steeping the dried leaves of the plant in hot water, like a tea, and then separating and purifying the sweet-tasting steviol glycosides. In an answer to questions about whether the natural compounds in the stevia plant are altered during processing, a new study concluded that steviol glycosides from the stevia plant aren't changed during the extraction and purification process. While the combination of steviol glycosides differ from that found in the leaves, the compounds that are extracted remain unchanged, which suggests stevia is, in fact, a natural ingredient.4
Latest Research
When reviewing the research on stevia, it's important to distinguish studies that examine the isolated steviol glycosides that make up the sweetener and studies examining alcohol extracts of the S rebaudiana Bertoni leaf, which are used as supplements and have been studied more than stevia as a sweetener. While some of the compounds that the two contain are the same, they aren't identical in composition.
The American Society for Nutrition Scientific Sessions, held in Chicago in April 2017, included a sponsored symposium titled "Stevia Leaf to Stevia Sweetener: Exploring its Science, Benefits & Future Potential." In an unpublished pilot study presented at the symposium, steviol glycosides replaced sugar at breakfast for 12 subjects, providing 46% fewer calories compared with a sugar-containing breakfast. Those who consumed the breakfast with steviol glycosides experienced much lower postprandial blood glucose levels (18% lower), even in subjects diagnosed with metabolic syndrome.5 Previous studies have shown both lowering of postprandial glucose levels and no effect.6
A study in mice showed that repeated administration of steviol glycosides delayed the development of insulin resistance and increased the response to insulin, suggesting it isn't just the replacement of stevia for sugar that affects blood glucose levels.7 It was found that stevia stimulates a protein that's involved in the release of insulin after a meal.
Unpublished findings presented at the symposium showed in a double-blinded, crossover study that steviol glycosides increased glycogen storage in trained male cyclists after long-term exercise. In fact, when comparing two identical intakes of carbohydrates (1.5 g/kg/h), glycogen storage was 35% faster when steviol glycosides (500 mg) also were consumed. While it's a long way from being proven, this suggests that stevia might have an application in sports drinks.5
A study with cell cultures conducted by researchers at the University of New Haven in West Haven, Connecticut, compared the disease-fighting effects of stevia leaf extract (not stevia sweetener) with those of three antibiotics (doxycycline, cefoperazone, and daptomycin) and a combination of the three against Borrelia burgdorferi, the bacteria that causes Lyme disease, and found it to be an effective antibacterial. Although the results of this preliminary study can't be applied to clinical practice, the researchers say that follow-up studies are necessary to identify the most effective component(s) in stevia. Whether the types and amounts of compounds found in stevia sweetener would have the same or similar effects isn't known.8
Future of Stevia
According to industry publications, stevia has potential to be used as a natural ingredient, capable of sweetening and increasing the antioxidant quality of fruit beverages, while serving as a food preservative.9 Taste studies have been conducted to test different combinations of stevia glycosides that would yield a taste closer to table sugar. The challenge is to reduce the lingering bitter, metallic taste that some perceive with stevia-sweetened products and provide a more sugarlike taste and mouth feel.6
Bottom Line
Most experts agree that more studies are needed on stevia's long-term safety and potential health benefits, particularly when it comes to weight gain and diabetes. Conclusions drawn from the symposium were that data on stevia for limiting energy intake and benefiting weight management, as well as for its effect on the gut microbiome, are limited. Still, commercial stevia sweeteners sold in the United States appear to be a safe and consumer-accepted sugar substitute for use in baking and in a wide range of foods and beverages.
— Densie Webb, PhD, RD, is a freelance writer, editor, and industry consultant based in Austin, Texas.

COOKING WITH STEVIA
Stevia can be used as an ingredient in baking or cooking. Here are examples of the sugar-to-stevia conversion.*
1 tsp sugar = 1/2 stevia packet = 5 drops liquid stevia
1/2 cup sugar = 12 stevia packets = 1 tsp liquid stevia
1 cup sugar = 24 stevia packets = 2 tsp liquid stevia
* Ratios may vary by manufacturer.
— Source: PureCircle Stevia Institute

References
1. Mossavar-Rahmani Y, Kamensky V, Manson JE, et al. Artificially sweetened beverages and stroke, coronary heart disease, and all-cause mortality in the Women's Health Initiative. Stroke. 2019;50(3):555-562.
2. Watson E. US retail sales of stevia sweeteners rose 11.9% in the past year as sales of artificial sweeteners continue to slide. FoodNavigator-USA website. https://www.foodnavigator-usa.com/Article/2018/10/01/US-retail-sales-of-stevia-sweeteners-rose-11.9-in-the-past-year-as-sales-of-artificial-sweeteners-continue-to-slide. Published October 1, 2018. Accessed February 10, 2019.
3. How to find stevia. Pure Circle Stevia Institute website. www.purecirclesteviainstitute.com/healthy-lifestyle/how-to-purchase-stevia. Accessed February 10, 2019.
4. Oehme A, Wüst M, Wölwer-Rieck U. Steviol glycosides are not altered during commercial extraction and purification processes. Int J Food Sci Technol. 2017;52(10):2156-2162.
5. Jeppesen PB. Steviol glycosides and their impact on health. Paper presented at: American Society for Nutrition's Scientific Sessions; April 22, 2017; Chicago, IL.
6. Samuel P, Ayoob KT, Magnuson BA, et al. Stevia leaf to stevia sweetener: exploring its science, benefits, and future potential. J Nutr. 2018;148(7):1186S-1205S.
7. Philippaert K, Pironet A, Mesuere M, et al. Steviol glycosides enhance pancreatic beta-cell function and taste sensation by potentiation of TRPM5 channel activity. Nat Commun. 2017;8:14733.
8. Theophilus PA, Victoria MJ, Socarras K, et al. Effectiveness of stevia rebaudiana whole leaf extract against various morphological forms of Borrelia burgdorferi in vitro. Eur J Microbiol Immunol (Bp). 2015;5(4):268-280.
9. Bender C, Killermann KV, Rehmann D, Weidlich HH. Effect of stevia rebaudiana Bert. addition on the antioxidant activity of red raspberry (Rubus idaeus L.) juices. Beverages. 2018;4(3):52.