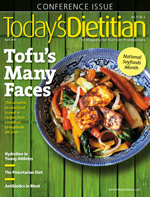 April 2015 Issue
Culinary Corner: Asparagus With an Asian Twist — A Simple Side Dish to Spruce Up One of Spring's Most Robust Vegetables
By Grace Dickinson
Today's Dietitian
Vol. 27 No. 4 P. 66
Editor's Note: Because asparagus is such a popular vegetable this time of year and loved by many, Today's Dietitian is featuring the following recipe infused with Asian-inspired flavors and a second asparagus recipe made with mint and a lemon vinaigrette dressing in our upcoming May issue.
When April arrives, asparagus is one of the first perennial crops to emerge from the soil. When I was a child, I always looked forward to being the first to discover the initial few stalks appearing at the edge of my parents' garden. This was always the sign of the end of winter and the beginning of a bountiful season.
An asparagus bed can produce spears for up to 30 years following the first planting. Because of this vegetable's staying power, it's important to strategically plant its seeds in a spot of its own where it won't interfere with other plants. Once asparagus season ends, generally around June, the stalks are left alone to continue to grow along with the tops and turn into feathery ferns, creating a forest of sorts. The asparagus sits idle until autumn when the stalks are chopped, and the roots are left to hibernate for the winter.
Asparagus is one of the most robust vegetables of the season, with stalks that can grow as much as seven inches in one day. That means that whether you're a gardener who knows the ins and outs of growing asparagus or simply a farmers' market shopper, there's always plenty to go around throughout the spring season. Recipes, such as the one that follows, help keep the vegetable interesting so you and your clients will never get tired of it. Given that asparagus also contains one of the highest amounts of folic acid of any food—17% of the DV in a 1-cup raw serving—eating it until the season's end isn't a bad idea. This is especially true for pregnant clients since folic acid plays an important role in red blood cell production and fetal neural development. A 1-cup serving of asparagus contains at least 10% of the DV for many essential nutrients, including vitamin A (20% DV), vitamin C (13% DV), vitamin K (70% DV), thiamin (13% DV), riboflavin (11% DV), manganese (11% DV), and iron (16% DV).
In this recipe, the asparagus is steamed and then infused with flavor with an Asian-inspired vinaigrette. Here, the star ingredient is toasted sesame oil, which complements the asparagus' earthy flavor. This dish comes together in just 10 minutes and in two easy steps, making it perfect for allowing time to go for long strolls during those first few warm spring days when spending evenings outdoors—or picking asparagus from the garden—begins to take precedence.
— Grace Dickinson is a photo enthusiast, food blogger, and recipe developer for FoodFitnessFreshAir.com.
Recipe
Asparagus With Soy Asian Vinaigrette
Celebrate one of spring's first and fastest growing vegetables with this easy-to-prepare recipe. Its Asian-inspired vinaigrette enables this side dish to pair well with salmon or a ginger-marinated grilled chicken.
Serves 6
Ingredients
2 T soy sauce
1 T toasted sesame oil
4 tsp Dijon mustard
1 T white wine vinegar
1 garlic clove, minced
2 lb asparagus (40 to 45 medium-sized stalks), ends snapped and discarded
3 T sesame seeds, toasted
2 T chives, minced
Directions
1. In a small bowl, whisk together first five ingredients.
2. Place a steamer basket in a large pot. Fill with water until water just touches the bottom of the steamer basket. Cover and bring to a boil, then add asparagus and recover the pot. Steam asparagus until tender, 5 to 7 minutes.
3. Toss with vinaigrette. Sprinkle sesame seeds and chives on top. Serve.
Nutrient Analysis per serving
Calories: 76; Total fat: 5 g; Sat fat: <1 g; Trans fat: 0 g; Cholesterol: 0 mg; Sodium: 323 mg; Total carbohydrate: 7 g; Dietary fiber: 3 g; Sugar: 0 g; Protein: 3 g