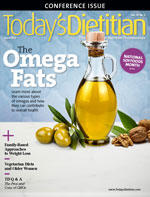 April 2014 Issue
Shrimp — Easiest Seafood to Prepare
By Bryan Roof, RD, LDN
Today's Dietitian
Vol. 16 No. 4 P. 66
Growing up in the South, it's hard for me to remember a family gathering where boiled shrimp weren't prominently featured. As a matter of fact, my mom was especially known for two things: shrimp cocktail and rum and Coke, and the two were seldom mutually exclusive. (As a dietitian, this is the only format in which Coke should be deemed acceptable to consume, in my humble opinion.)
One of my culinary instructors told me that you could eat seafood for three meals each day for 80 years and never eat the same fish twice. I've eaten much seafood in my life, but out of a combination of convenience, laziness, and familiarity, I always return to shrimp. That, and I love the taste.
Shrimp are among the easiest foods to cook, and they lend themselves to various preparations (hold the Forrest Gump quotes, please). However, there are a few key points that make purchasing and cooking shrimp much more successful. First, it's important to know that most of the shrimp you're ever going to buy have been frozen as some point, so don't get hung up on this. Unless you live on the coast and can buy your shrimp through a community share, likely they've been frozen before arriving at your market. Occasionally, I can buy fresh Maine shrimp, sweet enough to eat raw, but this doesn't happen often. Signs of freshness include a deep blue color (for most but not all varieties) and a fresh smell. As shrimp start to age, they begin to appear cooked, taking on a pinkish coloring.
When buying shrimp, especially those that come frozen in 1- to 2-lb bags, read the ingredient label. Avoid those that contain salt or sodium. The salt in these varieties allows them to hold onto more water, thereby increasing their weight, so you're paying extra for water. This pretreatment negatively affects their flavor and texture, too. Farm-raised shrimp from Asia usually are treated in this manner.
Finally, shrimp cook quickly, so be careful not to overcook them. They will cook in as little as 1 to 4 minutes, depending on their size. Their color changes from blue to orange-pink when they're cooked through, and they'll be slightly firm. When in doubt, it's better to undercook them slightly.
Keeping with my Southern roots, I offer a recipe for pickled shrimp, which is prominent in the South. I toss these shrimp on salads, serve them on crostini, or just eat them straight off a toothpick. And if I can make a beverage recommendation, rum and Coke goes exceptionally well with this.
— Bryan Roof, RD, LDN, is a chef, dietitian, and food writer living in Boston. Follow him on Twitter @bryanroof.
Pickled Shrimp
For a variation, omit the smoked paprika and substitute two fresh sprigs of dill for the parsley. The term 21/25 refers to the size of the shrimp: 21 to 25 each per pound.
Serves 4 as an appetizer
Ingredients
1 lb (21/25) shrimp, peeled and deveined
1 cup fresh lemon juice (about 4 lemons)
5 garlic cloves, smashed and peeled
2 parsley sprigs
2 bay leaves
1/2 tsp fine sea salt
1/2 tsp smoked paprika
1/4 tsp celery salt
10 allspice berries
10 black peppercorns
10 coriander seeds
1/2 cup extra-virgin olive oil
Directions
1. Drop the shrimp into a pot of boiling salted water (salt is optional). Remove the pot from the heat, cover, and let sit until the shrimp are opaque, orange-pink in color, and slightly firm, 3 to 4 minutes. Drain the shrimp and set aside.
2. In a 1-qt mason jar, combine the remaining ingredients except for the oil and let sit for 5 minutes to infuse. Add the shrimp, followed by the oil, and affix the jar lid. Turn to combine the shrimp with the pickling solution. (If necessary, press the shrimp below the surface of the oil with a spoon.) Let sit at room temperature for one hour before eating, or refrigerate for up to 5 days. Let the shrimp come to room temperature before serving.
Nutrient Analysis per serving
Calories: 190; Total fat: 9 g; Sat fat: 1.5 g; Trans fat: 0 g; Cholesterol: 170 mg; Sodium: 460 mg; Total carbohydrate: 2 g; Dietary fiber: 0 g; Sugar: 0 g; Protein: 23 g