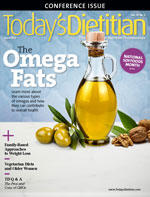 April 2014 Issue
Summer Camp Dining
By Lindsey Getz
Today's Dietitian
Vol. 16 No. 4 P. 14
More camps are offering gluten-free meals and snacks to accommodate kids with celiac disease.
As more kids are being diagnosed with celiac disease and non-celiac gluten sensitivity, it makes sense that summer camps are beginning to offer gluten-free dining. In fact, some camps are even devoting a full week to it, and others are designed solely for those following a gluten-free lifestyle. But even traditional camps are making changes so that all kids will feel comfortable and welcome. It's a movement that's easing the minds of both parents and campers alike.
Accommodation Is Essential
Twenty years ago, Sue Lein had a child who couldn't eat wheat. Back then, she says, finding summer camps that would provide special diets was rare. She says she felt like her only options for her child were meat and potatoes, but the family adapted.
Fast-forward two decades and Lein says celiac disease patients aren't the only ones choosing a gluten-free diet. The need to cater to various eating patterns has become more essential than ever.
Today, as a second-generation director of Camp Emerson in Hinsdale, Massachusetts, Lein knows the importance of offering special dietary options. But she also knows that kids don't want to be singled out for their food allergy or disease. "If we're having pizza, everyone has pizza," she says. "We don't give the kids with food allergies or intolerances a separate meal; we just prepare the pizza a different way. We might have 10 different versions of the pizza to accommodate everyone, but everyone gets it."
Jesse Scherer, owner and director of Camp Eagle Hill in Elizaville, New York, says he has focused on eliminating the stigma that may be associated with giving a camper a separate meal. "We feel it's important that the gluten-free choices echo and reflect what everyone else is eating," he says. "That way, when kids are sitting down, they're eating the same food as their friends, even if it was prepared gluten free. It just allows them to feel completely comfortable and not feel like they're so different from everyone else. It allows kids to be kids."
Of course, providing for all these special dietary needs is no small feat. Aimee Passineau, RD, one of two dietitians employed at Camp Emerson, says preventing cross-contamination requires extra effort. "We have sectioned off a corner of the kitchen as well as the refrigerator and freezer dedicated to preparation and storage of special allergen-free products," she says. "We have separate kitchen equipment, including a toaster, pots, pans, knives, utensils, and even a separate fryer. And we have one person trained in preventing cross-contamination who's assigned to cooking the gluten-free meals, while the RD—myself—is on call for any questions."
Kimberly Truitt, foodservice director at Camp Gilmont in Gilmer, Texas, says special dietary requests now are the norm instead of the exception. Camp Gilmont offers a week of camp geared toward gluten-free dining called the Great Gluten Escape. The cooks work under Truitt's guidance and were trained in the early years of the camp by an RD who ensured they fully understood the nuances of cooking gluten free.

Because there are many special considerations to take into account when catering to the gluten-free crowd, it makes sense that many camps, like Camp Gilmont, have turned to the assistance of other professionals and groups. Karin Denman, operations director of the YMCA Camp Manitou-Lin in Middleville, Michigan, says its specialty camp was developed with the help of a local gluten-free group. "Parents wanted an opportunity to send their child to a week of summer camp without the worries of their gluten-free diet," she says. "This allows the campers the chance to attend a traditional summer camp and also meet other kids who follow a gluten-free diet."
Kid-Friendly Options
In terms of what to put on the menu, many of the camps—regardless of whether they're solely geared toward diners who eat gluten free or include a mix of all kids—try to get lots of kid-friendly options into the lineup. But most camps also have found that if they have various fresh fruits and vegetables available, kids often will snack on those.
At Appel Farm Arts Camp in Elmer, New Jersey, the emphasis is on healthful, sustainable eating, and campers participate in cultivating an on-site organic garden. "Campers help pick produce every day, and we have three fresh salad bars that kids can eat from," says camp director Cori Solomon. "We find that kids really do enjoy making their own salads."
Matt Ward, kitchen manager for the YMCA Camp Manitou-Lin, says gluten-free pizza is a kid favorite at the camp. "We've used both gluten-free crusts that were donated by a specialty bakery as well as the commercially available frozen gluten-free crusts," he says. "They've been a big hit with the campers and their parents as well, as this has been our meal on Parent Night on several occasions."
Powerful Experience
Regardless of what approach they take—or food they serve—the fact that so many camps are now making special accommodations for kids who must eat gluten-free foods has been a huge benefit to many families.
"A summer away at camp is a really powerful experience in a child's development, and we want every child to be able to experience that," Solomon says. "I'm gluten free myself, and I can relate to how these campers feel. We never want a child's eating habits to come in the way of them getting to experience summer camp."
— Lindsey Getz is a freelance writer based in Royersford, Pennsylvania.
Going Camping
Today's Dietitian has rounded up a mix of 10 summer camps that offer some type of gluten-free dining and has included their information below so dietitians can share it with clients.
Camp Eagle Hill
Location: Elizaville, New York
Camp dates: June 28 through August 12, 2014
Ages: 6 to 16
Cost for one week: $1,300
Sampling of gluten-free meals: Tacos, pizza, chicken fingers
Gluten-free snacks: Salad bar
Kid favorite: Fruit, ices
Activities: Athletics, waterfront activities, creative theatre and arts, gymnastics, fishing, guitar, cooking
Website: www.campeaglehill.com
Appel Farm Arts Camp
Location: Elmer, New Jersey
Camp dates: June 22 through August 15, 2014 (various sessions)
Ages: 7 to 17
Cost for one week: $1,500
Sampling of gluten-free meals: Three fresh salad bars, stuffed peppers
Gluten-free snacks: Fresh fruit, gluten-free chocolate chip cookies
Kid favorite: Black bean quinoa burgers
Activities: Music, theatre, dance, photography, video, creative writing, horseback riding, sports, and swimming
Website: www.appelfarm.org
YMCA Camp Kanata
Location: Wake Forest, North Carolina
Camp dates: June 8 through August 9, 2014 (one-week sessions, gluten-free meal focus from July 27 through August 2, 2014)
Ages: 6 to 15
Cost for one week: $752
Sampling of gluten-free meals: Spaghetti, chicken tenders
Gluten-free snacks: Fresh fruit, granola
Kid favorite: Salad bar
Activities: Archery, kayaking, stand-up paddle boarding, giant water slides
Website: www.campkanata.org
Jameson Camp
Location: Indianapolis, Indiana
Camp dates: June 1 through August 3, 2014
Ages: 5 to 17
Cost for one week: Priced on a sliding scale based on family income (as low as $80 per week)
Sampling of gluten-free meals: Sloppy joes, baked chicken nuggets, mashed potatoes
Gluten-free snacks: Fresh fruit smoothies
Kid favorite: Orange chicken stir-fry
Activities: Art expressions, recreation, fishing, outdoor education, campouts, culinary arts
Website: www.jamesoncamp.org
Camp Sealth
Location: Vashon Island, Washington
Camp dates: June 30 through August 23, 2014 (Gluten Intolerance Group special week from August 4 through 9, 2014)
Ages: 7 to 18
Cost for one week: $570
Sampling of gluten-free meals: Grilled cheese, pizza, hamburgers
Gluten-free snacks: Fruit
Kid favorite: Fish sticks
Activities: Archery, arts and crafts, hiking, outdoor living skills, environmental studies, marine aquarium "touch tanks," horseback riding, canoeing, kayaking, paddle boarding, windsurfing, sailing, ropes courses, bouldering
Website: www.campsealth.org
YMCA Camp Manitou-Lin
Location: Middleville, Michigan
Camp dates: June 15 through August 22, 2014 (gluten-free week from June 29 through July 3, 2014)
Ages: 8 to 17
Cost for one week: Approximately $450
Sampling of gluten-free meals: Hamburgers with gluten-free buns, pasta with meat sauce, tacos, grilled or baked chicken, ham
Gluten-free snacks: Fruit
Kid favorite: Gluten-free pizza
Activities: Archery, canoeing, horseback riding, swimming, arts and crafts, drama, sports
Website: www.grymca.org/camp
Camp Weekaneatit
Location: Warm Springs, Georgia
Camp dates: July 13 through 18, 2014
Ages: 8 to 17
Cost for one week: $600
Sampling of gluten-free meals: Chicken nuggets, pizza, breakfast casserole
Gluten-free snacks: All snacks are gluten free
Kid favorite: Pizza
Activities: Climbing tower, canoeing, swimming, paddle boarding, color wars, scavenger hunts
Website: www.glutenfreecamp.org
Camp Celiac
Location: Livermore, California
Camp dates: July 21 through 24, 2014 and July 24 through 27, 2014
Ages: 9 to 15
Cost for one week: Free (except for $25 registration fee)
Sampling of gluten-free meals: Pancakes, grilled cheese, lasagna
Gluten-free snacks: S'mores
Kid favorite: Lasagna with French bread and Caesar salad
Activities: Swimming, archery, ropes course, talent show
Website: www.campceliac.com
Camp Emerson
Location: Hinsdale, Massachusetts
Camp dates: June 29 through August 9, 2014
Ages: 7 to 15
Cost for one week: $1,675
Sampling of gluten-free meals: Three-station salad bar, sandwich bar, pizza
Gluten-free snacks: Fruit and salad bar
Kid favorite: Chinese food dishes
Activities: Heated pool, two lakes, art, wilderness, science, cooking
Website: www.campemerson.com
— LG