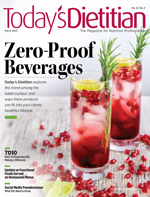 Ask the Expert: Energy Drinks
By Toby Amidor, MS, RD, CDN, FAND
Today's Dietitian
Vol. 25 No. 3 P. 8
Educate clients on the risks and clear up misconceptions.
Q: Energy drinks are popular among my clients. What do I need to know about these drinks, and are they safe for consumption?
A: Caffeinated energy drinks are widely consumed and heavily marketed, especially to adolescents. Up to 80% of athletes, 53% of service members, and 30% of middle and high school students regularly buy them.1 However, many people have misconceptions about the safety of energy drinks. Namely, individuals tend to treat these drinks like regular beverages, underestimating the risk of the stimulants they contain, especially caffeine.
This article reviews these stimulant ingredients and their risks, as well as the FDA's role in regulation and how RDs can appropriately counsel clients.
Stimulants in Energy Drinks
Energy drinks are advertised and used to boost performance and stamina. They contain various nutrients such as B vitamins and herbal ingredients including guarana, taurine, and other additives that can cause serious adverse effects. Some herbal ingredients found in energy drinks have been linked to seizures, gastrointestinal distress, tachycardia, and myocardial infarction.2
"The stimulants found in energy drinks give the illusion of energy, as they increase heart rate, blood pressure, and respiratory rate," says Dana Angelo White, MS, RDN, ATC, a certified athletic trainer and sports dietitian at Quinnipiac University in Hamden, Connecticut. "But unless there are calories to offer, there's no true energy to be found."
The caffeine in energy drinks is another concern. The FDA recommends adults consume no more than 400 mg caffeine per day, the equivalent of roughly three to four cups of regular coffee; most energy drinks provide 100 to 300 mg caffeine per serving.3
When it comes to children, however, the American Academy of Child and Adolescent Psychiatry states that there's no proven safe dose of caffeine. As a result, consumption of caffeine and other stimulants is discouraged for children younger than 12, and it's recommended that children aged 12 to 18 consume no more than 100 mg caffeine per day.4 It's important to remember that energy drinks usually have more than just caffeine, and those added ingredients vary among drinks and in quantity.
Regulation and Safety
In general, the FDA classifies energy drinks as dietary supplements, which don't undergo an approval process for safety and potency. Manufacturers of these energy drinks are responsible for ensuring safety, accurate labeling, and appropriate processing aligned with good manufacturing practices. Dietary supplements, including energy drinks, can be removed from the market only after the FDA proves that adverse events have occurred and are unsafe under the conditions of the labeling.5 However, some companies choose to designate energy products as food (instead of a supplement), which falls under different FDA regulations that must be met.5
White explains that because many consumers don't understand the limited regulation surrounding energy drinks, they may be unaware of the potential for inaccurate labels. This inaccuracy "is a serious concern for those trying to manage intake of caffeine and other stimulants, as well as those on medications where contraindications [with energy drinks] are a concern," she says. Indeed, the scientific community has expressed safety concerns, especially for vulnerable populations, including those younger than 18, pregnant and lactating women, those taking stimulants or other caffeine-based medications, and those with certain cardiovascular or medical conditions.2 In addition, White says competitive athletes who undergo drug testing face "an additional layer of concern, … as large amounts of stimulants and many other ingredients found in energy drinks are classified as banned substances."
Recommendations for Clients
Ultimately, White says, regular consumption of energy drinks "can do much more harm than good." When counseling clients who are interested in consuming energy drinks, ask why the client is choosing energy drinks and explain the difference between energy (as found in calories) and stimulants (which give the illusion of "energy"). RDs also should communicate the potential negative health consequences of consuming stimulants and check the client's medical history for health conditions or medications that may contraindicate energy drink consumption. Athletes who want to consume a particular energy drink also should consult with a sports RD to determine whether any ingredient found in the drink is a banned substance.
— Toby Amidor, MS, RD, CDN, FAND, is founder of Toby Amidor Nutrition (tobyamidornutrition.com) and a Wall Street Journal bestselling author. She's written nine cookbooks, including Diabetes Create Your Plate Meal Prep Cookbook: 100 Delicious Plate Method Recipes and The Family Immunity Cookbook: 101 Easy Recipes to Boost Health. She's also a nutrition expert for FoodNetwork.com and a contributor to U.S. News Eat + Run and other national outlets.
References
1. Terry-McElrath YM, O'Malley PM, Johnston LD. Energy drinks, soft drinks, and substance use among United States secondary school students. J Addict Med. 2014;8(1):6-13.
2. Higgins JP, Babu KM, Deuster PA, Shearer J. Stimulant-containing energy drinks: what you need to know. ACSMs Health Fit J. 2018;22(3):17-21.
3. Pronschinske J. The buzz on energy drinks. Mayo Clinic Health System website. https://www.mayoclinichealthsystem.org/hometown-health/speaking-of-health/the-buzz-on-energy-drinks. Published August 31, 2022.
4. Caffeine and children. American Academy of Child and Adolescent Psychiatry website. https://www.aacap.org/AACAP/Families_and_Youth/Facts_for_Families/FFF-Guide/Caffeine_and_Children-131.aspx. Published July 2020.
5. Generali JA. Energy drinks: food, dietary supplement, or drug? Hosp Pharm. 2013;48(1):5-9.