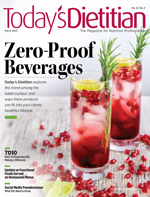 Culinary Corner: Using Up Leftovers
By Rosanne Rust, MS, RDN
Today's Dietitian
Vol. 25 No. 3 P. 66
Encourage zero-waste living with this healthful, creamy banana bread pudding.
Using every morsel of food was instilled in me as a child. I grew up with grandparents who were born in the late 19th century and immigrated to the United States from Italy. I heard stories about my paternal grandmother, who would bake five loaves of fresh bread so she could keep one for the family and sell four. The earnings provided another sack of flour to bake more bread. In my own childhood home, leftover bits always turned into some sort of new dish. Stale bread never went to waste. It often was ground into breadcrumbs for breading chicken or adding to meatballs. Or it was used for French toast or to make bread pudding.
Many cultures around the world have a version of bread pudding. Food historians suggest it originated in the 11th century as a peasant dish. Stale bread was sliced and layered with raisins, butter, and spices. It's suspected that early versions didn't include the eggs and milk to bind the dish. Instead, the bread was simply soaked in scented water (orange rinds or rose petals) for those who didn't have milk or cream. The typical bread pudding recipes of today, however, are based on those developed in the 18th century.1
Bread pudding is indeed a food waste solution. Since bread and bananas commonly are wasted foods, this recipe uses up stale bread and overripe bananas. As a dietitian interested in reducing food waste, I like to mash them into oatmeal or a good banana bread, but when those
ideas fall flat, this banana bread pudding offers another option.
The beauty of this recipe is that clients can use what they have on hand, such as stale whole grain, raisin, or fruit-nut bread. For instance, I enjoy baking Irish soda bread during March for St. Patrick's Day and usually end up with leftovers; when developing this recipe, I used Irish soda bread I baked with dried cherries.
This recipe uses easy-to-find ingredients and comes together quickly. Overripe bananas provide flavor and moisture to the recipe and enable clients to lower the fat content, which typically calls for plenty of butter. Bread pudding can be served for dessert with fresh berries and a dollop of whipped cream or with a dollop of yogurt for a breakfast treat.
— Rosanne Rust, MS, RDN, is a mom of grown sons, author, blogger, and truth-seeker who focuses on helping people set realistic health goals. Words are her jam. To that end, she's published several consumer books, including the second edition of DASH Diet for Dummies and DASH Diet for Two cookbook. You can find her Chew the Facts blog and more at rustnutrition.com.
Reference
1. Interesting facts about bread pudding. Just Fun Facts website. https://justfunfacts.com/interesting-facts-about-bread-pudding/
Zero-Waste Bread Pudding
Ingredients
3 cups stale bread, cubed
3 ripe bananas
3 eggs
1/2 cup milk
1/2 tsp pure vanilla extract
1 tsp ground cinnamon
2 tsp brown or granulated sugar
2 cups fresh berries
Whipped cream (optional)
Directions
1. Spray the bottom and sides of an 8 X 8-inch or 2-quart baking dish with cooking spray. Preheat the oven to 350˚ F.
2. Evenly spread the bread cubes into the prepared baking dish.
3. Place the bananas, eggs, milk, vanilla extract, and cinnamon into a high-speed blender or food processor. Blend until smooth and combined (about 1 to 2 minutes).
4. Pour the banana-egg mixture over the bread cubes. Sprinkle the top with sugar and bake for 45 to 50 minutes, until center is set.
5. Cool slightly and serve (or eat at room temperature). Spoon into serving dishes and top with berries and optional whipped cream.
Nutrient Analysis per serving
Calories: 188; Total fat: 4 g; Sat fat: 1 g; Cholesterol: 76 mg; Sodium: 147 mg; Total carbohydrate: 34 g; Dietary fiber: 4 g; Sugars: 10 g; Protein: 6 g