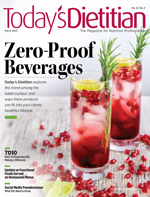 Editor's Spot: Much to Celebrate
By Judith Riddle
Today's Dietitian
Vol. 25 No. 3 P. 6
You've probably heard the proverb, "If March comes in like a lion, it will go out like a lamb." In other words, if we experience stormy weather at the beginning of March, we should encounter good weather at the end of March.
Of course, this folklore about weather isn't what dietitians will focus on this month, as March ushers in a host of observances centered around food, health, and wellness—not to mention daylight saving time and the beginning of spring.
Did you know that March kicks off with National Peanut Butter Lover's Day, followed by World Obesity Day, National Popcorn Lover's Day, National Pack Your Lunch Day, National French Bread Day, National Spinach Day, and World Water Day?
But probably the most important observance is National Nutrition Month®, whose theme this year is "Fuel for the Future." Dietitians will be celebrating it by educating clients, patients, supermarket shoppers, and the masses about healthful eating for individuals, families, and students of all ages.
RDs working in restaurant foodservice also will participate as they continue to push for more healthful appetizers, entrees, sides, and desserts made with fresh, locally grown, minimally processed functional ingredients. Three months ago, my husband and I visited Curaçao, the Dutch Caribbean Island located just 44 miles north off the coast of Venezuela, where we ate at restaurants featuring foods made with an abundance of fruits and vegetables. Some of the appetizers and entrees listed on menus included a crispy goat cheese salad made with bosc pears and radishes; roasted cauliflower steak; rigatoni made with plant-based meat, peppers, onions, tomatoes, and fennel seed; and a farro and grape salad made with arugula, grapes, pistachios, and feta cheese. And the list goes on.
Today's Dietitian (TD) explores the booming trend in functional foods this month in the article "Functional Foods on Restaurant Menus," on page 30. In it, TD gives an overview of what's driving the trend and what functional foods are growing evermore popular on menus. TD also spotlights what some of the well-known restaurant chains are serving customers and provides counseling strategies for RDs.
In honor of National Nutrition Month® and Registered Dietitian Nutritionist Day, TD is showcasing its 14th annual TD10 feature that profiles the most dedicated and deserving dietitians you helped nominate. These RDs are pioneers in the fight against food insecurity, nutrition education and communications, maternal and fetal health, and sustainability.
Also in this issue are articles on zero-proof beverages, immune health in older adults, and social media pseudoscience.
Please enjoy the issue!
— Judith Riddle, Editor
TDeditor@gvpub.com