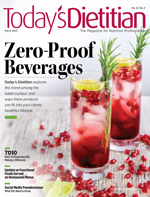 Functional Foods on Restaurant Menus
By Laura M. Ali, MS, RDN, LDN
Today's Dietitian
Vol. 25 No. 3 P. 30
This ever-popular trend is exploding in a wide variety of food categories, and consumers seemingly can't get enough.
From wheatgrass shots in hip California coffee shops to microgreens and sprouts served atop salads and sandwiches at upscale bistros, the trend in functional foods on restaurant menus has been steadily gaining traction since the 1980s. Today, functional foods aren't limited to high-end, trendy eateries. All types of restaurants, large and small, are delving into the functional foods space, giving consumers a wider variety and more healthful options from which to choose.
Consumers are looking for foods that can improve their health, help reduce stress, and promote better digestion, and they're willing to pay more for these foods.1
In this article, Today's Dietitian reviews the latest trends in functional foods served in restaurants, covers the top five functional food categories, discusses how these foods are marketed, and offers counseling strategies for RDs when working with clients.
Overview of What's Trending
Health and nutrition have remained at the top of restaurant trends reports over the last 10 years, according to the National Restaurant Association. While 10 to 20 years ago the focus was on obesity and offering low-calorie and low-fat options, restaurants have shifted priorities. Today, their focus is on ingredients and foods that support health. Specifically, immune-supporting foods and functional ingredients, along with eco-friendly and local sourcing, were among the top trends for restaurants in 2022.2,3
Since health and sustainability were priorities for restaurants in 2022, it's anticipated there will be a slight shift in 2023 to balance nutrition and health with lower-cost comfort foods. For example, on the same menu, customers will see flatbreads, healthful wraps, and vegan breakfast offerings alongside fried chicken sandwiches and loaded fries. There will be more of a focus on menu personalization based on customers' digital and loyalty data, as well as increased use of plant-based ingredients and alternative and natural sweeteners. Consumers also will see more ecofriendly and sustainable options.4,5
Growth of Functional Foods
Revenue from functional foods worldwide grew from $55 billion in 2015 to more than $292 billion in 2021.6,7 And while 13% of consumers report that the availability of healthful menu options (including those made with functional ingredients) is a key driver in choosing a restaurant, millennials are driving this trend.8
The addition of functional ingredients on full-service and quick-service menus over the previous decade include everything from ancient grains (eg, quinoa) and spices (eg, turmeric, ginger) to botanicals (eg, lavender) and basic ingredients (eg, avocados and flaxseeds).9
Chefs acknowledge that functional foods, while trendy, add flavor to their menu offerings and help them add a sense of healthfulness without customers feeling deprived. Chefs view it as "flavor served with a side of health."
The ability to market and advertise these healthful options to customers can be a challenge for restaurants, as many walk a fine line between promoting the functional ingredients and telling customers they're good for them. Generally, restaurants count on customers to know what the health benefits are or at least be curious enough to try them. Most restaurants opt for a gentle nod to health and focus on flavor without making health claims.9
Here are five restaurants that have successfully incorporated functional foods on their menus.
Vitality Bowls Superfood Cafe
Vitality Bowls Superfood Cafe is a nationwide quick-service restaurant that specializes in açaí bowls but also offers smoothies, salads, sandwiches, juices, and soups. The café highlights its proprietary "superfood blend" throughout its menu, and its vision is "to bring health and wellness to every community through fresh, high-quality superfoods."10
A husband-and-wife team whose daughter has severe food allergies founded the restaurant to create a safe place for people who struggle with food allergies. In addition to preparing nutrient-dense foods, they're focused on serving allergy-friendly dishes and ensuring their kitchens are designed to avoid cross-contamination.
Silver Diner
Silver Diner, with locations in Maryland, Virginia, New Jersey, and Washington, D.C., focuses on American diner cuisine with a healthful twist. Its menu offers appetizers, salads and soups, burgers and sandwiches, breakfast and brunch, lunch and dinner, and kids' menu options in a variety of eating patterns, including flexitarian, gluten-free, plant-based, and heart healthy, and in combinations. Customers can order the plant-based Just Egg Breakfast Taco made with Beyond Meat® and Just Egg, the vegan Quinoa Coconut Pancakes, the heart healthy Power Breakfast, the gluten-free Creekstone Meatballs, and the vegan Grilled Cheese Deluxe. Its varied menu focuses on health while offering flavorful old-fashioned diner classics.11
What's more, menu items are highlighted with an icon to tell customers if an item is heart healthy, vegan, plant-based, or gluten-free. There's a special kids' menu with items that are "Kids LiveWell™ Approved" and identified with their own icon. Offerings include low-fat milk, oat milk, fresh fruit, and steamed edamame.
True Food Kitchen
True Food Kitchen, founded by Andrew Weil, MD, follows the philosophy that "better food means better living." With locations across the country, the menus are based on Weil's anti-inflammatory food pyramid.12
The food is fresh and varies by location. They have a wide variety of vegan, vegetarian, and gluten-free dishes, and the menus are centered around fruits and vegetables that are in season and locally grown. The restaurants will customize menu items on request to fit a keto or paleo diet. Menus also include seasonal vegetables, ancient grains, seafood, and grass-fed beef and offer a selection of teas and craft cocktails.12
First Watch
First Watch is a daytime café with locations around the country. Its menu is seasonal and therefore changes in accordance with what's fresh and available throughout the year. The restaurant says its menu includes "ingredients and flavors inspired by the position of the sun." It incorporates trendy, functional ingredients such as beetroot juice, agave nectar, and turmeric alongside quinoa, kale, and homemade veggie burgers. In addition to fresh breakfast and lunch entrées such as Avocado Toast, A.M. Superfoods Bowl, Power Breakfast Quinoa Bowl, and Power Wrap, it has a full juice bar that includes "wellness shots of vitamins B3, C, and D; zinc, echinacea, and elderberry."13
Papa Johns
Papa Johns also has ventured into the functional foods arena and has recently introduced Papa Bowls—a crustless pizza option.14 Knowing that many consumers are avoiding higher carbohydrate offerings, Papa Johns skips the bread and offers all its favorite toppings in a bowl without the crust. The restaurant offers three of its favorite pizza varieties or allows customers to make their own bowls. It also recently started offering a gluten-free pizza crust made from "ancient grains," using sorghum flour, quinoa flour, teff flour, rice starch, amaranth flour, brown rice, and flaxseeds.15
Top 5 Functional Foods on Menus
Like the restaurants mentioned, many more across the country will further expand their functional food offerings to cater to diners looking for culinary experiences and innovative ingredients that promote health. And of the many functional foods making their way onto menus, there are five top categories that seem to be most popular among consumers and on restaurant menus today.
1. Plant-Based Meat
According to market research company Mintel Group, plant-based meats lead the plant-based substitutions market, and 39% of US consumers are actively trying or eating plant-based meats. Flexitarians appear to be driving the trend, as they want more plant-based protein options.16
The Impossible Burger, a highly processed meat alternative, was first introduced in restaurants in 2016. It has since grown in popularity and is appearing on more and more menus.17 What was once seen as a fad is now becoming mainstream, and many chefs believe consumers are choosing plant-based meat alternatives due to a desire for a more healthful lifestyle.18
Many quick-service restaurants also are serving the Impossible Burger. For example, Burger King introduced the Impossible™ Whopper in 2019 and expanded it nationwide in 2022. Chipotle launched plant-based chorizo in 2022 and offers sofritas, a meat-free taco filling made from tofu. For a limited time, KFC offered its KFC Beyond Chicken, and McDonald's offered McPlant™ vegan burgers using Beyond Meat® in early 2022.19
2. Functional Drinks
With a focus on energy drinks, functional beverages have been around for more than 25 years. But the rise of kombucha and other clean drinks is expanding the functional drink category.20
Beverages touted for their nutritional and functional benefits will increase in popularity in 2023, according to Tastewise, a data platform for the food and beverage industry. The primary functional benefit the functional beverage industry is focusing on is brain health and protein, while weight management, fitness, and overall health claims are taking a backseat.21
Antioxidants, green tea, electrolytes, and fiber/prebiotics are the most sought-after ingredients for functional beverages, according to the National Restaurant Association's What's Hot 2023 Culinary Forecast. The report also listed alternative milk (eg, oat, nut, and seed milk) as one of the top three beverage trends.4 Grubhub's trends report for 2022 listed oat milk as the top plant-based milk alternative in 2022, with almond milk right behind it.22
Another popular functional beverage is yerba mate, an herbal tea. Native to South America, the tea contains 80 mg caffeine per 5-oz serving.23,24 The tea contains vitamins, minerals, antioxidants, and phytochemicals, including quercetin, theobromine, and theophylline, which may be linked to several health benefits.24,25 Marketed as "clean energy," consumers are likely to find yerba mate in coffee shops and restaurants on the West coast. But with companies such as Honest Tea launching a series of yerba mate tea flavors, consumers probably will find it on more restaurant menus.21
Other drinks climbing in popularity are beverages infused with cannabidiol (CBD), the nonintoxicating cannabinoid of the Cannabis sativa plant. CBD won't give individuals the "high" they'd get from tetrahydrocannabinolcontaining products, but it's said to have analgesic effects and work with brain neurotransmitters to help improve mood, pain, and sleep.26
As consumers focus on brain health and ways to boost their mood, some may try CBD-infused drinks such as infused coffees and mocktails, CBD water, teas, and kombucha. "CBD-infused drinks offer a nice alternative to alcohol and help people relax," says Janice Newell Bissex, MS, RDN, FAND, a holistic cannabis practitioner, culinary nutritionist, and owner of Jannabis Wellness (Jannabiswellness.com) in Melrose, Massachusetts.
3. Fermented Foods
Fermented foods, first introduced in high-end restaurants, also have been increasing in popularity. From homemade pickles and fermented dips to kombucha drinks and fermented mushroom products, more restaurants are experimenting with fermentation.
Chefs have long understood the effects fermentation has on food preservation and are discovering the flavor, texture, and health benefits fermented foods can add to their dishes.
Technomic's 2023 trends report expects fermented and pickled products to expand into areas beyond vegetables. Chefs will begin experimenting with fermented proteins, herbs, and nuts, and menus will start incorporating more of the fermentation story for their customers.27
Kombucha, a fermented tea, is a testament to the interest in the health benefits of fermentation. According to Kombucha Brewers International, a nonprofit trade association of commercial kombucha brewers, this fermented beverage has seen a 50% growth in sales year after year and is the fastest growing functional beverage category.28 Coffee shops and breweries increasingly are adding kombucha to their menus, and a good indicator of its popularity was when Starbucks added its own line of fermented juices to its menu in 2018.
4. Immune-Supporting Foods
The term "immunity" has been showing up more on fast-casual restaurant menus over the last year, according to research firm Datassential. In fact, fast-casual restaurants have been advertising immune-boosting foods more than others. Before the COVID-19 pandemic, restaurants touted foods with immune-boosting properties, but the pandemic brought the role food plays in supporting immunity to the forefront.29
Foods promoted for boosting immunity often are most seen on juice and smoothie menus. The top ingredients touted for their immune-supporting benefits are ginger, lemon, turmeric, and orange.29 Boysenberry and currants are gaining ground, according to market research and consulting firm Technomic, growing 141.2% and 128.7% from 2020 to 2021, respectively.30
Cocktail menus also are showcasing ingredients to help bolster the immune system, and many of the ingredients have been moving beyond cocktails. The use of herbs and spices and botanicals is increasing in food products as consumers and chefs recognize their potential health benefits and flavor profiles. Tastewise has reported a 97% increased use of botanicals in foods on restaurant menus over the last two years and is also seeing their use expand outside the cocktail and beverage industry.21
5. Fortified and Free-From Foods
Some may argue that the gluten-free trend started the free-from foods market. Suddenly, restaurants around the world are including more free-from foods and foods fortified with nutrients. Some of these foods include omega-3 rich eggs and gluten-free pizza crusts or crustless pizza bowls sold at Papa Johns. Dairy-free milk products, such as oat milk, have seen a 58% sales increase in 2022.29
Considerations for RDs
Many may see the increased variety of functional foods in restaurants as a huge benefit to Americans, but there are a few issues RDs should keep in mind when working with clients.
For consumers with allergies, most restaurants that advertise free-from or allergen-friendly foods also carry disclaimers on their menus. Most restaurants don't have separate kitchens to avoid cross-contamination, so this remains a concern.
Fermented foods, especially those made in restaurants, require operators to follow strict food safety guidelines to prevent foodborne illness. RDs should inform clients who are immunosuppressed to tread carefully when trying these foods, as well as home-brewed kombucha and homemade pickles.
For people who want to follow a more healthful eating pattern, functional foods provide a delicious option that can enhance nutrient intake and improve overall health. Foodservice operators realize the benefits functional foods offer and are increasingly marketing these foods and beverages to their clientele. Whether it's vegan Buddha bowls, CBD-infused drinks, plant-based burgers made with in-house fermented pickles, or food made with immune-boosting ingredients, expect to see more of these items appearing on menus from quick-service, fast food, and fine dining restaurants.
— Laura M. Ali, MS, RDN, LDN, is a culinary nutritionist and freelance writer based in Pittsburgh, Pennsylvania. She specializes in nutrition communications and recipe development and is the author of MIND Diet for Two. Visit her at Lauramali.com.
References
1. Flavors on the rise: next level functional foods. Restaurant Business website. https://www.restaurantbusinessonline.com/flavors-rise-2019/next-level-functional-foods. Published May 2, 2019. Accessed December 12, 2022.
2. Papies EK, Velin H. Healthy dining. Subtle diet reminders at the point of purchase increase low-calorie food choices among both chronic and current dieters. Appetite. 2013;61(1):1-7.
3. National Restaurant Association. What's Hot 2022 Culinary Forecast. https://go.restaurant.org/rs/078-ZLA-461/images/2022_What%27s_Hot_Report.pdf. Accessed December 12, 2022.
4. National Restaurant Association. What's Hot 2023 Culinary Forecast. https://go.restaurant.org/rs/078-ZLA-461/images/Whats-Hot-Culinary-Trends-2023.pdf. Accessed December 12, 2022.
5. Klein D. 22 fast-food trends to watch in 2023. QSR Magazine website. https://www.qsrmagazine.com/content/22-fast-food-trends-watch-2023. Published December 2022. Accessed January 20, 2023.
6. Sloan AE. Top 10 functional food trends. IFT website. https://www.ift.org/news-and-publications/food-technology-magazine/issues/2016/april/features/top-10-functional-food-trends-2016. Published April 16, 2016. Accessed January 20, 2023
7. Sloan AE. Top 10 functional food trends. IFT website. https://www.ift.org/news-and-publications/food-technology-magazine/issues/2022/april/features/top-10-functional-food-trends. Published April 1, 2022. Accessed January 20, 2023
8. Generations most likely to choose a restaurant because it has diet-specific food on the menu in the next few months in the United States as of December 2020. Statista website. https://www.statista.com/statistics/1281532/generations-choosing-restaurants-because-of-diet-us/. Published January 13, 2022. Accessed December 15, 2022.
9. Kunkel L. The functional food trend fueling restaurant menus. FSR Magazine website. https://www.fsrmagazine.com/fsr/menu-innovations/functional-food-trend-fueling-restaurant-menus. Published July 2019. Accessed December 13, 2022.
10. Vitality Bowls Superfood Café website. https://vitalitybowls.com. Accessed December 13, 2022.
11. Silver Diner website. https://www.silverdiner.com/food-philosophy. Accessed December 13, 2022.
12. True Food Kitchen website. https://www.truefoodkitchen.com. Accessed December 13, 2022.
13. First Watch website. https://www.firstwatch.com. Accessed December 15, 2022.
14. Papa Johns unveils its first-ever crustless innovation with new Papa Bowls. Business Wire website. https://www.businesswire.com/news/home/20220808005069/en/Papa-Johns-Unveils-Its-First-Ever-Crustless-Innovation-With-New-Papa-Bowls. Published August 8, 2022. Accessed December 12, 2022.
15. Papa Johns website. https://www.papajohns.com. Accessed December 12, 2022.
16. Emerging trends in the plant-based industry. Mintel website. https://www.mintel.com/emerging-plant-based-trends. Accessed December 15, 2022.
17. af&co. and Carbonate. 2023 hospitality trends report. af&co. website. https://www.afandco.com/whats-trending. Accessed December 15, 2022.
18. Food trends, changes, and challenges. NSF website. https://nsfinternational.widen.net/s/fss72qqxsv/ct_food_trends_insight_ereport 2022. Accessed December 12, 2022.
19. Centoni D. We tried 5 of the most popular plant-based options at fast food chains. The Spruce Eats website. https://www.thespruceeats.com/plant-based-fast-food-options-5221159. Updated January 4, 2023. Accessed December 21, 2022.
20. Avery B. Cleaning up: yerba mate breaks out as natural energy rises. BevNET website. https://www.bevnet.com/news/2021/cleaning-up-yerba-mate-breaks-out-at-natural-energy-rises. Published June 22, 2021. Accessed December 19, 2022.
21. Tastewise. Top flavor & ingredient trends for 2023. https://reports.tastewise.io/hubfs/2023%20Trend%20Report%20%7C%20Press%20Edition.pdf. Accessed December 12, 2022.
22. A new recipe for online ordering success. Grubhub for Restaurants website. https://get.grubhub.com/resources/restaurant-online-ordering-report. Accessed January 21, 2023.
23. Yerba mate: what is it? Flavorman website. https://flavorman.com/yerba-mate-what-is-it. Published July 28, 2021. Accessed December 19, 2022.
24. de Vasconcellos AC, Frazzon J, Zapata Noreña CP. Phenolic compounds present in yerba mate potentially increase human health: a critical review. Plant Foods Hum Nutr. 2022;77(4):495-503.
25. Gawron-Gzella A, Chanaj-Kaczmarek J, Cielecka-Piontek J. Yerba mate — a long but current history. Nutrients. 2021;13(11):3706.
26. Arnold JC, McCartney D, Suraev A, McGregor IS. The safety and efficacy of low oral doses of cannabidiol: an evaluation of the evidence. Clin Transl Sci. 2023;16(1):10-30.
27. What we forsee for 2023. Technomic website. https://www.technomic.com/what-we-foresee-2023. Accessed December 19, 2022.
28. The Kombucha industry. Kombucha Brewers International website. https://kombuchabrewers.org/about-us/history-of-kombucha-brewing. Accessed December 19, 2022.
29. FoodBytes: 2023 food trends report. Datassential website. https://offers.datassential.com/2023-trends?referrer=resource-center. Accessed December 13, 2022.
30. Immunity boosters trend in restaurant menu development. Foodservice equipment & supplies website. https://fesmag.com/topics/trends/20098-immunity-boosters-trend-in-foodservice-spaces. Accessed February 7, 2023.