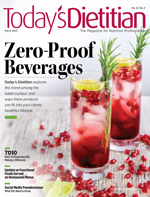 TD10
By Elizabeth S. Goar
Today's Dietitian
Vol. 25 No. 3 P. 24
Today's Dietitian's 14th Annual Showcase of 10 RDs Who Are Making a Difference
As the nation settles into a postpandemic sense of normalcy, it has reflected on significant socioeconomic issues that came to the forefront over the last three years—issues that dietitians have been fighting hard to address. Among the most prominent is food insecurity, which made national headlines at the height of COVID-19 when cars lined up for miles waiting to get food from food banks and school closings removed access to students' daily source of nutritious meals.
Dietitians continue to wage war against hunger by raising awareness, joining national organizations, and working with local communities to increase access to healthful foods. What's more, RDs are providing nutrition education on television and social media platforms and in person to diverse cultures, underserved communities, and supermarket shoppers to help prevent the scourge of chronic disease. Some dietitians are focusing on maternal and fetal health, while others are working hard to help develop sustainable food and water systems for the betterment of the human population and the planet.
These are the remarkable accomplishments of the dietitians you helped nominate for Today's Dietitian's 14th annual showcase of RDs who are making a difference in the nutrition profession. The achievements of all the nominees made selecting the final 10 winners a formidable task. But as always, this challenge gives TD the opportunity to recognize National Nutrition Month® and Registered Dietitian Nutritionist Day.
This year's TD10 features 10 RDs filled with compassion, dedication, and creativity, all of which characterize the profession. You'll be impressed and inspired by their profiles that follow as you continue to do the hard work you do each day to improve the quality of health care across the country and abroad.
Clancy Cash Harrison, MS, RDN, FAND
Founder at Food Dignity® Project in Forty Fort, Pennsylvania
In the field of dietetics, Clancy Cash Harrison is known as one of the heavy-hitters in the fight against food insecurity.
Her misconceptions about the faces of hunger—and the realization that she was part of the problem—when she started volunteering at a food pantry led her into the battle against hidden hunger.
"When I got there, I realized I was wrong. The people we were serving were not … using the system. I saw veterans, elderly, single moms from domestic violence situations, and men in suits looking to go home to their kids with food," she says. "I did a lot of self-reflection on my misconceptions, [and] also realized that they are mainstream."
One of the first things she did was work with the food pantry to offer more than just nonperishable foods. She worked with local farmers to provide fresh fruits, vegetables, dairy products, and eggs.
"Then I started looking at my work doing diabetes management and outreach [and realized] I never asked people if they could afford the food that we wanted them to eat. [This led] to my being a voice for understanding where we project our food philosophy," Harrison says.
Harrison's nonprofit, Food Dignity Project, has grown into a movement supported by organizations nationwide. In addition to establishing food pantries at locations such as rehabilitation centers and domestic violence and homeless shelters, the organization trains others to do the same work in their own communities. Food Dignity Project also offers an online program providing sensitivity training and education around hunger that's available at no cost.
When Harrison shares the misconceptions she held about food insecurity when she was involved in clinical and community outreach, it helps "people make their own connections to the top three [challenges], which are respecting life experiences, understanding barriers, starting from what success looks like for that other person, and adapting the evidence base slowly to them to give them the building blocks to succeed with what's within their means."
Theresa Yosuico Stahl, RDN, LDN, FAND, Certification in Mind-Body Medicine
Nutrition Consultant and Owner of RemindfulEating.com in LaVale, Maryland
Inspired by a group presentation on food councils from the Johns Hopkins Center for a Livable Future that was introducing the Western Maryland Food Council, Theresa Yosuico Stahl jumped at the chance to join the newly formed organization. The Western Maryland Food Council brings together food system stakeholders to advance the health of the three most western counties in Maryland (ie, Washington, Allegany, and Garrett) through diet and nutrition. This led to her appointment to the Maryland Food System Resiliency Council that the legislature formed to address food insecurity exacerbated by the COVID-19 pandemic.
"It's thrilling [work] because everybody is passionate about providing healthful local food across the state to schools and hospitals, supporting farmers and community agriculture, and [identifying] how things have to change to make local food available to all people in the state, including SNAP and WIC participants," she says.
The councils are just Stahl's latest volunteer efforts. She worked with the Maryland Academy of Nutrition and Dietetics to help pass legislation to obtain licensure for RDs in Maryland and was a member of the Washington County Physical Fitness Commission. She also wrote and recorded public service announcements for local TV and radio stations, and spoke to local groups of dietitians.
Her career is just as impressive, including work at a teaching hospital, as an adjunct professor, in private practice in physicians' offices, with WIC, and in behavioral health and substance use. She's also certified in mind-body medicine, and in 2022 she published I'm Full: Remindful Eating Tips to Feel Great and Make Peace With Your Plate.
"Even though I'm 40 years into my career, I'm just as excited and passionate about the opportunities that we have as dietitians to really make changes in our food system," she says. "There's a national awakening of the importance of nutrition, … and together we can improve the food system."
Amy Yiu, RD
Online Nutritionist and Nutrition Educator at Libra Nutrition, CRC Health Centre in Richmond, British Columbia
For Amy Yiu, providing nutrition and diabetes education to diverse cultures has become her passion and purpose in dietetics. The high demand for Yiu's workshops in English, Cantonese, and Mandarin is a testament to the complexity of communicating culturally specific nutrition information to immigrant populations. And it's why she and her team of student volunteers have published more than 500 nutrition-related articles in Asian magazines and Canadian national newspapers and appear frequently on Chinese TV and radio. Yiu also coauthored the cookbook, Dietitians at Home.
"We want to help people, especially immigrants who have a language barrier, try to bridge the [information] gap," she says. "I also do a lot of media work, because I want to translate complicated information into easier-to-understand plain language and to reach more people on different platforms."
Yiu, who was born in Hong Kong and moved to Singapore to study food technology before relocating to Vancouver to realize her passion for nutrition, started her career in a hospital geriatric unit. She left and launched Libra Nutrition after reminding herself that her goal was to help people achieve a more healthful and higher quality of life. She and her team now focus on reaching diverse, multicultural audiences by partnering with community organizations, grocery stores, companies, universities, and health care establishments.
Translating nutrition information is a challenging and time-consuming process that's exacerbated by the numerous dialects, particularly among Asian cultures, Yiu says. This often means information doesn't reach its intended audience, as evidenced by the number of times she hears from her diabetes workshop attendees that they've never been properly educated on how to manage the condition.
"Most of the time, they only know their A1c numbers," she says. "So, it's something I'm happy we can do to make some difference in other people's lives."
Emily Massi, RDN, LDN
Healthy Living Merchandising Manager at Giant Food in Landover, Maryland
When Emily Massi realized her favorite part of her job in the cardiac ICU was when patients asked her questions about how to improve their eating habits at home, she began looking for a role to help people eat more healthfully in their daily lives. The result was a segue into retail dietetics at Giant Food.
"It's the coolest job in the world," she says. "It was exactly what I was looking for in terms of taking the science of nutrition, which can be very complex, and helping customers apply it to their everyday lives."
Massi's role with Giant Food is centered around its business priority of improving health and its sustainability practices. She partners with the merchandising category teams as a nutrition subject matter expert to support health-focused in-store displays and select Guiding Stars–rated products for promotion, as well as more healthful products to be sold instore. She also serves as a liaison between the merchandising, ecommerce, and store operations and marketing teams to establish the Healthy Living program in-store, in the community, and online. Massi also is champion of the Guiding Stars nutrition guidance system and Impact Ratings powered by HowGood, educating internal teams and customers on how to identify the sustainable products that are good for them and the planet.
"We have an incredible opportunity to reach customers on a consistent basis, to become a part of their routine, their lives, and the lives of their families by helping put healthier foods in front of them and helping them navigate all the options they have available to them," she says. "To see the message of health be integrated into a more traditional grocery model is so encouraging. It shows customers that we're there for their health, that we care about them, and that we're going to help them achieve their goals in an attainable and sustainable way."
Barbara Mayfield, MS, RDN, LD, FAND
Founder and President of Nutrition Communicator, LLC in Delphi, Indiana
When Barbara Mayfield retired, she probably didn't realize her important work in dietetics wasn't over—by a longshot.
Retirement opened a new chapter in her stellar career as a nutrition communicator, starting with an invitation from the Academy of Nutrition and Dietetics to write the book Communicating Nutrition: The Authoritative Guide. While serving as editor-in-chief and coauthor, she oversaw 57 RDs who were contributing writers.
Writing the book led to creating an Instagram page called talknutrition4students and managing a team of students who provide informational content for other dietetics classmates.
The book project was the ideal segue from her 16-year career teaching nutrition communications at Purdue University, where she also oversaw two Team Nutrition grants, creating a high school health curriculum and training for childcare programs focused on implementing the 2020–2025 Dietary Guidelines for Americans. Mayfield also founded the Promoting Family Meals Project at Purdue's Center for Families and developed educational resources for Indiana's SNAP–Education and WIC nutrition programs. She's a prolific public speaker whose focus on nutrition education for children transitioned to promoting family meals, which remains her passion today.
"You don't have to give up the best parts of something in order to be fulfilled in something else," Mayfield says. "Each thing [you do] teaches you something that you're able to use in another setting."
While at WIC, Mayfield—whose career started in private practice—was awarded a USDA grant for her innovative approach to teaching children. It featured original songs, puppets, and games, earning her the nickname "the singing dietitian."
"At any given time in my career, the impact that I was having was tremendously rewarding—at WIC, with clients, or when I was [creating] a curriculum revolutionizing how we talked about nutrition to kids," she says. "I [tell] my students that each thing you do opens the door to the next. I wouldn't have done what I did at the end of my career if I hadn't done [certain] things previously."
Olivia Small, RD, CLC
Dietitian at Ohio State Wexner Medical Center in Columbus, Ohio
Colleagues refer to Olivia Small as a pioneer. Driven by her passion for maternal and neonatal health, Small became the first dietitian to work with patients in The Ohio State University's high-risk prenatal clinic where she focused on diabetes, substance abuse, and preterm labor. Seeing a dire need to provide better diet and nutrition education to pregnant women, she developed the university's first prenatal nutrition program where she educates patients with type 1, type 2, and gestational diabetes.
What led Small to specialize in maternal and neonatal health was her work during a rotation with WIC, as part of the Human Nutrition Dietetic Internship at The Ohio State University. Working with the organization fueled her passion for the health of women and children and reinforced how nutrition can impact their wellbeing. Her focus was further refined upon graduation from The Ohio State University, when she started working with pregnant women throughout their first year postpartum, teaching them about breast-feeding and how to properly nourish their newborns. Now, she's on the clinical side of the equation.
"Most of my job now is working with moms who have diabetes in pregnancy. My favorite part is [seeing] just how impactful diet changes can be and seeing patients grab on to my recommendations and make a substantial amount of change in a short amount of time," she says. "They're expected to turn their diet basically upside down. It's a lot of stress, and I love supporting them during this time and seeing them adapt to healthful eating habits to promote better health for themselves, but more importantly for their baby."
Small says she and her team are starting to learn that pregnancy is a unique time that can impact long term health. "Because some of the other, more dangerous, outcomes are on top of a physician's mind, some of the long-term [health issues] get shoved [aside]. I find I can bring them up and hopefully find another motivator for these moms to make some changes."
Jean Ragalie-Carr, RD, FAND
President of the National Dairy Council and Executive Vice President of Dairy Management, Inc in Rosemont, Illinois
Childhood nutrition has put a pep in every step Jean Ragalie-Carr has taken on her career path, starting with her work at the WIC nutrition program, where she saw first-hand the positive impact nutrition has on kids. This revelation ignited a passion in her for school nutrition because "when a child walks through school doors they should have more opportunities for better nutrition and exercise."
As a chair of the Academy of Nutrition and Dietetics Foundation, she focused on connecting agriculture and nutrition education with dietitians and farmers. With the Academy Foundation, she helped initiate the Kids Eat Right campaign to address childhood obesity. She also launched Action for Healthy Kids, a nationwide nonprofit grassroots network that mobilizes school professionals, families, and communities to develop programs that support children's health and make schools healthier places.
Now, as president of the National Dairy Council, Ragalie-Carr works nationally to build partnerships to implement science-based programs around children's nutrition. She's also working globally with the United Nations on sustainable food systems.
The initiatives that have been most impactful for Ragalie-Carr are Action for Healthy Kids and Fuel up to Play 60 in partnership with the NFL and USDA, the largest in-school nutrition and physical activity programs that reach 73,000 schools and 38 million children. Another is the National Dairy Council's partnership with Feeding America, which initially focused on food banks but morphed into something far greater when COVID-19 closed schools and shut off access to the only nutritious meals many children received daily. Feeding America quickly expanded to work with school systems nationwide to help provide nutritious meals for children and families.
"The partnership was a very important platform for working with the schools and getting those families the food they needed," says Ragalie-Carr, adding that "It's all about public health and nutrition, whether it's a pandemic or [educating on] how lifechanging and transformational the right nutrition can be for children as they grow and develop."
Tricia Thompson, MS, RD
Owner of Gluten Free Watchdog in Manchester, Massachusetts
What started in a stack of information in a university library, where Tricia Thompson was researching a diet her doctor had advised her to follow, blossomed into a career dedicated to protecting individuals on gluten-free diets through a combination of advocacy, awareness, and product testing.
"I was very fortunate to learn about testing food for gluten from several top analysts in the gluten detection space," Thompson says. "I was also fortunate to have articles published in the scientific literature on the gluten levels [in foods] such as naturally gluten-free grains and flours due to cross contact, and the strengths and limitations of the various assays used to test food for gluten," she says.
Thompson's desire to help people on a gluten-free diet prompted her to launch Gluten Free Watchdog, an advocacy organization that tests products to determine whether they contain gluten.
"Leading up to the launch of Gluten Free Watchdog, my thinking was that it would be great to provide consumers with access to state-of-the-art gluten testing data."
Thompson listens to and follows up on complaints from people following gluten-free diets and tests products to determine whether they have high levels of gluten. If they do, she follows up with the companies and the FDA to help ensure the products are recalled and/or changed.
Thompson believes her organization is a need the FDA should fill but doesn't do so consistently, so she has taken it upon herself to make sure individuals on gluten-free diets stay safe through testing and publishing data on her findings.
"The greatest impact of Gluten Free Watchdog has been helping to raise awareness, including with the FDA, about the misbranding of gluten-free foods," Thompson says. "Our work has led to many manufacturers making correct labeling changes."
Dawn Pavli, RDN
Dietitian and Program Coordinator of the Diabetes Prevention Program and Kwa Xho Community Garden Projects at Lake County Tribal Health Consortium (LCTHC) in Lakeport, California
A strong desire to serve the underserved and what many call the all-but-forgotten communities has led Dawn Pavli to pursue a career in nutrition. Her community of choice is Native Americans.
Pavli works at LCTHC focusing much of her attention on obesity and diabetes care and prevention, which disproportionately affect Native Americans and people living in poverty.
"I wanted to work with an underserved population and with Native Americans in particular who have been so disproportionately affected by trauma and having their food systems dismantled by our government," she says.
In addition to counseling patients, Pavli works with the LCTHC Public Health Team promoting the Kwo Kha community garden and ensuring access to a strong National Diabetes Prevention Program. She collaborates with the LCTHC Public Health department supporting policies for increasing access to fruits and vegetables and garden classes through the Kwa Xho Community Garden program. She's also developing new strategies for culturally appropriate virtual Diabetes Prevention Program classes and helps organize food delivery for the food insecure.
Since keeping native traditions alive is an important aspect of Pavli's work, she partners with other tribal agencies to bring classes and events to the community, everything from preparing native foods to beekeeping and growing medicinal plants.
"I try to promote people having food sovereignty, whether it's the ability to grow their own food, access their own waterways and water systems, or understanding traditional foods and how to prepare them," she says, adding that "as a non-Native person in a Native space," she realizes that "it's important to have nonwhite nutritionists and dietitians in the field who can help their own people, who can speak to their own cultural practices and their own traditional foods. It's important to hear and help lift those voices."
Matthew Landry, PhD, RDN, FAND
Postdoctoral Fellow at Stanford Prevention Research Center in the School of Medicine at Stanford University in Stanford, California
As a doctoral student at the University of Texas at Austin, learning of the harsh reality of childhood food insecurity grabbed Matthew Landry's attention and compelled him to sound the alarm to make their voices heard. Focusing on childhood hunger also led to his awareness of the large number of food insecure college students who were forced to choose between paying for tuition or food.
"I'm on one of the wealthiest university campuses in the country and food insecurity is still a problem here. It doesn't matter how much tuition is; it's something we see across the country where one in three college students could be food insecure," he says.
Today, Landry works toward the inclusion and advancement of underrepresented groups in epidemiologic and community studies, of minority students in public health and dietetics education, and of minorities, women, and LGBTQ+ people in science and academia. He's immediate past-chair of the Cultures of Gender and Age Member Interest Group of the Academy of Nutrition and Dietetics and serves as the vice chair of the Legislative and Public Policy Committee. He's the 2022 recipient of the California Academy of Nutrition and Dietetics Recognized Young Dietitian of the Year Award and the Obesity Society's Ethan Sims Young Investigator Award.
In addition to his focus on food insecurity, Landry is bringing attention to impostorism among dietetics students, helping them navigate their feelings of being unqualified so they don't negatively impact job performance and "elevate the entire profession."
Landry adds: "I enjoy working with different groups within dietetics to diversify the profession and make it more like the folks we serve out in the community, and empowering dietitians to overcome feelings of impostorism and be the nutrition experts."
— Elizabeth Goar is a freelance health writer based in Benton, Wisconsin.