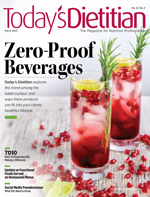 Zero-Proof Beverages: A Booming Trend Among the 'Sober Curious'
By Densie Webb, PhD, RD
Today's Dietitian
Vol. 25 No. 3 P. 18
Learn more about how these products are formulated and ways they can fit into your client's healthful lifestyle.
More than 100 years have passed since Prohibition when the production and sale of alcohol were made illegal for a duration of 13 years by order of the 18th Amendment to the US Constitution. Today, of course, alcohol is legal and free flowing. A recent Gallup Poll reported that 60% of Americans drink some alcohol, a percentage that's down from its highest point of about 71% between 1976 and 1978. Millennials drink less alcohol compared with older generations, also according to Gallup.1 In 2019, only about 2.4% of Millennials in the US consumed alcohol on a daily basis, compared with 23.3% of the Silent Generation (born 1928–1945) drinking alcohol every day.2 This trend of lower alcohol consumption is supported by Nielsen, which found that the growing "sober-curious" trend has been driven in large part by younger drinkers, who have an increased focus on more healthful lifestyles.3 Companies, big and small, have jumped on the alcohol-free bandwagon and are providing an ever-expanding variety of no- and low-alcohol beer, wine, spirits, and cocktails.
According to Ginger Hultin, MS, RD, CSO, a Seattle-based integrative dietitian, owner of Ginger Hultin Nutrition, and author of Anti-inflammatory Diet Meal Prep, "More and more research has come out about the many negatives of drinking alcohol, and I think that especially younger generations are reframing what it means to drink alcohol." The drop in alcohol consumption could be the result or reflection of the growing demand for low-alcohol and alcohol-free beverages. The nonalcoholic drinks market was valued at $820 billion in 2020 and is estimated to reach $2,134.6 billion by 2031, an annual growth rate of 6.8%.4
Celebrities are jumping on the nonalcoholic bandwagon, too. Last year (2022), singer Katy Perry launched De Soi, a nonalcoholic aperitif with natural adaptogens and botanicals. In 2021, actress Blake Lively launched a nonalcoholic drink line, Betty Buzz. Supermodel Bella Hadid partnered with Kin Euphorics, an aperitif-style "mood-boosting spirit" infused with adaptogens and botanicals. Zero-proof pop-ups and brick and mortar bars are showing up across the country, such as Sans Bar in Austin, Texas; Ocean Beach Café in San Francisco; Zero-Proof Sober Bar in Sacramento, California; Bing Bar in Washington, D.C.; Awake in Denver; and Listen Bar in New York City.
Why Zero-Proof?
Holding a nonalcoholic drink at a party, or any social gathering, is a way to feel social and celebratory without the alcohol, Hultin says, and without the downsides of alcohol consumption, including hangovers, sleep disruption, and long-term health effects of consuming too much.
According to Elva Ramirez, author of Zero-Proof: 90 Non-Alcoholic Recipes for Mindful Drinking, "Today, you shouldn't assume that zero-proof consumers have a drinking problem or are pregnant or sick. In the same way that many people who eat vegetarian meals aren't always strictly vegetarian, we're seeing the same thing with cocktails. While some zero-proof consumers might be fully sober, that's not true of the majority of zero-proof consumers."
There are many pressing reasons to opt for zero-proof beverages, including pregnancy, alcohol addiction, improvement in overall health, avoidance of harmful interactions with prescription medications, and medical conditions, such as high blood pressure, liver disease, or alcohol-induced migraines. The National Institutes of Alcohol Abuse and Alcoholism provides an extensive list of medications for which alcohol consumption is contraindicated or dangerous.5 But it's important to remember that consuming low- and no-alcohol products can be a health benefit only if they replace rather than add to existing consumption of alcohol-based drinks.6
Endless Variety
Beverages like "mocktails" and "near beer" were, for a while, the only nonalcoholic alternatives. Mocktails are based on traditional cocktail recipes without the alcohol ingredient. Now, zero-proof drinks have exploded to include a host of new nonalcoholic beverages ranging from aperitifs and botanical-infused drinks to wines, such as pinot noir, and spirits, like gin substitutes created by using the same processes as regular gin, but with the alcohol removed. Nonalcoholic drinks with cannabidiol or hemp as an ingredient also are on the menu. Some of the ingredients, Hultin says, even offer nutrition by way of ingredients such as tart cherry, hibiscus, or cranberry juices, which provide antioxidant compounds. Also added are herbs, such as mint, rosemary, and basil, which have anti-inflammatory properties. But she says some of these new drinks can have added sugars and are high in calories. Premixed cocktails, such as those offered by Curious Elixirs, also are available, but they tend to have more calories than zero-proof spirits or wines.
While nonalcoholic substitutes may come close, they won't match the taste of the real thing. Drinking nonalcoholic bourbon straight out of the bottle is a "recipe for disappointment," according to thezeroproof.com, a website that provides information about alcohol-free products and recipes.7 Just as diet soft drinks imitate but don't duplicate the taste of the original, taste expectations will have to be reset. Most zero-proof spirits are formulated to be used in cocktails, not consumed neat. Be sure to let clients and patients know so they don't cringe at the first sip.
Prices, ingredients, labeled serving sizes, and nutrition information provided on product labels vary greatly. Some brands are available only online. Advise clients to do their own taste tests to find a product that pleases both their palates and their budgets. Also suggest they read labels carefully to check for any possible allergens or contact the company to be sure no allergens are present. Several of the producers are small companies and are responsive to inquiries.
How Are Zero-Proof Spirits Made?
While nonalcoholic spirits and wines are designed to copy, as close as possible, the flavors, aromas, and textures of alcoholic spirits without being too sweet or too bitter, it's not always successful. "Zero-proof drinks can be sweet, but that's not always the case," Ramirez says, "especially as new products arrive in the market that offer complexity, bitterness, and savory qualities that mimic traditional alcohol flavors."
According to thezeroproof.com, nonalcoholic spirits generally fall into two groups: compounds and distillations. A compound is a blend of extracts, sweeteners, juices, and any other flavor additives with water. For body and richness, producers might also use ingredients like glycerin or cellulose gum to mimic the mouthfeel of traditional spirits. Distillations are a more complicated process involving boiling liquids, causing some of the water to evaporate, which concentrates the flavor in the remaining liquid. Distillations can be made entirely without alcohol, or they can be double distilled. First, the spirit maker distills a product with alcohol, like whiskey, then boils the alcohol out in a second round of distillation. However, there are no strict lines between the categories. Some nonalcoholic spirits use both compounding and distillation to achieve their complex flavors, and some distillers will add preservatives or texturizers such as potassium sorbate, sodium benzoate, or xanthan gum after the distillation process. To create nonalcoholic wines, the initial process is the same as with alcoholic wines to keep intact the variety of flavors that comes from the grapes via fermentation. But in the final stages, the alcohol is removed and, according to producers, the wines' complex flavors remain.
While companies' specific production processes are proprietary, Ritual, for example, says it uses a complex blend of "all-natural botanicals" to trick your taste buds and provide the "burn" that alcohol provides. Some contain all organic ingredients, while others use additives such as sulfites.
Many nonalcoholic beverages are calorie-free—some contain as few as 2 kcal per 2 oz—which is so low that it will show on Nutrition Facts panels as zero calories. Others contain as much as 85 kcal per 6-oz serving.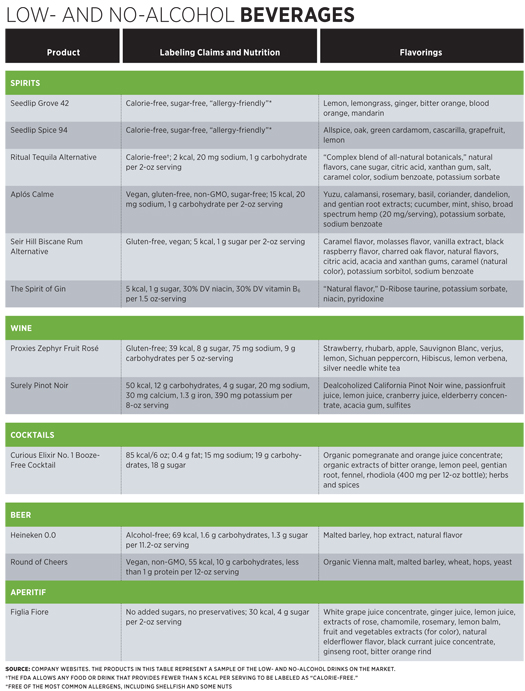 Should Recovering Alcoholics Consume Such Beverages?
Reducing the strength of alcohol in beverages as a strategy to reduce harmful alcohol use has been proposed by institutions such as the World Health Organization and governments worldwide.8 But currently, there are no uniform worldwide definitions for these products and there's some confusion regarding the terminology of "no," "free," "zero," "low," "light," or "reduced" alcohol products.8 In the United States, nonalcoholic beverages should contain no more than 0.5% alcohol by volume, according to the FDA.8 However, the FDA says that "alcohol-free" must have no detectable alcohol.9 For most European countries, the limit for a "no-alcohol beverage" is considered to be 0.5% by volume. Spain, however, has set a maximum limit of 1% by volume for no-alcohol products. In France, alcohol-free beers can contain a maximum of 1.2% by volume. In the United Kingdom, alcohol-free beverages have a maximum of only 0.05% by volume, as well as most of their European Union counterparts. Japan, on the other hand, has set a limit of 1% by volume for "nonalcoholic beverages." If clients and patients in alcohol recovery have international travel plans, knowing these differences in allowed alcohol contents for so-called "alcohol-free" beverages could be critical.
Nevertheless, the general consensus is that consuming nonalcoholic drinks designed to mimic the taste and smell of alcoholic drinks isn't a good choice for those in recovery. A recent study published in Psychopharmacology found that the smell of alcohol can trigger cravings.10 And while zero-proof drinks contain little or no alcohol, they're designed to mimic the real thing and therefore could also trigger cravings. The sensory experience has been dubbed "euphoric recall."11
There are many options for the growing number of people, especially the young, who are drinking less alcohol, sometimes referred to as "sober curious." Advise clients that product labels aren't always clear in terms of ingredients and may just say "botanical blend" or "natural flavors." If a client or patient has known allergies, contacting the company for potential allergens is the wisest step before drinking.
— Densie Webb, PhD, RD, is a freelance writer, editor, and industry consultant based in Austin, Texas.
References
1. Brenan M. US alcohol consumption on low end of recent readings. Gallup website. https://news.gallup.com/poll/353858/alcohol-consumption-low-end-recent-readings.aspx. Published August 19, 2021. Accessed December 15, 2022.
2. Frequency of alcohol consumption across generational cohorts in the United States in 2019. Statista website. https://www.statista.com/statistics/1042485/frequency-alcohol-consumption-us-generational-cohort. Accessed December 15, 2022.
3. Sheffey A, Lalijee J. Insider website. https://www.businessinsider.com/dry-january-sober-curious-taking-break-from-drinking-stress-2021-12. Published January 5, 2022. Accessed December 15, 2022.
4. Vidit G, Roshan D. Non-alcoholic drinks market: 2031. Allied Market Research website. https://www.alliedmarketresearch.com/non-alcoholic-drinks-market. Accessed December 16, 2022.
5. Mixing alcohol with medicines. National Institute on Alcohol Abuse and Alcoholism website. https://www.niaaa.nih.gov/publications/brochures-and-fact-sheets/harmful-interactions-mixing-alcohol-with-medicines. Accessed December 20, 2022.
6. Anderson P, Kokle Dasa, Llopis EJ. Production, consumption, and potential public health impact of low-and no-alcohol products: results of a scoping review. Nutrients. 2021;13:3153.
7. The Zero Proof website. https://thezeroproof.com. Accessed December 17, 2022.
8. Okaru A, Lachenmeier D. Defining no and low (NoLo) alcohol products. Nutrients. 2022;14:3873.
9. Dealcoholized wine and malt beverages — labeling. Food and Drug Administration website. https://www.fda.gov/regulatory-information/search-fda-guidance-documents/cpg-sec-510400-dealcoholized-wine-and-malt-beverages-labeling. Published November 2005. Accessed December 19, 2022.
10. Monk RL, Qureshi A, Wernham G, Helm D. Does the smell of alcohol make it harder to resist? The impact of olfactory cues on inhibitory control and attentional bias. Psychopharmacology. 2022;239:2109-2118.
11. Is non-alcoholic beer safe for recovering alcoholics? Resurgence Behavioral Health website. https://resurgencebehavioralhealth.com/blog/is-non-alcoholic-beer-safe-for-recovering-addicts. Published July 11, 2022. Accessed December 18, 2022.
MOCKTAIL RECIPES
Pomegranate Ginger Mocktail
Serves 4
Ingredients
1 cup pomegranate juice
1 tsp agave syrup (or to taste)
1 tsp freshly ground ginger root
3 cups sparkling water, plain
1/2 pomegranate, seeded, for garnish
Directions
1. Place the juice, agave syrup, and ginger in a shaker over ice. Shake hard for 30 seconds, then pour into a large pitcher, add the sparkling water. Stir.
2. Serve in a martini glass. Garnish with pomegranate arils.
Nutrient Analysis per serving
Calories: 70; Total fat: 1 g; Sat fat: 0 g; Cholesterol: 0 mg; Sodium: 7 mg; Carbohydrate: 17 g; Dietary fiber: 1.5 g; Protein: 1 g
Source: Recipe and photo courtesy of Ginger Hultin, MS, RDN, CSO
ZERO-PROOF COCKTAIL
Virgin Moscow Mule
Serves 1
Ingredients
Ice as needed
1 T fresh lime juice
1 oz water
3 oz nonalcoholic beer
2 oz ginger ale
Directions
1. Fill a copper mug or tall glass with ice.
2. Add the lime juice and water.
3. Top with the nonalcoholic beer and ginger ale.
Nutrient Analysis per serving
Calories: 64; Total Fat: 0 g; Sat fat: 0 g; Sodium: 18 mg; Carbohydrate: 15 g; Dietary fiber: 0 g; Protein: 0 g
Source: Recipe used with permission from www.thezeroproof.com.