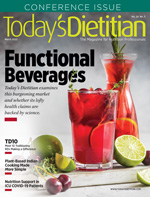 March 2022 Issue
Editor's Spot: Embracing Diversity
By Judith Riddle
Today's Dietitian
Vol. 24, No. 3, P. 6
Since the summer of 2020, Today's Dietitian (TD) has upped its coverage of the increasing push among RDs for greater diversity in dietetics. Dietitians from various races, nationalities, and ethnicities have been speaking out more about the lack of diversity and are working together to develop strategies to further integrate the profession.
RDs are taking steps to recruit dietetics students of color so many more will enter the profession. Dietitians are progressively vying for greater cultural competence and cultural humility to improve nutrition counseling in BIPOC (Black, Indigenous and People of Color) communities. They continue to raise cultural awareness in their states and nationally through various dietetics organizations to which they belong, and they're educating colleagues via webinars, podcasts, social media, and conference presentations so they can better serve Black and brown populations.
An important part of this movement includes dietitians who are intentionally learning about the various traditional foodways of different cultures and their historical context so they can recommend healthful foods, dietary patterns, and meal plans in accordance with their clients' cultural and taste preferences—all while improving patient adherence and preventing or managing chronic disease. TD has covered these issues in the articles "West Indian Plant Foods" in our October 2021 issue, "Holiday Foods From Around the World" in our November/December 2021 issue, and "Master the Art of Indian Cooking" in this month's issue on page 26.
In keeping with this movement, the Academy of Nutrition and Dietetics is kicking off National Nutrition Month® 2022 with the theme "Celebrate a World of Flavors" "to embrace global cultures, cuisines, and inclusion," according to its website eatright.org. Dietitians will spread the word that eating foods from various cultures is a tasty way to learn about different countries and traditions and "appreciate our diversity." RDs will hand out promotional materials and participate in community events and activities, as well as cooking demos in schools, workplaces, grocery stores, and more.
In honor of National Nutrition Month® and Registered Dietitian Nutritionist Day, TD is publishing its 13th annual TD10 feature on page 40, which includes profiles of the top 10 RDs you helped nominate for the incredible work they do each day in dietetics. We hope you enjoy reading their inspiring stories and the other articles on functional beverages, MNT in critically ill COVID-19 patients, and reducing food waste.
Please enjoy the issue!
— Judith Riddle, Editor
TDeditor@gvpub.com