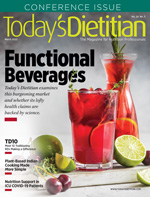 March 2022 Issue
Focus on Fitness: Home-Based Cycling
By Kelly Jones, MS, RD, CSSD, LDN
Today's Dietitian
Vol. 24, No. 3, P. 54
Before the pandemic and Peloton came onto the scene, in-studio cycling—also known as spinning—had long been all the rage. In 1994, Rolling Stone named it the "hot exercise" of the year. Since then, research has confirmed that the health benefits match the hype. It's well established that indoor cycling can improve aerobic capacity, blood pressure, lipid profiles, and body composition.1,2
Today, a mix of pandemic constraints and a desire for convenience has moved indoor cycling into America's homes, and, as such, at-home cycling options are booming. Understanding what's on the market and the advantages and disadvantages of at-home cycling can help RDs better counsel clients seeking these workouts and devices.
What's Driving the Trend?
Virtual fitness training has become increasingly popular, rated as one of the top 20 worldwide fitness trends for 2021.3 While fear of contracting COVID-19 may have been the initial reason people purchased at-home cycling equipment or subscribed to online fitness classes in their homes, gym and fitness studio closures also likely contributed to the trend. According to data from IHRSA, the trade association serving the global health club and fitness industry, more than 1 in 5 gyms or health clubs had closed by June 2021 due to the pandemic.4
In addition to safety concerns and fitness studio closures, people began working from home, and this continues to be a long-term reality for many. Those living in cities no longer walk as part of their daily commute, and individuals who usually stopped for a quick workout on their way home from work no longer find the gym convenient. Therefore, creating a dedicated exercise space at home became key to fit in exercise while juggling busy or unpredictable schedules.5
Regardless of how or to what extent routines have changed, the pandemic gave most people a taste of at-home fitness, and many decided not to return to fitness facilities when they reopened. Aubrey Redd, MS, RDN, LDN, owner of Aubrey Redd Nutrition, who offers nutrition counseling and services to individuals and organizations throughout Pennsylvania, started at-home cycling in 2020. "I don't work from home but like the flexibility of being able to attend a workout whenever I want." she says.
Advantages of At-Home Cycling
One of the major benefits of at-home cycling classes is the combination of flexibility and guidance. Ellie Meyers, MS, RD, CPT, New Jersey–based owner of Ellie Meyers Nutrition, says "the class availability allows individuals to exercise more often, which may help them achieve goals more quickly. It also may help those who don't know what to do at the gym on their own."
Research supports the benefits of the varied structure of indoor cycling classes, even at home. Indoor cycling classes combine aerobic, interval, and mixed-intensity training, attributes that can promote exercise adherence and enjoyability when instructors take advantage of these approaches.6
Instructors in these programs also are known to build a sense of community while motivating students, with some achieving celebrity status. For example, Cody Rigsby, a Peloton instructor, appeared on Dancing with the Stars alongside famous actors, Olympians, and professional basketball players. During a time when people have felt socially isolated, cycling with a virtual group at home helped increase connectedness, a sense of belonging, and maintain engagement with an exercise program.7
However, online recorded classes have a strong following, too. Ease of scheduling frequently is cited as a benefit of such classes. Sarah Schlichter, MPH, RDN, owner of Bucket List Tummy, based in Frederick, Maryland, says, "I struggle with committing to certain timed classes at exercise studios and need to remain flexible." Compared with a gym or studio setting, exercisers can create their own experience by choosing classes that fit their schedule, desired intensity, and music preferences. Redd says, "I'm able to work at my own pace, where I often felt as though I needed to follow more of a group pace in person." She also notes benefits for those who work nontraditional hours and "likely aren't able to get to exercise classes that cater to those working a 9-to-5."
Parents in particular may appreciate the convenience and the options available. Kristen Gallagher, a mom of two in Long Island, New York, says she's thrilled to see prenatal and postnatal content to help her ease back into exercise and heal her core while home with her kids. The same is true for Schlichter, who says, "I am still working from home and parenting and love the convenience of being able to hop on the bike or use weights and participate in a vigorous training session on my own time."
Finally, if you think these programs are only for the younger generations, think again. Cathy Shaw, RD, CSOWM, a clinical dietitian in Fairmont, West Virginia, whose kids are grown and out of the home, says, "As I've gotten older, I have learned to appreciate easy access to solo workouts that help maintain my fitness level and reduce my stress."
Considerations
However, despite these benefits, at-home cycling may not be the best fit for all those wanting to exercise. Studies suggest that those who aren't already active may struggle with the intrinsic motivation required to initiate exercise when surrounded by the comforts (and potential distractions) of home. One study of parents of adolescents found that those who had a higher activity level at baseline scored higher for intrinsic motivation and were more likely to continue using an at-home gamified stationary bike.8 Thus, those with lower intrinsic motivation to exercise or who don't enjoy indoor cycling may not be the best candidates for home cycling programs.
Options on the Market
RDs don't have to subscribe to home cycling programs themselves to make recommendations or help clients and patients explore their options. The review of the following programs can guide your clients to a home cycling platform that meets their needs.
Peloton
The first popular at-home subscription, Peloton touts an expensive bike and cycling classes and now offers a connected treadmill with access to running classes. However, clients can purchase a Peloton app subscription for other types of classes that don't require Peloton's equipment, such as strength training, Pilates, yoga, and meditation—available both live and recorded.
Costs: Bikes start at $1,495 and treadmills at $2,495. Membership is $39.99 per month and app access is $12.95 per month.
Echelon
Echelon is similar to Peloton in its offerings, but the equipment is less expensive, and Echelon claims to offer more variety in daily live classes. In addition to connected stationary bikes and "smart" treadmills, the company offers rowing machines and an interactive fitness mirror to cater to other preferences. There's a membership option for users who want to take classes without using Echelon's equipment, though at a lower price than Peloton.
Costs: Bikes start at $899, rowers at $999, treadmills at $1,299, and mirrors at $749. Membership is $34.99 per month, and access to classes without equipment is $11.99 per month.
Studio Sweat on Demand
This service offers only coaching and classes, so clients can use any home fitness equipment they like, including stationary bikes. Shaw recommends Studio Sweat on Demand to clients interested in at-home cycling as a less expensive option. There are plenty of class options, too, for those who don't have the money or space for a bike or treadmill, including jump rope and kettlebell classes.
Cost: $15 to $20 per month, with options to purchase workouts on a class-by-class basis.
Zwift
Setting itself apart, Zwift is targeted toward dedicated cyclists, runners, and triathletes. Individuals can turn their own outdoor bikes into stationary bikes by mounting them on an indoor cycling conversion stand (ie, a trainer) or purchase smart bikes meant solely for indoor use from Zwift. However, users don't need to purchase the company's trainers. Rather than seeing an instructor for a live class, the app provides a virtual world delivered via a mounted screen, from which users can enjoy an "outdoor" bike ride or run in their chosen setting.
Costs: Zwift's cycling trainers start at $499.99; membership is $14.99 per month.
Rouvy
Meant for those who enjoy outdoor cycling, Rouvy brings clients on real routes around the world, simulated on a mounted screen. Users can train for fun or race against others during events on the calendar, including a racing series with professional cyclists.
Cost: $12 per month.
NordicTrack iFIT
NordicTrack offers connected at-home fitness equipment, including several models of stationary bikes, treadmills, elliptical machines, rowers, and strength training systems. The company's iFIT app is a platform through which users can engage in interactive personal training on its NordicTrack equipment, or access other fitness classes such as yoga. Equipment including elliptical trainers and recumbent bikes enable clients who need lower-impact options to participate, too.
Costs: Cardio machines run from $1,199 to $3,999. An individual monthly membership is $15, and $39 for a family.
— Kelly Jones, MS, RD, CSSD, LDN, is a board-certified specialist in sports dietetics and a media and nutrition communications expert who's regularly featured in broadcast, print, and digital media. Through her private practice, Student Athlete Nutrition, she works with athletes at every level in individual and group settings with a mission to make accurate performance nutrition information and practical applications accessible to all high school and collegiate athletes.

References
1. Chavarrias M, Carlos-Vivas J, Collado-Mateo D, Pérez-Gómez J. Health benefits of indoor cycling: a systematic review. Medicina (Kaunas). 2019;55(8):452.
2. Nordengen S, Andersen LB, Solbraa AK, Riiser A. Cycling and cardiovascular disease risk factors including body composition, blood lipids and cardiorespiratory fitness analysed as continuous variables: Part 2-systematic review with meta-analysis. Br J Sports Med. 2019;53(14):879-885.
3. McIlroy B, Passfield L, Holmberg HC, Sperlich B. Virtual training of endurance cycling — a summary of strengths, weaknesses, opportunities and threats. Front Sports Act Living. 2021;3:631101.
4. Fernandez KA. How many gyms survived the devastation that was 2020? IHRSA website. https://www.ihrsa.org/improve-your-club/industry-news/how-many-gyms-survived-the-devastation-that-was-2020/. Published August 5, 2021.
5. Nyenhuis SM, Greiwe J, Zeiger JS, Nanda A, Cooke A. Exercise and fitness in the age of social distancing during the COVID-19 pandemic. J Allergy Clin Immunol Pract. 2020;8(7):2152-2155.
6. Cortis C, Fusco A, Cook M, et al. Indoor cycling energy expenditure: does sequence matter? Int J Environ Res Public Health. 2021;18(3):870.
7. Grigorovici D. Persuasive effects of presence in immersive virtual environments. In: Riva G, Davide F, Ijsselsteign WA, eds. Being There: Concepts, Effects and Measurements of User Presence in Synthetic Environments. Amsterdam, Netherlands: IOS Press; 2003.
8. Rhodes RE, Beauchamp MR, Blanchard CM, Bredin SSD, Warburton DER, Maddison R. Use of in-home stationary cycling equipment among parents in a family-based randomized trial intervention. J Sci Med Sport. 2018;21(10):1050-1056.