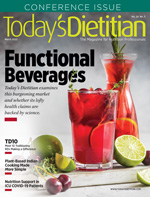 March 2022 Issue
TD10
By Elizabeth S. Goar
Today's Dietitian
Vol. 24, No. 3, P. 40
Today's Dietitian's 13th Annual Showcase of 10 RDs Who Are Making a Difference
As the COVID-19 pandemic rolled into its second year and now into its third, it has brought with it a new set of unprecedented challenges—both personal and professional—for dietitians throughout the profession. It also has showcased the amazing creativity, perseverance, and innovation embodied by these talented health care professionals who continue to rise above extraordinary obstacles, whether they're in clinical, retail, educational, or entrepreneurial environments.
The incredible accomplishments of the colleagues you nominated for Today's Dietitian's 13th annual showcase of RDs who are making a difference were so inspiring that it made whittling down the list to the final 10 an exceptionally formidable task. Yet, as always, this challenge presents another opportunity to recognize National Nutrition Month® and Registered Dietitian Nutritionist Day. Flexibility, compassion, determination, and dedication were common themes among this year's nominees that exemplified their character, which ultimately opened doors to an unlimited number of career opportunities on full display.
As noted by Giant Food Healthy Living Manager Mandy Katz, MS, RD, LDN, CSP, CLC, the opportunities in dietetics are "so vast that there really isn't a pigeonhole for this career. Whatever it is you want to do, you can do it. Whatever your passion is as it relates to food, there's an aspect of nutrition that you can go into, whether it's marketing, social media, writing, education, or clinical."
We're confident you'll be amazed by the stellar accomplishments of this year's TD10 and hopefully inspired by the unique approach they each have taken to the profession.
Lena D. Beal, MS, RDN, LD
Therapeutic Dietitian at Piedmont Healthcare in Atlanta
When it comes to what the nutrition field needs most, Lena Beal is emphatic in her response: advocacy.
"Dietitians are often invisible, and we tend to be reactionary," she says. "That's why we must be our own advocates—so we can raise the profile of what we do and [stop waiting] for our voice to be valued."
It's not just talk for Beal. She spent more than six years as state legislative chair for Georgia, raising the profile of the Annual Legislative Breakfast and Dietitian Day at the Capitol and drafting then facilitating the governor's signing of the first state Dietitian Day Proclamation. She's active in the Academy of Nutrition and Dietetics (the Academy) and the Women's Leadership Alliance, lectures at conferences and corporations and for dietetic internship programs, speaks to transplant support and community groups, and serves as a preceptor for up-and-coming dietitians.
Beal, who's Lean Six Sigma certified, has been the dietitian for Piedmont's LVAD/heart transplant program since it began in 2010, managing nutrition operations for inpatient and outpatient LVAD/transplant, heart failure, and cardiac rehab care. (LVAD stands for left ventricular assist device, an implantable mechanical device that helps the heart pump blood in those with heart failure.) As part of this newly created role, she implemented standardized assessment methods to improve the continuity of care. Beal also established initiatives including malnutrition screening—which led to published research on the effects of early malnutrition screening in the transplant population—and collaborated with nursing to address persistent wound care issues with an early detection method that automates nutrition consults. Finally, Beal is one of Piedmont's heart health media experts, highlighting the profession and good nutrition as key to healthful living.
"It takes a lot of tenacity to do this job at a high level," Beal says, emphasizing the importance of "pushing the envelope to raise the profile and create a lane where there isn't one. That's why we advocate—because we don't want to be pushed to the side."
Mascha Davis, MPH, RD
Owner of Nomadista Nutrition and Founder of Mini Fish in Los Angeles
When 7-year-old Mascha Davis and her family arrived in the United States as political refugees from Ukraine, it was the first step on a path that took her and her degrees in nutritional sciences and dietetics and public health around the world, providing aid in countries devastated by famine, then back home to shake up the prepackaged seafood industry.
She first went to Geneva, Switzerland, with Duke University's Global Policy and Governance Program and then to Africa to work on the treatment and prevention of severe acute malnutrition.
"It was an incredible experience," Davis says. "Then I came back to LA, pivoted, and launched my practice."
Her company, Nomadista Nutrition, provides personalized nutrition services, incorporating nutrigenomics as well as corporate wellness services. She also serves as a brand ambassador and influencer for companies such as Whole Earth Sweetener and Koia drinks and shakes, and is a former spokesperson for the Academy. Davis, whose book Eat Your Vitamins was published in 2020 by Simon & Schuster, also writes and speaks about the latest evidence-based nutrition topics at state, national, and international conferences.
"I've always been passionate about … spreading science-based, validated information about health and nutrition to clear up some of the prevalent nutrition myths," she says.
She also has spent the last three years working on her food start-up company, Mini Fish, and has developed a fish product by that name. It was born out of the realization that most Americans fail to meet fish and seafood intake recommendations, in part because "there's been almost no innovation in the space for decades," she says, adding that her company is her means of furthering aquaculture and sustainable seafood education.
Made from steelhead trout, pumpkin seeds, and anti-inflammatory ingredients such as turmeric and paprika, in a citrus marinade, Mini Fish is now available online at minifish.co, on Amazon, and in several artisanal boutique stores around the country. "This is an exciting, ever-evolving field," Davis says of dietetics. "I've had the fortune to pursue a number of different paths within nutrition, and all of them have been incredible."
Lisa Griffin, RD, LD
Child Nutrition Director at Union Public Schools in Tulsa, Oklahoma
Locally sourced meats and organic produce. Year-round fresh vegetables from a local aquaponics farm. Vegan and vegetarian meals. With Lisa Griffin as child nutrition director, students and staff at Union Public Schools have come to expect the delightfully unexpected.
"We want meals to be healthful, but we don't emphasize that because that's not what makes kids want to eat," Griffin says. That's why "I try to stay on top of what's going on in the food world."
For example, Union was one of the first school districts in the nation to add Impossible Beef, a plant-based meat product, to the menu. The district also received a $100,000 USDA Farm to School grant to increase the number of farms it purchases from, and to expand its Career Connect program to strengthen students' connection to agriculture with learning and work opportunities.
"It's a wonderful partnership and cooperation with the farmers," Griffin says.
Creativity was essential when the pandemic forced an overnight transition to prepared meal delivery or pickup. Griffin was the driving force, coordinating staff, schedules, purchasing, and budgeting that enabled Union to serve more than 2.3 million meals—most made from scratch—and package more than 6.5 million individual food items between March 2020 and January 2021.
Griffin also created fun nutrition education videos that teachers used in the classroom and virtually to teach students. She also produced Food Mood Connection, a video series that explores how food impacts emotional and social learning.
"We have a lot of kids now, especially with COVID-19, who have emotional issues, so we're tying [nutrition] into what the school is doing" around social and emotional [education], Griffin says. "Kids are paying attention; they want to have control over their emotions. We're trying to help the teachers as they teach [students] these other [emotional and social] skills, and that's really cool," she adds.
Michelle Jaelin, RD
Founder and Creative Director of Nutrition Artist Communications & Consulting in Hamilton, Ontario
When Michelle Jaelin set out on her dietetics journey, she knew she wouldn't find her niche in the clinical world. She wanted—needed—a career that married her love for nutrition with her creative arts talent and entrepreneurial spirit. And she wanted to help people from all walks of life learn how to be healthy without giving up the foods inextricably linked to their culture.
"My talent lies with nutrition communication—making the science of nutrition understandable for everyday people who just want to be healthier and do what's best for themselves and their families," she says.
Jaelin parlayed those passions, along with degrees in nutrition and food and visual arts, into the launch of NutritionArtist.com, a food media brand that creates content about Asian
cuisine and provides evidence-based nutrition information for TV and digital media. In addition to being an established social media content creator, she offers services as a TV and media dietitian, recipe developer, brand ambassador, writer, and nutrition consultant and communicator.
Lately, however, Jaelin has found herself in the role of debunker of poor science and champion of inclusivity. "Let's face it," she says, "the nutrition world is saturated with a lot of really bad information and misinformation."
She's passionate about using her platform to combat colonialist nutrition practices and push for inclusivity. Jaelin has launched a TikTok series on decolonizing nutrition, antiracism in nutrition, and appreciating food cultures. She also leverages her unique perspective to ensure nutrition information is applicable to diverse cultures. For example, she's working with the Whole30 diet program to get MSG removed from its "off-limit additives" list.
"A lot of nutrition information we put out there isn't the most inclusive, not just to my [Chinese] culture but to other cultures as well. It's very much based in Western science and … not always translatable [or] culturally appropriate," she says. "When I started making content about it, I realized there was a huge audience [for making] nutrition more culturally inclusive."
Mandy Katz, MS, RD, LDN, CSP, CLC
Manager of Healthy Living at Giant Food in Landover, Maryland
Channeling the growing influence of social media, collaborating with instore operations, and sitting down with reporters. It's all in a day's work for Mandy Katz, who thrives on the fast pace and variety that embodies her role as a retail dietitian at Giant Food.
"I'm someone who loves having variety in my day, and retail dietetics allows that. It's been an amazing adventure, and our team has grown so much along with the things that we do," she says. "When I started at Giant five years ago, it was a very different type of job than it is today. That's the beauty of retail dietetics; it evolves. It's food. It's groceries. It's where people go every day, and we have to keep up with what's important to our shoppers and community."
Katz, whose background includes inpatient pediatrics, marketing, and public relations, is a social media and communications aficionado. She oversees nutrition content for Giant's extensive portfolio of communication channels, including online classes, in-store radio, mail and e-mail, e-commerce landing pages, Savory magazine, on-demand video, and social media. She also manages the nutritionist shopper marketing program, collaborates with in-store operations and merchandising and community relations teams, serves as Giant's spokesperson, and leads media training for the 10-person Healthy Living team.
Hosting the Healthy Living by Giant podcast (formerly Nutrition Made Easy!) is one of the roles Katz finds most meaningful for the opportunity it provides to share the stories behind the food and products customers find in stores.
"Transparency is so important for people, whether it's the content of their food or the people who are growing it. Being able to do the podcast [lets me] share those stories that people have never heard before about their food," she says, adding that introducing shoppers to the local farmers and producers helps them "connect to the foods they're eating and take pride in purchasing something local."
Jeanine Regan, MS, RDN, LDN
Registered Dietitian at Carolina SeniorCare (PACE) in Lexington, North Carolina
The creativity that goes into Jeanine Regan's work with Carolina SeniorCare may surprise many. Part of PACE (Program of All-Inclusive Care for the Elderly), Carolina SeniorCare is focused on keeping seniors in their homes—a path Regan wouldn't have taken without an internship rotation that opened her eyes to opportunities outside the hospital.
She found education and counseling to be highly rewarding, "especially when our participants are successful," she says. "It's really motivating."
One of Regan's accomplishments—development of a food insecurity assessment tool—became part of Carolina SeniorCare's pandemic response. It's a brief questionnaire that's completed on paper then entered into the EMR with the nutrition assessment documentation to identify at-risk seniors, who are then provided with frozen meals delivered to their homes weekly. These meals are made from leftover food Carolina SeniorCare serves for lunch. Regan also coordinates with social workers to connect participants with appropriate community food and transportation resources because "with the elderly, it's not always about not having adequate funds. Sometimes it's just getting to the grocery store."
Other programs Regan spearheaded include a morbid obesity weight loss project she coimplemented with the program's medical director and interactive food demonstrations on preparing simple, healthful meals on the stovetop or in the microwave. She also works with the facility dentist to help identify participants in need of dental care and designs mechanically altered meals that meet participants nutrient needs while they're experiencing oral pain, chewing and swallowing difficulties, and other issues. Finally, Regan developed a food safety education program that boosted Carolina SeniorCare's Health Department sanitation score.
Knowing the impact an internship can have on an RD's career path, Regan encourages students to network, volunteer, and job shadow, all of which "give you an outlook on what it's like to be working in a real-life scenario," she says.
Susie Roberts, MS, RDN, LD
Clinical Dietitian at Knoxville Hospital & Clinics in Knoxville, Iowa
Employee benefits and health insurance usually aren't typical career starting points for dietitians. But Susie Roberts didn't realize her passion for nutrition in the typical way. In fact, it was a study she conducted as the final requirement of her MBA program that opened her eyes to the influential role nutrition plays in prevention and cost containment.
"We worked with a dietitian, and I literally saw her make a difference in people's lives," she remembers.
Nineteen years later, Roberts earned her nutrition degree and began her third career at a startup wellness company. When the company's financial instability derailed that opportunity, she launched a private practice. Soon thereafter, Knoxville Hospitals & Clinics (KHC) hired her as a contractor to mentor its nutrition services director and overhaul its outpatient nutrition services.
"I knew I could make a difference with my insurance background and business experience," says Roberts, who also volunteers as the Consumer Protection Liaison for the Iowa Academy, which named her its 2021 Emerging Dietetics Leader.
With one-third of Iowa adults either having diabetes or prediabetes, it was crucial for Roberts to retool KHC's diabetes education program to standardize operations and reestablish provider confidence that its patients would benefit from participating. Roberts also introduced a weight management program, knowing that both obesity and diabetes services typically are covered by health insurance.
By leveraging her insurance acumen, Roberts has raised KHC's reimbursement level for dietitian consults from 60% to over 90%. She's also creating a cash-based education/counseling service for uninsured patients and those whose plans don't cover nutrition, "because one of the most important things a person can do to protect their health is to consume a healthful, balanced diet," Roberts says.
"Our goal," she adds, "is to make nutrition simple."
Christie Titmuss, RD
Vice President of Clinical Operations at Healthcare Services Group in Bensalem, Pennsylvania
The passion that infuses Christie Titmuss's leadership style grew over many years as she served in almost every role possible for a long term care dietitian. Titmuss's passion has culminated in her current position as vice president of clinical operations for Healthcare Services Group, leading her to endorse the idea that RDs are far more than nutrition experts.
"RDs provide so much more than clinical expertise in this setting," she says. "We [support] kitchen operations, ensuring dietary … kitchen and sanitation compliance. We are educators. We are business minded [and] sales minded. We are results-driven problem solvers [who] roll up our sleeves and find a way to meet the expectations of all those we service."
Indeed, when the pandemic turned the world upside down, Titmuss leveraged that belief and all the experience she'd gained throughout her 25-year career to ensure operations ran as normally as possible. She identified new recruiting methods and marketing techniques by promoting an RD to focus solely on staffing for the clinical division and creating an e-mail chain of past applicants to alert them to open positions. She also developed new approaches to employee engagement by establishing the Going Above and Beyond bonus program.
Titmuss pushed to provide services in prepandemic fashion whenever possible while adhering to COVID-19 guidelines. Doing so ensured nutrition concerns were addressed, dining operations stayed in compliance, and client satisfaction remained high. The result was positive dietary outcomes despite the unprecedented disruption.
"It took teamwork, communication, and a lot of flexibility," Titmuss says.
However, despite her best efforts, maintaining fully normal operations wasn't possible. Centers for Disease Control and Prevention guidelines and client policies evolved rapidly. And ensuring residents were cared for in the safest way meant adopting new practices such as remote charting.
But Titmuss says her team rose to the occasion—and that their resilience, dedication, and compassion drives her own professional and personal growth.
"As a leader, there's nothing more satisfying than to see progress," she says. "I have been so blessed to have such smart, resilient, gritty—yet compassionate—RDs to work with every day."
Bridget Wojciak, RDN, LD
Director of Nutrition at The Kroger Co. in Cincinnati
When COVID-19 sent consumers online for their groceries, Bridget Wojciak made sure The Kroger Co. pivoted along with them by expanding the company's digital engagement to reach customers in their homes. She accelerated expansion of a pilot telenutrition program to reach people nationwide, established an insurance-funded food delivery service responsible for getting more than 0.5 million meals to those in need, and created a digital hub of evidence-based nutrition-focused content to improve nutrition education among consumers. All of which is representative of Wojciak's passion for transforming health care through better nutrition and keeping customers healthy and safe.
"When the pandemic hit, people were struggling with food insecurity and changes in food budgets. They needed help navigating online shopping. At the same time, consumers were focused on health in a way they weren't before," she says. "It was the perfect opportunity to offer our telenutrition at no cost, providing the ability to work with a registered dietitian via video chat. It was a way for us to reach consumers who were trying hard to stay home to be safe."
Wojciak's accomplishments were recognized when Progressive Grocer magazine awarded her a GenNext Award. The Academy named her Young Dietitian of the Year in 2019, and the Produce for Better Health Foundation named her Supermarket Dietitian of the Year in 2018. Wojciak has been with Kroger for five years and leads the dietitian team carrying out the company's Food as Medicine philosophy. She's committed to providing equitable access to nutrition care while driving value through shopper loyalty.
In addition to removing barriers to nutrition care with Kroger's thriving telenutrition and insurance-funded meal delivery programs, she leads OptUp, an industry-leading digital nutrition tool that simplifies healthful shopping. Integrated with the Kroger website and app, OptUp makes it easy for shoppers to identify nutritious foods and choose more healthful selections.
Says Wojciak, "There's no better place to positively impact people's health than the place where they make all their major food decisions. It's a dream for me to be able to showcase the grocery store as a health care destination."
Elizabeth Zorzanello Emery, EdD, MS, RD, LDN
Transplant Clinical Dietitian Specialist at Temple University Health System in Philadelphia
For 36 years, Elizabeth Emery has walked the line between clinical nutrition and academics, parlaying her dual love into a career that impacts patients and students alike. She takes particular pride in her educational mentorship achievements, which have helped numerous students go on to attain meaningful careers in dietetics.
But while teaching has dominated much of her career, it didn't lessen her affinity for clinical work as a nutrition support dietitian. Clinical work was something she always had on the side but missed while pursuing her doctorate.
"I missed the clinical stimulation," she says. Plus, "it's important to me to bring current material into the classroom, [so] now I'm back to full-time clinician/part-time educator."
Her reentry into clinical dietetics came when Temple University Hospital asked her to help develop its outpatient transplant nutrition program—a role that merges her clinical expertise with teaching and program management while allowing her to continue adjunct teaching.
Before joining Temple, Emery directed La Salle University's Coordinated Program in Dietetics, transforming it into Philadelphia's only five-year master's level coordinated program. While completing her doctorate, she implemented innovative teaching and research methods using virtual reality to deepen students' understanding of anatomy. She also authored a clinical case study book—now in its second edition—used by more than 1,400 students in 120 dietetics programs nationwide.
A firm believer in giving back to the profession, Emery volunteers with the Pennsylvania Academy of Nutrition and Dietetics and the Philadelphia Area Society for Parenteral and Enteral Nutrition, among other organizations. Volunteer work, she says, is important "because we don't function on an island. It develops a community and advances the profession."
— Elizabeth S. Goar is a freelance health writer based in Benton, Wisconsin.