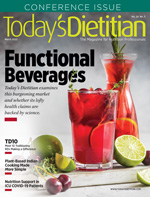 March 2022 Issue
Master the Art of Indian Cooking
By Liz Weiss, MS, RDN
Today's Dietitian
Vol. 24, No. 3, P. 26
Educator and cookbook author Madhu Gadia, MS, RDN, collaborated with home cook enthusiast Jolie Zimmer to launch the 'Jolie Cooks With Madhu Project' to teach Zimmer how to cook the tasty recipes in her cookbooks. Learn how their relationship began and the secrets to preparing Indian cuisine.
When you think of traditional home cooking in the United States, staple dinners such as spaghetti and meatballs, roasted chicken, or maybe a cheesy lasagna come to mind. Unless you're Indian or of Indian descent, you probably don't picture authentic Indian cuisine on your table. But one home cook in Milwaukee may just inspire that to change.
Jolie Zimmer, a retired Latin teacher, always loved eating Indian food at restaurants. In fact, she and her husband, Ted, enjoyed it so much that they took a trip to India. According to Zimmer, the food there was inspiring. But when she tried to reproduce the dishes at home, they fell short. She found many of the recipes difficult to follow and the spices unfamiliar. "You have to be very intentional to cook Indian food, and you have to organize your spices, because they're the secret. I never had the structure to get into it."
In early April 2021, Zimmer's husband bought an Instant Pot and the two went to the library searching for some culinary inspiration. They picked up a range of books, but one in particular was life-changing for Zimmer: The Indian Vegan Kitchen: More than 150 Quick and Healthy Homestyle Recipes by Madhu Gadia, MS, RDN. She followed Gadia's directions for setting up her spice box, finally achieving the elements that had eluded her, and her cooking was transformed.
The Pivotal Dish
Zimmer's first successful home-cooked Indian meal was lipte aloo, a hearty potato stew seasoned with turmeric, coriander, garam masala, and other warming spices. "I have attempted cooking Indian dishes in the past, but the recipes never tasted 'real.' This is the first Indian recipe that I cooked and swooned over," Zimmer recalls.
Zimmer wanted to keep learning from Gadia, to have a mentor as she learned about a new cuisine. So, encouraged by the blog and movie Julie and Julia, in which young New Yorker Julie Powell cooks all of Julia Child's recipes from Mastering the Art of French Cooking in one year, Zimmer decided to contact Gadia to see if they could collaborate on a similar project.
As a dietitian and educator, Gadia runs the blog Cuisine of India. Passionate about teaching home cooks and professional chefs how to cook Indian food, she has written three cookbooks and shares recipes and cooking videos on her blog. When Zimmer reached out to her, Gadia immediately felt drawn to the project. "I was super excited when Jolie Zimmer, out of the blue, contacted me and wanted to cook through my cookbooks to master the art of Indian cooking—inspired by the hit film Julie and Julia. For a moment, I felt like the Julia Child of Indian cuisine."
And so began the "Jolie Cooks with Madhu Project," wherein Zimmer cooked one of Gadia's recipes and documented her experience, and Gadia added her commentary and posted the writings on her blog so others could follow along. Gadia coached Zimmer through 20 classic Indian recipes, mostly plant-based. Initially, Gadia says, Zimmer wanted to cook all the way through The Indian Vegan Kitchen, "but she's a nonvegetarian, and thus we added a couple of popular chicken dishes." Still, the food predominantly was meatless, as is characteristic of most Indian cuisine, Gadia says. "Even nonvegetarians limit meat to three to five times per week or once a day, in small quantities. And even the majority of nonvegetarians avoid meat during religious and auspicious occasions, eating and serving primarily vegetarian foods."
Setting the Stage
Gadia put much thought into what recipes Zimmer should tackle. "Selecting 20 recipes was a challenge. My goal was to make sure Jolie learned the basics of Indian cooking and enjoy the process. I wanted to make sure she learned how to use spices, season the food, and become familiar with a few essential ingredients such as dal"—a term for lentils, peas, and beans as well as a term for the porridgelike dish they're often served in—"and basmati rice. I wanted her to experience various foods, from appetizers to desserts. Most recipes had to be quick and easy, although Jolie is an adventurous and curious cook and was willing to make complicated dishes such as homemade paneer," a type of Indian cottage cheese. "I picked recipes she would be familiar with, something she ate in an Indian restaurant, so she'd know what to expect in taste, texture, and appearance."
The learning curve was steep at first. "I learned from Jolie's experience that it takes time to master new techniques and processes. Initially, I thought she could make a complete Indian meal [including an] entrée, rice, and vegetable, and I quickly realized three new dishes were overwhelming. We quickly moved to once a week and one recipe at a time. She was a fast learner, and after about five or six recipes, she felt comfortable and looked forward to cooking the next recipe. She trusted the recipes, became familiar with the spices and seasoning, and was ready to share the recipes with her family and friends."
Zimmer thrived with Gadia's help, saying, "She's an excellent teacher. Dietitians are teachers, you know, and she was just very encouraging."
The Ripple Effect
While Zimmer's confidence grew, so did her enjoyment of the process, as did that of her family and friends sharing in her creations. "I cooked with my granddaughter, who's in eighth grade," Zimmer says. "We made various breads, and we had a great time." Zimmer invited friends and family over to taste what she'd learned, and everyone loved the food—even those who thought they didn't like Indian food. "People loved everything. They thought they didn't like Indian food because they didn't like spice, but you can leave out the spiciness; just don't put in the pepper." Gadia clarifies that spice doesn't have to mean heat: "Spiced Indian food is beyond just spicy hot. Cayenne pepper or chili peppers is just one flavor, one spice. A delicious Indian dish can have three to six spices and have no heat. A little turmeric for color and health, cumin and coriander for flavor and taste—the meals are cooked to engage all your taste buds: sweet, sour, salty, bitter, and umami."
Zimmer especially loved the chance to do new things with old, tried-and-true ingredients. Already a member of a community supported agriculture program, she says: "I'll eat vegetables straight, just plain, but [incorporating fresh vegetables into these recipes] really does bring them alive. And this is what people have done all through history to make food taste better." Some of her favorite recipes to cook were Gobhi-Mirch Subji (Cauliflower Peppers) and Kaddu (Sweet-and-Sour Winter Squash). Of the latter, Zimmer says it's "to die for. I mean, I almost ate all of it at Thanksgiving this year. I'm going to make it every year." Perhaps there's something celebratory in this colorful squash dish, which features a variety of ingredients, including fenugreek seeds (they have a tangy, bitter taste) and lemon. Gadia includes this dish every Diwali (the five-day Festival of Lights celebrated by Hindus around the world).
Being coached by someone as skilled as Gadia already was a once-in-a-lifetime experience, but Gadia and Zimmer took it one step further. "By the end of our project," Gadia says, "Jolie and I met in person (we had never met before), and we were both elated with Jolie's endeavors and triumphs. We did a Facebook Live event we called 'Chai and Chat,' sharing our experiences." Gadia, Zimmer says, "cooked even more … We had our own little lesson, and she cooked two meals for Ted and me and her husband." They also cooked dosas (thin, crispy crêpes) together.
Reflecting on the whole experience of creating the "Jolie Cooks with Madhu Project," Zimmer says, "It's really about cultures. There are so many layers to food. I could write a whole book about it. I like being connected to cuisines that were so long in developing. I just can't believe that I can do this authentic stuff. But I think the most exciting thing is, I tasted these blends in India, and now I can make them here."
Zimmer has Gadia's stamp of approval: "Jolie mastered the art of Indian cooking. Sure, she's still learning, but once you know the basics of a cuisine, you feel comfortable venturing into other recipes."
This is exactly what Gadia wants to achieve with her work as a dietitian: empowering people in the same way Zimmer has been empowered. Just as other RDs from various cultural backgrounds can achieve success, Gadia has used her skills to instill cooking confidence and turn it into a celebration of world flavors and nourishing plant-forward dishes with clients, patients, and readers. "My hope is that through Jolie's experience, people will see how easy it is to cook Indian food at home."
— Liz Weiss, MS, RDN, is a mom of two grown boys with a specialty in family nutrition and wellness. She shares recipes and healthful living advice on LizsHealthyTable.com and her podcast, EAT, DRINK, LIVE LONGER. Weiss is a cooking instructor, frequent lifestyle guest on TV shows across the country, and a Have a Plant Ambassador for the Produce for Better Health Foundation.

Resources
1. Peterson CT, Vaughn AR, Sharma V, et al. Effects of turmeric and curcumin dietary supplementation on human gut microbiota: a double-blind, randomized, placebo-controlled pilot study. J Evid Based Integr Med. 2018;23:2515690X18790725. 
2. Hadi A, Mohammadi H, Hadi Z, Roshanravan N, Kafeshani M. Cumin (Cuminum cyminum L.) is a safe approach for management of lipid parameters: a systematic review and meta-analysis of randomized controlled trials. Phytother Res. 2018;32(11):2146-2154. 
3. Kunnumakkara AB, Sailo BL, Banik K, et al. Chronic diseases, inflammation, and spices: how are they linked? J Transl Med. 2018;16(1):14.
4. Baum L, Lam CW, Cheung SK, et al. Six-month randomized, placebo-controlled, double-blind, pilot clinical trial of curcumin in patients with Alzheimer disease (letter). J Clin Psychopharmacol. 2008;28(1):110-113. 
5. Mandal S; Manisha DebMandal, Saha K, Pal NK. In vitro antibacterial activity of three Indian spices against methicillin-resistant Staphylococcus aureus. Oman Med J. 2011;26(5):319-323.  
6. Slika L, Patra D. Traditional uses, therapeutic effects and recent advances of curcumin: a mini-review. Mini Rev Med Chem. 2020;20(12):1072-1082. 
7. Kunwar A, Priyadarsini KI. Curcumin and its role in chronic diseases. Adv Exp Med Biol. 2016;928:1-25.
Indian Cuisine Explained
Indian cooking traditions vary, but they do have common elements. Says Madhu Gadia, MS, RDN, educator and author of The Indian Vegan Kitchen, "The cuisine of India is a conglomerate of regional cuisines, with distinct variations in North, East, West, and South Indian dishes. That said, it's the spices that define Indian cuisine and the combination of spices that create endless variations. Spices are used for flavor as well as health benefits. A meal without spices is sacrilegious, often associated with not feeling well."
Indian dishes also are largely plant-based. Sapna Punjabi-Gupta, MS, RDN, AP, a culinary wellness expert, Ayurvedic practitioner, and the founder of beSPICED, a food, wellness, and lifestyle brand with a mission to bring authentic Indian home cooking, Ayurveda, and Western dietetics together, describes the building blocks of Indian cuisine: "An Indian meal is centered on a starch, either rice or a grain like wheat or millets based on regional cuisine. The second major part of the diet is pulses (eg, beans, peas, and lentils). Vegetables or meat curries, dairy products, spices, and chutneys complete the meal. In many parts of India, a meal ends with buttermilk or yogurt, which is believed to aid in digestion." She adds, "The traditional Indian diet is one of the oldest cuisines, rooted in the principles of [the] ancient science of Ayurveda, which uses diet and lifestyle as the foundation of health. Abundant intake of seasonal vegetables, fruits, whole grains, and millets; low consumption of meat; and thoughtful use of spices are some of the many nutritious virtues of traditional Indian cuisine."
Contrary to Western beliefs, Gupta says, "most Indians are not vegetarians," but the majority limit the amount of meat in their diet. She says this is largely due to religion: "Hinduism and Islam, two of the six largest religious groups in India, follow at least some restrictions on meat in their diet … Hindus may avoid eating beef because cows are traditionally viewed as sacred, whereas Muslim teachings prohibit consumption of pork." She adds, "The portion of meat served at meals is much smaller than in a Western diet."
Gupta details some of the plant-based staples in Indian cuisine: "Every home has its version of a dal tadka, a dal dish prepared with one or a combination of yellow split dals such as chana dal, moong dal, or toor dal and tempered (or tadka) with spices in hot oil or ghee. Roti is an unleavened flatbread and is a daily staple for people of Northern India but is enjoyed in all the regions of India. It resembles a tortilla in appearance. Every home has a slight variation in their recipe or the way they cook a roti."
The fruits and vegetables consumed depend mostly on what's grown locally and in season, Gadia says, but "the 10 most popular vegetables in India are potatoes, cauliflower, okra, green beans, eggplant, spinach, fenugreek leaves, pumpkin, bitter gourd, and bottle gourds." She says tropical fruit is enjoyed throughout the year, and mango is India's national fruit. "Mango is enjoyed in various ways, from fresh to pickled. Some unique seasonal fruits are very popular, such as sharifa (custard apple), cheeku (sapodilla), loquat, phalsa, and jamun," Gadia says. "Then there are bananas, grapes, guavas, papayas, lychees, and oranges. When I visit India, I focus on fruits that I don't get here, my favorite being mango, guava, and papaya. Fruits are part of the Indian street food genre, seasoned with lemon and spices to taste."
— LW
---
Masala Dabba
The Indian Spice Box
As Jolie Zimmer, a retired Latin teacher, discovered, setting up an Indian spice box—masala dabba—is crucial to success in Indian cooking. It's typically a large, round stainless steel tin with seven smaller round lidded containers inside, each filled with spices.
Sapna Punjabi-Gupta, MS, RDN, AP, a culinary wellness expert, Ayurvedic practitioner, and the founder of beSPICED, a food, wellness, and lifestyle brand with a mission to bring authentic Indian home cooking, Ayurveda, and Western dietetics together, says, "I believe that every home (Indian or not) should have quality spices. My top five suggestions for anyone building their own spice box or a spice rack are to have turmeric powder, cumin seeds, dry mango powder, coriander seed powder, and fennel seeds."
The must-have spice list of Madhu Gadia, MS, RDN, educator and author of The Indian Vegan Kitchen, is similar. She recommends including "turmeric, cumin seeds, ground coriander seeds, cayenne pepper, mustard seeds, garam masala, and asafetida (optional)." (Asafetida is from an herb in the celery family. It has a strong sulfurous smell until cooked, at which point it adds a mellow oniony flavor to the dish.)
Why isn't curry powder included in these lists? While Western readers may think of curry as synonymous with Indian cooking, Gupta says, "I think it is time we stop referring to Indian spices as 'curry.' It can be particularly offensive to the rich and diverse cuisine of India. This word was invented by British colonizers as a way to refer to any Indian dish with a sauce, and it does not honor the regional and actual names of dishes and their deep history. Garam (meaning warm) masala is one of the many traditional Indian spice blends. It's a North Indian spice blend, has earthy and warm notes, and is quite popular in North Indian dishes. Many Indian moms have their own unique garam masala recipe. I'm honored to have my mom's recipe of garam masala as part of beSPICED spice blends."
Gadia agrees: "Most non-Indians often equate any dish in a yellow sauce as curry and use curry powder to create all Indian dishes. Curry powder is a spice blend that includes turmeric, which is the ingredient that makes dishes yellow, and four to six other spices. When curry powder is used to spice dishes, it will naturally make every dish have a similar color, taste, and flavor. By the way, if you love your curry powder, great. Enjoy it in the recipes you like, such as curried dip or salad. But don't use it to make authentic Indian recipes. Think of it like chili powder; it's great for making chili, but not for all Mexican dishes. Most Indians don't own curry powder. Each dish is seasoned with individual spices to create a unique taste and flavor."
Once you start using quality spices, you might not be able to go back. For example, Zimmer can't bring herself to buy ground cumin anymore. "I'm getting to be kind of a snob already," she jokes. "It really does taste better to roast some of these spices and just grind them up."
— LW
---
Recipes
Gobhi-Mirch Subji (Cauliflower and Peppers)
Cauliflower is a much-desired vegetable in the Indian kitchen. It's cooked by itself as well as mixed with other vegetables. This side dish is gluten-free, and the colored peppers mixed with the white cauliflower make this dish as pleasing to the eye as it is to the palate.
— Madhu Gadia, MS, RDN
My husband and I loved this recipe and gave it five stars. Honestly, my mouth is literally watering as I write. This recipe tasted even better the next day. I'm planning to serve it to our children and grandkids.
— Jolie Zimmer
Serves 6
Ingredients
3 cups 1-inch cauliflower florets
3 cups 1-inch square pieces bell peppers, preferably a mix of green, yellow, and red
2 T canola or vegetable oil
1/4 tsp asafetida powder
1 tsp cumin seeds
1 small onion, cut into 1/4-inch-thick, half-moon shaped slices
1 T peeled and grated fresh ginger
2 tsp ground coriander
3/4 tsp salt
1/2 tsp turmeric powder
1/2 tsp cayenne pepper, or to taste
1/2 tsp amchur powder (dried mango powder), or 2 tsp lemon juice
Directions
1. Place cauliflower and peppers in a bowl. Set aside.
2. Heat oil in a heavy nonstick skillet over medium-high heat. Add asafetida and cumin seeds and cook for a few seconds until seeds are golden brown. Add onion and cook until transparent, 1 to 2 minutes. Stir in ginger.
3. Add vegetables and stir. Sprinkle with coriander, salt, turmeric, and cayenne pepper. Cook, stirring 2 to 3 minutes, coating vegetables with the spices.
4. Cover with a lid and reduce heat. Cook 10 to 12 minutes, until cauliflower is tender. Stir vegetables a few times. (The vegetables will cook in their own juices. If vegetables stick to bottom of skillet, add 1 to 2 tablespoons of water.)
5. Add amchur and stir to combine. Transfer cooked vegetables to a serving platter. Do not cover vegetables, as they will continue to cook and become too soft.
Nutrient Analysis per serving (1/2 cup)
Calories: 84; Total fat: 5 g; Sat fat: 0.5 g; Sodium: 309 mg; Total carbohydrate: 9 g; Dietary fiber: 3 g; Protein: 2 g
— Recipe reprinted with permission from The Indian Vegan Kitchen: More Than 150 Quick and Healthy Homestyle Recipes by Madhu Gadia, copyright © 2009 by Madhu Gadia. Used by permission of Berkley, an imprint of Penguin Publishing Group, a division of Penguin Random House LLC. All rights reserved.

Toor Dal (Pigeon Peas)
Toor dal (split, hulled pigeon peas) is one of the most popular everyday dals enjoyed in Indian homes. It's easy to make stovetop, or it can be prepared quickly in a pressure cooker or Instant Pot. It can be lightly seasoned or spiced as desired. In Northern India, it's typically served plain. In Southern India, vegetables are added to the cooked dal and highly seasoned to make sambhar. Toor dal complements most vegetable side dishes and is great with roti and/or rice.
— Madhu Gadia, MS, RDN
Ted and I enjoyed this comforting Indian dish. We were completely satisfied with our simple menu of delicious dal, brown rice, raw veggies, and dip. Cooking toor dal has nudged me into a new category of ingredients: dried lentils, peas, and beans. I'll make a double batch next time.
— Jolie Zimmer
Serves 6
Ingredients
3/4 cup toor dal
4 cups water
1 tsp peeled and grated fresh ginger
3/4 tsp salt, or to taste
1/2 tsp turmeric powder
Chounk (seasoning)
2 tsp canola or vegetable oil
1/8 tsp asafetida, optional
1/2 tsp cumin seeds
1 tsp ground coriander
1/4 tsp cayenne pepper, or to taste
3 T tomato sauce
1/4 tsp garam masala
2 T chopped fresh cilantro, optional
Directions
1. Place dal in a bowl and wash in 2 to 3 changes of water. Rub dal between your hands as you wash. Soak in water 2 hours or longer. Drain, wash in fresh water one more time, and drain again.
2. In a saucepan, combine drained dal, water, ginger, salt, and turmeric. Place over medium-high heat and bring to a boil. Once boiling, reduce heat to medium and cook at a low boil, uncovered, 25 to 30 minutes, until the beans are very soft. Stir several times to mix beans with liquid.
3. To make the chounk, heat oil in a small skillet over medium-high heat. Add asafetida, if desired, and cumin seeds. Cook for a few seconds until cumin seeds are golden brown. Remove from heat, add coriander and cayenne pepper, and cook for a\ few more seconds. Stir in tomato sauce, return to heat, and simmer 10 seconds. Stir chounk and garam masala into dal.
4. Simmer seasoned dal 5 to 7 minutes. Transfer to a serving bowl and garnish with chopped cilantro, if desired. Serve hot. Dal thickens as it cools.
Note: For pressure cooker and Instant Pot directions, visit Madhu's blog at cuisineofindia.com/blog/recipes/2021/12/24/toor-dal-pigeon-peas.
Nutrient Analysis per serving (1/2 cup)
Calories: 103; Total fat: 2 g; Sat fat: 0 g; Sodium: 336 mg; Total carbohydrate: 17 g; Dietary fiber: 4 g; Protein: 6 g
— Recipe reprinted with permission from The Indian Vegan Kitchen: More Than 150 Quick and Healthy Homestyle Recipes by Madhu Gadia, copyright © 2009 by Madhu Gadia. Used by permission of Berkley, an imprint of Penguin Publishing Group, a division of Penguin Random House LLC. All rights reserved.