March 2021 Issue
Legumes: Beyond Hummus, Chickpea Products Soar in Popularity
By KC Wright, MS, RDN
Today's Dietitian
Vol. 23, No. 3, P. 14
Help clients read labels to determine their nutritional value.
Chickpeas in the American diet traditionally have appeared as a humble garnish on salad bars. Yet, today they're found as the main ingredient in what many consider a refrigerator staple: hummus. In fact, the consumer demand for hummus grew so quickly that in 2008, PepsiCo acquired 50% ownership of Sabra, an Israeli company known as one of the largest brands today. As consumers have come to appreciate the nutritional merits of chickpeas—they're rich in protein, fiber, folate, and iron1—many food producers are finding more ways to market them. Whole roasted chickpeas have become coveted crunchies in the snack food aisle. However, similar to their legume cousins (eg, lentils, black beans, and peanuts) chickpeas also are being used to make a variety of processed foods, from pasta and ice cream to snack puffs and cookies, and more.
Chickpeas originated in the Middle East around 7,000 years ago and eventually made their way to Greece, Italy, and Spain, where they became known as garbanzo beans. Beyond their nutrient density, food manufacturers are motivated to use chickpeas as a main ingredient because they're not a major allergen and are inexpensive. Furthermore, many consumers are looking to plant-based diets for health and environmental reasons, while increased protein intake remains a significant desire.
To that end, chickpea consumption in different forms around the world is expected to drive the growth of the global market by $3.5 billion from 2018 to 2022.2 The "mighty chickpea" is the sole legume included in Whole Foods Market's Trends Council as one of the top 10 foods for 2021, predicted to fly off the shelves in a variety of products.3 In addition, the use of chickpea flour in baked goods is expected to further boost market growth. Chickpea flour, sometimes sold as besan or gram flour (not to be confused with graham flour), is made by grinding dried chickpeas into a fine powder.
Recognizing the increasing health messages to eat less meat and more plant foods—for human health and that of the planet—a variety of new American companies joined the food industry to profit from the venerable chickpea. Their products also appeal to those following a gluten-free diet.
What's on the Market
Pasta and Rice
Among the many brands of chickpea products on the market, Banza (the company's nod to "garbanzo pasta") appears to be the fastest selling pasta brand in Whole Foods and Target.4 The pastas comprise 90% chickpeas with added tapioca, pea protein, and xanthan gum. Banza also has launched chickpea rice, mac 'n cheese, and lasagna sheets. The company claims its chickpea rice contains three times as much protein and twice the fiber as brown rice. In late 2019, Banza raised $20 million to help finance additional growth in the foodservice industry that would facilitate marketing to restaurants to include their products as regular menu offerings. Barilla also makes a chickpea rotini and casarecce. Shorter shapes of chickpea-based pasta appear to hold their texture better than longer strands of spaghetti.
Crunchy Snacks
Organic chickpea tortilla chip and puff maker Hippeas markets its products as "chickpea-fueled" and "packed with plant power to keep you keepin' on," and have a trademarked hashtag #givepeasachance. Chickpea veggie crisps under the brand Off The Eaten Path, part of PepsiCo foodservice, are sold in 6.25-oz bags. Their first ingredient listed is rice flour, followed by chickpea flour. WW (formerly Weight Watchers) offers single-serving packages of Hummus Sea Salt snacks with little reference to chickpeas. The first ingredient for these WW crackers is listed as "Base (chickpea flour, rice flour, salt)" and the Nutrition Facts panel shows 0 g fiber. From a nutrient density perspective, it's important to consider how much or how little chickpea is in the cracker, as chickpeas are a great source of soluble and insoluble fiber.1 Biena brand Chickpea Puffs are marketed as "keto-friendly," which isn't an FDA-approved health claim. The sea salt variety has 5 g protein and 3 g fiber, but the more processed flavor varieties have less fiber.
Frozen Desserts
Little Chickpea ice cream in Portland, Oregon, a sole-location independent restaurant, makes a dairy-, gluten-, soy-, and nut-free frozen dessert from chickpeas, sugar, safflower oil, and natural ingredients, according to the company's website. Nutrition facts were unavailable, although the website claims the ice cream is 3% to 4% lower in sugar and has about 5% less fat than traditional ice creams. Due to the pandemic, it appears the company's storefront is temporarily closed, but there may be plans to ship the ice cream outside of Oregon in the future.
Plant-Based Tuna
In an effort to protect natural resources while sharing delicious plant-based meals, two chefs who happen to be brothers created Good Catch plant-based tuna. The products are made from a blend of six legumes (peas, chickpeas, lentils, soy, fava beans, and navy beans) and are flavored with algae oil, a source of omega-3 fatty acids, albeit in small amounts. Good Catch also manufactures frozen entrées such as plant-based fish burgers, crab cakes, and appetizers as part of their product line.
Legume Butter
Field Trip Chickpea Butter, with varieties including classic, chocolate, and cinnamon churro, may appeal to those who are allergic to nuts and seeds and perhaps to those who are looking for the flavor characteristic of chocolate hazelnut butter. Field Trip's butters contain added sugars (see table below) and palm oil. And although they're organic and sustainably harvested, they contain a moderate amount of saturated fat. The chocolate variety has a bit less protein, and, along with the cinnamon variety, contains more added sugars than the creamy classic chickpea butter.
Cookies and Cookie Dough
Hungryroot, a healthful grocery and prepared food delivery service, offers Almond Chickpea Cookie Dough that people either can eat raw or bake. A two-tablespoon serving contains 100 kcal and 7 g sugar, including 6 g from coconut sugar and maple syrup. Bios Sicilian Style Chickpea Cookies are made with chickpea flour and citrus and vegetable oils and appear to be an emerging product available only through specialty buyers in niche markets.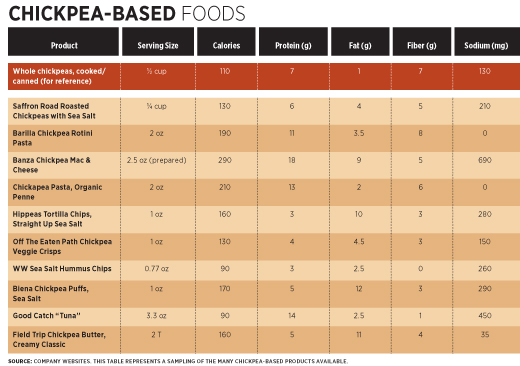 Click to enlarge
Nutrition and Other Considerations
As with all pulse crops, chickpeas, when consumed as part of a balanced plant-based diet, may help guard against the progression of diabetes, heart disease, obesity, and colorectal cancer.5 And, similar to other whole foods, intact chickpeas offer the most nutrient density when compared with minimally processed or ultraprocessed foods made from chickpeas. Recent research suggests that ultraprocessed foods, including packaged snack foods, have a role in excess calorie consumption, leading to obesity.6 When people ate a diet high in ultraprocessed foods, they consumed on average 500 kcal more per day than those whose diets were lower in ultraprocessed foods. This daily increase in calories reflected an average 2-lb weight gain over a two-week period.
Some prepared chickpea products can be part of a healthful diet when eaten in moderation. Dietitians can encourage clients to look for the most healthful ingredient lists on all manufactured foods. And while many consumers prefer to eat plant-based products for environmental concerns, they also should consider the energy and resources that were required to prepare, manufacture, package, ship, and store ultraprocessed foods compared with whole foods regionally procured.
It's important for consumers to understand that a standard food made with an alternative ingredient likely won't taste the same or have the same texture as the usual version of that food. For example, cooked pasta made primarily from ground chickpea flour won't taste the same and may not achieve the al dente texture found in traditional semolina flour pasta. Differing textures also may be the result of fillers such as tapioca and xanthan gum.
Then there's the cost. A 2-oz bag of Biena Sea Salt Chickpea Puffs cost $4.49. A 5-oz package of Bios cookies made with chickpeas can be found online for $8.
Despite the cost and the possibility that some snacks made with chickpeas may not be the most nutrient dense, snacking in general has an upside. New research looking at snacking and diet quality in children demonstrates that snacking does have the potential to improve diet quality.7 Of course, ensuring children receive mainly nutrient-dense snacks that taste good is key. For both children and adults, portion size is an important consideration, pending the amount of calories, total fat, saturated fat, sodium, and sugar a serving contains. For example, Hippeas Tortilla Chips are packaged in both 2- and 5-oz sizes with a 1-oz serving containing 150 to 160 kcal and 280 to 330 mg sodium. Some may find it easy to consume the entire bag of either size. Dietitians should continually help consumers see the forest for the trees in a noisy and static marketplace. If the goal is to eat a more plant-based, higher-protein diet, RDs can suggest clients eat whole chickpeas more often in soups or stews or toss them with whole grain pasta, and consume processed foods made with chickpeas that are lower in nutrient density less often.
— KC Wright, MS, RDN, is a research dietitian who provides communications about nutrition science and real food for the health of people and the planet. She advocates for sustainable food and food systems at www.wildberrycommunications.com.

References
1. Chickpeas (garbanzo beans). Harvard T.H. Chan School of Public Health, The Nutrition Source website. https://www.hsph.harvard.edu/nutritionsource/food-features/chickpeas-garbanzo-beans/. Accessed November 24, 2020.
2. Chickpea market 2018-2022: evolving opportunities with AGROCROPS & Arbel: Technavio. BusinessWire website. https://www.businesswire.com/news/home/20191113005399/en/Global-Chickpea-Market-2018-2022-Evolving-Opportunities-with-AGROCROPS-Arbel-Technavio. Published November 13, 2019.  Accessed November 24, 2020.
3. Whole Foods market predicts these top 10 food trends will skyrocket in 2021. New Hope Network website. https://www.newhope.com/food-and-beverage/whole-foods-market-predicts-these-top-10-food-trends-will-skyrocket-2021. Published October 19, 2020. Accessed November 30, 2020.
4. Watson E. Chickpea-fueled pasta brand Banza raises $20m, plans move into foodservice. FoodNavigator-USA.com website. https://www.foodnavigator-usa.com/Article/2019/11/12/Chickpea-fueled-pasta-brand-Banza-raises-20m-plans-move-into-foodservice. Published November 12, 2019. Accessed November 30, 2020.
5. Jukanti AK, Gaur PM, Gowda CLL, Chibbar RN. Nutritional quality and health benefits of chickpea (Cicer arietinum L.): a review. Br J Nutr. 2012;108 Suppl 1:S11-S26.
6. Hall KD, Ayuketah A, Brychta R, et al. Ultra-processed diets cause excess calorie intake and weight gain: an inpatient randomized controlled trial of ad libitum food intake. Cell Metab. 2019;30(1):67-77.e3.
7. Loth KA, Tate A, Trofholz A, Fisher JO, Neumark-Sztainer D, Berge JM. The contribution of snacking to overall diet intake among an ethnically and racially diverse population of boys and girls. J Acad Nutr Diet. 2020;120(2):270-279.