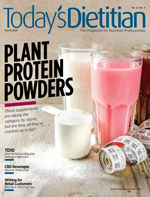 March 2020 Issue
Ask the Expert: The Debate on Glyphosate
By Toby Amidor, MS, RD, CDN, FAND
Today's Dietitian
Vol. 22, No. 3, P. 7
Q: My clients are asking whether the herbicide glyphosate poses a risk to human health and the environment. What does the science say?
A: There has been much media coverage on glyphosate, especially surrounding several successful multimillion-dollar lawsuits against Monsanto Company (acquired by Bayer in 2018) for the manufacture of the allegedly carcinogenic glyphosate-based weed killer Roundup.1 Expert opinions and statements from regulatory bodies vary on glyphosate's health and environmental effects.
Use
Glyphosate is an herbicide designed to kill a wide range of invasive and sometimes toxic weeds and grasses in both agricultural and nonagricultural (eg, lawns, gardens, forests, aquatic areas) applications.2 Several salt forms of glyphosate, such as potassium and isopropylamine, are used to regulate plant growth and ripen certain crops. It's been used globally for more than 40 years and is the most commonly used herbicide in the world.3
S. Eliza Dunn, MD, FACMT, medical affairs lead for the regulatory scientific affairs team at Bayer Crop Science, which owns the patent for Roundup and glyphosate, explains that, in agriculture, weeds steal sunlight, water, and nutrients from crops and can be toxic to humans and animals. However, other agriculture experts suggest that using glyphosate represents a reductionist view of weed control and that there are other mechanisms less harmful to the agro-ecosystem than the use of glyphosate, to which they claim weeds are becoming more resistant.
Human Health
The International Agency for Research on Cancer categorizes glyphosate as "probably carcinogenic,"4 but lawsuits against Monsanto/Bayer have associated glyphosate-based Roundup with the development of non-Hodgkin lymphoma in particular.1 Glyphosate is banned in Colombia, El Salvador, Belgium, and Austria. Robin Currey, PhD, director of sustainable food systems at Prescott College in Prescott, Arizona, says that some evidence links glyphosate exposure to certain types of cancer but that the level at which harm occurs is unclear.
Dunn emphasizes that all pesticides, including glyphosate, undergo extensive safety tests before going to market. "Leading health authorities around the world have repeatedly concluded that glyphosate can be used safely and is not a carcinogen, based on more than 800 safety studies submitted to regulators." Accordingly, as of 2019, the US Environmental Protection Agency (EPA) states that, when used as directed, glyphosate doesn't pose a risk to human health and isn't carcinogenic.3
Environmental Health
Glyphosate opponents point to its negative impacts on soil's microbial communities, wildlife, and plants. Currey says glyphosate can harm the environment, especially when mixed with other ingredients, a combination sold commercially as glyphosate-based herbicides (GBHs). Because of their broad applicability, they kill the majority of plants they come into contact with, including those to which GBHs are directly applied and those exposed through drift as the wind carries the herbicide, which directly harms the environment. Roundup and other GBHs also have a strong synergistic toxicity with other environmental toxins such as arsenic, resulting in harm to nearby wildlife.5
Conversely, Dunn says "regulatory authorities conduct comprehensive evaluations to ensure pesticides can be used safely for the environment." She argues that glyphosate can help the environment by keeping soils healthy and reducing carbon emissions. Dunn says glyphosate also is compatible with more environmentally friendly farming practices such as conservation tillage, which can increase soil organic matter, preserve soil health and moisture, improve water quality, provide habitat for wildlife, reduce soil erosion and compaction, and decrease fuel use and greenhouse gas emissions.
Presence in Food
Several years ago, the Environmental Working Group (EWG) conducted tests for glyphosate in 28 samples of wheat, corn, and oat foods. All came back positive for glyphosate residue, with 26 of 28 being above the EWG's limit of 160 parts per billion (a lower limit than that of the EPA but one the EWG asserts is associated with carcinogenic effects).6 The EPA has established tolerances for glyphosate on a wide range of crops, ranging from 0.1 to 310 parts per million. In 2016–2017, 879 corn, soybean, milk, and egg samples were tested for glyphosate and glufosinate (a naturally occurring herbicide) residue; approximately 59% of the corn and soy samples tested positive for residues of glyphosate and/or glufosinate, but all were below the EPA's tolerance levels.7 Currey says glyphosate residue ends up in many foods and that levels have increased over time.
Dunn, however, claims that traces of glyphosate rarely occur; she says when glyphosate reaches the roots of a plant, it binds tightly to the soil and is broken down by microorganisms, so it doesn't run off into crops and other plants not being targeted. Occasionally, minute traces of glyphosate will end up in food but are nontoxic to humans. "Regulators around the world set strict limits when it comes to pesticide residues and agree that trace amounts below these levels are safe," Dunn says.
Recommendations for Clients
Dietetics professionals should avoid creating food fear in clients and remind them that there are strict regulations in place for herbicides. However, if consumers prefer to further limit their exposure to glyphosate, Currey says they can minimize their exposure by choosing certified organic products, which don't contain glyphosate.
— Toby Amidor, MS, RD, CDN, FAND, is the founder of Toby Amidor Nutrition (http://tobyamidornutrition.com) and a Wall Street Journal best-selling author. Her cookbooks include Smart Meal Prep for Beginners, The Easy 5-Ingredient Healthy Cookbook, The Healthy Meal Prep Cookbook, The Greek Yogurt Kitchen, and the upcoming The Best Rotisserie Chicken Cookbook and The Create-Your-Plate Diabetes Cookbook. She's a nutrition expert for FoodNetwork.com and a contributor to U.S. News Eat + Run and Muscle&Fitness.com.

References
1. Monsanto papers. U.S. Right to Know website. https://usrtk.org/monsanto-papers/
2. Glyphosate: general fact sheet. National Pesticide Information Center website. http://npic.orst.edu/factsheets/glyphogen.html. Updated March 2019.
3. Glyphosate. United States Environmental Protection Agency website. https://www.epa.gov/ingredients-used-pesticide-products/glyphosate. Updated August 28, 2019. Accessed December 23, 2019.
4. World Health Organization, International Agency for Research on Cancer. IARC monographs volume 112: evaluation of five organophosphate insecticides and herbicides. https://www.iarc.fr/wp-content/uploads/2018/07/MonographVolume112-1.pdf. Published March 20, 2015. Accessed December 23, 2019.
5. Lajmanovich RC, Peltzer PM, Attademo AM, et al. First evaluation of novel potential synergistic effects of glyphosate and arsenic mixture on Rhinella arenarum (Anura: Bufonidae) tadpoles. Heliyon. 2019;5(10):e02601.
6. Roundup for breakfast, part 2: in new tests, weed killer found in all kids' cereals sampled. Environmental Working Group website. https://www.ewg.org/release/roundup-breakfast-part-2-new-tests-weed-killer-found-all-kids-cereals-sampled. Published October 24, 2018.
7. Questions and answers on glyphosate. US Food and Drug Administration website. https://www.fda.gov/food/pesticides/questions-and-answers-glyphosate. Updated November 13, 2019.