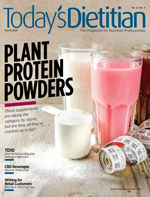 March 2020 Issue
Culinary Corner: Welcome Spring With Fruits
By Jessica Ivey, RDN, LDN
Today's Dietitian
Vol. 22, No. 3, P. 66
Although spring doesn't officially start until the end of the month, by March 1 I'm ready for a change of season and the accompanying transition from heavy winter foods to lighter, fresher flavors. I start scouring the produce section for sweet, juicy strawberries and even pineapples.
While strawberries are available year round, they're at their prime in the spring, which means the seasonal fruit will be more flavorful and juicier. California produces about 88% of US-grown strawberries,1 while Florida produces the second most of any state.2 Research local farms in your area to identify opportunities for clients to pick their own strawberries, which can be a fun family activity that promotes fruit consumption.
If you live in the United States, you probably won't find a pineapple producer in your home state. Hawaii, once the leading producer of canned pineapple worldwide, has fallen off the map for pineapple production. Smaller producers still grow pineapples in the state, mainly for the local market,3 but, as of 2015, just 0.5% of the total acres of land in Hawaii utilized for agriculture was used for growing pineapples.4 Most pineapples instead are grown in the Caribbean, where the growing season is from December to February and August to September.5 So while they're not exactly in season during the spring, their sweet-tart flavor is perfect for taste buds longing for the bounty of seasonal fresh fruits to pop up in the summertime.
Many people are unfamiliar with how to cut a whole pineapple, so doing a demonstration and tasting along with providing a simple recipe can be one way to encourage clients to incorporate this naturally sweet fresh fruit into their diets.
According to the 2015–2020 Dietary Guidelines for Americans, average fruit intake is below the recommended amount for almost all age-sex groups except for children aged 1 to 8.6 In my experience working with clients, I've noticed that many people consider fruit as a part of breakfast, as a snack, and as a side along with lunch, but few people think of fruit as part of the main dish. Fruit can add flavor and natural sweetness to many dishes while boosting intake of this nutrient-dense food group.
The following fruit salsa is full of fresh spring flavor and pairs well with salmon for a crowd-pleasing fish taco filling. It also can be served with whole-grain pita chips for a snack or on top of chicken.
— Jessica Ivey, RDN, LDN, is a dietitian and chef with a passion for teaching people to eat healthfully for a happy and delicious life. Ivey offers approachable healthful living tips, from fast recipes to meal prep guides and ways to enjoy exercise on her website, JessicaIveyRDN.com.

References
1. California Strawberry Commission. California strawberry farming. https://www.calstrawberry0.com/Portals/2/Reports/Industry%20Reports/Industry%20Fact%20Sheets/California%20Strawberry%20Farming%20Fact%20Sheet%202018.pdf?ver=2018-03-08-115600-790. Published January 2018. Accessed November 15, 2019.
2. Strawberries. Agricultural Marketing Resource Center website. https://www.agmrc.org/commodities-products/fruits/strawberries. Updated April 2019. Accessed November 15, 2019.
3. Bartholomew DP, Hawkins RA, Lopez JA. Hawaii pineapple: the rise and fall of an industry. HortScience. 2012;47(10):1390-1398.
4. Statewide agricultural land use baseline 2015. State of Hawaii Department of Agriculture website. https://hdoa.hawaii.gov/salub/. Updated 2016. Accessed November 15, 2019.
5. Chaney C. The season for pineapples. SF Gate website. https://homeguides.sfgate.com/season-pineapples-78197.html
6. US Department of Health and Human Services; US Department of Agriculture. 2015–2020 Dietary Guidelines for Americans, 8th Edition. http://health.gov/dietaryguidelines/2015/guidelines/. Published January 7, 2016. Accessed November 15, 2019.
Recipe
Fish Tacos With Flavorful Strawberry-Pineapple Salsa
Makes 4 servings

Ingredients
1 1/2 tsp salt-free chili powder
3/4 tsp ground cumin
3/8 tsp salt, divided
1/4 tsp dried oregano
1/4 tsp paprika
1/8 tsp crushed red pepper flakes
1/8 tsp black pepper
1 (1-lb) salmon fillet*
1 1/4 cups diced fresh strawberries
1 1/4 cups diced fresh pineapple
2 T finely chopped red onion
2 T chopped fresh cilantro
1/2 small jalapeño pepper, seeded and minced
1/4 tsp lime zest
1 T fresh lime juice
1 1/2 tsp olive oil
4 (8-inch) whole wheat tortillas
1 avocado, peeled, pitted, and mashed
Directions
1. Preheat oven to 425° F. Line a rimmed baking sheet with foil and coat with cooking spray.
2. Combine chili powder, cumin, 1/4 tsp salt, oregano, paprika, red pepper flakes, and black pepper in a small bowl. Place salmon on prepared baking sheet and rub with spice mixture.
3. Bake 13 to 17 minutes or until a thermometer inserted into the center reaches 140° F. Remove from oven. Cool slightly and flake with a fork into chunks.
4. While salmon bakes, combine strawberries, pineapple, red onion, cilantro, jalapeño pepper, lime zest, lime juice, olive oil, and 1/8 tsp salt in a medium bowl.
5. Warm tortillas according to package directions. Spread mashed avocado evenly over tortillas. Top evenly with salmon. Divide salsa into four servings. Top each taco with desired amount of salsa and serve remaining salsa on the side.
* Note: The USDA recommends cooking salmon to an internal temperature of 145° F. After removing the salmon from the oven, it will continue to cook and the temperature should reach the recommended 145° F. Cooking time varies depending on the salmon fillet's thickness.
Nutrient Analysis per serving
Calories: 420; Total fat: 16 g; Sat fat: 3.5 g; Sodium: 450 mg; Total carbohydrate: 39 g; Dietary fiber: 5 g; Sugars: 10 g; Protein: 29 g