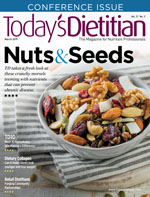 March 2019 Issue
Culinary Corner: Last of Winter, First of Spring
By David P.B. Feder, RDN
Today's Dietitian
Vol. 21, No. 3, P. 66
Delicious options emerge when two seasons meet.
As winter fades and the first signs of renewed life emerge, the transition from stick-to-your-ribs comfort foods to new greens opens doors to options that combine the two into a celebratory mix. Fresh spring vegetables couple nicely with those root vegetables still hiding underground or tucked away in the root cellar, concentrating their nutrients and building flavor. Citrus, too, comes into its own, with vitamin- and antioxidant-rich oranges, grapefruit, and clementines enjoying the peak of their long growth curve from late fall to early spring.
Root vegetables, from carrots, parsnips, and beets to the earthier unsung vegetables such as rutabagas and turnips have been aging gracefully in cold storage or under the earth, letting their starchier components break down and their natural sweetness build up. Still, they remain rich in fiber and, when boiled or steamed, their carbohydrates are more easily converted to glycogen for more efficient, long-term energy storage in the muscles and liver. Rutabaga—called "swedes" in Europe—still are largely underappreciated in the United States. Related to cabbages and turnips, they're in the phytochemical-rich Brassica genus. They have an earthy sweet flavor that lends itself best to simple preparation, such as boiling and mashing with a little butter and salt, as in the accompanying recipe.
A different sort of root vegetable, fennel, bursts forth with long, celerylike stalks and soft, sweet green fronds hinting of anise, its close cousin. This ancient plant, favored by the Romans, contains a comprehensive store of phytochemicals such as flavonoids, terpenoids, and glycosides that have been recognized as helping everything from digestive function to circulatory health. The segue into spring brings the first early peas, too. They shoot forth rapidly, growing into pods of tiny vibrant green gems loaded with protein; vitamins A, C, and K; folate; and other nutrients as well as minerals, especially iron and manganese. (See a recipe that uses these tender vegetables online.)
This is the time of year that can become an opportunity for introducing family, friends, and clients to less familiar produce, adding some adventure to their palates. Combining the hearty root vegetables with the new green arrivals can create simple yet sublime dishes that help ease out winter and usher in a spring that promises health and revival.
— David P.B. Feder, RDN, is a Chicago-based food and nutrition journalist, industry consultant, and recipe developer with more than 30 years of experience in "everything to do with food," from professional chef to nutrition biochemist to food lab instructor. He can be reached at sfbcommunicationsgroup@gmail.com.
Recipes
Smashed Rutabaga With Roasted Carrot and Beet Croutons
Instead of mashed potatoes, mashing root vegetables such as rutabaga makes for an unexpected change of pace. Preparing them as you would mashed potatoes makes this not-so-familiar vegetable easier to introduce to the uninitiated.
Serves 4
Ingredients
1 large carrot
1 medium beet
2 T toasted peanut oil
2 tsp snipped fresh thyme or 1 tsp dried thyme, rubbed (ie, powdered)
Freshly ground salt and pepper
1 large rutabaga (about 1 1/4 lb)
3 T chicken or vegetable stock
1 T butter or margarine
Directions
1. Preheat oven to 400° F. Peel carrot and beet and cut each into 1/2-inch cubes. Toss lightly in peanut oil and spread in a single layer on foil-lined baking sheet, leaving space between the pieces. Sprinkle with thyme and salt and pepper to taste. Bake for 20 minutes, turning halfway through to brown all sides. Remove from heat; transfer to paper towel-lined plate and cool slightly.
2. Peel rutabaga and cut into chunks. Place in a 2-quart saucepan and add water to cover. Bring to a boil, then reduce heat and simmer until rutabaga pieces are completely tender (about 15 to 20 minutes). Drain; add stock and butter or margarine. Mash slightly and stir in additional salt and pepper to taste.
3. Serve mashed rutabaga hot in individual bowls or plates topped with carrot and beet "croutons."
Nutrient Analysis per serving
Calories: 149; Total fat: 10 g; Sat fat: 3 g; Cholesterol: 8 mg; Sodium: 79 mg; Total carbohydrate: 14 g; Dietary fiber: 3 g; Sugars: 9 g; Protein: 2 g
---
Fennel and Peas With Clementines, Hazelnuts, and Citrus Dressing
This recipe uses all parts of the fennel, highlighting its many textures and subtle flavors and adding vibrancy to the natural sweetness of spring-fresh baby peas. The splash of astringent citrus brings the salad together into a delightful whole that's greater than the sum of its healthful parts.
Serves 4
Ingredients
1 small fennel bulb (anise)
2 cups fresh or frozen petit pois (baby peas)
2 clementines, peeled and sliced into thin rounds
Kosher salt
1/4 cup orange juice
2 T avocado oil or extra virgin olive oil
Freshly ground black pepper (coarse)
2 T finely chopped toasted hazelnuts
Directions
1. Clean and trim fennel bulb, reserving one 3-inch piece of stalk and 3 T of snipped fronds.
2. If using fresh petit pois, blanch peas by immersing them in lightly salted boiling water for two minutes, then draining and rinsing with cold water. Drain well. (For frozen peas, rinse with water and drain well.)
3. Slice fennel bulb lengthwise into 1/4-inch thin slices, then cut crosswise into very small dice. Slice reserved fennel stalk piece crosswise into very thin slices.
4. In a small screw-top jar, combine orange juice and oil and shake vigorously.
5. Combine peas, fennel bulb, clementine slices, and fennel stalk and snipped fronds into a large bowl and pour orange juice and oil mixture on top. Toss well, adding salt and pepper to taste. (Note: Clementine slices should break apart slightly.) Cover and chill until serving.
6. To serve, toss mixture once more and portion onto chilled salad dishes. Sprinkle with hazelnuts.
Nutrient Analysis per serving
Calories: 179; Total fat: 10 g; Sat fat: 1 g; Cholesterol: 0 mg; Sodium: 103 mg; Total carbohydrate: 20 g; Dietary fiber: 6 g; Sugars: 7 g; Protein: 5 g