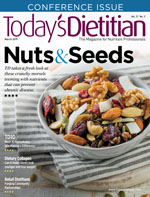 March 2019 Issue
Focus on Fitness: TRX Suspension Training
By Jennifer Van Pelt, MA
Today's Dietitian
Vol. 21, No. 3, P. 50
As summarized in January's Focus on Fitness column, the first 10 of the American College of Sports Medicine's top 20 fitness trends for 2019 included group training (No. 2), high-intensity interval training (HIIT) (No. 3), fitness programs for older adults (No. 4), bodyweight training (No. 5), yoga (No. 7), personal training (No. 8), and functional fitness (No. 9). It's a rare fitness activity that can span seven out of 10 top trends, but TRX Suspension Training does.
This month, I'll discuss this relatively new exercise modality and its applications.
Over the last 10 years, TRX Suspension Training has grown rapidly in popularity across multiple fitness settings—from the military and commercial gyms to yoga studios and at-home workouts.
The concept for TRX Suspension Training originated in 1997, when deployed Navy SEAL Randy Hetrick combined a jiu jitsu belt and parachute webbing to enable his squadron to strength train anywhere. After obtaining his MBA in 2001, Hetrick began selling a precursor to the first TRX Suspension Trainer out of the trunk of his car to athletes, coaches, and trainers in San Francisco.
In 2004, Fitness Anywhere LLC was founded to market TRX. The TRX acronym was derived from "Total Body Resistance Exercise," and TRX Suspension Training is trademarked by Fitness Anywhere LLC. By 2005, the company launched its first training course to personal trainers and others interested in using and instructing TRX Suspension Training.
In 2007, the company launched the TRX FORCE program for military training, and the US Marine Corps implemented TRX Suspension Training as part of its conditioning program. By 2009, TRX products were being used by more than one million people in more than 60 countries and the company officially partnered with NFL quarterback Drew Brees to market to professional athletes. An online TRX Suspension Training course was introduced for trainers in 2013.
In 2015, the TRX Academy, a comprehensive functional fitness educational curriculum, was developed and introduced to train fitness professionals. Most recently, the company introduced TRX apps that offer a range of guided exercise videos, as well as interfacing with wearable fitness tracker devices.
According to the TRX website (www.trxtraining.com), there are now 250,000 trained TRX professionals and 40,000 gyms using TRX Suspension Training products. In addition, TRX is used for cross-training by professional and Olympic athletes in multiple sports, every branch of the military, and mixed martial arts fighters.
TRX Suspension Training isn't as well known across the general fitness community as other exercise modalities, but interest and use is growing outside the athletic and military settings due to anecdotal reports of its effectiveness and the publication of small research studies, as well as the introduction of TRX products for home use.
TRX Suspension Training uses one's body weight to simultaneously build strength and improve balance, flexibility, and core stability. An electromyographic comparison of traditional push-ups with push-ups using the TRX Suspension Trainer found significantly greater activation of chest, shoulder, and triceps muscles during TRX push-ups.1 Exercisers who do TRX training have reported that it can provide a more versatile and functional whole-body workout than using multiple expensive exercise machines.
The TRX Suspension Trainer consists of two long, sturdy resistance straps hanging from an anchor point; the straps have loops at the ends that are used as handles or foot cradles. The length of the bands can be adjusted at the anchor point, depending on the user's height, the position of the anchor point, and the type of exercise.
Resistance is adjusted by altering grip position, strap length, stance, and body angle relative to the straps and ground. For example, placing legs at hip width provides more stability than a narrower stance, which makes exercises more challenging. Or, using the forearms through the loops as support is easier than gripping with the hands. Because the exerciser is in control of exercise difficulty and intensity, TRX Suspension Training can be performed by anyone, from beginners, older adults, and those with movement limitations to elite professional athletes.
The company also offers multiple anchor point connections that allow the TRX to be anchored to the ceiling with special mounts, to a specially designed weighted stand, to doorways, and even to trees. The ceiling and stand mounts are used by gyms and fitness studios (eg, martial arts, yoga) to instruct TRX group training sessions.
The following different TRX products are available:
• TRX HOME2, developed for those who want to exercise at home, outdoors, or while traveling;
• TRX PRO4, developed for Olympic and professional athletes and professional trainers;
• TRX RIP TRAINER, which combines the TRX straps with a weighted bar to focus on rotational core strength (eg, for athletes in sports that involve rotational movements such as tennis and golf); and
• TRX TACTICAL GYM, with a more rugged and tough design in a khaki/army green color for military and combat athletes.
All of the TRX products can be used for a variety of workouts. According to the company's website, hundreds of different exercises are possible. For a HIIT workout, TRX exercises can be alternated with high-intensity cardiovascular conditioning movements. TRX straps can be used to perform and support yoga poses, thereby adding strength and core challenges for yoga practitioners. Using the handles as foot cradles can allow exercisers to perform inverted poses they may not be able to do in a traditional yoga class.
Older adults are a growing market for TRX Suspension Training. Recently published small studies show that TRX exercises modified appropriately for individual capabilities can improve strength and functioning in this population. In a study of HIIT using the TRX Suspension Trainer with 82 older adults, HIIT significantly improved overall quality of life, physical functioning (eg, gait speed, strength), and dynamic balance, as well as reduced fear and risk of falling, when compared with interval training without TRX.2,3
Older adults with osteoporosis also can use TRX to improve bone density; any standing TRX exercise is considered weight bearing and therefore can help to strengthen bones.
TRX Suspension Training can be adapted for those with movement limitations and disabilities, including those confined to a wheelchair or amputees. Exercises are easily modified for use by a seated exerciser or an exerciser who needs other supports. TRX Suspension Training is being used in rehabilitation settings and training settings for adaptive (also called parasports) athletes.
TRX Suspension Trainers are affordable for commercial fitness facilities, personal trainers, and home exercisers, ranging in price from about $100 to $300 depending on the model purchased. Ceiling mounts add to the cost.
If your clients are looking for a new whole-body workout, suggest they try TRX Suspension Training. Beginning or older exercisers should be sure to start with modified exercises led by a trainer who has completed TRX training courses and is experienced in modifying TRX intensity. For athletes, sport-specific TRX training may be available at their local gyms or sports facilities. Athletes and advanced exercisers who invest in their own TRX equipment can use the TRX apps for guided workouts and sport-specific TRX training.
— Jennifer Van Pelt, MA, is a certified group fitness instructor and health care researcher in the Lancaster, Pennsylvania, area.
References
1. Snarr RL, Esco MR. Electromyographic comparison of traditional and suspension push-ups. J Hum Kinet. 2013;39:75-83.
2. Jiménez-García JD, Hita-Contreras F, de la Torre-Cruz M, et al. High-intensity interval training using TRX lower-body exercises improve the risk of falls in healthy older people [published online August 30, 2018]. J Aging Phys Act. doi: 10.1123/japa.2018-0190.
3. Jiménez-García JD, Martínez-Amat A, de la Torre-Cruz MJ, et al. Suspension training HIIT improves gait speed, strength and quality of life in older adults [published online January 3, 2019]. Int J Sports Med. doi: 10.1055/a-0787-1548.