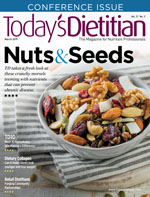 March 2019 Issue
Editor's Spot: Celebrating You!
By Judith Riddle
Today's Dietitian
Vol. 21, No. 3, P. 4
As you know, dietitians in various specialties across the country are currently celebrating National Nutrition Month® (NNM), the annual nutrition education and information campaign developed by the Academy of Nutrition and Dietetics (the Academy). RDs also will be celebrating Registered Dietitian Nutritionist Day on March 13 to promote themselves as the quintessential authorities on the latest evidence-based food and nutrition information.
No longer should self-styled, pseudo diet and nutrition gurus in the media try to position themselves as the "nutrition experts." After all, only dietitians have formal dietetics education from accredited colleges and universities and required hours of internship training to hold that title, so it's important to take this moment to proclaim who you are, what you know, and why the public should seek only you for all things food and nutrition.
What's different about this year's NNM message compared with previous years is that it now has a much broader theme to allow dietitians greater flexibility in promoting various nutrition messages and the campaign to "focus on its original purpose, which is to increase the public's awareness of the importance of good nutrition" and position RDs as the nutrition authorities, the Academy reports.
Dietitians certainly can promote a variety of nutrition messages to several different audiences via blogs, e-newsletters, social media, and television and radio appearances, as well as in schools, hospitals, supermarkets, long term care facilities, and corporate wellness programs. The sky's the limit for RDs who are developing creative ways to spread the word about nutrition, healthful foods, healthful eating, and physical activity.
In honor of NNM and Registered Dietitian Nutritionist Day, Today's Dietitian is publishing our 10th annual "TD10" feature, which includes profiles of the top 10 RDs you helped nominate for their exceptional work in the dietetics field. We hope you enjoy reading inspiring stories about their incredible achievements and the other articles on how dietitians are forging community partnerships, dietary collagen for youthful-looking skin and weight loss, nuts and seeds, and the controversy of weight bias in dietetics education. Please enjoy the issue!
Judith Riddle
Editor
TDeditor@gvpub.com