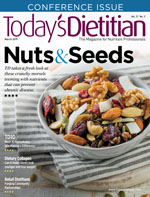 March 2019 Issue
TD10
By Hadley Turner
Today's Dietitian
Vol. 21, No. 3, P. 30
Today's Dietitian's 10th Annual Showcase of 10 RDs Who Are Making a Difference
If there's anything that 10 years of featuring the best and the brightest RDs has taught us at Today's Dietitian (TD), it's that there's nothing dietitians cannot do, no heights they cannot reach.
In honor of National Nutrition Month® and Registered Dietitian Nutritionist Day, TD once again took on the challenge of choosing from hundreds of colleagues you nominated to be included in our TD10, which speaks volumes about the dedication and hard work RDs demonstrate every day.
In this year's showcase of the top 10 RDs who have made an indelible impact in the nutrition profession, we profile those serving in a variety of innovative specialties. This year's winners include a media RD turned holistic cannabis practitioner, a sustainability consultant, and a culturally competent sports dietitian. Others include a global malnutrition researcher, an integrative oncology dietitian, and an eating disorders specialist.
These nutrition professionals are making an immense difference in the lives of the underserved, changing the culture around child feeding, grocery shopping, school lunch, and health and wellness media. Read on and be inspired.
Janice Newell Bissex, MS, RDN
Owner of Jannabis Wellness
As a dietitian, Janice Newell Bissex has had a stellar career. She made her first big impact in the late '80s as the first staff RD for the US Senate. Then, 17 years ago, she and Liz Weiss, MS, RDN, cofounded Meal Makeover Moms, the hugely popular business, blog, and podcast. The pair were known as top experts in family nutrition, sharing nutrition education and recipes for busy families through traditional and social media. Their work earned them the Academy of Nutrition and Dietetics' Media Excellence Award in 2015.
While she enjoyed these accolades, circumstances in Bissex's personal life suddenly spun her career in a direction she never would have imagined was possible.
"If you had told me just over two years ago that I would be doing this now, I would have told you that you were absolutely crazy," Bissex says, referring to her dramatic switch in career focus from family nutrition to the burgeoning field of medical cannabis.
She became a certified holistic cannabis practitioner in 2016 through the RD-founded Holistic Cannabis Academy and opened her own business, Jannabis Wellness, to counsel clients on nutrition and medical cannabis use and educate RDs and health professionals about its benefits as well as those of CBD (cannabidiol, a nonintoxicating substance in cannabis that has the potential to relieve similar conditions as medical cannabis without a "high").
What led Bissex into the medical cannabis field was her elderly father, who'd been suffering for a year from chronic pain. When side effects from his prescribed pain medications hospitalized him, Bissex discussed alternatives with his doctor, which led her to research medical cannabis for his pain relief. After Bissex got her father approved to obtain medical cannabis and use it in the form of a vape pen, "he took a couple of puffs, stood up, and said, 'Wow … I'm not in pain,'" she recalls.
Bissex sells her own label of CBD tincture, salve, softgels, and dog chews on her website. Her products are of such high quality that orders come in from Colorado and California, where cannabis is much more accessible. Bissex, whose products and counseling services have brought relief from debilitating conditions to many patients, looks forward to continuing to help in honor of her father, who passed away in February 2017. "I look at what I'm doing now as his legacy," she says. "That's what keeps me going."
Christine Walters, MS, RDN
PhD Student, Graduate Teaching Associate, and Maternal and Child Extension Associate in the Department of Nutritional Sciences at Oklahoma State University
Christine Walters is on a mission to wipe out malnutrition. After earning her bachelor's degree in medical dietetics from The Ohio State University and her RD certification, she left graduation celebrations behind and—driven by her strong Catholic faith—flew halfway around the globe to Zambia to volunteer with the Rome-based Catholic organization Dominican Volunteers International.
Walters' work there—which spanned health clinics, food distribution sites, and orphanages doing whatever was needed—sparked her passion for global child, infant, and maternal undernutrition and cemented East Africa as a place close to her heart.
As a graduate student at Oklahoma State University, Walters returned to East Africa to complete her master's thesis in Malawi, where rural areas are wracked with high rates of nutrition-related pregnancy complications. There, she studied a population of pregnant adolescents aged 12–19 on behalf of Child Legacy International, a Christian nonprofit that establishes food and clean water sources and health care services in low-income African countries.
In investigating the pregnant girls' nutrition status and cultural dietary beliefs that may have prevented them from eating well during pregnancy, she found that food taboos play a major role in their nutrient intake—for example, they believe that consuming eggs will cause the baby to be born bald, a restriction that limits consumption of a low-cost protein source.
Walters then shared these data with Child Legacy International to help workers provide education and aid that respects the Malawians' culture and beliefs. While she may not directly deliver aid to the Malawians, her work is essential to effecting changes in nutrition in the area, as culturally sensitive counseling is more likely to make a long-term impact. "In the United States, sometimes we think we know everything," she says. "But I've learned that you have to talk to the people [you're trying to educate]."
Now pursuing her PhD, Walters and her team at Oklahoma State are applying for funding for and planning a research trip to Uganda. While Walters is limited in what she can share about the project at this writing, she does say that she'll be working on finding sustainable solutions to tackle childhood undernutrition in postemergency refugee settlements, which receive little outside funding or aid.
Dana McLaughlin, RDN
Manager of Health and Wellness at Inserra Supermarkets
ShopRite, a large grocery store chain in the Northeast, struck gold with Dana McLaughlin. Her RD employees call her "an exceptional leader and role model" who "puts her team of dietitians ahead of herself" and "brings out the best in each [dietitian]."
Shoppers love her innovative programs, such as the Future Shoppers program, in which ShopRite RDs teach nutrition lessons at local elementary schools that culminate at the end of the school year in a field trip to ShopRite with a simulated budgeted shopping trip.
McLaughlin grew the Future Shoppers program significantly and brought it in house. She built a successful team of RDs who praise her openness to listen to their ideas, the value she puts on what they do, and how she makes them feel like a team despite working in separate locations—all this, remarkably, with little experience or training when she started working for ShopRite.
She's not just highly respected but decorated, too: The Produce for Better Health Foundation recognized McLaughlin as one of its 2016 Supermarket Dietitians of the Year, given to retail RDs who best encourage fruit and vegetable consumption in their stores.
Clearly, McLaughlin's employers notice her passion and talent as well—she was promoted to manager of health and wellness after just 3 1/2 years with the company as an in-store RD. McLaughlin oversees 19 dietitians in 23 stores, supervising their programming and educating them on new in-store brands, industry trends, and vendor and community partnerships.
Moreover, she's gone above and beyond in her role to greatly expand Inserra Supermarkets' annual 12-week Biggest Winner weight loss and wellness program, wherein store associates can meet wellness challenges and win prizes. (Inserra Supermarkets owns the 23 ShopRite stores McLaughlin works with.)
"To have started from the bottom and helped build the [supermarket RD] program into what it is today … really makes me feel like I'm making an impact on our organization and the lives of our customers and communities," McLaughlin says. This, in conjunction with the glowing feedback she receives from her RD team, community, and customers, is "probably my proudest career accomplishment. It makes me feel like I'm doing what I should be doing," she says.
Sherene Chou, MS, RD
Sustainable Food and Nutrition Consultant
As a sustainability-focused RD, Sherene Chou boasts a list of accomplishments that are nothing short of astounding. In the past three years alone, she's codeveloped the Sustainable Food Systems Certificate (the first certificate of its kind for RDs) for the Academy of Nutrition and Dietetics, become chair-elect of the Academy's Vegetarian Nutrition Dietetic Practice Group, cocreated a hands-on culinary medicine class for medical students at the University of Southern California Keck School of Medicine, and began serving as nutrition advisor for the Plant Based Foods Association, which promotes consumer and industry awareness and acceptance of plant-based foods. All the while, Chou has grown her business as a sustainable food and nutrition consultant, where she works with companies doing everything from building brand education to recipe development and marketing plant-based foods.
The daughter of two Chinese doctors who practiced holistic medicine, Chou grew up with a "systems" view of the body and planet, but it took her a little while to return to this philosophy.
She started her career at Hewlett-Packard as a strategic procurement manager but quickly became "obsessed" with nutrition and decided to attend culinary school at the plant-based–focused Natural Gourmet Institute in New York. Chou's first nutrition job was with the New York City Department of Health and Mental Hygiene's Stellar Farmers Markets program, where she provided free nutrition education and cooking demonstrations at New York farmers' markets in low-income areas. This was where she realized that a sustainable food system, which she views primarily as being powered by a diet that focuses on whole plant foods, depends on environmental health, access to healthful food, and nutrition education, and that these factors also result in a sustainable food system. In other words, people, planet, and food are in a symbiotic relationship.
Chou funneled this philosophy into her role as the director of nutrition for L.A. Kitchen, a Los Angeles-based nonprofit (which, unfortunately, like many nonprofits, closed its doors due to financial constraints in 2018). A sister to D.C. Central Kitchen, L.A. Kitchen trained underprivileged individuals such as ex-prisoners, former foster children, and homeless individuals to cook as well as collaborate with volunteers and produce vendors to make healthful meals for underserved populations using high-quality imperfect produce that would otherwise end up in a landfill. Chou built its nutrition program from scratch, developing nutrition standards for meals and educating cooks, among other duties.
Ultimately, Chou hopes her work empowers more RDs to advocate for the sustainability of the whole food system, to "feel empowered about what they can do, and that they can have their voices heard."
Jill Castle, MS, RDN
Founder of The Nourished Child
Considered a superstar in pediatric nutrition, Jill Castle has written almost a dozen books plus e-books and numerous articles for media outlets. She maintains the podcast and blog The Nourished Child and appears on television to discuss nutrition issues. Parents seek her for nutrition counseling, organizations book her for public speaking, and pediatric RDs turn to her for advice and keep her resources at their fingertips.
Castle has created online courses as part of her Nutrition Prep School for professionals and parents on feeding and nourishing children, including child athletes and kids with special needs. Through THRIVE Mastermind, a six-month program for pediatric and family-focused nutrition professionals who want to grow their businesses, she mentors pediatric RDs in one-on-one and group sessions. What she considers one of her greatest career accomplishments is her TEDx talk, The Nutrition Prescription for Healthier Kids, which focused on what it takes for America's children to become healthier.
With all of her formal education and achievements as a successful pediatric RD, you'd assume the task of feeding and nourishing her own child would be easy—but this wasn't the case for Castle. She faced quite the personal challenge with feeding her first child; though difficult, this experience led her to rethink not only how she fed her daughter but also how she counseled patients.
As a result, she developed The Nourished Path—a "trifecta" of childhood nutrition methodology that includes food, feeding, and childhood development—which she believes is a more modern and holistic approach to feeding and nourishing kids. Castle has seen enormous success practicing this model. She hopes that, in focusing on the trifecta of feeding with her patients, she can "actually bring the joy back to the table for everyone and help parents feel empowered and knowledgeable."
Meghan Martinson, MS, RD, LD
Dietitian at Eagle Mountain-Saginaw Independent School District
In her nearly six years as the RD for the diverse, 20,000-student Fort Worth, Texas–based Eagle Mountain-Saginaw Independent School District, Meghan Martinson has brought enormous innovation and creativity to her position.
One of Martinson's first moves was to start the Harvest of the Month program, which introduces district elementary students to unfamiliar foods that may be scarce or expensive in mainstream stores. They've tasted fruits and veggies such as purple potatoes, Caulilini (think broccolini meets cauliflower), kiwi berries, and jicama. Martinson also frequently brings in local produce, such as mushrooms and watermelon, as part of the program to highlight Texas' bounty.
Martinson introduced internationally inspired fusion foods, with a new dish each month, including spaghetti tacos (a student favorite), garlic bread grilled cheese, banh mi hot dogs, and taco lasagna. She goes the extra mile for students with dietary restrictions, too. For example, she spent two full days in the test kitchen to develop recipes for a student that was restricted to a daily protein allowance of 10 g or less.
But Martinson's greatest achievement in her eyes is the improvements she's made in food quality. When she started, one high school had a bistro/coffee shop on campus that sold smoothies, wraps, salads, and other snacks and drinks. When the federal Smart Snacks in Schools regulation went into effect in the 2014–2015 school year, all à la carte items sold in schools had to meet nutrition guidelines for calories, fat, sodium, and added sugars while including whole grains and/or fruits or vegetables. Martinson spent an entire summer revamping about 40 recipes to make changes such as whittling the bistro's 400-kcal frappuccino down to 40 kcal.
The reimagined offerings were so popular that Eagle Mountain-Saginaw opened a bistro/coffee shop in each of the other two high schools, resulting in revenue that was reinvested into better food for the rest of the district's students: fresh pineapple and berries, higher-quality apples, and whole-muscle chicken. She also implemented create-your-own stations for pho, pasta bowls, potato bowls, tacos, and nachos in cafeterias, explaining that students love feeling as though they're visiting a fast-casual restaurant.
In this way, Martinson loves that she's able to funnel "the results of her hard work into schools across the district."
Carissa Galloway, MS, RDN
Owner of Zest Communications
Carissa Galloway positively lives and breathes media, but nutrition wasn't always her focus. She started her career as a freelance sports journalist, appearing on CBS College Sports and with the National Basketball Association's Orlando Magic, and became certified as a personal trainer as a side job. But wellness quickly moved front and center in her life as she landed TV spots on the Home Shopping Network promoting fitness equipment.
Galloway loved her media work, but as she grew increasingly aware of the link between fitness and nutrition, she no longer felt her current nutrition credentials (or lack thereof) would cut the mustard; she wanted to get a formal education in dietetics to be "the real deal," in her words.
Galloway's dietetics education obviously lent her more credibility in her work, but she wanted to make sure RDs consistently got in the media spotlight to provide evidence-based nutrition information and become known as the go-to nutrition experts among consumers. Colleagues say that no one has done a greater service to RDs in this capacity.
In 2015, Galloway took over ownership of Zest Communications, a media communications company started by Tara Collingwood, MS, RDN, CSSD, LDN, ACE-PT, and Cindy Heroux, RD, that trains RDs to be more media savvy (eg, honing their on-camera presence, being aware of their role in a TV segment) and helps them provide the most reliable and engaging information for broadcast media, social media, blogs, and live speaking events.
In addition, Galloway and her team at Zest act essentially as agents, enabling RDs to appear more widely in media and get paid fairly for doing so. They also ensure that dietitians disclose any brand relationships properly when posting, appearing, and speaking on behalf of a brand.
As a dietitian who started in media and worked her way into dietetics, Galloway has a unique perspective that makes her a standout among media RDs. She knows how to "package" a story or message for an audience. One of her favorite types of TV segments for RDs is exemplified in a recent segment she did for a dried fruit company where she highlighted research on dried fruit's positive impact on bone health, a connection consumers aren't generally aware of; Galloway loves to bring new dimensions to familiar foods to boost consumer health.
She says RDs have the nutrition content knowledge to do this job best and is proud to help them make media work as a gainful and joyful way to spread their nutrition messages.
Tony Castillo, MS, RDN, LD
Performance Dietitian and Cofounder of Nutrition For Performance
Tony Castillo shines when it comes to cultural competence and counseling Hispanic athletes. The son of Spanish-speaking Dominican parents, he's able to form connections with Hispanic communities and communicate with those still learning English.
In his previous work as the assistant sports dietitian for Major League Baseball's Toronto Blue Jays, Castillo primarily provided nutrition counseling at the Blue Jays' facility in the Dominican Republic for Dominican minor league players working toward joining the parent club.
At first, the players resisted making nutrition changes, but, as Castillo explained the importance of whole grains for performance and presented them with vegetables they grew up eating such as chayote, the players became more open to and trusting of his advice. They ate tiny portions of vegetables but ended up achieving a 92% success rate in meeting their nutrition goals.
Castillo has helped Hispanic Blue Jays players feel welcome in the United States as well. He worked with Venezuelan team members to prepare traditional Venezuelan arepas (corn pancakes) and brought in his own Dominican rice and beans with stewed chicken. Not only were the dishes delicious—US and Latin American players alike loved them—but Castillo made some healthful tweaks such as using brown instead of white rice and chicken breast instead of the higher-fat chicken thighs. He's proud to say that the players didn't even notice.
All the while, Castillo had a part-time sports performance nutrition private practice, Nutrition For Performance, which he started in January 2017. This January, Castillo took this venture full-time, but he's continuing his service to Hispanic athletes through contract work; for example, he visited Peru in July 2018 to give talks about sports nutrition and antidoping to Olympic athletes.
His proudest moment—one that exemplifies his nutrition philosophy—involved working with an overweight, Mexican professional athlete who refused nutrition counseling but continued to gain weight. Castillo dined with him to understand his usual diet and brought in a Mexican sports psychologist, who better understood the player's culture. The athlete lost weight through better portion control of the foods he was used to eating; his performance improved, he felt better, and he said he'd never felt prouder of himself.
This is what Castillo is all about: He wants his Hispanic clients to know that "you can still live your culture, and I'm here to help you with that."
Shayna Komar, RD, LD
Integrative Oncology Dietitian at Thomas F. Chapman Family Cancer Wellness Center at Piedmont Hospital
At Piedmont Hospital, Shayna Komar's colleagues call her work over the past 13 years "nothing short of revolutionary." Hired by Piedmont Healthcare in Atlanta to build the nutrition component of its burgeoning integrative oncology department, Komar wowed the facility and community alike with the success of her nutrition programs for cancer patients.
Her cooking classes, cohosted with a chef, teach cancer patients in all phases of treatment and recovery and their caregivers how to cook and eat healthfully before, during, and after cancer treatment, focusing primarily on organic, plant-based whole foods and "eating the rainbow" to rebuild the immune system and strengthen the body. (Her clever tagline: "Nutrition knowledge turns into kitchen know-how.")
Each class, which includes 30 to 50 patients and caregivers, is almost always packed and free of charge for any cancer patient regardless of whether they're being treated at Piedmont. Topics are tailored to their treatment and recovery stage. For example, classes for those still in treatment may focus on the "cook once, eat twice" method of meal prep so exhausted patients and caregivers can spend less time cooking, while survivors often visit community gardens to pick vegetables and herbs to cook with or grocery stores and farmers' markets to learn how to shop for healthful foods on a budget.
Another program Komar has helped grow substantially is PINK at Piedmont, a 12-week breast cancer recovery program for survivors that incorporates exercise with oncology-certified personal trainers, a weekly survivor support group, and nutrition counseling with Komar. This program is her proudest accomplishment, as she sees the "changed women" at the end of the 12 weeks "ready to survive and thrive."
Komar has been in the spotlight outside of Piedmont, too. For example, she received the 2006 Academy of Nutrition and Dietetics Distinguished Dietitian of the Year award, has spoken at events and facilities nationwide on integrative oncology, and has been featured as a nutrition expert on CNN Accent Health and local radio and TV stations.
But at the end of the day, what brings her fulfillment is "walking a patient through their cancer journey"—from treatment to surgery to watching them "live their new normal with hope and purpose."
"When I'm with these patients, sometimes we're laughing together, we're crying together, we're cooking together. It's a very rewarding and inspiring place to work. It's a great feeling to embrace a career in nutrition when you know it's where you are supposed to be."
Melanie Beers, RDN, LDN
Senior Dietitian at Nourish Family Nutrition
Melanie Beers is one of the most well-respected eating disorder (ED) dietitians in Maryland; her waiting list is a testament to how confident physicians, therapists, and other health care providers are about referring their patients to her. She started her career in earnest when she was hired four years ago at Nourish Family Nutrition, a nutrition practice that now counsels everyone from adults and children to professional athletes and ED patients.
Back then, it was just Beers and Nourish's founder, Diana Sugiuchi, RDN, LDN, running the show. Beers and Sugiuchi grew the practice, and Beers was promoted to senior dietitian, specializing in ED nutrition counseling.
Seeking a "safe space" to offer further support to her ED patients, Beers initiated a subgroup of Nourish called nourishED in September 2018, which offers individual counseling (including grocery store tours), a free support group for all ED clients to talk about their successes and challenges, and group cooking and eating events.
A true pearl of nourishED is Beers' brainchild: an on-site custom teaching kitchen. She offers cooking demos to individual patients during counseling sessions if there's a new food or technique they want to try, and even cooks and eats with them to support them in the moment when feelings of anxiety might arise.
Beers also hosts meal support groups in the kitchen—essentially a combination of a cooking class and support group. All nourishED clients can attend, whether they've just been diagnosed with an ED or have been in recovery for years.
Her teaching kitchen is a unique and highly effective support system for ED patients; many struggle with eating in social situations or in front of others and tend to isolate themselves. In cooking and eating with others who know what they're going through, ED clients can be present and not so distracted by thoughts and emotions that come up during the meal.
With humility, Beers points to the privilege of working with Sugiuchi, but there's no doubt that Nourish and nourishED wouldn't be the same without her dedication, empathy, and innovative ideas.
— Hadley Turner is an editorial assistant for Today's Dietitian and RDLounge.com, the blog written for RDs by RDs.